MIZZOU
West Virginia vs. Missouri: TV channel, game time, odds and predictions (September 6, 2019)
The Missouri Tigers will take on the West Virginia Mountaineers in the home opener for the Tigers on September 7, 2019 at 11:00 a.m. central time.
The game will take place at Memorial Stadium in Columbia, Missouri.  Built in 1926, Memorial Stadium has been the home for the Missouri Tiger football team since its completion.
The Missouri Tigers entered the season receiving votes in the AP Top 25, but after a stunning opening week loss to a very gritty Wyoming team, they are not receiving any votes in this weeks poll.  West Virginia did not receive any votes in the first or second AP Top 25 poll.
This game is a must win game for Missouri.  After a brutal loss on the road to Wyoming, the Tigers will desperately be looking to get back in the win column for the first time this season.  This will be West Virginia's first true test this season after beating FCS opponent James Madison in week one.
West Virginia Mountaineers vs. Missouri Tigers football channel 
The West Virginia-Missouri game will be broadcasted on ESPN2.  The game is set for 11:00 a.m. central time.
West Virginia Mountaineers vs. Missouri Tigers players to watch
Missouri quarterback Kelly Bryant threw for 423 yards in a week one loss to Wyoming.  Bryant was named the starter in the offseason after transferring from Clemson last season.  Bryant is going to be the key to how productive and efficient this Missouri offense is.  Last week he turned the ball over twice, that cannot happen if Missouri is to be an 8 or 9 win football team.  It will be interesting to see how he has progressed from his time at Clemson.
Austin Kendall will take over at quarterback after the departure of Will Grier.  Kendall transferred to West Virginia from Oklahoma, and he will have two years of eligibility left.  He was a four star quarterback coming out of High School, but did not get a lot of playing time at Oklahoma because of Baker Mayfield and Kyler Murray.  In the game against James Madison he threw for 262 yards and two touchdowns.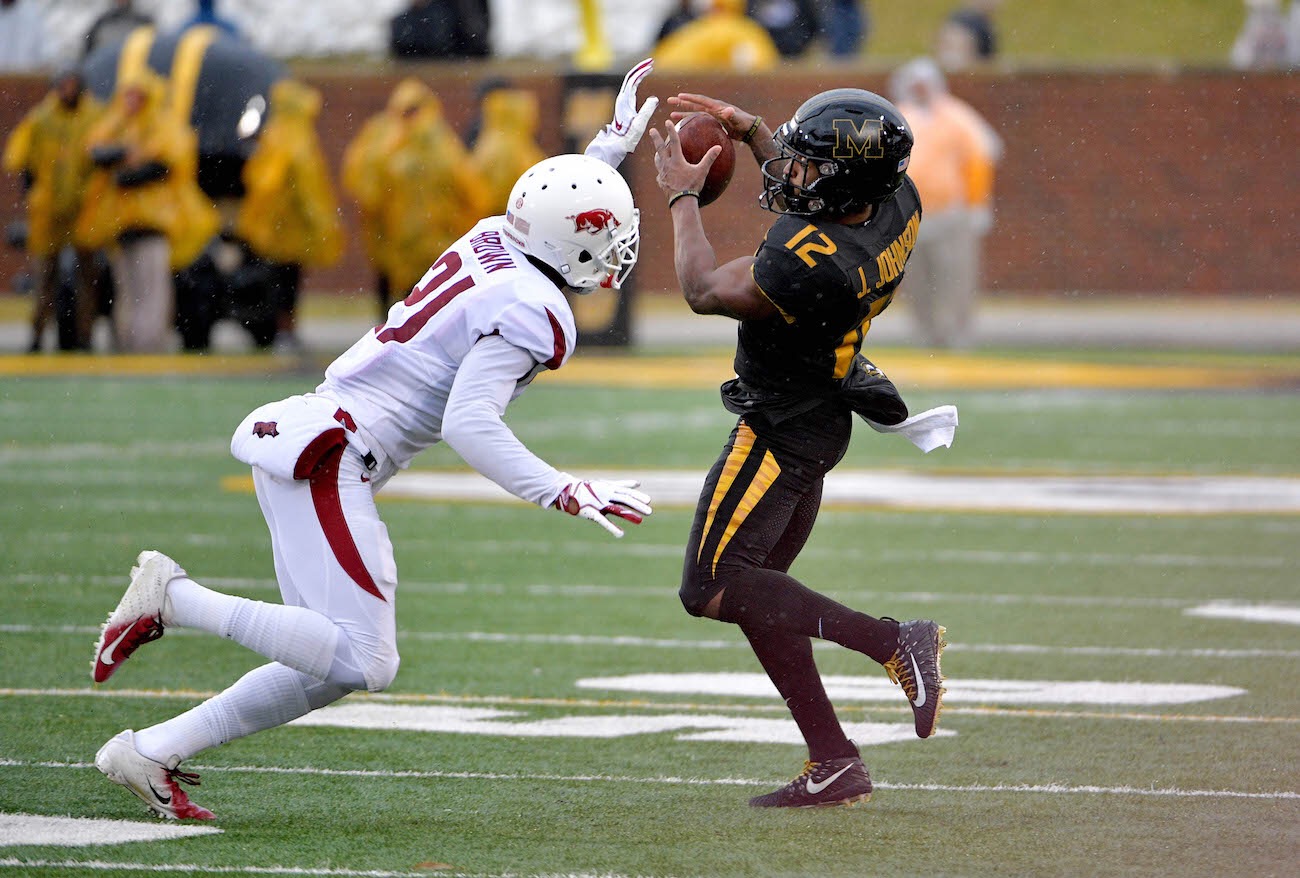 Larry Roundtree is the bell-cow back for Missouri.  Last year he rushed for over 1200 yards and that was good enough for Roundtree to be named to the third team All SEC list.   Roundtree isn't the running back to beat you with his speed, instead he can beat you by just running straight through you.
Kennedy McKoy chose to return to Morgantown for his senior year after a very solid junior season.  He ran for only 802 yards, but when you consider the fact that West Virginia ran an air raid offense last season, it's pretty impressive.  McKoy was named to the third team All Big12 list last season.
West Virginia Mountaineers vs. Missouri Tigers football odds
The consensus spread remains constant with Missouri by 14 points.  The over/under is currently set at 62.5. The lines have remained steady for much of the week.
West Virginia Mountaineers vs. Missouri Tigers predictions
From the SDS Week 2 predictions:
Michael: Don't be fooled by last weekend's shocking result, Missouri is still a dangerous team that's capable of going on a real run in the weeks to come. Mizzou somehow went from dominating Wyoming to surrendering 27 points in the second quarter on the road and just never managed to recover after forcing the issue following that fluke quarter. This will be a great opponent for Barry Odom's team to get the ground game going as the Mountaineers allowed 172 rushing yards to James Madison last weekend. As long as Missouri doesn't shoot itself in the foot two weeks in a row, the Tigers will crush this West Virginia team that is in total rebuild mode under first-year coach Neal Brown.
Missouri 38 West Virginia 14
Chris: Mizzou got embarrassed last week to a team with UPS uniforms, and WVU barely beat James Madison. The last time a team barely beat James Madison was around the Revolutionary War. That is about the only stat I have for this matchup. That and that Mizzou is 8-2 ATS in their last 10 games. I'm gonna ride this Mizzou train til the wheels fall off I guess. Which may have been last week.
Missouri 38 West Virginia 21
West Virginia Mountaineers vs. Missouri Tigers previous meetings 
This Saturday's matchup will be the 7th all time meeting between the two programs.  The series is tied, with both teams winning three games each.
Their last meeting came in 2016, where West Virginia won 26-11 in Morgantown.  Previous to that game, the teams last played in 1998, where Missouri came out on top with a 34-31 win.
The two teams had a two game series in 1993 and 1994, but before that, the teams last played in 1927.
The largest margin of victory came in 1993 when West Virginia won by a score of 35-3.
The longest win streak in the series is two games for both teams.  Missouri's happened in 1926 and 1927, while West Virginia's came in 1993 and 1994.
Missouri Tigers Week One Review 
The Missouri Tigers travelled to Laramie, Wyoming to take on the Wyoming Cowboys in week one.  After going up 14-0 in the first quarter, Missouri imploded and gave up 27 points in the second quarter alone.  Kelly Bryant threw for 423 yards and two touchdowns, but also turned the ball over twice.  The Tigers couldn't recover from the rough second quarter and ended up losing 37-31.
The Tigers defense was gashed by the Wyoming rushing attack.  The Tigers gave up 297 yards on the ground to the Cowboys.
This week will be an interesting game for Missouri because West Virginia struggled to run the ball against James Madison last week, so it will be interesting to see how Missouri's run defense does against West Virginia's rushing offense.
Barry Odom in home openers
This will be Barry Odom's fourth year at Missouri and his fourth year overall as a head coach.  Let's take a look at how he has done in home openers:
-2016: Missouri win over Eastern Michigan
-2017: Missouri win over Missouri State
-2018: Missouri win over UT Martin
West Virginia Mountaineers week one review 
The Mountaineers opened their season against James Madison, who is dubbed by many reporters to be the best FCS team.  After giving up an early touchdown to the Dukes, the West Virginia defense did not give up any touchdowns after that.  West Virginia shook off a sluggish start in the first half to erupt for 17 points in the second half, and ultimately that was good enough for a 20-13 win.
The Mountaineers rushing offense was non-existent in this game.  As a team, they only rushed for 34 yards, while giving up 172 to James Madison.
The challenge for West Virginia this week will be to run the ball more effectively and not give up as many rushing yards as they did against James Madison, but that is going to be easier said than done with Larry Roundtree at tailback for Missouri.
Neal Brown in opening road games
This will be Brown's first year at West Virginia and his fifth year overall as a head coach.  Let's take a look at how he has done in road openers:
-2015: Troy loss against North Carolina State
-2016: Troy loss against Clemson
-2017: Troy loss against Boise State
-2018: Troy loss against Liberty