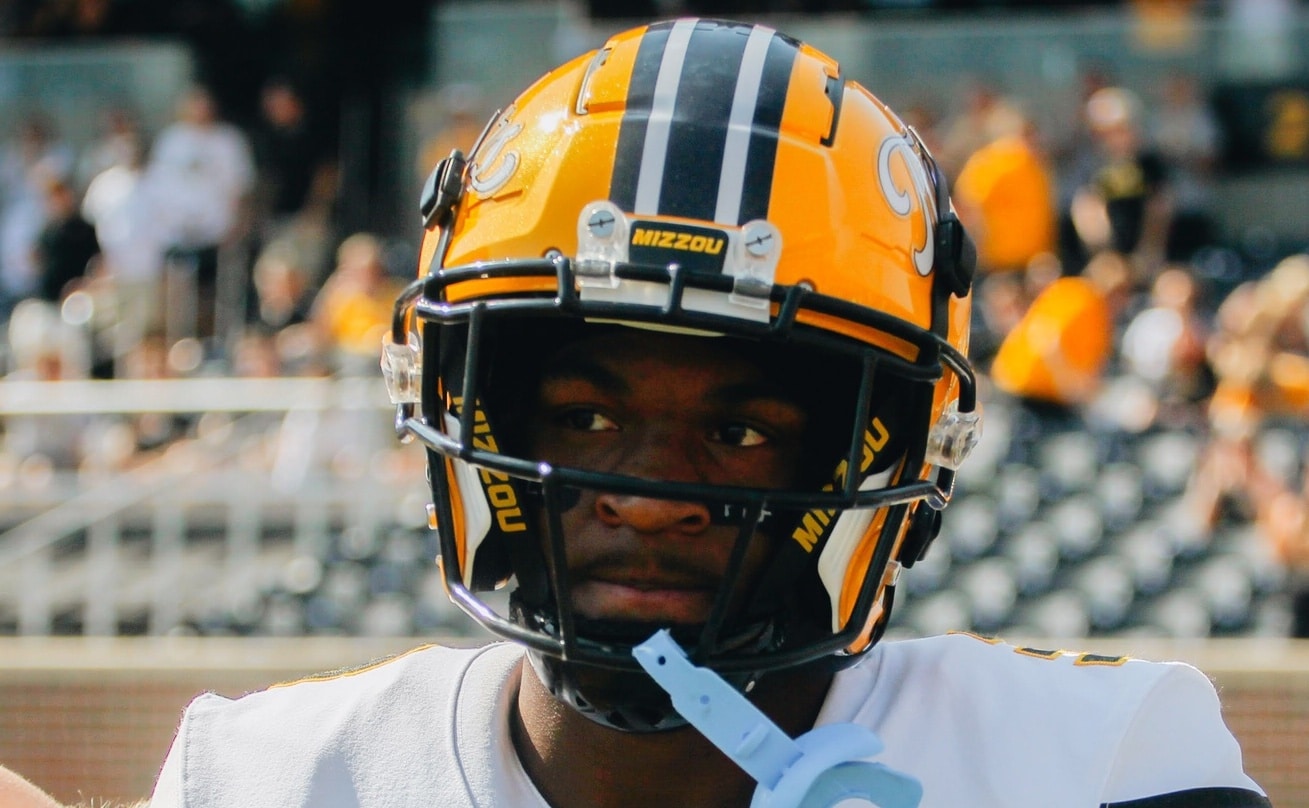 MIZZOU
O'Gara: Why everyone in college football should have an eye on how it plays out with Luther Burden at Mizzou
The optics were bad on all fronts.
In the final minutes of the 3rd quarter of Mizzou's loss at Auburn on Saturday, ESPN announcers Mark Jones and Robert Griffin III had a back and forth about the lack of involvement of true freshman receiver Luther Burden.
Here was the conversation (H/T STLToday.com):
Griffin: "Have we called Luther Burden III's name yet?"

Jones: "They still haven't targeted him that much."

Griffin: "He's got two targets, no catches. I mean, what is going on? If you're Eli Drinkwitz, you got to get this guy the ball."
After a penalty interrupted the action, they continued the Burden conversation:
Jones: "Is it just the extra attention that they're paying to Luther Burden?"

Griffin: "No, they are paying extra attention to him, but they have a wildcat package for him. If you want to get him the ball, snap the ball to him. Get him on a jet sweep. There are ways to get this guy the ball."
Yikes. It didn't help that Burden finished the game without a scrimmage touch on 3 targets, and Mizzou didn't score a point in the second half or overtime of the 17-14 loss.
The plot thickened Monday when Burden scrubbed mentions of Mizzou on his Instagram bio and he deleted all his pictures while posting a story that said "patiently waiting." Mizzou fans and non-Mizzou fans speculated about Burden's future because that's the way this works in 2022.
But the good news was that late on Monday night, Burden took to Twitter to try and clear the air:
Mizzou fans: Please don't misunderstand my intentions. I'm always a TIGER! Jus be patient, here we come!#Reset#MIZ
LB3 pic.twitter.com/WMH5H14VUj

— luther (@lutherburden3) September 27, 2022
So what should we make of this? Is this just an 18-year-old kid doing what 18-year-old kids do?
It's not as simple as that. Everyone with a rooting interest of any kind should be aware of this situation with Burden.
Yes, it is a "situation" when a 5-star receiver who signed as the second-highest rated recruit in program history feels the need to make a statement about his status with the team … in September of his freshman season. That's not the way Drinkwitz drew it up. There's a reason there was such panic on Monday, and no, I don't necessarily think that concern suddenly goes away just because Drinkwitz said on Tuesday that he suffered an injury in the second quarter. Why? Burden was still playing in the second half (he was targeted multiple times and he received 4 punts).
In today's college football landscape, Burden can transfer to another school as an undergraduate without penalty. There's no denying that he'd have teams lining up to bid for his services. Take the word "bid" however you wish, but if you don't think he'd covet a significant price on the open market, wake up and smell reality. As long as a talent like Burden is at a place that lacks historical success like Mizzou, just expect that he's constantly going to be tampered with.
It's worth noting that none of us know how Burden felt after the way things played out on Saturday. I can assume that plenty of eyeballs were tuned into the noon game on ESPN, and plenty of people took note of what was said on the broadcast. If Burden did what many do in his spot after a game, that is, search his own name on Twitter, he would've seen the angst about his lack of touches.
Frustration? Sure. Is it maddening to think that Drinkwitz didn't go to that aforementioned wildcat package or perhaps get Burden a pop pass? Definitely.
There is, however, a little bit more context that's needed here because if you just watched the Auburn game, you might've assumed that Drinkwitz is completely neglecting the most talented recruit the program has had since Dorial Green-Beckham.
In addition to being the team's primary punt returner (he returned a punt for a touchdown against Abilene Christian), Burden has 17 total scrimmage touches through 4 games. He caught 10 of his 18 targets, and he played 170 snaps, which is second among Mizzou receivers. He's also one of the reasons only 5 Power 5 teams have more turnovers than the Tigers (9).
One of Burden's targets came earlier in the game when Brady Cook targeted him on a quick slant. Lined up out wide against a veteran corner in Nehemiah Pritchett, Burden wasn't able to get position against the bigger, more physical defender. As a result, the ball was tipped and it turned into an interception.
DERICK HALL CAN DO ALL ?

☑️ First career INT for @derick_hall9#WarEagle? | ? https://t.co/pQk5h4rqz3 pic.twitter.com/WgTKUjuo3g

— Auburn Football (@AuburnFootball) September 24, 2022
In the season-opener against Louisiana Tech when Burden got 6 scrimmage touches (2 went for touchdowns) on 53 offensive snaps, Cook targeted him on a pass over the middle on a shallow cross that was 2 yards past the line of scrimmage. The ball was a touch high, but Burden didn't look it in. It hit off his hands and Louisiana Tech intercepted it.
To recap, those are 2 instances in the first 4 games in which Burden was targeted within 5 yards of the line of scrimmage and both resulted in tipped balls that were picked off. I'd argue that both plays showed Burden's inexperience.
Does that mean I'm excusing Drinkwitz for not manufacturing more touches for Burden against Auburn? Absolutely not, but it's just a reminder that there is risk with force-feeding him targets, even on plays within 5 yards of the line of scrimmage.
Mizzou needs playmakers. Burden is clearly a cut above when it comes to versatility and athleticism. But he's still learning how to get separation and how to become an elite route-runner. That takes time. Five-star ranking aside, it's easy to forget that he didn't show up as a finished product. It's also easy to forget that he's actually been more involved than your typical 5-star receiver.
Through 1 month, Burden's involvement is pretty comparable to fellow 5-star 2022 receiver Evan Stewart. On an A&M offense that also struggled in the first part of 2022, you can tell that his involvement has been pretty similar to Burden's so far, and it's certainly more than fellow A&M 5-star freshman Chris Marshall (Stewart and Marshall were both suspended for a game for missing curfew):
5-star 2022 WRs
Burden
Stewart
Marshall
Off. touches/game
4.3
4.3
1.3
Scrimmage yards/game
29.5
47
13.7
So then why is Burden's usage such a bigger topic of conversation? For starters, Stewart hauled in a touchdown on Saturday night in a win against a top-10 Arkansas team while Burden went without a touch in a disastrous offensive showing on ESPN. The aforementioned broadcast conversation added to that, as did the subsequent social media behavior from Burden.
It's also worth noting that Marshall and Stewart are 2 of 10 players rated as 5-stars on the A&M roster. Burden is the only former 5-star recruit on Mizzou's roster. Shoot, he's Mizzou's first 5-star player on the roster since Terry Beckner in 2018.
Burden's usage was always going to be magnified. He went to Mizzou in hopes of playing from the jump, which he's doing. But any sort of game wherein his lack of touches is questioned is going to put everyone on notice. You cannot have a game in which you fail to score a second-half point and not get Burden a touch. Period. Burden is Drinkwitz's first 5-star recruit he's ever had, and he'll be his last at Mizzou if there are more drama-filled weekends like that.
This is a fascinating case study in the new world of recruiting and the transfer portal. Burden has the ability to be an offensive savior at a place like Mizzou. He also has the ability to be a cautionary tale for all non-powerhouse programs that sign an elite recruit, especially when it's an offensive skill player. Drinkwitz has to find the balance between allowing a true freshman to make some mistakes, which Burden has, while making sure his usage isn't scrutinized. That's why he makes $4 million a year.
For now, Burden is still poised to become a versatile, explosive weapon at Mizzou.
The rest of us will be patiently waiting on how the rest of this situation plays out.