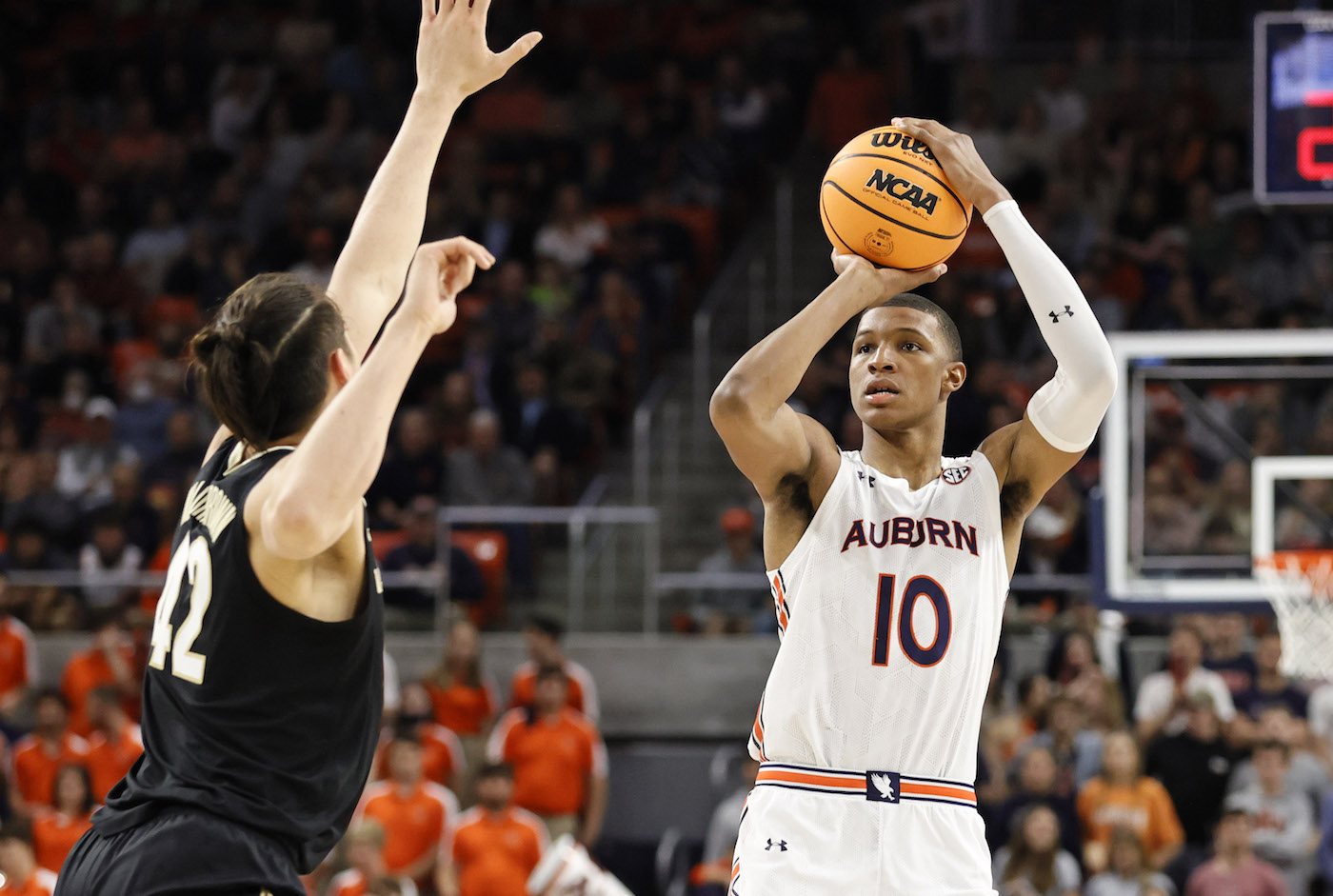 NBA
2022 NBA Mock Draft: Saturday Down South's predictions for Round 1
The 2022 NBA Draft is widely seen as a 3-player draft at the top, with Jabari Smith Jr., Chet Holmgren and Paolo Banchero all vying to go No. 1 overall to the Orlando Magic on Thursday night in Brooklyn.
After that trio is off the board, any number of things could happen. Trades are expected to be plentiful. Plenty of picks could be dealt, and players could end up not suiting up for the teams that draft them.
All of that makes predicting the first round of the draft a challenge, but I've never shied away from attempting the near-impossible!
So, here's how I see Round 1 playing out on Thursday night, complete with 7 SEC players going in the first 30 picks:
1. Orlando Magic – Jabari Smith Jr., F, Auburn
When a player is getting compared to Kevin Durant, don't overthink it. Just write his name on the card, get it to the commissioner and enjoy watching Smith score 25 points per game (or more) for your team for the next decade-plus.
Smith is a pure scorer on offense. His jump shot is already elite. He has 3-point range. He can put the ball on the floor and get to the rim, even though he didn't have to do that much at Auburn. He's also tenacious on defense.
He's the best all-around player in this class and the Magic would be smart to scoop him up with the No. 1 pick on Thursday night.
2. Oklahoma City Thunder – Chet Holmgren, F/C, Gonzaga
Once Smith is off the board, this becomes an easy pick for the Thunder. Holmgren has a ton of potential on both ends of the court. He's an elite shot blocker and can do everything you could possibly want on offense. The big knock, of course, is his frame. Can he add some more muscle? There's no reason to think he can't. He's the smart pick for the Thunder.
3. Houston Rockets – Paolo Banchero, F, Duke
The Rockets just traded Christian Wood to the Dallas Mavericks. That theoretically opens up a spot for Banchero to slide right into the starting lineup. The Rockets have Jalen Green, who was last year's rookie sensation. Pairing him with Banchero makes a ton of sense.
4. Sacramento Kings – Keegan Murray, F, Iowa
Jaden Ivey doesn't want to play for Sacramento. I can't say I blame him, but that leaves the Kings in an interesting position. Do they draft a guy who doesn't want to play there? Do they trade the pick? Or, do they pick a player who would fit in really well with their current roster?
Murray fits the third option. He's a big guy who loves to run and is deadly in transition. He will fit in nicely with De'Aaron Fox and Davion Mitchell if the Kings decide to go that direction.
5. Detroit Pistons – Bennedict Mathurin, G/F, Arizona
The Pistons need to build around Cade Cunningham, last year's No. 1 overall pick. Benn Mathurin is an elite wing player and doesn't need the ball in his hands to be effective. That's a great recipe alongside a ball-dominant player like Cunningham.
6. Indiana Pacers – Jaden Ivey, G, Purdue
Ivey is one of the most exciting offensive players in this draft class. Defensively? Eh, not so much. Still, the Pacers would love to have the Purdue star stay in the Hoosier State. They need a face of the franchise to build around. If all goes well, Ivey has Ja Morant-ish upside.
7. Portland Trail Blazers – Shaedon Sharpe, G, Kentucky
Sharpe obviously didn't play a game at Kentucky after reclassifying to the 2021 recruiting class. But, this was still a guy who was the top recruit in the 2022 class, so the talent and potential is there. We've seen high school players make the jump straight to the NBA before (Kobe Bryant and LeBron James, anyone?). Could Sharpe be the next success story after not playing a minute of college hoops? After the Blazers moved CJ McCollum this past season, they're in need of a backcourt mate for Damian Lillard.
8. New Orleans Pelicans – Dyson Daniels, G, G League Ignite
9. San Antonio Spurs – Jeremy Sochan, G/F, Baylor
10. Washington Wizards – Johnny Davis, G, Wisconsin
Davis was one of the best scorers in all of college basketball last season. Every time the Badgers needed a bucket, he rose to the occasion, even when defenses knew the ball was going to him. With the future of Bradley Beal in Washington in doubt, grabbing a potential high-volume scorer who can create his own shot in the No. 10 spot is a must for the Wizards.
11. New York Knicks – Jalen Duren, F, Memphis
The Knicks might have some front-court shuffling going on this offseason and next offseason. Duren is a monster defensively and can be a valuable lob target on offense.
12. Oklahoma City Thunder – AJ Griffin, G/F, Duke
13. Charlotte Hornets – Ousmane Dieng, F, New Zealand
14. Cleveland Cavaliers – Ochai Agbaji, G/F, Kansas
Agbaji raised his draft stock immensely during March Madness, leading the Jayhawks to the national title. He can fill the role of a play-making wing for this young team on the rise. The Cavaliers could be a playoff team with Agbaji joining a talented young cast of contributors in Cleveland.
15. Charlotte Hornets – Mark Williams, C, Duke
Offensively, thinking of LaMelo Ball throwing lobs to Mark Williams should give Hornets fans goosebumps. But, defensively is where this pick makes a ton of sense for Charlotte. Williams was one of the best shot blockers in college hoops last year. He is also athletic enough to come out to the perimeter to guard big men with 3-point ability.
16. Atlanta Hawks – Tari Eason, F, LSU
The Atlanta Hawks are reportedly looking to move forward John Collins before the start of this coming season. So, Eason would be a guy who could slide into that spot. Playing alongside De'Andre Hunter and Clint Capela, potentially, would give the Hawks a very talented defensive front court.
17. Houston Rockets – Jalen Williams, F, Santa Clara
18. Chicago Bulls – E.J. Liddell, F, Ohio State
19. Minnesota Timberwolves – Andrew Nembhard, G, Gonzaga
This might be a little early for Nembhard, but I love the fit for him in Minnesota. The Timberwolves have some playmakers in Karl-Anthony Towns, Anthony Edwards and D'Angelo Russell, but they need a facilitator.
Nembhard, the former Florida Gator, has done plenty of that at Gonzaga. This past year, he ran an offense that featured Drew Timme and Chet Holmgren in the front court. He kept those guys fed and happy offensively, and he can do the same in Minnesota.
20. San Antonio Spurs – Blake Wesley, G, Notre Dame
21. Denver Nuggets – Malaki Branham, G, Ohio State
22. Memphis Grizzlies – TyTy Washington, G, Kentucky
The Grizzlies have a dynamic player in Ja Morant. But, with the second unit, they need some guys who can create their own shots and make the offense go. Washington showed he has both of those qualities during his 1 year at Kentucky. He is a solid 3-point shooter who can also put the ball on the floor to create space. He might not be the all-around athlete Morant is, but he's a guy the Grizzlies should feel comfortable turning over the second unit to.
23. Philadelphia 76ers – Dalen Terry, G, Arizona
24. Milwaukee Bucks – Jaden Hardy, G, G League Ignite
25. San Antonio Spurs – Jaylin Williams, F, Arkansas
Williams' stock has been on the rise the past month, and now he's getting some legitimate first-round buzz. The Spurs aren't very deep and need upgrades across the roster. Williams fits the defensive intensity coach Gregg Popovich likes. SEC fans know all about the former Arkansas star's penchant for drawing charges. He can work on developing his offensive game in San Antonio while leading a defensive effort to get the Spurs back to the playoffs.
26. Houston Rockets – MarJon Beauchamp, G/F, G League Ignite
27. Miami Heat – Kennedy Chandler, G, Tennessee
The Miami Heat were the No. 1 seed in the Eastern Conference this year, but they were hurt in the playoffs as point guard Kyle Lowry was battling injuries during a crucial series against the Boston Celtics. Imagine if the Heat had a dynamic, play-making point guard like Chandler who could run the pick-and-roll with Bam Adebayo? Yeah, that's a scary thought for this coming season.
28. Golden State Warriors – Christian Braun, G/F, Kansas
The Warriors don't have many holes coming off a title-winning season (their fourth of the Steph Curry/Klay Thompson/Draymond Green era). But, what they could use is a bit more shooting on their second unit. Braun is a knockdown 3-point shooter and is no slouch on defense, which will fit in well alongside Jordan Poole, who doesn't bring much to the table defensively but is an elite shot creator offensively.
29. Memphis Grizzlies – Walker Kessler, C, Auburn
Ja Morant is the star of the Grizzlies. There's no doubt about that. Jaren Jackson Jr. is a force in the front court, but Kessler would still be a great fit on this roster.
Morant was in pick-and-roll plays as the ball handler 12.4 times per game in 2021-22 – that was good for the third-most pick-and-rolls per game in the entire NBA. Kessler is also a threat in the pick-and-roll. He can cut to the rim for an alley-oop, set a devastating screen, and also has a decent 3-point game that defenses have to honor. If he falls to No. 29, the Grizzlies should be ecstatic.
30. Denver Nuggets – Nikola Jovic, F, Serbia
Admittedly, I love this pick because it would pair Nikola Jovic with Nikola Jokic. If you aren't rooting for a Jovic/Jokic front court in Denver, you are against fun!