NBA
Sleeper Fantasy Promo: Devin Booker just needs 1 point vs. Nuggets for users to cash in
Devin Booker has been a machine for the Phoenix Suns thus far in the NBA Playoffs. The former Kentucky star is one of the best pure scorers in the game today and is averaging more than 30 points during the playoffs.
Over at Sleeper, there's a special promotion for Friday night's game between the Suns and the Denver Nuggets. The folks at Sleeper have the Phoenix standout's over/under for points in Game 3 set at 0.5.
Do you think Booker will score at least 1 point on Friday night against Denver? If so, sign up at Sleeper using our promo code "SOUTHXL" and get a deposit match of up to $100. Then pick Booker and at least 1 other player to create your contest and try to win big!
What is Sleeper and why should college sports fans care?
Sleeper Fantasy is a daily fantasy app (DFS) backed by investors such as American venture capitalist firm Andreessen Horowitz and current and former NBA stars like Kevin Durant, Klay Thompson and Baron Davis.
Through Sleeper's exciting picks platform, you can bundle multiple selections of player prop picks similar to what you'd find at online sportsbooks, and you can put real money against those picks.
Sleeper DFS picks contests are legal in these 25 states: AK, AR, CA, CO, FL, GA, IL, KS, KY, MA, MN, NE, NM, NC, ND, OK, OR, RI, SC, SD, TX, UT, VT, WI and WY. The picks contests are also legal in Washington DC.
f you want to get started, Sleeper will match your first deposit up to $100 by clicking here or using promo code SOUTHXL.
My Sleeper Fantasy picks for Friday night's NBA games
Devin Booker over 0.5 points. This one is a no-brainer. Booker has scored at least 2 points in every game he's played this season. His season-low total was 2 points on Christmas Day, when he got hurt after only 4 minutes of court time. Take the over and don't look back!
Jaylen Brown under 0.5 double-doubles. Jaylen Brown hasn't had a double-double since Game 1 of the first-round series against the Atlanta Hawks. He's obviously still an elite player and a huge reason the Celtics have had so much success this year, but I just don't think he'll hit either 10 rebounds or 10 assists on Friday night against the Philadelphia 76ers.
Nikola Jokic over 21.5 rebounds+assists. I don't need to tell you that Jokic is an elite player. He is a triple-double machine, and he's due for a big game passing the ball on Friday night. In Games 1 and 2 against the Suns, Jokic grabbed 19 and 16 rebounds, respectively. But he's only had 5 assists in each game thus far. Look for him to continue crashing the boards on Friday night while also looking to get his teammates more involved with his pinpoint passes.
How many picks should you make?
Sleeper uses a dynamic multiplier system for its player picks contests. Some over/under picks have a higher multiplier than others based on how likely they are to occur.
Still, the general idea is that the more correct picks you make, the more money you can win!
Here's a look at what I'm going with for Friday night's action, including the Sleeper Fantasy promo for Booker: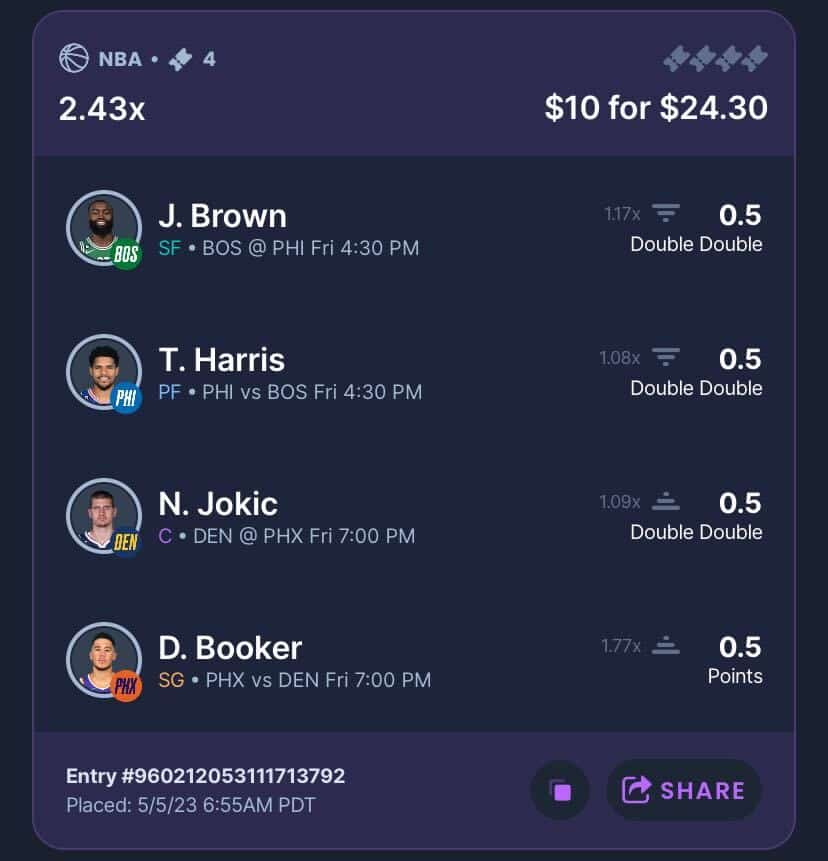 As you can see in the picture above, I'm playing it a bit safer on my picks for Friday night. I'm taking Booker's over in addition to Jokic recording a double-double. I also have Jaylen Brown and Tobias Harris failing to record double-doubles in the early game. My 4-way contest has a total multiplier of 2.43X, which would pay out $24.30 on a $10 entry. Make your picks and follow along for an exciting slate of NBA action!
Get started on Sleeper by clicking here and make your picks for Friday's NBA games or other CFB, CBB, NFL and NBA games. Using this link means Sleeper will match your deposit up to $100. If you deposit $50, you'll get an extra $50 to start using right away.