NBA
Sleeper Fantasy Promo: Jayson Tatum only needs 1 point against Heat on Thursday for users to cash in
Sleeper Fantasy is running it back with an incredible promotion involving Boston Celtics star Jayson Tatum!
The Celtics are once again facing elimination on Thursday night against the Miami Heat in Game 5 of the Eastern Conference Finals. Boston won Game 4 in Miami on Tuesday to force Game 5, but the Heat still hold a 3-1 series lead heading into Thursday night's matchup in Boston.
Will Tatum score at least 1 point on Thursday night? Seems like a given, right?
Well, users can take advantage of a great Sleeper Fantasy promo code, pick Tatum to score over 0.5 points and make that a part of a contest to try to win big!
sign up at Sleeper using our promo code "SOUTHXL" and get a deposit match of up to $100. Then pick Tatum and at least 1 other player to create your contest and try to win real money!
What is Sleeper and why should college sports fans care?
Sleeper is a daily fantasy sports (DFS) platform backed by investors such as American venture capitalist firm Andreessen Horowitz and current and former NBA stars like Kevin Durant, Klay Thompson, Baron Davis and Shane Battier.
Through Sleeper's exciting platform, you can bundle a few selections of player prop picks similar to what you'd find at sportsbooks and put real money against those picks.
Sleeper DFS picks contests are legal in these 25 states: AK, AR, CA, CO, FL, GA, IL, KS, KY, MA, MN, NE, NM, NC, ND, OK, OR, RI, SC, SD, TX, UT, VT, WI and WY. The picks contests are also legal in Washington DC.
f you want to get started today, Sleeper will match your first deposit up to $100 by clicking here or using promo code SOUTHXL.
My picks for Celtics vs. Heat
Jayson Tatum over 0.5 points. Yeah, he's going to score a point. Even if he goes scoreless in the first half for some reason, you can pretty much guarantee he'll have at least 1 point by the time the game is over. Boston fans will be rooting for him to score a lot more than 1 point, though!
Jimmy Butler over 41.5 points+rebounds+assists. Jimmy Butler loves playing the villain on the road. He surpassed 41.5 points+rebounds+assists in Games 1 and 2 in Boston. There's nothing he'd love more than silencing the Boston crowd once again with a big game. Expect him to be at his best on Thursday in a game the Heat would like to win so they can rest up before the NBA Finals.
Caleb Martin over 1.5 3-pointers made. With Gabe Vincent out of this game with an injury, Martin should see more playing time. Even with the minutes he has been getting, he's been hot from long range. In this series, he's made at least 2 3-pointers in all 4 games. Look for that hot shooting to continue on Thursday night. Someone has to make shots other than Butler!
How many picks should you make?
Sleeper uses a dynamic multiplier system for its picks contests. Some over/under picks have a higher multiplier than others based on how likely they are to occur.
Still, the general idea is that the more correct picks you make, the more money you can win!
As you can see below, combining the picks I described above pushes the multiplier to 5.01x, which pays out $25.05 on a $5 entry: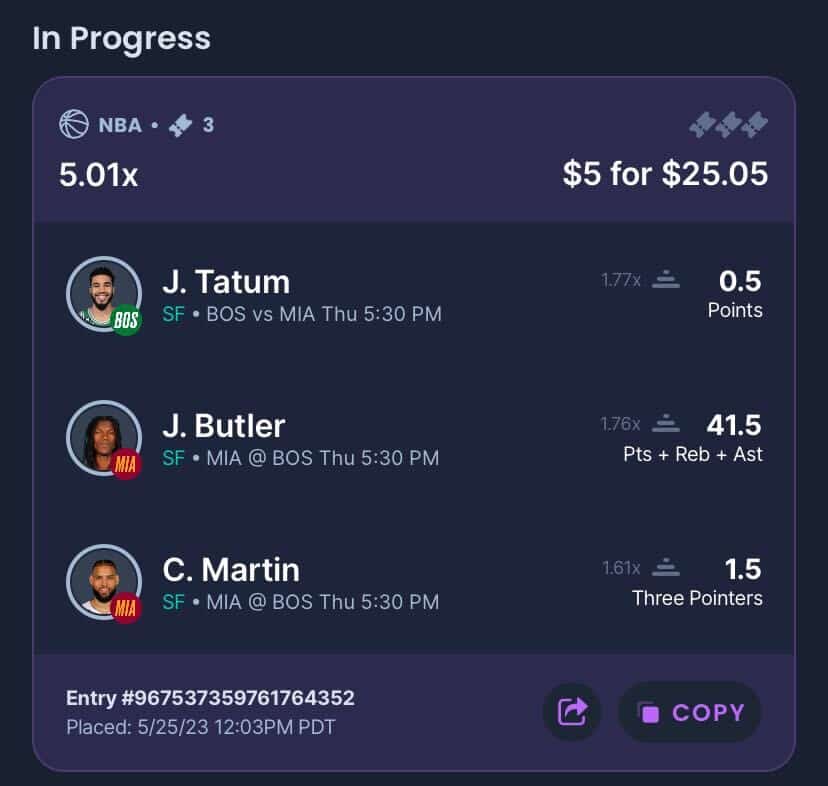 If you'd rather do a 2-way contest, I'd suggest removing Butler from the equation and going with a combo of Tatum and Martin. Either way, make sure you take advantage of this great offer before tipoff on Thursday night!
Get started on Sleeper by clicking here and make your picks for Thursday's Celtics-Heat game or other CFB, CBB, NFL and NBA games. Using this link means Sleeper will match your deposit up to $100. For example, if you deposit $50, you'll get an extra $50 to start using right away.