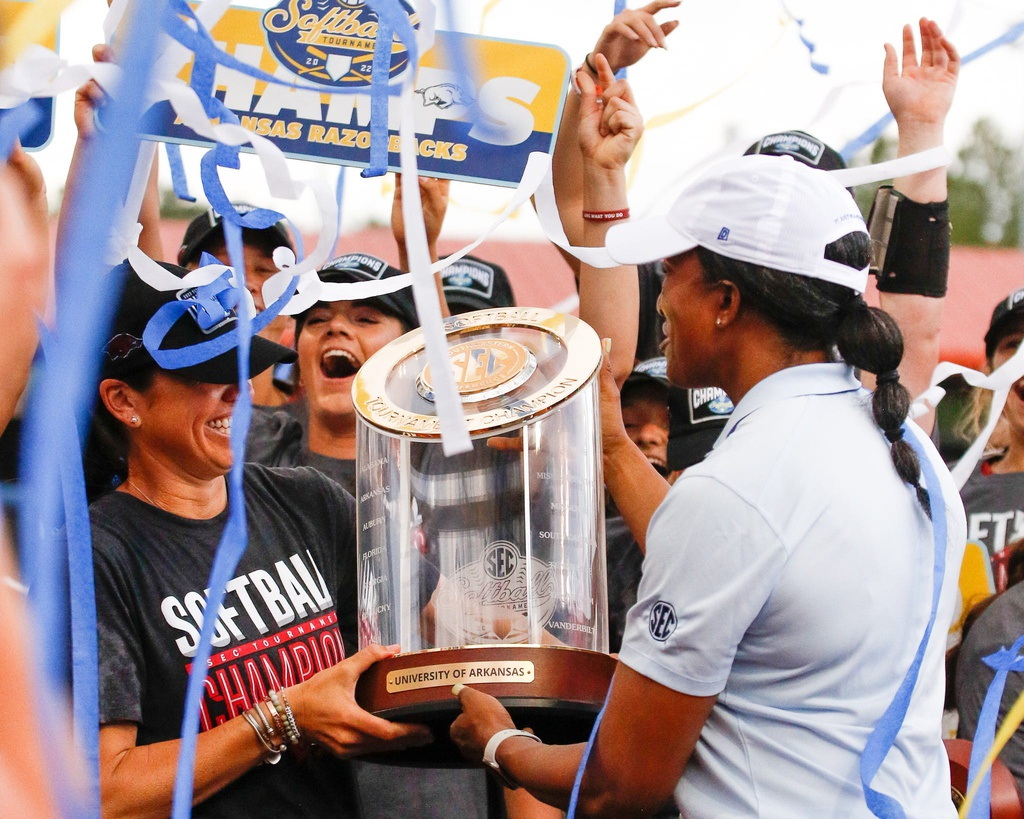 SOFTBALL
NCAA softball Super Regionals: A preview and prediction for 3 SEC teams
Three SEC teams continue their quest for a spot in the Women's College World Series. But to reach that destination they'll first have to be better than their Super Regional foe in a best-of-3 series.
For a program like Florida, this is old hat. The Gators advance to their 9th consecutive NCAA Super Regional and 14th overall since 2007. They've won 10 of their past 12 Super Regional appearances.
But for Arkansas and Mississippi State, it's relatively new ground. Sure, the Razorbacks are hosting a Super Regional for the 2nd consecutive season, but winning one would be a first. For Mississippi State, it's the 1st Super Regional in program history.
Here are the 3 matchup and a prediction on who advances to the Women's College World Series in Oklahoma City, Oklahoma, beginning June 2, and who goes home to start preparation for next season.
Texas (41-18-1) at No. 4 Arkansas (47-9)
The best-of-3 series begins at 7 p.m. ET Thursday, with the 2nd game scheduled for 4 p.m. ET Friday. A 3rd game, if necessary, is to be determined.
The Razorbacks are at home in Bogle Park against a Texas team playing its best softball. Two questions: Will SEC Pitcher of the Year, Chenise Delce, continue her mastery over the competition? And, can Danielle Gibson and Linnie Malkin stay hot at the plate?
Prediction: Arkansas in 2. The Razorbacks just seem like a team of destiny. I know a lot of Texas fans are thinking the same about their Longhorns. But Arkansas absolutely bludgeoned the opposition at regionals, sweeping all 3 games by a combined score of 26-5.
A team with the 2nd-most home runs in a season (109) in SEC history continues its roll to a first WCWS appearance.
No. 14 Florida (46-16) at No. 3 Virginia Tech (45-8)
The series opens at 2 p.m. ET Friday, with a noon Saturday game to follow. A 3rd and deciding game, if necessary, would be determined later.
The Gators have the experience, it's their 9th straight Super Regional appearance, and they'll advanced to the WCWS 10 times previous – capturing back-to-back national titles in 2014-15. But playing on the road will be a challenge. It's just the 2nd time Florida has had to play a Super Regional away from home. In the 2007 Super Regional, Florida dropped the best-of-3 series, 2-1, to Texas A&M at College Station.
Prediction: Florida in 3. The Gators are 6-0 all-time against the Hokies though they've never play in Blacksburg. But Virginia Tech, like the ACC as a whole, is overrated. Don't be surprised if the Gators sweep, but I'm giving the Hokies a game on their home field.
Florida's offense is on fire. They have the best team batting average in the tournament (.461) and have scored more runs (9.33 average) than anyone.
And they've done it in somewhat of a refreshing way, manufacturing runs in a season where the SEC home run record was shattered. The Gators tied their single-season record for steals (129) and will surely break that over this short series. It will likely be Skylar Wallace shattering the mark. She comes into the Super Regionals with 50 stolen bases, already the program's all-time best for a single season. Kendra Falby has added 35 steals.
If that weren't enough, Florida pitching posted a team ERA of 0.82 in the 3 region games, sweeping them by a combined score of 28-2.
Arizona (36-20) at Mississippi State (37-25)
The Bulldogs host an underrated Arizona team at Nusz Park beginning with a noon ET Friday opener. The 2nd game is scheduled for 4 p.m. Saturday. A 3rd game, if necessary, is to be determined.
The Bulldogs advance to their 1st Super Regionals in a most improbable fashion, losing the Region Tournament opener before reeling off 4 consecutive wins, including back-to-back triumphs in the finals to knock out No. 2 seed Florida State. It was the first time a No. 2 seed was eliminated in the regional round. The Bulldogs had been to 3 consecutive region finals but finally broke through this time.
Prediction: Arizona in 3. The Pac-12 still rules college softball, regardless of how many teams the SEC placed at regionals (12 of the 13 that field a softball team). Arizona will further prove that in Starkville this weekend. With 8 national titles already, the Wildcats are looking to add their 1st since winning back-to-back titles in 2006-07.
I'm a little concerned about the Bulldogs' bats. They scored just 21 runs in 5 Region Tournament games and hit only 2 home runs. Now that'll be enough if they get back-to-back shutouts from Annie Willis (9-8) and Aspen Wesley (9-7) like they did at regionals. But you can't very well count on that happening consistently.
This figures to be a very evenly matched series and should go down to the wire.