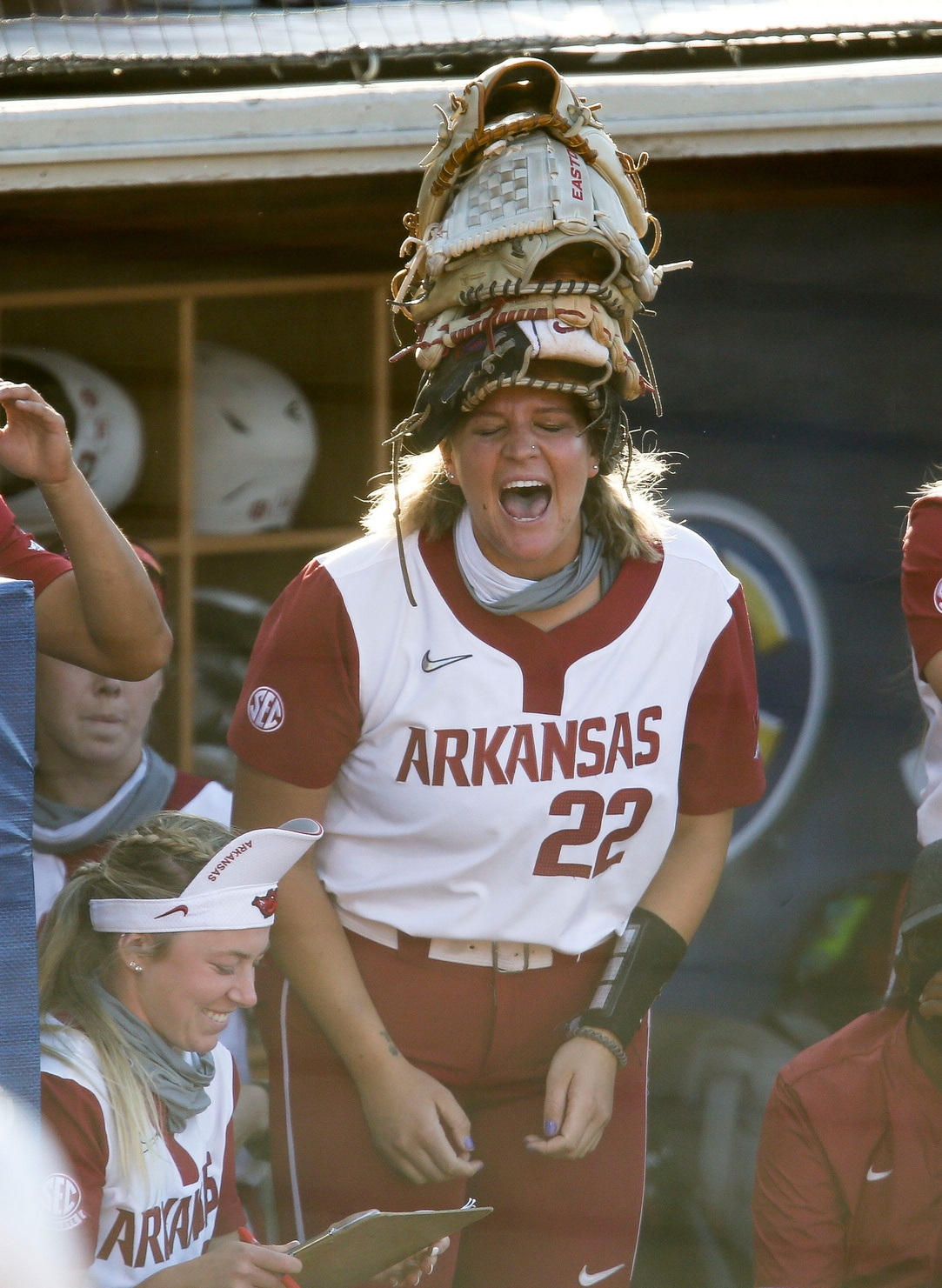 SOFTBALL
NCAA softball Super Regionals review and preview: Arkansas a win away from WCWS
The Razorbacks are 1 win away from Calling the Hogs in Oklahoma City. After taking care of Texas, 7-1, in the Super Regional opener on Thursday, Arkansas looks for the sweep in the best-of-3 series with a 4 p.m. ET Friday game that will be televised by ESPN.
The other 2 SEC teams in the Super Regionals play their openers Friday. Mississippi State hosts Arizona at noon ET on ESPNU; Florida visits Virginia Tech at 2 p.m. ET on ESPN2.
The Arkansas bats remained hot Thursday, with 6 Razorbacks combining for 12 hits. It turned out to be the Hannah and Hannah Show, with Hannah McEwen and Hannah Gammill collecting 3 hits apiece. Taylor Ellsworth and Linnie Malkin each added a pair of hits.
However, the Razorbacks left 11 runners on base and weren't able to break a 0-0 tie until busting it open with 3 runs in the 5th inning, with a Texas throwing error opening the flood gates, and Arkansas poured it on with 4 more in the 6th to pull away.
It was more than enough offense for SEC Pitcher of the Year Chenise Delce, who improved to 19-2 for the season with a complete-game effort, her 14th this year in 23 starts. The Tulsa transfer scattered 6 hits and struck out 6 to bring her season total to 176 Ks. She lost the shutout when the Longhorns pushed across a run in the 7th inning. But it did mark the 14th start this season for Delce in which the opposition was held to 1 run or fewer.
Here's a preview of games on Friday involving all 3 SEC teams.
Arizona (36-20) at Mississippi State (37-25)
One of two Super Regionals in which both teams are unranked, the Bulldogs are making their first appearance. Fortunately, they get the Wildcats at Nusz Park, where they are 25-10 this season.
Historically dominant Arizona was an also-ran in a highly competitive Pac-12 this season. The Wildcats didn't even reach .500 in conference play, limping to the finish line with a 10-14 league record. But that's deceiving when you consider 2 things: 1. They've won 4 straight and 6 of their past 7 games. But here's the stat of the day: Arizona is 26-6 against nonconference opponents in 2022. Whoa, didn't see that coming.
The Wildcats have tradition on their side. While Mississippi State enters uncharted waters on Friday, Arizona has won 8 national titles. They won back-to-back crowns in 2006-7, which was also the last time they won it all.
Two things I'm waiting to see:
1. How head coach Samantha Ricketts uses her pitching staff. She's done a masterful job so far, juggling starters Annie Willis, Aspen Wesley and Kenley Hawk. But it's an all-hands-on-deck approach that has led to this moment.
Willis and Aspen threw back-to-back shutouts at regionals to propel the Bulldogs to new heights. They lead the staff with a combined 36 starts. But they also have a combined 29 relief appearances as well. Hawk has started 15 games this year in her 34 appearances, and Matalasi Faapito has been effective in relief as well in her 18 appearances, which also include 6 starts.
2. Will the Bulldogs' bats wake up? They were outhit in 3 of 5 region games. Outside of a breakout 11-hit game against South Florida, a 6-0 win, they didn't have more than 6 hits in any one game. And for a team with the all-time SEC home run queen Mia Davidson (91 and counting, 5th-most in NCAA history) on its roster, during a season in which the SEC home run record was shattered, the long ball was nearly nonexistent in those 5 region games. A Bulldogs team that hit 69 homers this season, managed just 2 at regionals. Davidson hit one and Faapito the other. Davidson has 22 HRs this season.
No. 14 Florida (46-16) at No. 3 Virginia Tech (45-8)
The Gators are playing their best softball at the right time. Sweeping the region with barely a sweat, Florida has now won 6 of its past 7 games and 10 of 13 heading into Blacksburg for the Super Regionals.
It's their 9th consecutive appearance in the Super Regionals and the Gators look to advance to the WCWS for the 11th time, having won it twice in back-to-back fashion (2014-15). But they'll have to do it on the road, and that seems to be the only real question as to whether they'll punch their ticket for Oklahoma City. The only other time Florida has had to play a Super Regional on the road, it resulted in a loss at College Station.
Still, Virginia Tech has its hands full with this well-oiled machine. The Gators are getting on base, stealing bases in record numbers and scoring runs. They're just doing it differently. It's been the year of the home run, but not in Gainesville. The Gators are a distant last in the SEC with just 35 home runs; 6 SEC teams crushed more than 80 HRs. But they lead the league by a wide margin with 129 steals; only 2 other SEC teams had more than 70.
On top of that, the pitching staff has allowed just 20 runs over the past 13 games. Elizabeth Hightower and Lexie Delbrey are a combined 32-10 this season in the circle. Rylee Trlicek (1.75 ERA) has been lights out in relief and Natalie Lugo has been among the key contributors as well.
Right now, it's difficult to come up with a flaw in this team. But that's Virginia Tech's problem to solve. The Hokies are making their 2nd consecutive Super Regional appearance and hosting for the first time. They are 17-2 in Blacksburg this season and will rely on a pitching staff that compiled a 2.01 ERA for the season. The opposition hit just .177 against them.
Keely Rochard (25-3, 1.70) has been the workhorse, throwing a team-high 193 1/3 innings this season. Emma Emma Lemly (16-5, 1.87) has also turned in a big year. This appears to be Virginia Tech's best chance at derailing a Gators' train that appears to be steaming toward Oklahoma.
Game 2: Texas (41-19-1) at Arkansas (48-9)
The Razorbacks claimed their first Super Regional win on Thursday. So now that hurdle is cleared, they'll try for the sweep on Friday in hopes of earning a first berth into the Women's College World Series.
Texas ace Hailey Dolcini (21-10) was knocked out of the circle after 4 1/3 innings but only gave up 2 earned runs. She will no doubt be looking for revenge on Friday against an Arkansas offense that seemingly can't be stopped. Dolcini certainly slowed it down, tossing 4 shutout innings, but it would appear that stopping this juggernaut is impossible. There are just too many sluggers up and down the Razorbacks' lineup to keep them down for too long.
The 1-2 punch of Delce and Mary Haff (20-4, 2.61) in the circle for Arkansas will be difficult to overcome even for an overachieving Texas squad that knocked off No. 11 Washington in 2 of 3 games at the Seattle Region to get here.