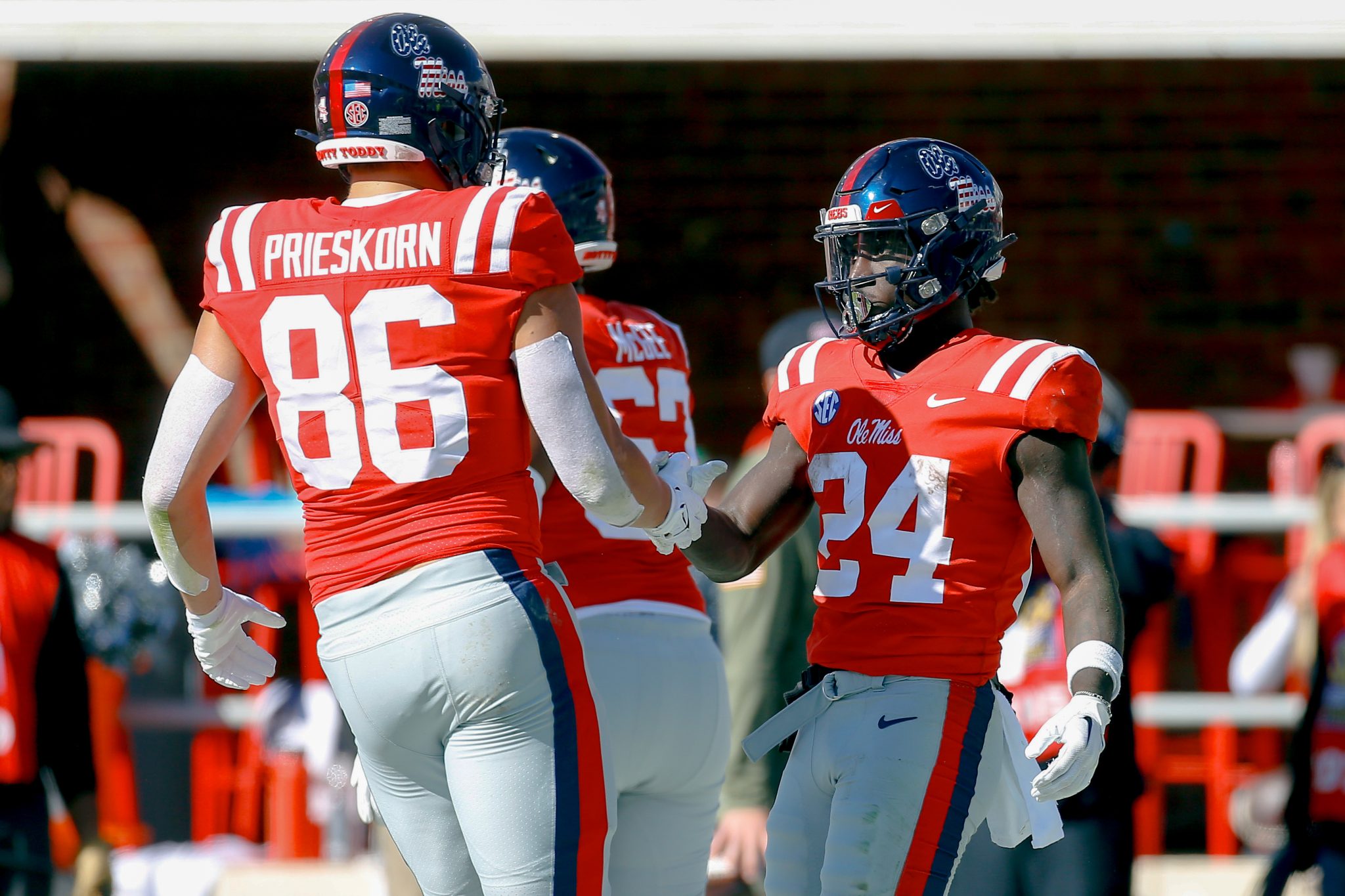 OLE MISS
3 takeaways as Ole Miss pulls away from pesky Louisiana-Monroe in 2nd half
Ole Miss found itself in a tight one against Louisiana-Monroe on Senior Day. But the Rebels, who only led 7-3 at halftime, rode a 21-point 3rd quarter to a 35-3 win in their home finale.
The Rebels were a massive favorite to defeat the now 2-9 Warhawks, whose lone win over an FBS opponent in 2023 was against Army to open the season. While Lane Kiffin's team ultimately came away with a double-digit win, it wasn't quite the wire-to-wire contest many expected. They'll have plenty to discuss in the film room during a short week before traveling to Starkville for Thanksgiving night's Egg Bowl.
Here are 3 takeaways as Ole Miss improved to 9-2:
A slow 1st half by Ole Miss offense allows ULM to hang around
Ole Miss had itself to blame for not putting this one away in the 1st half. It faced 2 4th-down opportunities: one on a 4th-and-2—from their own 27…which went for negative-2 yards—and another 4th-and-2 from the ULM 12 that saw Jaxson Dart fail to convert. On top of that, Caden Davis missed a 50-yard field goal on the opening drive.
A much better opponent would have taken those opportunities and put Ole Miss behind the 8-ball…like, say, Alabama. In all fairness, maybe the margin for error was a little bit wider in this one, but the Rebels got away with playing with their food before icing this one away in the 2nd half.
Jaxson Dart looked like his old self
Jaxson Dart gave way for Spencer Sanders in the 4th quarter with the result decided. He was sharp against the Warhawks, going 24-of-31 for 310 yards and 3 touchdowns while throwing 0 interceptions. Against Georgia, he threw no touchdowns and was held to just 112 yards.
This was the Dart that Rebels fans have enjoyed watching. They received some good news on Thursday — rather, Lane Kiffin let slip — that the quarterback will (may?) make his return in 2024 for his 4th season of eligibility. Saturday was a solid bounceback performance for the Rebels' QB1 after a rough outing between the hedges a week ago.
Up next: the Egg Bowl
The Rebels will be heavily favored to defeat Mississippi State in the Egg Bowl on Thursday night. They'll be out for revenge as they lost to the Bulldogs 24-22 in Oxford a season ago.
Simply put, the Rebels can't afford to spin their wheels in the 1st half as they did against ULM. They're a much better team that they showed on Saturday, and they'll need to prove it against a Bulldogs program that is currently without a coach and will be looking to capture momentum going into 2024 while dealing their rival a loss that would knock them out of New Year's 6 consideration.
With just a few days to prepare, Ole Miss will be tasked with entering Thursday's game against their in-state foes with the right mindset. It can ill afford to look past Mississippi State and ahead to a high-end bowl that could elude its grasp if it finds itself in a too-close-for-comfort affair in Starkville.