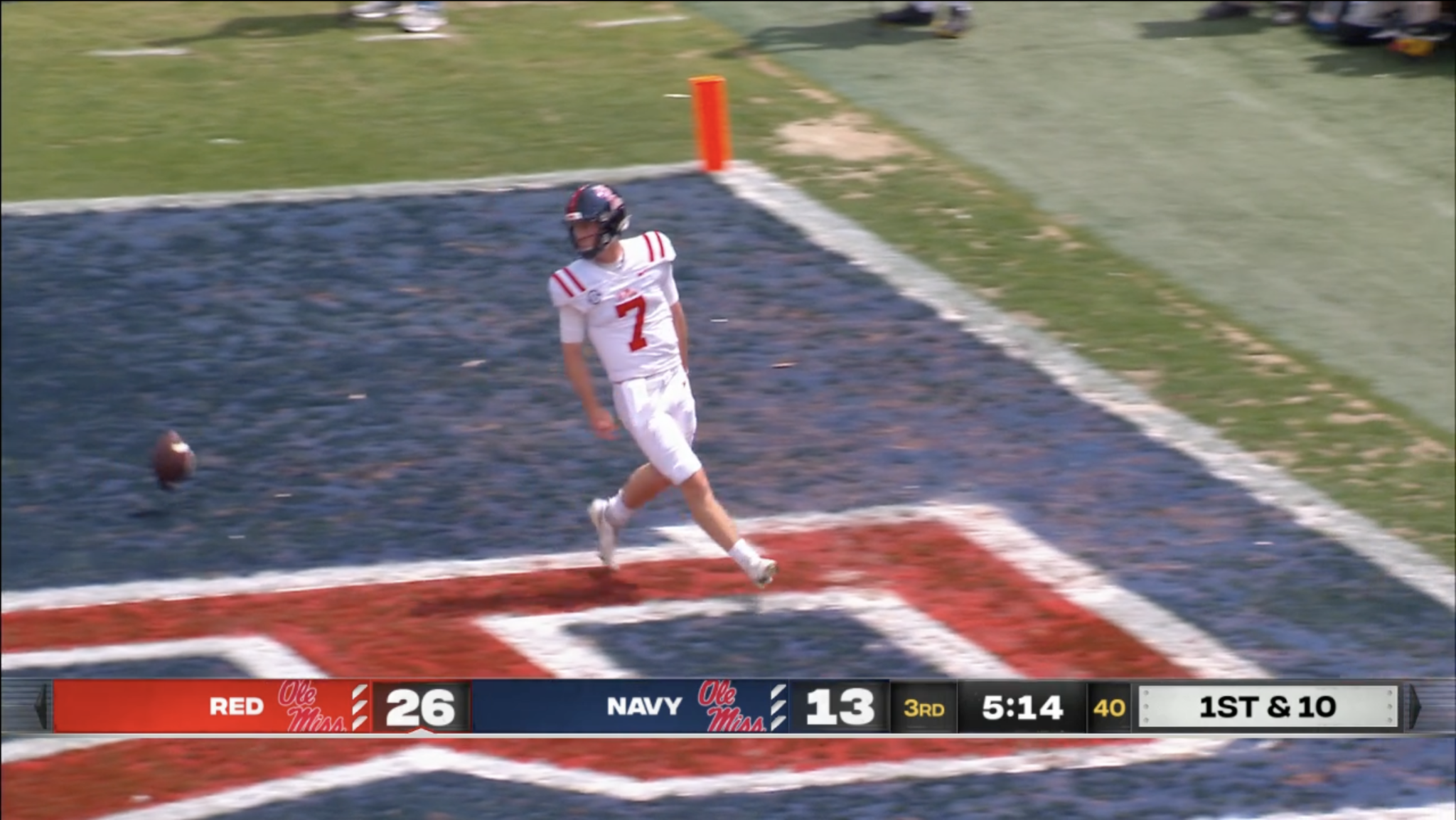 OLE MISS
5 takeaways from Ole Miss' Grove Bowl
Ole Miss turned the page on the 2021 season this spring after a 10-win campaign and appearance in the Sugar Bowl.
The Grove Bowl on Saturday was a showcase of new faces, including 12 early-enrolled players from the transfer portal, and 2 incoming freshmen, one junior college addition, and a remade coaching staff including new offensive and defensive play-callers.
But all of that was overshadowed by the quarterback competition between sophomore Luke Altmyer and Southern Cal transfer Jaxson Dart to replace Matt Corral.
Beyond quarterback, Ole Miss will also have position battles everywhere from receiver and running back to linebacker and defensive line.
"I did not set the teams up. They were drafted by the general manager."

"(QB) Luke (Altmyer) did very well and (WR) J.J. (Henry) has played well too."

Ole Miss head coach Lane Kiffin on the @OleMissNetwork at halftime.

— Brad Logan (@BradLoganCOTE) April 23, 2022
Here are 5 takeaways from the Grove Bowl:
Quarterbacks
Lane Kiffin put it best on the SEC Network+ broadcast when he said Dart was trying to win every play, while Altmyer played within the offense.
Altmyer by late in the third quarter was 9-for-22 for 182 yards passing with 5 rushes for 77 yards and two TDs on the ground. By that point, Dart was 4-for-19 passing. Dart got off to a slow start with just 1 pass completion on his first drive, for 22 yards, and he was sacked twice. Also, Dart also tried to lay out a defender after his first interception on a play that was dangerously close to a targeting call. It appeared frustration may have gotten the best of Dart.
Dart improved late in the second half with a solid drive where he had a couple of throws in tight spaces, and it ended with a rushing touchdown from Urriah Sheppard.
Kinkead Dent even had a strong game, so Ole Miss has no problems with depth at quarterback, and that was evident.
Running backs
Isaiah Woullard turned in an impressive run in the second half when he spun off defenders and delivered a monster stiff arm. Earlier in the scrimmage, Quinshon Judkins drew a Trent Richardson comparison from Kiffin himself.
Ulysses Bentley also contributed from the backfield early in the game when he caught a pass in the flats and took it 42 yards, reversing field and then later scored on a short touchdown.
Woullard finished with 4 carries for 78 yards and a TD, while Urriah Shephard contributed 7 carries for 74 yards and a touchdown. The Rebels have plenty of options in the backfield.
Secondary shines
Tysheem Johnson turned in a 73-yard interception return as one of the defensive highlights of the scrimmage, and that helps his earlier statement this spring that Ole Miss would have the best secondary in the country this season. It was Dart's second interception, and was a costly mistake after Dart's first pick was underthrown to Derek Bermudez.
— Ole Miss Football (@OleMissFB) April 23, 2022
The Red team showed off the best part of the defense, with a combined 7 tackles for a loss and 6 sacks, and the 2 interceptions.
Coaching personalities
Michael Nysewander, a support staffer, and Sam Carter, the cornerbacks coach, revealed their personalities throughout the game, especially on the SEC Network+ broadcast. With his team trailing at halftime, Carter shed his sportcoat, and the broadcast team joked that he wanted to show off his physique. But it paid off as the Navy team turned it on in the second half.
Nysewander, in between throwing compliments to Kiffin, wowed the crowd with a dress shirt and tie, and also revealed to Tom Hart that he once ate 32 burgers in one sitting after he vowed the red team would win 100-0. He later clarified that those burgers were Krystals.
Showing off assistant coach and support staff personalities is what spring games should be about, and this was a refreshing development.
Wide receivers
Michael Trigg made several impressive catches and finished with 7 catches for 89 yards, 3 touchdowns and a 2-point conversion. J.J. Henry made an impressive catch near the end of the first half, and finished with 5 catches for 84 yards, so the overall effort left Kiffin with a smile on his face.
"Better than where it started," he said. We know what (Jonathan) Mingo is, so not having him is not like having a new player hurt. We see some pieces coming together. JJ Henry made plays, obviously you saw (Michael) Trigg. So, feeling better."