Bo Wallace tweets, then deletes message calling out Bo Nix, gets roasted by Auburn fans
Bo Nix and the Auburn Tigers handed Ole Miss a 31-20 loss on Saturday night at Jordan-Hare Stadium.
Nix has been playing well this year, which is perhaps the biggest reason the Tigers find themselves at 6-2 through 8 games. Nix has always been able to make dynamic plays, but this year, he's making more consistent plays.
That led one fan to tweet something about Bo Nix being better than former Ole Miss QB Bo Wallace. Well, Wallace saw that message and fired back in a since-deleted tweet: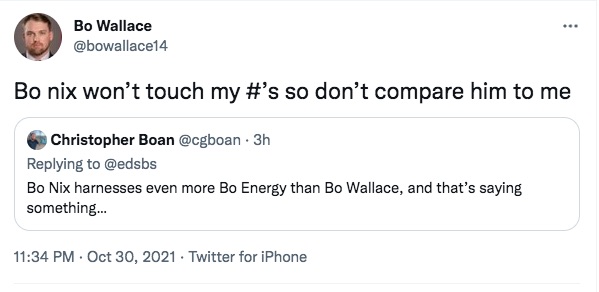 As you might expect, Auburn fans were all to eager to troll Wallace for that tweet. Here were some of the responses from Tiger fans:
@bowallace14 realized he wasn't on his burner account lmao

— A (@AddisonCarmack) October 31, 2021
Are you freaking kidding? Why even respond? How juvenile. Reminds me of Freeze responding to every tweet he was mentioned in.

— robdogt (@Robdogt1) October 31, 2021
The way you talk about yourself makes it seem like you should be in the NFL instead of a washed up JUCO coach

— John Payne (@MajorPayne2213) October 31, 2021
Who's Bo Wallace?

— Jim (@Cakalacman) October 31, 2021
You're rights Bo Nix will never touch your 41 interceptions pic.twitter.com/CqKbhF0AjI

— Auburn.access (@AuburnAccess) October 31, 2021
You're right. He'll never throw 17 interceptions in a season. What ever will we do?

— Caleb Williams (@dubswill) October 31, 2021
We'll see if Nix can continue having a solid season. If he does, more big wins could be coming Auburn's way.