OLE MISS
Hugh Freeze's first 5-star recruit trying to run his way onto NFL roster
OXFORD, Miss. — Channing Ward made his absurd announcement live on ESPN at the 2012 Under Armour All-American Game.
The five-star defensive end, Mississippi's top player, declared he was going to Ole Miss. The Rebels were coming off a 2-10 season, a two-year SEC mark of 1-15. They had fired Houston Nutt and hired little-known Hugh Freeze from Arkansas State.
Yet Ward, who held offers from the likes of Alabama, LSU, Notre Dame and Oklahoma, said yes to Freeze and became that class' lone five-star signee.
"When I got here and had I guess three weeks left [before National Signing Day], Channing was a priority in that class for sure. Winning the state is important," Freeze said. "I recall very vividly knowing how important he was. And Channing is one of the best teammates that I've ever witnessed. There's not a single person in our locker room or on this staff that will say anything negative about Channing Ward."
Before Ole Miss began making top 15 recruiting classes a habit in 2013, Ward signed on, a quiet cornerstone of what was to come. Before it was cool to go to Ole Miss. Before the best players in the country wanted to be Rebels.
Ward's hometown of Aberdeen is 38 miles from Mississippi State's Davis Wade Stadium. The thought around Aberdeen was that if he didn't go to Mississippi State, the first to offer him as a freshman, he was going to Alabama. Not many expected Ole Miss.
CARVING ANOTHER TRAIL
Four years after choosing the unlikely path, he is attempting to carve another unique trail – to the NFL.
Ward's road has been winding. If he has to get there via free agency, fighting for a spot isn't new. Struggling to catch on as early as expected, he battled guys like first-round draft prospects Laremy Tunsil, Robert Nkemdiche and Laquon Treadwell for playing time and for the spotlight, which the star members of the 2013 class always seemed to hold.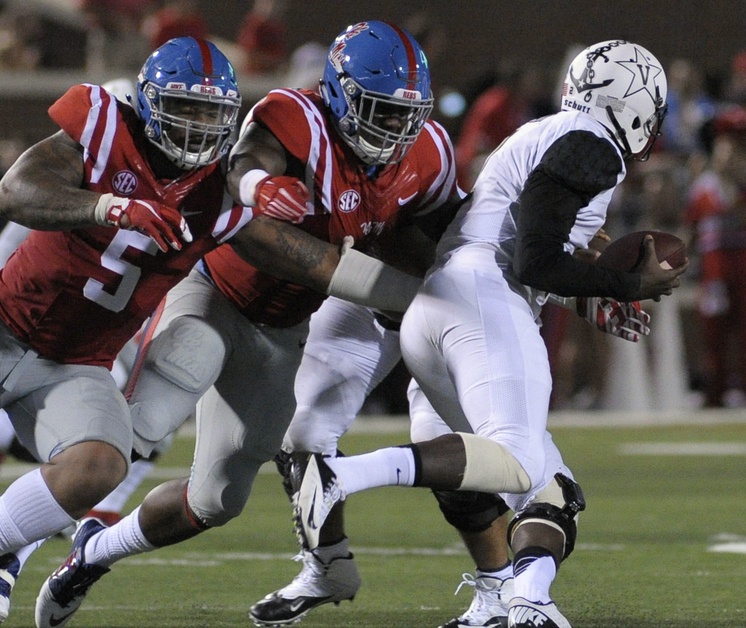 His NFL potential isn't being touted as loudly. Ward had to throw away the five stars and claw for everything he got in the SEC. At Ole Miss' Pro Day on Monday, he made sure scouts knew his NFL dream was very much alive by running a 4.61 in the 40-yard dash – at 6-foot-3, 288 pounds.
"I said all along. His size-speed ratio is pretty crazy," Freeze said. "You watch him run down on kickoffs and coverage units, at 280 pounds and running that speed is pretty phenomenal. He'll get a chance somewhere for sure."
Without a redshirt and admittedly behind on the playbook, he made 21 tackles and 1.5 tackles-for-loss as a freshman, well below the expectations heaped on him. He willingly found a niche on special teams as a sophomore and his stats improved to 24 tackles, two for loss with a pair of forced fumbles and seven hurries. The numbers grew every season, and he started four games as a senior, making a career-high 35 tackles, 6.5 for loss, three pass breakups, three deflections, a forced fumble and four recoveries.
He played in every game of his career.
"I had to find a way for me to get on the field. I took advantage of that opportunity," Ward said.
SPECIAL TEAMS ACE, PASS RUSH SPECIALIST
Special teams is where Ward made his mark rather than along the defensive line. Aberdeen High School coach Chris Duncan believes Ward can do that plus plenty more in the NFL.
"A guy that big who runs that well is a premium," Duncan said. "I believe once he gets into that pro system, he'll be fine as a rush end. They'll slim him down a little bit and turn him loose as a rush end in the NFL. That's where his real talent lies."
Ward felt good about his Monday work – in front of a national audience on two networks. He and Nkemdiche were two of the last on the field, drilling together more two hours into the workouts. No doubt what he felt best about.
"Probably my 40," Ward said, flashing a grin. "Most of my drill work too. I think I did real good."
Something to point out: Channing Ward's 4.61 is faster than Laquon Treadwell's 4.65. He outweighs Treadwell by about 70 pounds.

— Daniel Paulling (@DanielPaulling) March 29, 2016
Former Vanderbilt kick returner Brian Kimbrow will vouch.
Ward must have felt like an invisible freight train to Kimbrow in the 2013 season opener in Nashville. Kimbrow took a kickoff out of the end zone only to be leveled by Ward in one of the hardest hits of the college football season. Effortlessly slinging a blocker to the side, Ward put Kimbrow on his back at the 11-yard line, ball lying beside Kimbrow as he laid still on the grass.
Ward threw up a Landshark and headed to the sideline.
PUTTING PRIDE ASIDE
Ward still faces hurdles, maybe more than most SEC NFL prospects. But his approach to the game should help.
NFL teams already know his willingness to get on the field wherever and whenever. That paid off at Ole Miss. He forced a late fumble in a 17-all game that led Ole Miss to a 23-17 win over Alabama in 2014, was part of three Egg Bowl wins over Mississippi State and contributed in Compass, Music City, Peach and Sugar Bowls, three of them wins.
That unbridled desire to play could be the attribute that gets him on an NFL field. Ward understands how to fight. He had to learn it after high school. He was sacking varsity quarterbacks as an eighth-grader and was the best player on the field every Friday night for four years.
"I've got a lot more fight than I had at first," he said. "Now, everybody's dominant. It's learning how to fight and keep going when stuff gets hard for you."
That won't change at the highest level.
He has talked with the Patriots, Raiders, Chargers and Jets and said one thing teams want to see is his speed. They saw that Monday.
"It's a real feeling now," Ward said. "You know you're getting real close to where you always dreamed to be. I feel like I've had to earn everything I've got but I wouldn't want it any other way. I worked had to get where I'm at, fight for every inch I got.
"I'll do whatever it takes to get on the field."