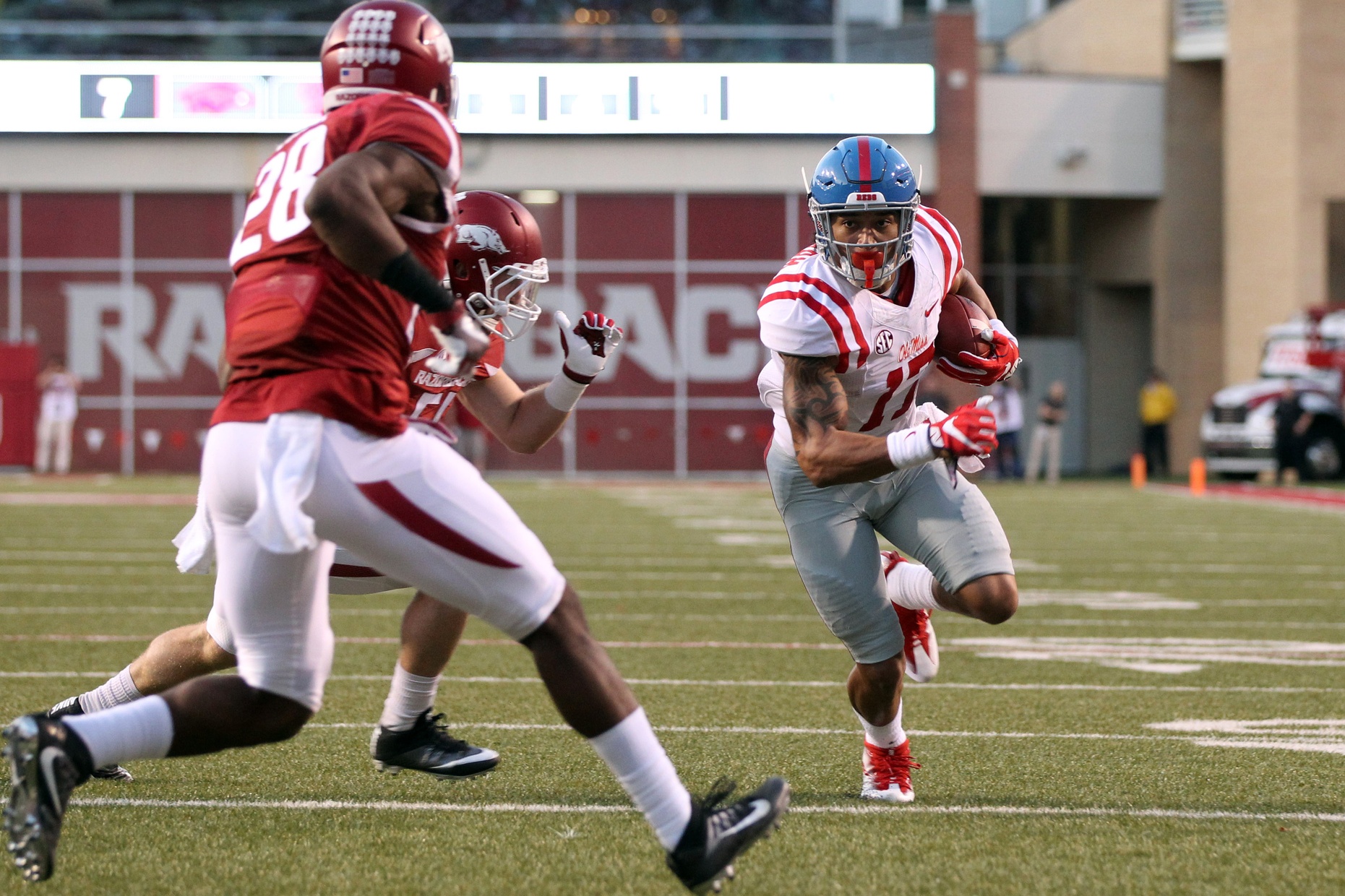 OLE MISS
What do we make of Ole Miss at the midpoint of the season?
Ole Miss isn't where it expected to be with the season at its midpoint. The Rebels are 3-3 and 1-2 and don't have an SEC title to play for, much less a chance at the Playoff.
That said, there are big games to go, including at LSU, at Texas A&M and vs. Mississippi State. Here is a look at where the Rebels are, better or worse, as opposed to where we thought they would be with Halloween approaching.
OFFENSE
Almost right where the Rebels thought they would be. Ole Miss is first in the SEC in passing with Chad Kelly, averaging 320 yards per game. Its 16 passing touchdowns is tied for second and 1,920 yards leads the league. The receiving corps is as dangerous as everyone thought it could be. Freshman DK Metcalf made two highlight-reel touchdown catches before he was lost for the season. Freshmen Van Jefferson and A.J. Brown have shined early. Damore'ea Stringfellow has 22 catches for 331 yards.
But in overall offense, the Rebels are fifth in the SEC with 475.8 yards per game. That is more than 50 yards behind first-place Texas A&M. That's because Ole Miss can't run the football. Take away the Memphis game, and the run game has been non-existent. The Rebels are 12th in the conference with 156 yards rushing per game.
Receivers are making unbelievable catches and dominating one-on-ones. Tight end Evan Engram has been unstoppable. He is the best tight end in the country and has 37 catches for 590 yards and 5 touchdowns. He leads the SEC in receiving by more than 100 yards. But the backs took a hit when Jordan Wilkins was ruled ineligible (an admin error, not his own) and Eric Swinney was lost for the season (again). The backfield has shown no signs of recovering.
DEFENSE
Nowhere near where they thought they'd be. After losing a lot on defense, no one was projecting the nation's top unit. But no one was projecting the worst unit in the SEC either. And that's where Ole Miss is at the halfway point of 2016.
The loss of Robert Nkemdiche can't be blamed for everything. It has been a team effort to get to 12th in the league in rush defense, one of four SEC teams to allow more than 200 yards per game.
It can't all be blamed on losing senior defensive backs Trae Elston and Mike Hilton either. It has been a team effort to get to 11th in the SEC in passing yards allowed (233.2). Linebacker responsibility has already been turned over from defensive coordinator Dave Wommack to graduate assistant Christian Robinson.
The linebacker production has lacked. Last year's leading tackler DeMarquis Gates is second on the team with 37 tackles, but transfers Detric Bing-Dukes (23) and Rommel Mageo (16) are way below and have started a combined six games.
FRESHMAN CLASS
The rising star of the freshman class quickly became Metcalf. He had only two catches before breaking his foot but both were Top 10 worthy touchdown catches from the 6-foot-4 hometown recruit. Fellow heralded freshman receiver Brown has found an early groove, too. He has started one game and is one of five Rebels with double-digit catches (15 receptions, 201 yards, 2 TDs) and has shown his strength and knack for making tough catches that made him a top-five wide receiver in the country.
Tackle Greg Little has lived up to the billing and looks well on pace to be the first-round draft pick he was labeled as in high school. DT Benito Jones has shown flashes of similar excellence. He pressures and has quickly picked up the speed of SEC offenses.
The freshman overload is in the secondary where Myles Hartsfield has started all six games and has 20 tackles. Jaylon Jones hasn't started a game but has 13 tackles, three breakups and a forced fumble. Deontay Anderson hasn't drawn a start but has 16 tackles, 1.5 for loss.
RETURNING STARS
QB Chad Kelly: Kelly has had the gunslinger moments he is going to have but is right back where expected. His 1,849 passing yards is 12 behind Austin Allen atop the SEC. He is completing 62 percent of his passes and has 14 touchdowns and 5 INTs.
DE Marquis Haynes: Haynes is slightly behind his pace from last season but no shame in 26 tackles, 6 for loss, and 4 sacks at this point. He also has 3 hurries, 2 forced fumbles and a pick. All while being the focal point of every opponent's scheme.
LB DeMarquis Gates: Had he not been suspended for a game, last season's leading tackler would be again. Instead, he is second with 37 tackles, 3 for loss, 3 sacks and 3 hurries.
TE Evan Engram: By far the star of the show and is trumping his own marks. Engram is on pace to at least double his own receptions, yards and touchdowns. His 37 catches for 590 yards and 5 touchdowns all lead tight ends in the country.
WR Damore'ea Stringfellow: In a crowded group, he's standing out. He has 22 catches for 331 yards and 2 touchdowns and is averaging 15 yards per catch.