OLE MISS
High school coach to Ole Miss: 'Get ready to get skull-drug'
If there's one thing we've learned anything on Wednesday, it's that you don't cross St. Stanisclaus football coach Bill Conides.
The high school coach from South Mississippi had one of his players receive a scholarship offer from Mississippi State today, which should be a happy moment.
But just hours later, he took to Twitter to let the Ole Miss coaching staff know how he felt about their perceived lack of interest in players from his area: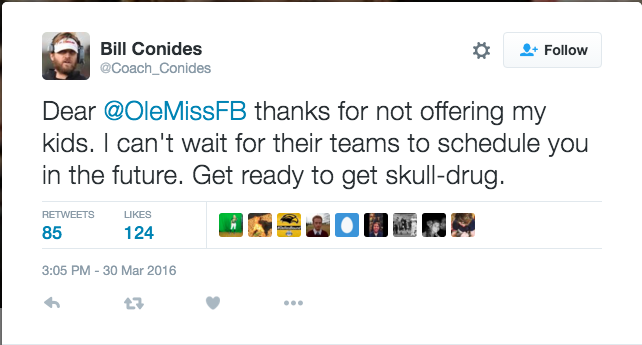 For those of you wondering exactly what "skull-drug" means, we've taken the liberty of consulting UrbanDictionary.com for some unofficial takes on the term. (Warning: Language)

According to a report from The Sun Herald, Conides says the Tweet was not sour grapes over a missed offer, rather a boiling over of long-term frustrations.
"No one (with Ole Miss) has ever said 'we're not going to offer Chase (Rogers) or we're not going to offer Myles (Brennan) because of X, Y, Z.' I've got that from people like Mississippi State," Conides said. "They told me flat-out exactly what they were looking for and that was it. With Ole Miss, it was kind of, we'll wait and see.

"Well, unfortunately for Ole Miss, folks in the SEC know what our young men can do and have offered. It's going to be sweet revenge on some Saturdays."
The Tweet drew an almost immediate response from Ole Miss assistant coach Matt Luke.
"The funny thing is, and it's just the way things work with social media, I put it out on Twitter and then Matt Luke, who is responsible for our area, texted me and said 'Hey, Coach. I'd like to talk to you about your last tweet,'" Conides said. "He has tried to call me and Facetime me all of a sudden out of nowhere.

"It's like, I've been trying to get in touch with you guys for two years now. If that's what it takes to get people's attention, then I think their priorities are in the wrong place. We're talking about 16-, 17-year-old kids. We're talking about kids."
Chase Rogers, the player who received the offer from Mississippi State, is committed to play for Tennessee. He has received attention from Ole Miss, which was where his father played, but has not received an offer, according to the newspaper report.