OLE MISS
Lane Kiffin fires back at rumor of his involvement with an ex-Ole Miss cheerleader
Lane Kiffin has decided to directly address a social media rumor about his personal life.
The Ole Miss head coach recently quote-tweeted a Mississippi State fan saying Kiffin got a former Ole Miss cheerleader pregnant. Kiffin mocked the usage of "done knocked up," calling it the "best part of the rumor," using a laughing emoji.
The best part of this rumor is the usage of "DONE knocked up" 😂 Some people ….. 🤦‍♂️ https://t.co/Nu2Fn1fuCv

— Lane Kiffin (@Lane_Kiffin) July 16, 2021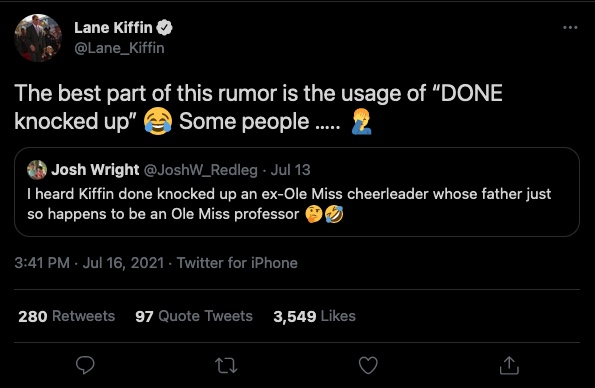 Rashad Milligan of the Clarion Ledger noted that another Twitter user shared a screenshot adding details to the rumor.
👀 👀 👀 pic.twitter.com/qXkduKRRlU

— Matt (@MattMccrory4) July 14, 2021
Kiffin has nearly 488,000 followers on Twitter, so his quote-tweet was likely the first time hearing of the rumor for people outside of the Ole Miss and Mississippi State fandoms. Kiffin is scheduled to speak on Day 2 of SEC Media Days on Tuesday in Hoover, Alabama.