OLE MISS
Laremy Tunsil's social media nightmare continues
Laremy Tunsil's terrible social media night continues.
The former Ole Miss offensive tackle was selected No. 13 overall by the Miami Dolphins during Thursday's NFL Draft after seeing his draft stock plummet due to a hack of his Twitter account which revealed a video of Tunsil smoking out of a bong while wearing a gas mask.
The tweet and Tunsil's twitter account were deleted, and Tunsil gave the following interview on live TV:
Deion Sanders talks to Laremy Tunsil pic.twitter.com/nJOtoXoNos

— The Cauldron (ICYMI) (@CauldronICYMI) April 29, 2016
But that was just the beginning of his social media issues.
Shortly after he was selected, it appears as though his Instagram account was also hacked.
We have screenshots of the posts that were made:
Now, first, it's worth noting that screenshots like these are fairly easy to fake.
That being said, this alleged conversation with "John Miller" seems to indicate that money was changing hands.
For those asking: John Miller is Ole Miss' assistant AD for football operations. Barney is Barney Farrar, another Ole Miss staffer.

— Hugh Kellenberger (@HKellenbergerCL) April 29, 2016
For reference, John Miller is listed as Assistant A.D./Football Operations on the Ole Miss football website.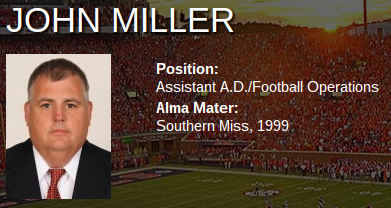 Stay tuned for more to come from this story.