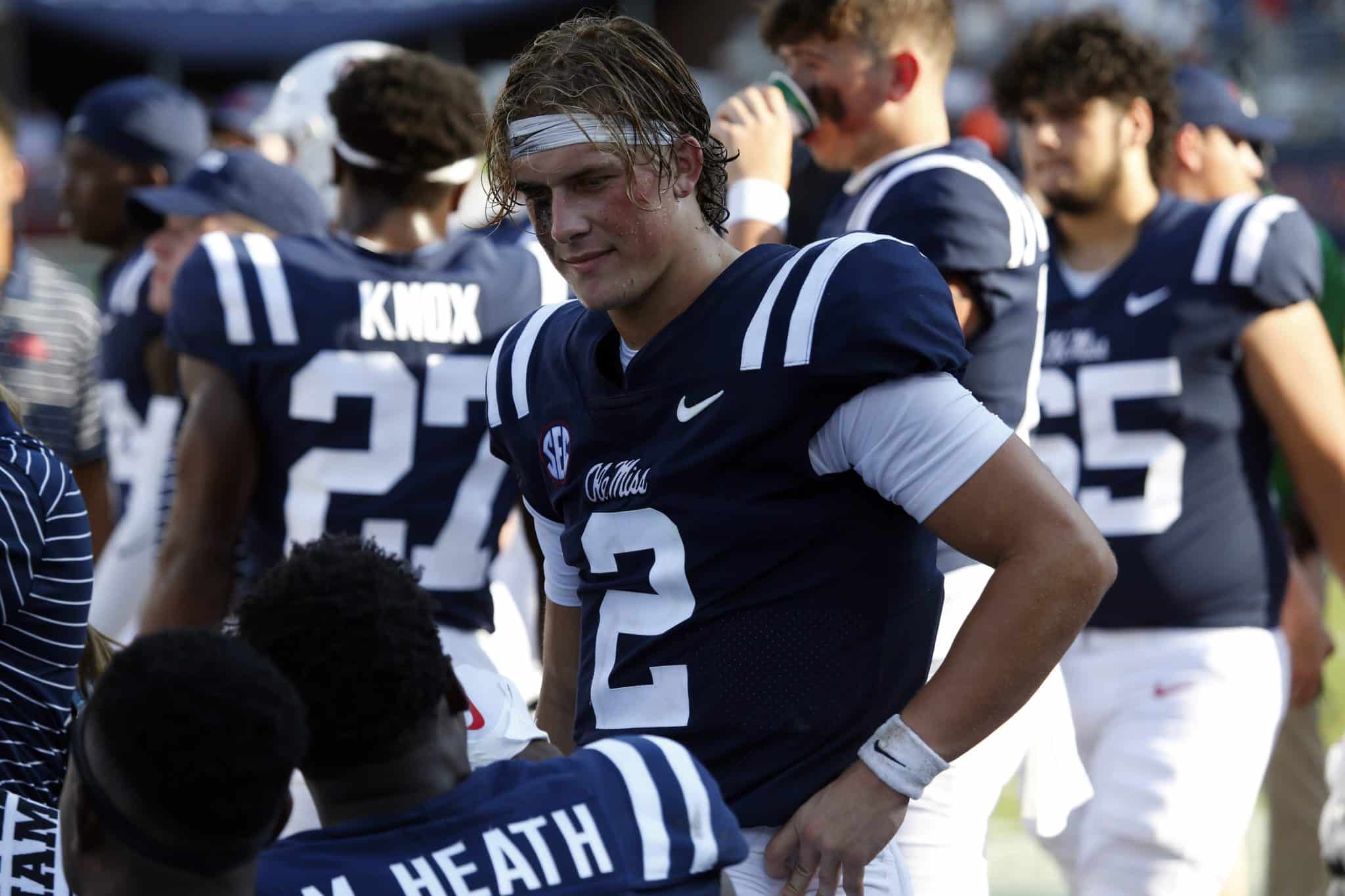 OLE MISS
Ole Miss football: 3 areas Rebels must improve moving forward
The Ole Miss Rebels accomplish the ultimate goal on Saturday with a 28-10 win over Troy. But it wasn't all pretty, and it exposed some weak areas the Rebels need to tune up if they're to achieve the same success they had in their 10-win 2021.
Here's a look into 3 areas Ole Miss should look to remedy ahead of next week's contest against Central Arkansas and as the season marches on.
1. Improve quarterback play
Jaxson Dart is still a largely inexperienced quarterback, and especially with a change of scenery, there are some growing pains to be expected. But there were some decision-making issues that especially came to light in Dart's interception in the back of the end zone right into the hands of Troy defender Markeis Colvin.
Dart finished 18-of-27 for 154 yards with 1 touchdown and 1 interception.
It's important to remember that there was a closely contended quarterback battle between Dart and Luke Altmyer over the offseason. Lane Kiffin confirmed that Altmyer will be the starter against Central Arkansas. Tha has always been the plan, and Kiffin wants to see how both players handle opening the game as the starter. The Rebels will get a better sense of who has the true edge. Dart still projects to have the higher ceiling, while Altmyer has 1 year of experience with Ole Miss that Dart doesn't possess.
Both players had some turnover issues, especially early in the offseason, so how well the football is taken care of and how little they put it in harm's way will be something to watch. There has always been the saying that if you have 2 quarterbacks, you have no quarterback. So Ole Miss should hope to limit the back-and-forth moving forward.
2. Playing a complete game
It sounds simple, but there's no denying the offensive effort in the 1st half was much more successful than in the 2nd. If the Rebels can start fast and finish strong while putting on a consistent performance, they're going to find more stability — something they have some time to do with another cupcake opponent on the horizon and still weeks out from SEC play.
Against Troy, the Rebels put up 3 touchdowns in the first 2 quarters, with just 1 score in in the 3rd quarter and a goose egg in the 4th.
Kiffin spoke to the way the crowd disappeared in the 2nd half during his Monday press conference. He didn't mince words.
"It seemed like it was really good, especially in the 1st half," Kiffin said on the overall attendance. "But they probably got bored in the 2nd half. I would, too, with our offense."
3. Limit total yards surrendered
The Rebels gave up a total of 346 yards to Troy, something they will need to cut down on with some tougher opponents down the line. This isn't to say the Rebels' defense was playing badly at all — Kiffin had high praise for the unit after the game.
It was more of a "bend don't break" approach that Kiffin has referenced in the past.
"Well, bend don't break," Kiffin told ESPN's Katie George during last season's Egg Bowl rivalry game against Mississippi State. "We've given up some yards, but we've done good in the red zone, made them attempt field goals. So that's good."
Still, preventing offenses from gaining this many yards is going to be advantageous, especially when playing tight games with tough conference opponents. And the SEC is stacked this year.