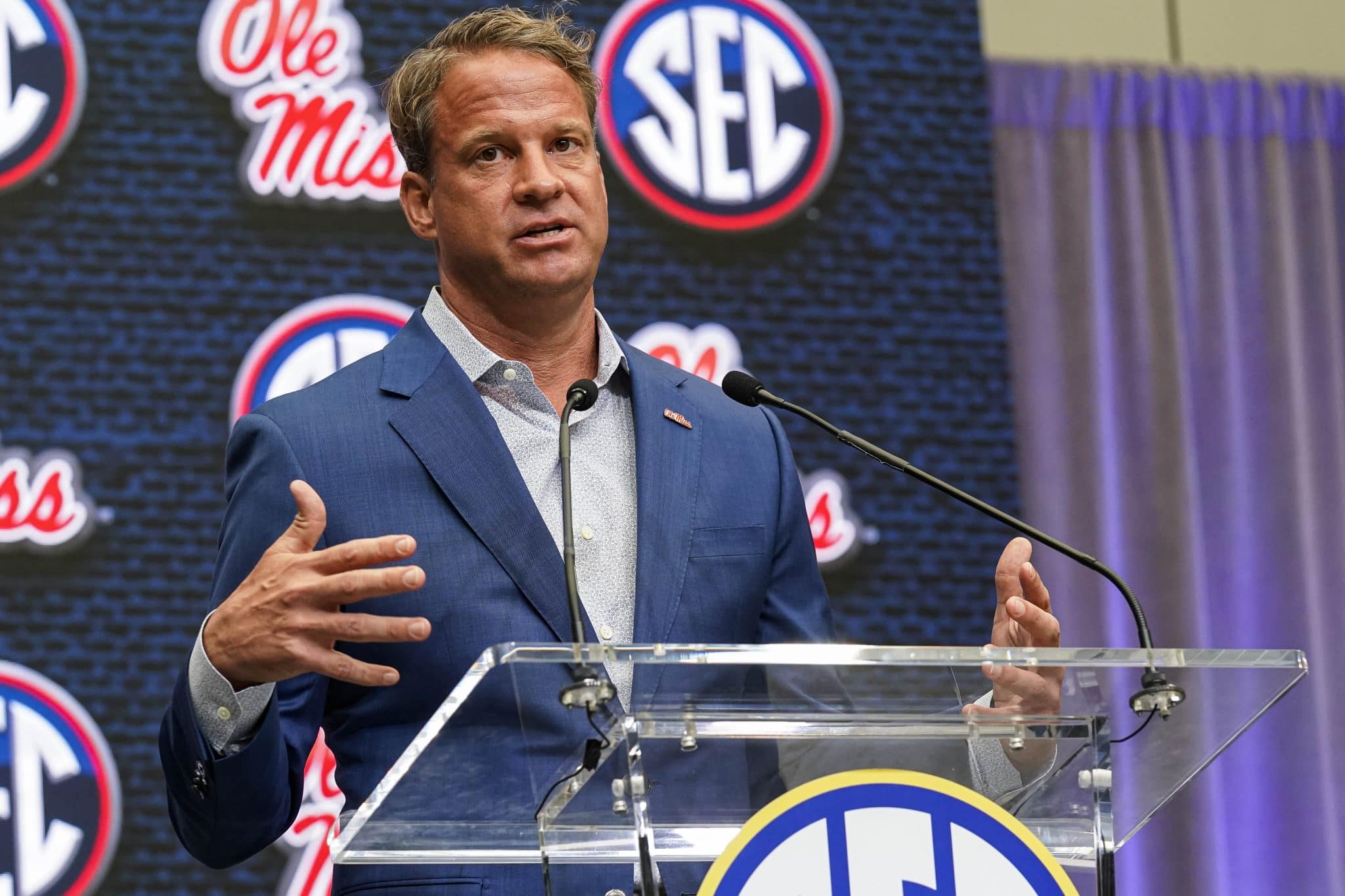 OLE MISS
5 statistical trends Ole Miss must reverse in 2022
It's no secret that Ole Miss is of national relevance after how well it performed on offense. The Rebels' quarterback — Matt Corral, a third-round pick of the Panthers — could have a bright NFL future, and their system produced the program's first 10-win season since 2015 under then-coach Hugh Freeze.
Before 2021, the Rebels had finished with no more than 5 wins over the preceding 3 seasons.
Even with how solid this team was in a statement year for head coach Lane Kiffin and company, there is room for improvement with a group that looks a bit different at positions like quarterback.
Here's a look at 5 statistical areas Ole Miss could stand to improve with the 2022 season looming.
1. Limiting sacks
Ole Miss obviously enters the season with a new quarterback, though who exactly that is remains to be seen. In 2021, the Rebels allowed 34 sacks for 218 yards, an average of 2.62 sacks per game. While the quarterback clearly can play a role in a statistical issue like this, a lot of it had to do with Ole Miss' pass-blocking deficiencies.
There's a decent amount of optimism that surrounds the Rebels' O-line this year, though there will be some moving pieces. Looking specifically at pass blocking, Ole Miss did good work in the portal by landing Mason Brooks of Western Kentucky. Not a highly touted recruit, he silenced his doubters with his play over 4 seasons with the Hilltoppers, becoming 247Sports' top-rated transfer portal offensive lineman at the time he entered.
Brooks, who is anticipated to begin the season at right tackle, was a factor in WKU averaging 433.7 yards through the air last year. Considering his success with an Air Raid team and what he has shown in pass-blocking ability, Brooks should be an immediate difference-maker in a problem area. He did go down in the team's most recent scrimmage and did not return, so this will be a situation to monitor. As for the rest of the line, the Rebels bring back Caleb Warren and Nick Broeker, both of whom can play in different spots on the line and should help keep things solid up front.
2. Cutting down on penalties
Penalties were one of the issues that defined the 2021 Ole Miss team, particularly on defense. The Rebels lost a total of 978 yards on 117 penalties. That's something they will have to cut down on after they became the most penalized team in college football by October.
Kiffin spoke to how this hurt the team heading into the matchup against Auburn in 2021.
"We post the penalties every Monday morning in here, go over them, show them not just was it a 10-yard penalty, but it was a 33-yard penalty because of the run. … We have very critical penalties," Kiffin told reporters. "I told them today, 'Guys, we don't just lead the NCAA in penalties. We lead little league (and) junior high.'"
Simply put, players are going to have to be more conscious this season and avoid beating themselves with unfavorable calls.
3. Improvement against the run
There's a reason the Rebels achieved a 10-win season, but it had a lot more to do with the offense than the defense on several occasions. The overall unit was ranked at No. 97 in the nation, and one of the primary concerns was its ability to stop the run. This was particularly highlighted when the defense surrendered 350 rushing yards to Arkansas in Ole Miss' 52-51 win.
Ole Miss surrendered an average of 191 rushing yards per game in 2021, with 25 rushing touchdowns. It allowed several opponents to breach the 200-yard mark or well exceed it, with the total in some other matchups coming close to that number. Between the way the Rebels have recruited and some of the products of the transfer portal, this is something that has the potential to change. The defense made large improvements in the back half of the season, so it will look to keep that momentum going despite some key losses.
Rushing yards surrendered to each opponent in 2021:
Louisville: 155 yards
Austin Peay: 150 yards
Tulane: 139 yards
Alabama: 210 yards
Arkansas: 350 yards
Tennessee: 222 yards
LSU: 78 yards
Auburn: 157 yards
Liberty: 284 yards
Texas A&M: 141 yards
Vanderbilt: 215 yards
Mississippi State: 84 yards
Baylor (bowl game): 280 yards
4. Work to be done in the red zone
Ole Miss didn't have an issue with putting up points — the Rebs averaged 33.7 points per game, which is nothing to scoff at. The offense had plenty of success in Jeff Lebby's score-from-far system, with an NFL-caliber quarterback to pull it all together.
But scoring in the red zone was not a strength, despite the fact that the offense made it there 69 times. The offense posted a 75.81 percent success rate that put it at 104th in the nation in the category. Over the past 3 years, it has had a 71.43 percent success rate. The Rebels have shown they have no issue getting within scoring range, but they will need to do better in finishing the job.
How effective quarterback Jaxson Dart or Luke Altmyer is here will have bearing on what the Rebels look like in this statistic by season's end. This continues to be an ongoing competition in which both players have flashed but have shown need for development as passers.
5. Third-down conversion rate
The Rebels had some trouble converting on 3rd down, with a dismal 38.2 percent success rate in 2021. That number put Ole Miss at No. 74 in the nation, obviously behind several of the nation's top programs and just ahead of conference competition, with LSU sitting at No. 75 with a 38.07 percent success rate.
Over the past 3 years, converting on 3rd down has been a continued statistical problem, with the Rebels posting a 37.5 percent success rate there. Their 4th-down success rate, however has been much better, converting 63 percent of the time in 2021.
There are some question marks surrounding how things could look offensively player-wise with who will be where and who will be at the top of the depth chart in different places. But there is no question this team needs to get better at breaking past the marker in 3rd-down situations.