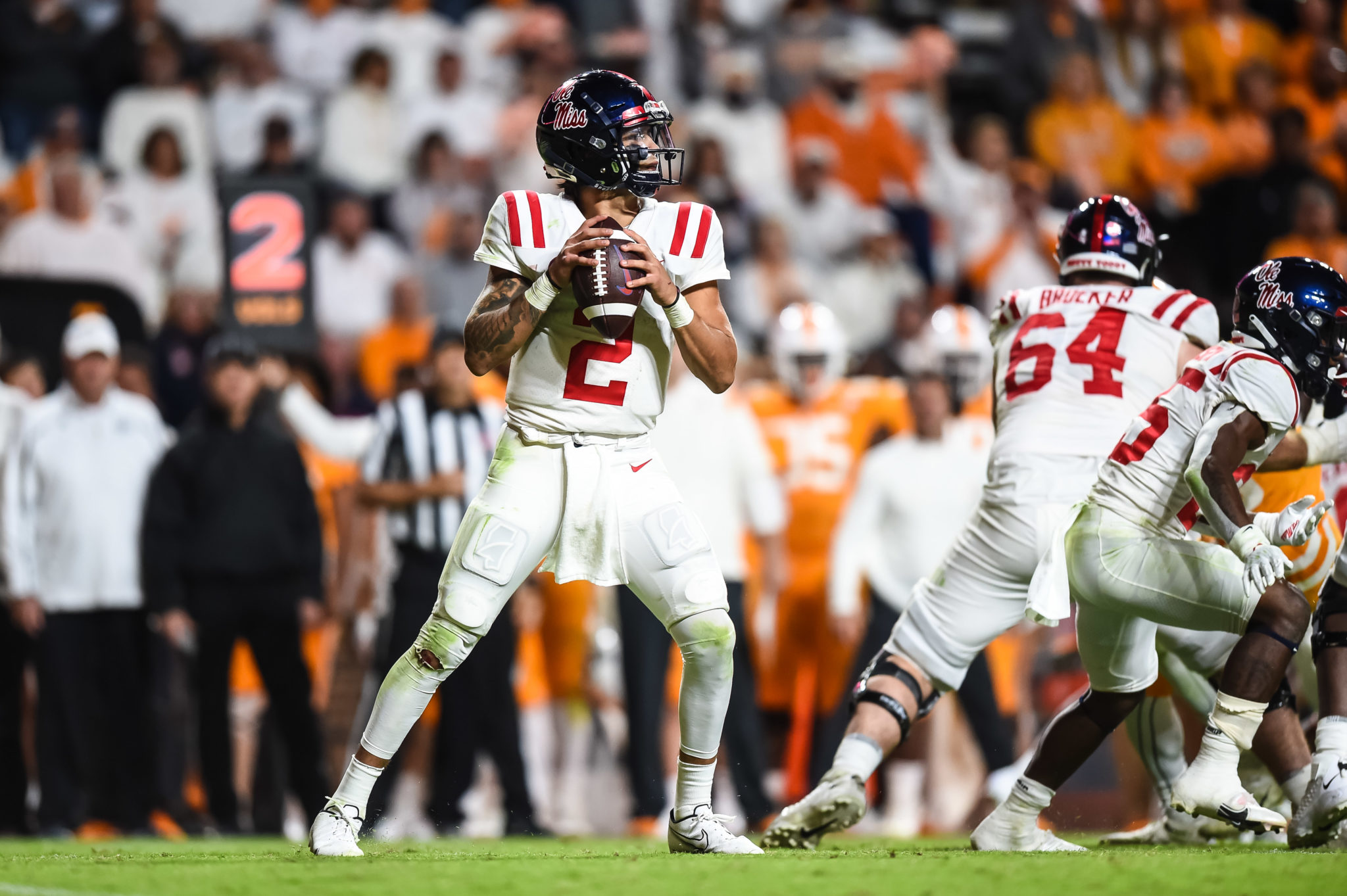 OLE MISS
Ole Miss football: Rebels' quarterback plan if Matt Corral is out
Matt Corral is reeling a bit physically from the 30-plus carries he endured in Mississippi's 31-26 win over Tennessee in Knoxville last Saturday night.
While Ole Miss did what it needed to do to win the game — use its best player to overcome an injured and embattled offense — the Heisman front-runner can only take so much on a given Saturday.
Rebels coach Lane Kiffin admitted he'd prefer the 30 carries never happen again, and he even said he didn't feel great about Corral's chances of playing against LSU on Saturday.
Now, there is more to be read into this. Kiffin has been silent on injuries all season. Yet all of a sudden, he willingly offers that his starting quarterback might not be ready? There is likely a little bit of gamesmanship going on here, but in the event that Kiffin isn't bluffing and Corral cannot play, what is the Rebels' next move at quarterback?
Some might tell you their next move should be to pray. But from a depth chart standpoint, the next man up is likely Luke Altmyer. He's a true freshman whom the Rebels plucked out of Starkville High School when the 4-star prospect flipped from Florida State to join Kiffin and Jeff Lebby in Oxford. At 6-foot-2, 190 pounds, Altmyer has good height, and he has a smooth throwing action. He's a pocket passer with good accuracy and the ability to make some throws off script and outside the pocket.
Altmyer has seen a handful of snaps in reserve action this year, but not enough to get a feel for what he actually looks like in this system. While it was never officially declared, Altmyer has seemingly beaten out Kinkead Dent for the right to back up Corral — that is, if the Rebels opt not to use John Rhys Plumlee in a glorified wildcat role. Dent has been in the offense for a year longer and in the program for 2 1/2 years.
It's difficult to gauge how the Rebels would tailor their offense to fit Altmyer if he is indeed forced into extended action. One would think it would be short, quick-read-type throws, with an enormous emphasis on the running game. Ole Miss' saving grace is that the running back room is fully healthy. I imagine Lebby and Kiffin will get pretty creative in how they utilize all 3 running backs regardless of who plays quarterback this Saturday, but particularly if Altmyer is under center.
Realistically, Ole Miss will likely use Plumlee in a lot of wildcat packages, with Altmyer sprinkled in if Corral is ruled out. Plumlee ran all over LSU in 2019 to the tune of 4 touchdowns and 212 yards. We've yet to see Plumlee play much of a role in this offense this year. But if there was ever a time to utilize his unique skill set, it's in the absence of Corral. Plumlee is a decent enough thrower for Ole Miss not to be totally one-dimensional, and I imagine Altmyer would factor into the passing game even if Plumlee takes most of the snaps.
The best-case scenario for Ole Miss is Corral being healthy enough to play, even if his legs aren't a factor. That much is obvious. But should he not be able to suit up, the quarterbacking duties likely fall on the shoulders of Altmyer, with some Plumlee mixed in.
Kickoff on Saturday is slated for 3:30 p.m. ET.