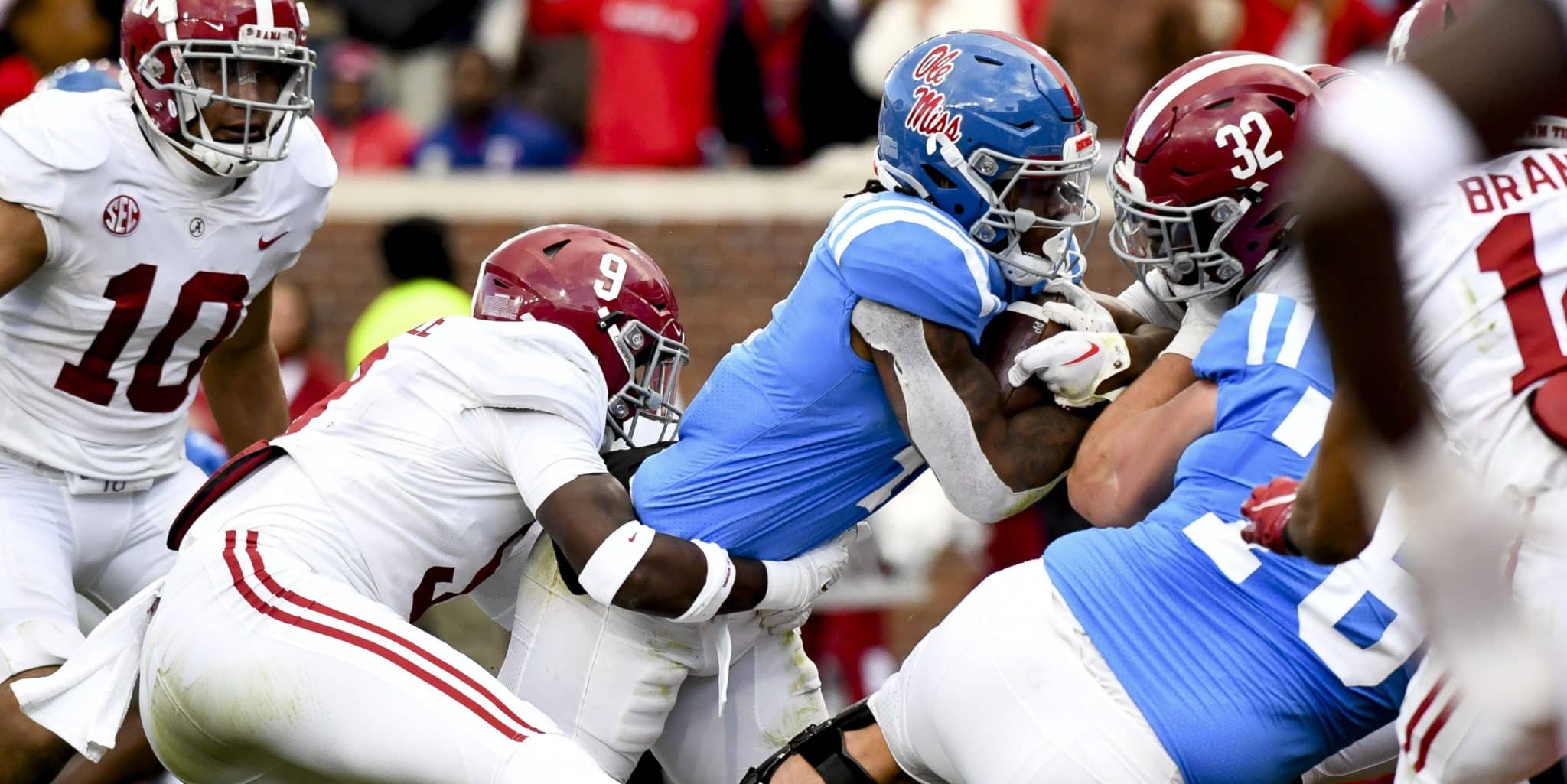 OLE MISS
Ole Miss football: Rebels' 2nd-half offense must improve
Lane Kiffin is known as one of the best offensive minds in college football. And there's no question the "score from far" offense he ran with offensive coordinator Jeff Lebby and quarterback Matt Corral was a hit.
There's also a reason why the team has had some much success running the ball this season, with the top rushing offense in the SEC and the 3rd best in the nation. Standout freshman running back Quinshon Judkins has garnered no shortage of attention, becoming a potential Heisman Trophy candidate.
But 1 issue in some games has been the 2nd-half offense. Kiffin doesn't think that has been the case all season, but it has been problematic at times, as it was in Saturday's 30-24 loss to Alabama.
"Yeah, I think that's a fair assessment," Kiffin said in a press conference. "I don't think it's been the whole season, wasn't last game, you know, A&M. We had a really good 3rd quarter. I do think people get used to the speed, like I've said before, and so a lot of times what works better early has really kind of been the case a lot of times.
"Now the (Alabama) game was a strange game in the 3rd quarter because you look up and we have 1 series. I think 1 series maybe for 14 minutes or something like that, and actually scored on it. Scored a touchdown. And then we had back-to-back 3-and outs. So I think off-hand, until they're at the end, 3 series for what, a quarter-and-a-half."
Here's a look into the 1st- vs. 2nd-half points Ole Miss has posted this season. There have been 7 occasions when the Rebels have scored more in the 1st half, including both losses. And twice, they did not score a single point in the 2nd half, including the 45-20 loss to LSU, when the Rebels got off to a hot start with 2 touchdowns in the 1st quarter before being completely overtaken by a formidable Tigers pass rush.
Troy at Ole Miss: 21 – 7
Central Arkansas at Ole Miss: 31 – 28
Ole Miss at Georgia Tech: 21 – 21
Tulsa at Ole Miss: 35 – 0
Kentucky at Ole Miss: 19 – 3
Ole Miss at Vanderbilt: 17 – 35
Auburn at Ole Miss: 28 – 20
Ole Miss at LSU: 20 – 0
Ole Miss at Texas A&M: 10 – 21
Alabama at Ole Miss: 17 – 7
Regardless of how close the Rebels came to Alabama or how each quarter compared to another, the goal remains the same. That's to win the game, and Kiffin didn't get the outcome he wanted, even if it was only a play away. A loss is a loss, regardless of how it's drawn up or what bright spots there were within it, something Kiffin made clear in the postgame press conference.
"We didn't win the game," Kiffin said bluntly.
"Two years ago, they walked off this field, and I said we come here to cover spreads and come here to play what at the time was the No. 1 team in the country close. So all these things about what you did this good, and freshman running back rushing it, it doesn't matter. …
"Maybe at some other places that's good, or it's been good here in the past. It ain't good enough. We came here to win, to beat Alabama, and we didn't do it. So we're 0-1 today."
The Rebels will look to finish strong and play a consistent 4 quarters as they round out the season with matchups against the Arkansas Razorbacks and the Mississippi State Bulldogs.