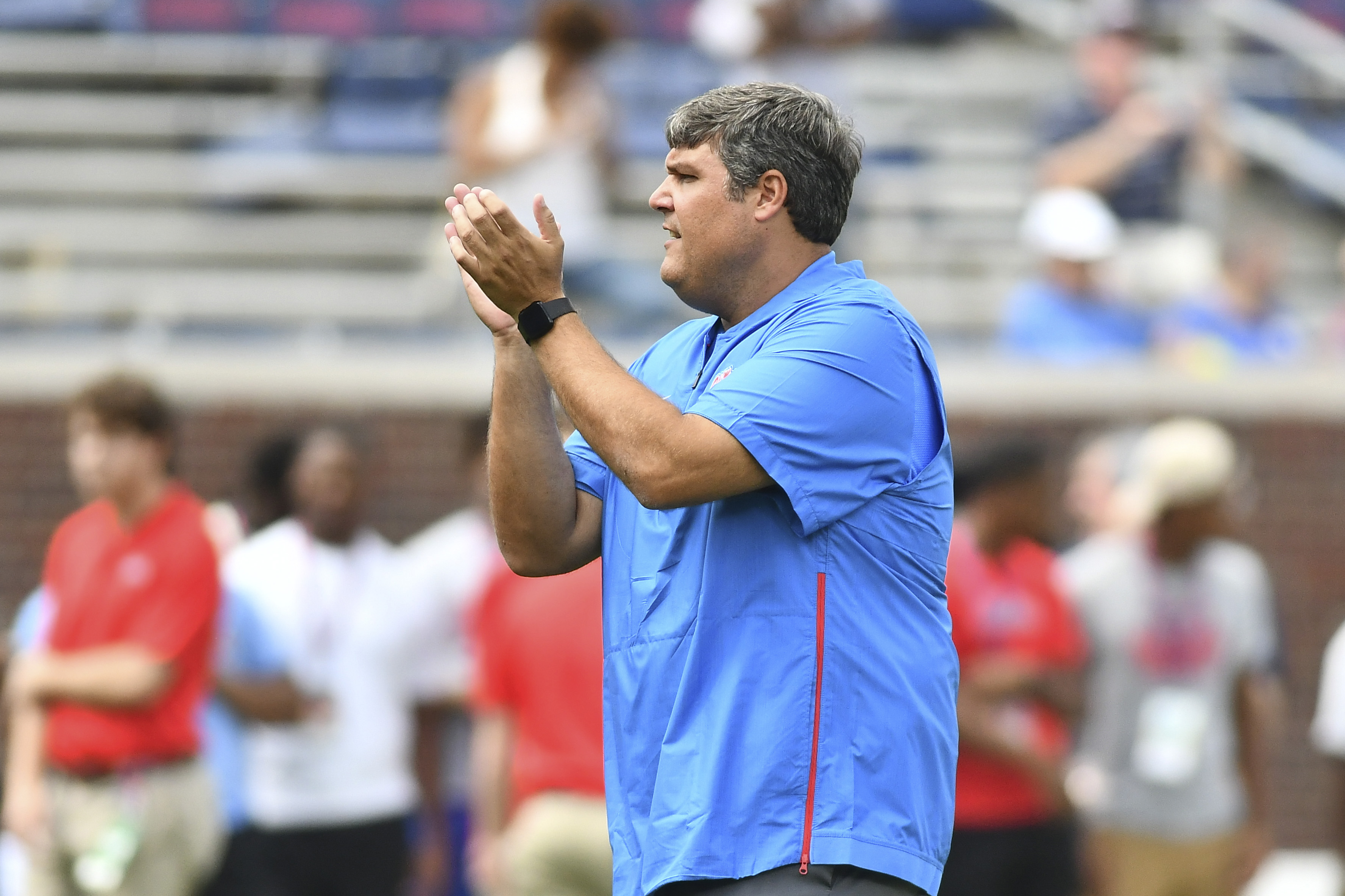 OLE MISS
Ole Miss football: 10 biggest questions (and answers) heading into fall camp
The Ole Miss Rebels head into their second season under Matt Luke, and they do so with a cautiously optimistic fan base.
That should be a pleasant surprise to those inside the program, because considering how last season ended – 5 consecutive losses capped by a 32-point disaster against their rival – there was quite a bit of vitriol among the Ole Miss faithful.
Luke followed that up with an outstanding offseason, however, making 2 terrific hires to coordinate the offense and defense, and signing the No. 22 recruiting class in the country.
Now, the fun begins.
The 2019 season is just about here and camp is set to open. So, what are the biggest questions facing the Rebels heading into the season? Here are some prognostications.
1. Will any Rebels make the postseason All-SEC team?
Yes, Scottie Phillips and MoMo Sanogo will land All-SEC honors. Phillips should be an ideal fit in the new Rich Rodriguez scheme — an offense that loves to run the ball (his last 5 offenses at Arizona averaged 44.12 rush attempts per game), and he'll far surpass the 928 yards he racked up last year. Sanogo will be a strong candidate to lead the SEC in tackles this year playing inside the new 3-4 scheme, where his ability to play the inside run will be highlighted.
2. Will the defense be improved?
Of course. Unless they voluntarily only play 10 guys instead of 11, they'll be improved. Why? Largely because of the leadership of new coordinator Mike MacIntyre, who as recently as 2016 was the AP National Coach of the Year. The talent level will be slightly improved with the addition of a few JUCO transfers like Lakia Henry, Sam Williams and Jonathan Haynes. More important, they'll be more disciplined thanks to better coaching, meaning better fundamentals, technique, pre-snap reads, etc.
3. Will Matt Corral get opportunities to throw the ball in the new offense?
Yes. For some reason, people have the idea that Rodriguez just forces everyone into his preferred system, no matter the fit. He's too good of a coach and has had too much success to not adapt his scheme and play-calling to the players he has. Matt Corral has a very talented arm with excellent velocity and improving ball placement. It would be foolish to waste his ability to stretch the field vertically, especially since he should see plenty of 1-on-1 opportunities on the outside with defenses focusing on stopping the run.
4. What will new OL look like?
The right side of the line is firmly entrenched with returning starters Ben Brown at guard and Alex Givens at tackle. Eli Johnson has all but locked down the starting job at center by most accounts, though he still needs a big fall camp. The left side is where things really get interesting. I'll go with Bryce Mathews at LT and Royce Newman at LG to come out of camp with starting jobs. I also expect at least 2 true freshmen to play prominent rotational roles.
5. Will new playmakers emerge at WR?
Losing guys like A.J. Brown and D.K. Metcalf would be tough for any program in the country, and they won't be easily replaced. With that said, the Rebels have talent at WR, it's just unproven. They'll have shifty and explosive inside receivers with Elijah Moore and Tylan Knight and a bit bigger and more physical receivers on the outside with Braylon Sanders, Dontario Drummond, Miles Battle and Demarcus Gregory. I'd be surprised if we didn't see 4-star freshmen Dannis Jackson and Jonathan Mingo see time as well.
6. Can anyone pressure the QB?
The new 3-4 defense will help the Rebels put more athletes on the field, which, in theory, should translate to more pressure. Certainly, the Rebels would love to see Sam Williams, who racked up 17.5 sacks at the JUCO level, show similar prowess on the field this year. I also think we could finally see Qaadir Sheppard emerge as a senior. I think he's been out of place as an undersized 4-3 DE the past few years. And don't forget about the big fella in the middle – Benito Jones – who is nimbler than you'd think considering his size (6-1, 326).
7. Is Jaylon Jones fully healed?
It certainly appears so. Luke has made it clear that he's 100% physically, he'll just need some game reps to really get back in the swing of things. They're so confident about his health that they're planning on using him to return kicks this year. He'll be a big addition to the defense this year, as they sorely missed him last year when he went down with a torn ACL in the Week 1 win over Texas Tech.
8. What kind of impact will Jerrion Ealy have?
Ealy, a 5-star freshman ranked by 247sports as the No. 29 prospect nationally, was a huge in-state recruiting victory for Luke, who held off Clemson and Major League Baseball for 2-sport standout. It's all but written in stone that he's going to play a role on offense this year. Senior tailback Scottie Phillips is rightfully the bell cow who should get most of the carries, but Ealy is far too talented to keep on the sidelines for prolonged stretches.
9. What will the Rebels' record be?
6-6 (2-6). Perhaps I'm too optimistic, but I think the new coaching staff will have a huge impact on the quality of play this year. The Rebels won't be among the league leaders in star power, but they should be a fundamentally sound squad that won't beat themselves. Oh, and the wins and losses? They'll sweep the nonconference schedule and find conference wins against Arkansas and Vandy.
10. Will Luke survive another year?
Yes. Barring a complete disaster where the team either goes 0-12 or 1-11, Luke will be roaming the sidelines in 2020. Not only should the team show tangible improvement – maybe not in wins and losses, but in manner of play – but Luke also benefits from the fact that Ole Miss has no full-time chancellor or AD. You have to imagine if an SEC program is going to make a decision as enormous as firing and hiring a new football coach, they'd prefer to leave that decision to whomever they hire for the new leadership positions.