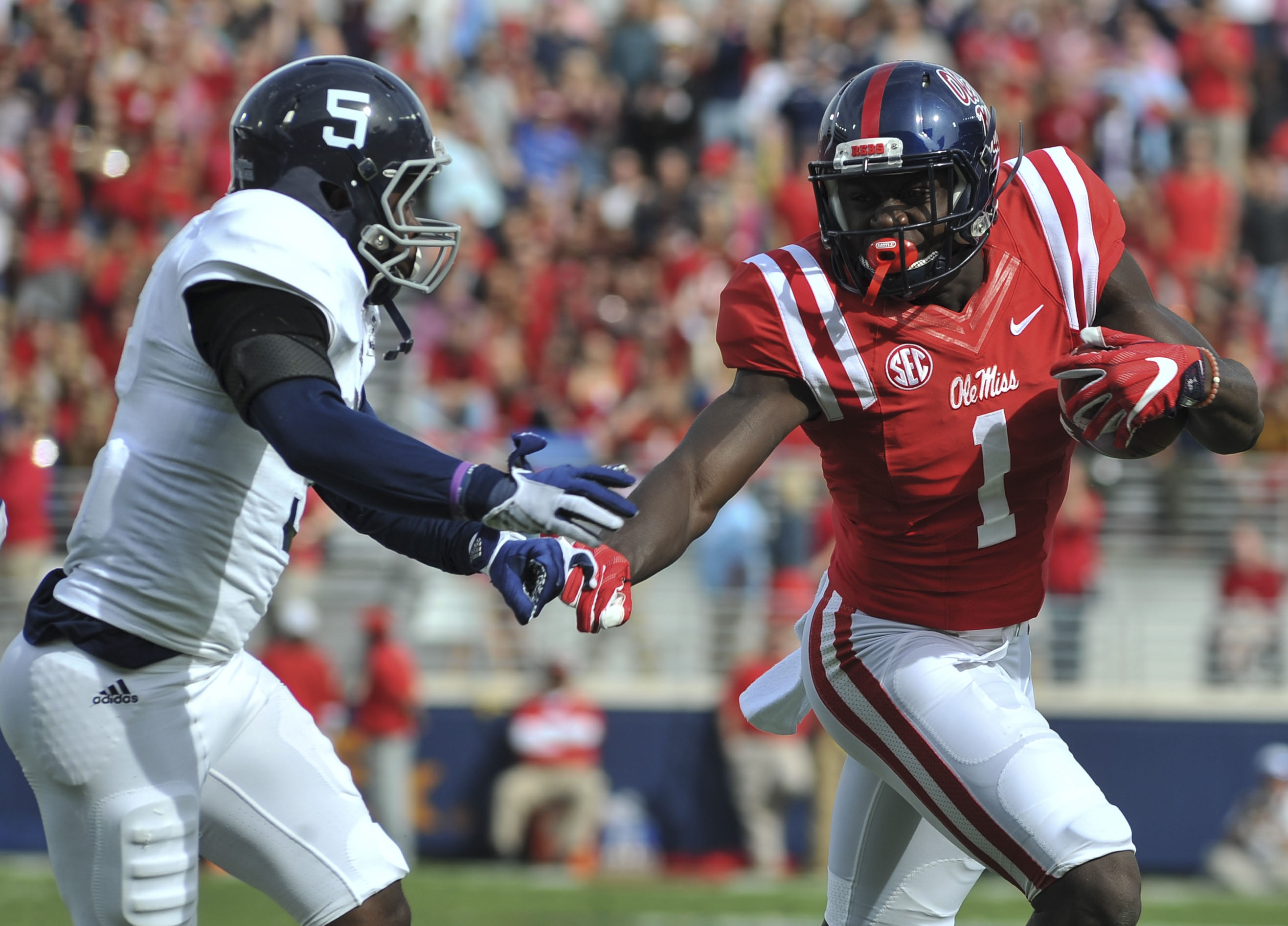 OLE MISS
Ole Miss has nothing to play for in 2017, which should make rest of SEC nervous
In my annual Crystal Ball series, I wrote that Ole Miss is more likely to crumble to 4-8 this season than rally to 8-4.
I actually split the difference and predicted that the Rebels would go 6-6, which wouldn't be so bad for interim coach Matt Luke and might even be enough to earn him the job on a full-time basis. Everyone understands the mess he inherited in Oxford.
Even before former coach Hugh Freeze resigned — was forced to resign, more likely — when several unsavory details about his personal life emerged during the Houston Nutt lawsuit, Mississippi had been squarely in the NCAA's crosshairs. The program already self-imposed a one-year bowl ban, but further and more severe punishment appears to be imminent.
Miraculously, not one member of the Rebs has emptied out his locker and sought a transfer to make a fresh go of it elsewhere.
LSU, conversely, has watched 11 players with eligibility remaining leave Baton Rouge for one reason or another. Quarterback Lindsey Scott Jr. is the latest, and even if he won't be missed, that's too much turnover for one offseason.
The Rebels will field one of the SEC's most gifted dual-threat passers in 2017. Their cupboard isn't bare, either.
Most important, Ole Miss QB Shea Patterson has decided to see this through — he was as close to Freeze as any kid on the roster — and lead a very wounded team out of the tunnel. Had he been like most 21st century signal callers and declared himself a free agent once he got dealt a tough hand, a mass exodus may have ensued.
Instead, the Rebels will start one of the SEC's most gifted dual-threat passers in 2017. Their cupboard isn't bare, either.
Yes, Mississippi has been beaten up on the recruiting trail thanks to the vultures currently circling above campus. Freeze was only able to reel in the No. 30 class in the country last February according to the composite rankings at 247Sports.
The outlook is even more grim for 2018. We have a long way to go before National Signing Day — albeit not long to the new early signing period in December — but the Rebs are now on pace to sign the 90th-ranked class in America. They're just one spot ahead of Georgia State and one behind Miami of Ohio, believe it or not.
While Luke and Co. might not have an influx of freshmen to be overly excited about, there is plenty of 4- and 5-star talent remaining from previous classes.
Patterson is the headliner, of course. He was the premier recruit in the nation at the game's most important position back in 2016, and even if he was supposed to redshirt out of high school, an injury to Chad Kelly gave him a three-game audition.
He was nothing short of electrifying in his debut at Texas A&M — the Aggies were reeling at the time, to be fair — throwing for 338 yards and rushing for 64 more in a 29-28 upset victory. And it wasn't just the stats that Patterson accumulated. His frenetic-yet-controlled style reminded me of one-time Heisman Trophy winner Johnny Manziel.
True, Patterson (above) was less than impressive in subsequent losses to Vanderbilt and Mississippi State. He gave us a glimpse of his unlimited potential, though.
Ole Miss hasn't featured a 1,000-yard rusher since Dexter McCluster in 2009, as Freeze's system tends to forget about the ground assault from time to time. One way to get more out of Patterson is taking some of the pressure off his right arm.
That's where first-year offensive coordinator Phil Longo could be a real difference maker. He may be a product of the Air Raid system, but that doesn't mean he wants to throw it 50 times per game. As a matter of fact, during his stint at Sam Houston — and other stops prior to that — he ran the ball early, often and quite effectively.
Still, Patterson is going to take to the air liberally because he possesses a receiving corps ready to give any secondary fits.
Wideouts Quincy Adeboyejo and Damore'ea Stringfellow are no longer in town. Neither is sensational tight end Evan Engram, who ended up being a first-round draft pick in April. But A.J. Brown and Van Jefferson are both coming off fabulous freshman campaigns.
The mantra for the Rebs will be to treat every matchup like a bowl game. One way or another -- whether they overperform to 8-4 or underperform to 4-8 -- their season ends Thanksgiving Day in Starkville.
Needless to say, scoring points hasn't been a big problem for the Rebels more often than not. Keeping the enemy off the scoreboard, on the other hand, is a concern. They allowed 461.3 yards and an even 34 points per contest — that was 13th and 14th in the conference, respectively — in 2016. An argument can be made that the unit quit altogether once the going got tough.
Sure, leading sacker Marquis Haynes is back, as is top tackler DeMarquis Gates. However, to be blunt, is that a good thing?
Wesley McGriff has to do much more with this squad, plain and simple. Announced as Mississippi's new defensive coordinator in December, he was quickly elevated to associate head coach in the wake of the Freeze fiasco in July.
The mantra for the Rebs will be to treat every week like a bowl game. No matter what — whether they overperform to 8-4 or underperform to 4-8 — their season ends Thanksgiving Day in Starkville. The West is a death march, as it is every year, so they must embrace the spoiler role along the way. If that shoe fits, expect an upset or two.
Maybe Luke turns out to be a quality coach. Perhaps the D shows signs of life under McGriff. The sky's the limit for Patterson, as well.
Motivation shouldn't be an issue for Ole Miss. Luke doesn't want to be one and done. Players will be auditioning, be it for the NFL or possible transfer destinations if the NCAA ultimately drops the bomb. It's fight-or-flight time, and these Rebels look to have some fight left.