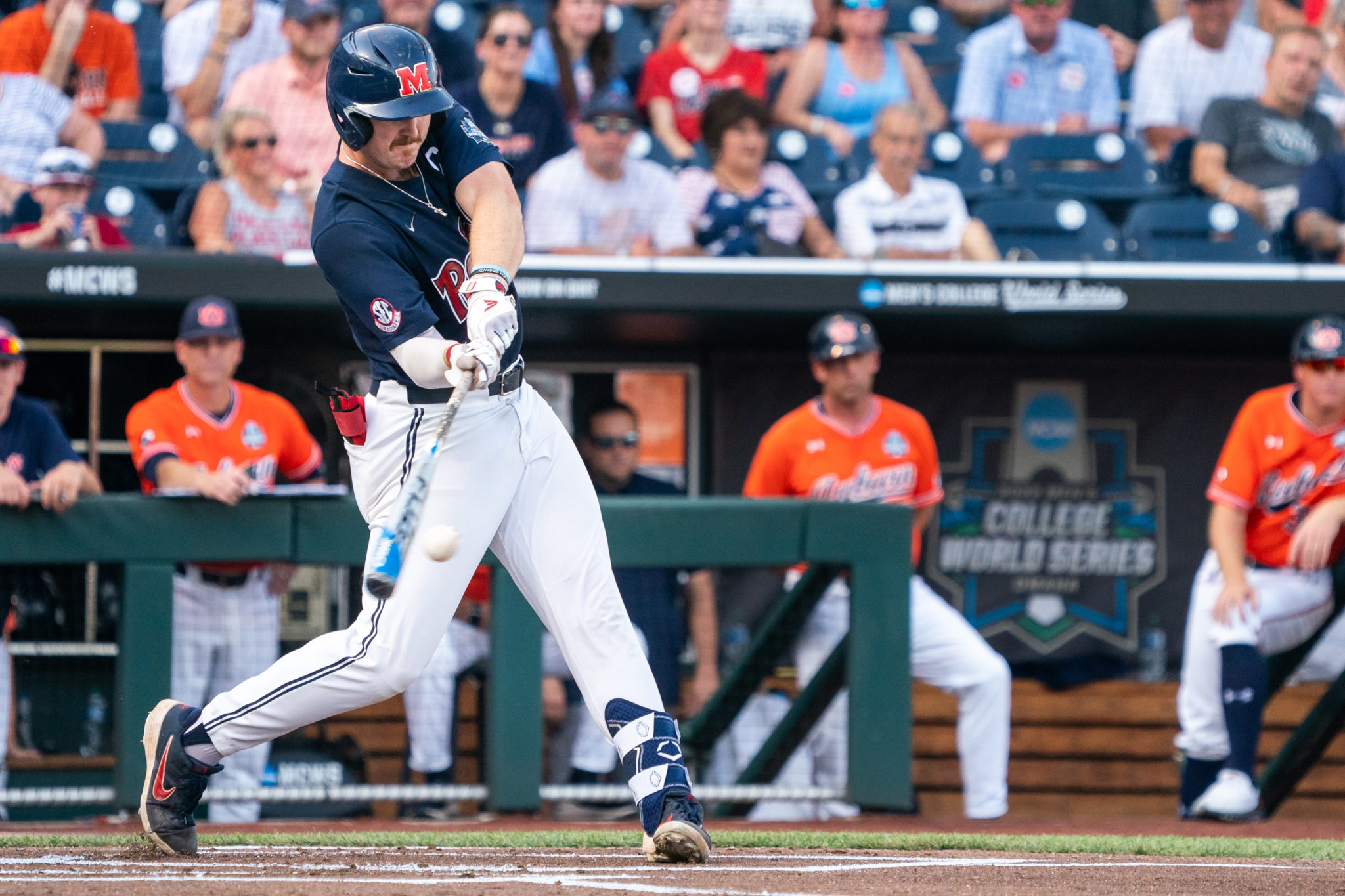 OLE MISS
'Getting hot is real:' Tim Elko's bat gives Ole Miss a real shot to win College World Series
At this point, it's almost cliché to say that nothing can stop Tim Elko.
Last year, a torn ACL didn't stop Elko from going deep just 33 days after the injury. It also didn't stop him from leaving the yard not once, but twice in an SEC Tournament game against Vandy, nor did it prevent a grand slam in the 2021 regional against Southeast Missouri. That torn ACL might've given him a reason to have a Kirk Gibson-like hitch in his giddy up, but it didn't give him a reason to stop producing for Ole Miss.
A year later, with a healthy knee, there might not be anything that can stop Elko from leading Ole Miss to a national title.
The mustached man's latest bit of brilliance came in the form of a no-doubt, 2-run home run — it was a 416-foot blast that was the longest through the first 8 games in Omaha — in a blowout win against Arkansas to earn a spot in Wednesday's CWS semifinals.
OH. MY. @TimElko‼️ 😱

📺 ESPN#MCWS x @OleMissBSB pic.twitter.com/OZrjC1n4G8

— NCAA Baseball (@NCAABaseball) June 20, 2022
How Elko pulled an outside slider that far in that stadium is absurd in itself.
The program's single-season home run champ now has 4 home runs and 13 RBI with a .407 average in the NCAA Tournament.
In a CWS that lacked the dominant, future first-round pitcher like we're used to seeing on a championship team in Omaha, perhaps it's Elko who is this year's unstoppable force.
That's no disrespect to Ole Miss true freshman Hunter Elliott, who quieted the red-hot Arkansas bats with 1 earned run allowed in 6 1/3 innings on Monday. Elliott could wind up being that lockdown pitcher a la Kevin Abel, when he was dominant as a true freshman pitcher during Oregon State's national title run in 2018. Go figure that season was actually the only instance in the past 6 College World Series in which the tournament's Most Outstanding Player Award went to a non-pitcher (Abel's battery mate Adley Rutschman won that year).
Could we be heading toward another year in which a hitter takes over in Omaha? Elko's start certainly suggests that's on the table.
In some ways, it'd be fitting. After all, it was a record-setting amount of home runs hit in the NCAA Tournament heading into the CWS. In the first 8 games, the winning team averaged 9.7 runs. Ole Miss actually had the fewest runs scored by a winning team (5) with its opening game victory against Auburn. It was a rare instance in which Elko failed to drive a run in. In 7 postseason games, he had multiple RBI in 4 of them.
You don't need a degree in "Master of Sport Analytics" to understand how impressive that is.
Oh, wait. That's what Elko's major is? Of course it is.
The 5th-year senior captain has been the steadying force for what was an up-and-down Ole Miss squad. That's not news. His legend status is already locked in. Shoot, he could've struck out every at-bat after his Coral Gables Regional MVP showing and still walked off an Ole Miss legend.
Tim Elko in the Coral Gables Regional:

.778 batting average
.857 on-base percentage
2.111 slugging percentage
3 HR
7 RBIs
5 BBs

Unreal.

— Nick Suss (@nicksuss) June 7, 2022
Unreal, indeed. Elko does sort of feel like the hero in the movie, and not just because as Ryan McGee pointed out, he shares a striking resemblance to Bradley Bradshaw (played by Miles Teller) in the summer blockbuster "Top Gun: Maverick."
It's one thing to hit bombs through a torn ACL. It's another to run it back for Year 5 and perhaps lead Ole Miss to its first national title in program history. Just one more win and Ole Miss will reach the championship series for the first time.
That's why Elko returned for his final year of eligibility after going undrafted in 2021. Granted, Elko's ideal encore wouldn't have necessarily been going into the NCAA Tournament selection day not knowing if his college career was over. Ole Miss was in that spot because from March 13-May 1, it went 11-18 with non-SEC losses to Oral Roberts, Southeastern Louisiana and Southeast Missouri State. Maybe an Elko-less team would've wilted. Since May 6, however, Ole Miss is 15-3 with those 3 losses coming to Vandy and fellow CWS participant Texas A&M.
In the postseason alone, Ole Miss is a perfect 7-0. Even more impressive, it outscored those 7 teams 64-17.
Needless to say, the Ole Miss captain has been flying high leading the resurgent Rebs.
I tried to tell y'all… don't let the REBS get hot 🤷🏻‍♂️ See y'all in Omaha 😎

— Tim Elko (@TimElko) June 12, 2022
The question now is how does Elko's story end.
It's irrelevant that Ole Miss failed to having a winning record in SEC play, or that it entered Omaha with the second-worst odds to win it all at +1000. Texas and Stanford were the betting favorites among the CWS and they were the first teams eliminated. That's after Tennessee entered the NCAA Tournament as the overwhelming favorite to win it all until a stunning Super Regional loss to Notre Dame ended the Vols' season without a CWS invite.
In what's now a 4-team tournament, who wants to face Ole Miss? And who would want to pitch to Elko?
Ole Miss coach Mike Bianco said "getting hot is real" after Monday's victory against Arkansas.
There might not be a team left who can cool off Elko and the Rebs.