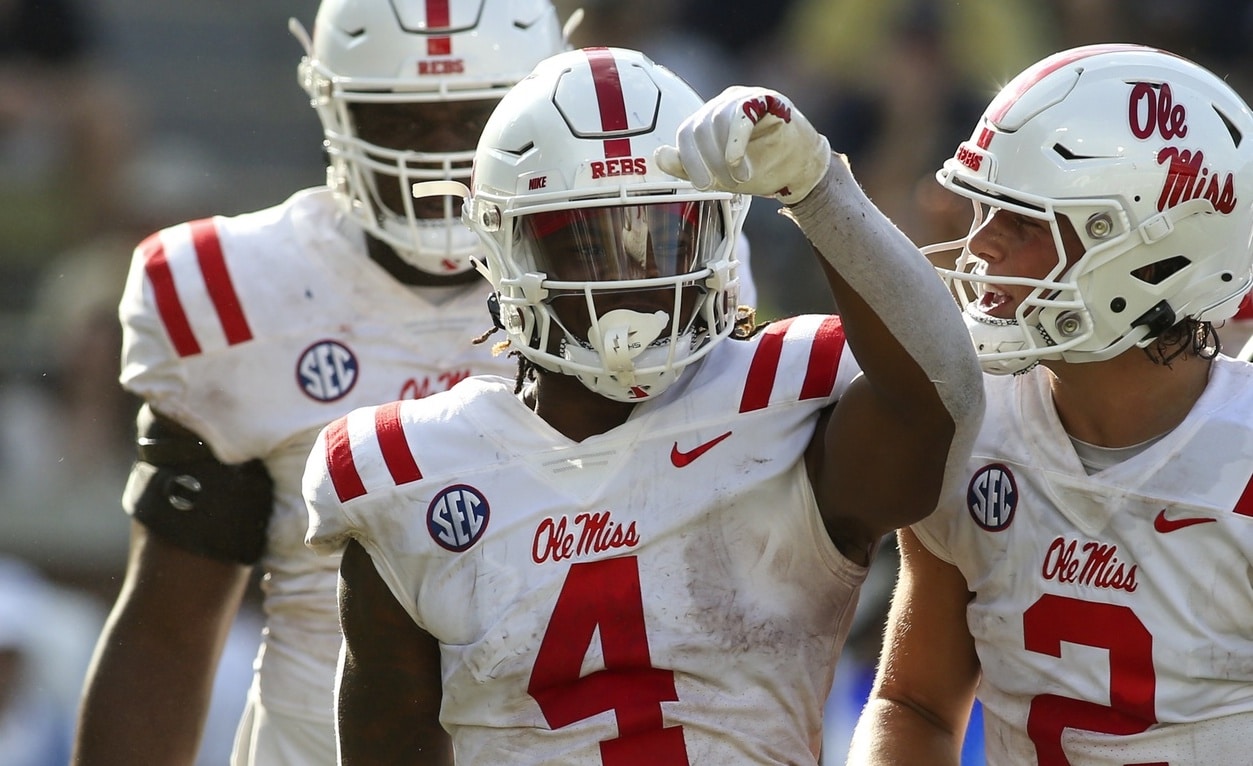 OLE MISS
Why I hope Quinshon Judkins actually deviates from the Year 2 trend of past elite SEC freshman running backs
Do me a favor. Ask your buddies if they know the answer to the following question.
In the past 15 seasons, Marcus Lattimore, Todd Gurley, Nick Chubb and Quinshon Judkins had the most rushing yards by an SEC true freshman, but who was tops among that group?
I bet your buddies would guess incorrectly not once, not twice, but 3 times.
The answer is Judkins, AKA the 3-star recruit who was expected to be the No. 3 running back on Ole Miss' depth chart entering 2022. Judkins actually did what none of those past elite true freshman backs did. That is, lead the SEC in rushing and finish with the No. 19 single-season rushing total in conference history.
The only SEC true freshman with more rushing yards than Judkins was some guy by the name of "Herschel Walker."
Yeah, Judkins was that dude.
He's also the dude who'll earn plenty of preseason All-America love for an Ole Miss team that runs the football like it's going out of style. If he could finish his college career in the same breath as Gurley and Chubb, well, Judkins will have put himself among elite company.
But in his sophomore season, I'd actually love to see Judkins avoid the path of Gurley, Chubb and Lattimore.
Why? All 3 got hurt in Year 2.
Chubb tore his ACL and played just 5-plus games (he got hurt on his first carry of game No. 6). Gurley sprained his ankle in that late-September thriller against LSU and missed all 3 October games. Lattimore tore a ligament in his left knee at the halfway point of his sophomore campaign.
That was after all 3 started their respective sophomore seasons by looking every bit like players ready to take another step. In the 20 combined games that Gurley, Chubb and Lattimore started that year (excluding the games they got hurt), they hit 110 scrimmage yards in 18 of them. All-American seasons were in their sights.
But because of those injuries, none had 1,000-yard rushing seasons as sophomores. Bummer.
Sure, it's the nature of the running back position. Perhaps there's something to be said for the fact that once you become the guy at the top of the scouting report, you're getting a whole lot more loaded fronts. The injury risk increases year to year.
To be fair, it's not as if every great SEC freshman back is destined to spend time on the shelf as a sophomore. Darren McFadden played in all 14 games in his sophomore season, which should've earned him the Heisman Trophy instead of Troy Smith. Mark Ingram went from a promising true freshman back to a sophomore sensation en route to his Heisman season as a sophomore in 2009.
Both McFadden and Ingram also had a key passenger on their sophomore rides to New York — an emerging future first-round tailback. Felix Jones and Trent Richardson each averaged 10-11 carries per game in those seasons. Both prevented their respective offense from taking a step back.
Judkins would benefit greatly from that. His 2022 backfield mate Zach Evans is off to the NFL, but there's hope that former SMU transfer Ulysses Bentley IV can step into that role as an ideal complementary back in Lane Kiffin's offense, which averaged between 45-47 carries per game during his first 3 seasons in Oxford.
Even if Bentley becomes a standout, we know Judkins' volume will remain high. He already showed he can handle a significant workload, too. In 2022, Judkins averaged 21.1 carries per game. No other Power 5 true freshman averaged more than 15.2. Previously, the last time a Power 5 true freshman averaged 21 carries per game was 2017 when Jonathan Taylor and AJ Dillon hit that mark.
We hadn't seen an SEC true freshman average 20 carries per game since Emmitt Smith in 1987. The last time an SEC true freshman even flirted with 20 carries per game was 2010 … when Lattimore averaged 19. Before Judkins, that was also the last time a true freshman led the SEC in rushing attempts per game. That's probably not a coincidence.
There's a fine line for Kiffin to walk with the 210-pound back. Judkins isn't built like Derrick Henry, who won a Heisman with Kiffin at the controls of Alabama's offense in 2015 (he was also the last running back to win the award). With the tempo that Ole Miss likes to play at, it'll always be difficult to curb the volume, especially with how well Judkins seems to perform deeper in games. Among Power 5 backs, Judkins led the nation with 22 second-half rushes for 10-plus yards. For an Ole Miss team with an unsettled quarterback situation entering fall camp, it'll be easy to default to his brilliance.
Then again, all 3 of Kiffin's offense had at least 3 players who averaged at least 9 carries per game. He's rarely been a 1-back guy. Evans and Bentley both dealt with injuries in 2022, which was part of the reason why Judkins emerged into such a high-volume player. It also helped that he was insanely good.
Imagine being a LB & having to fit the run vs Quinshon Judkins…
Pressing the LOS, using your blocker. The patience…then the cut. Yikes. pic.twitter.com/1iK2uRAoEg

— Cole Cubelic (@colecubelic) November 2, 2022
If you lose and that guy only gets 15 carries, yeah, it's a tough pill to swallow. If Judkins breaks down late in the season after seeing his usage increase, Kiffin will probably face heat for that, too. When you're making $9 million and you have one of the top weapons in America at your disposal, it comes with the territory.
It's a good problem to have. Most teams don't enter the season with a 19-year-old tailback who already carved up the toughest conference in America. It wasn't long ago that Georgia and South Carolina had that luxury. Unfortunately for them, they got an all-too-familiar reminder that next year of why running back success can be fleeting. Gurley and Chubb eventually returned to form and became 2 of the conference's best backs of the 21st century. Lattimore wasn't as fortunate.
It remains to be seen what path Judkins' career will follow. For his sake, here's hoping the Year 2 road isn't loaded with potholes.