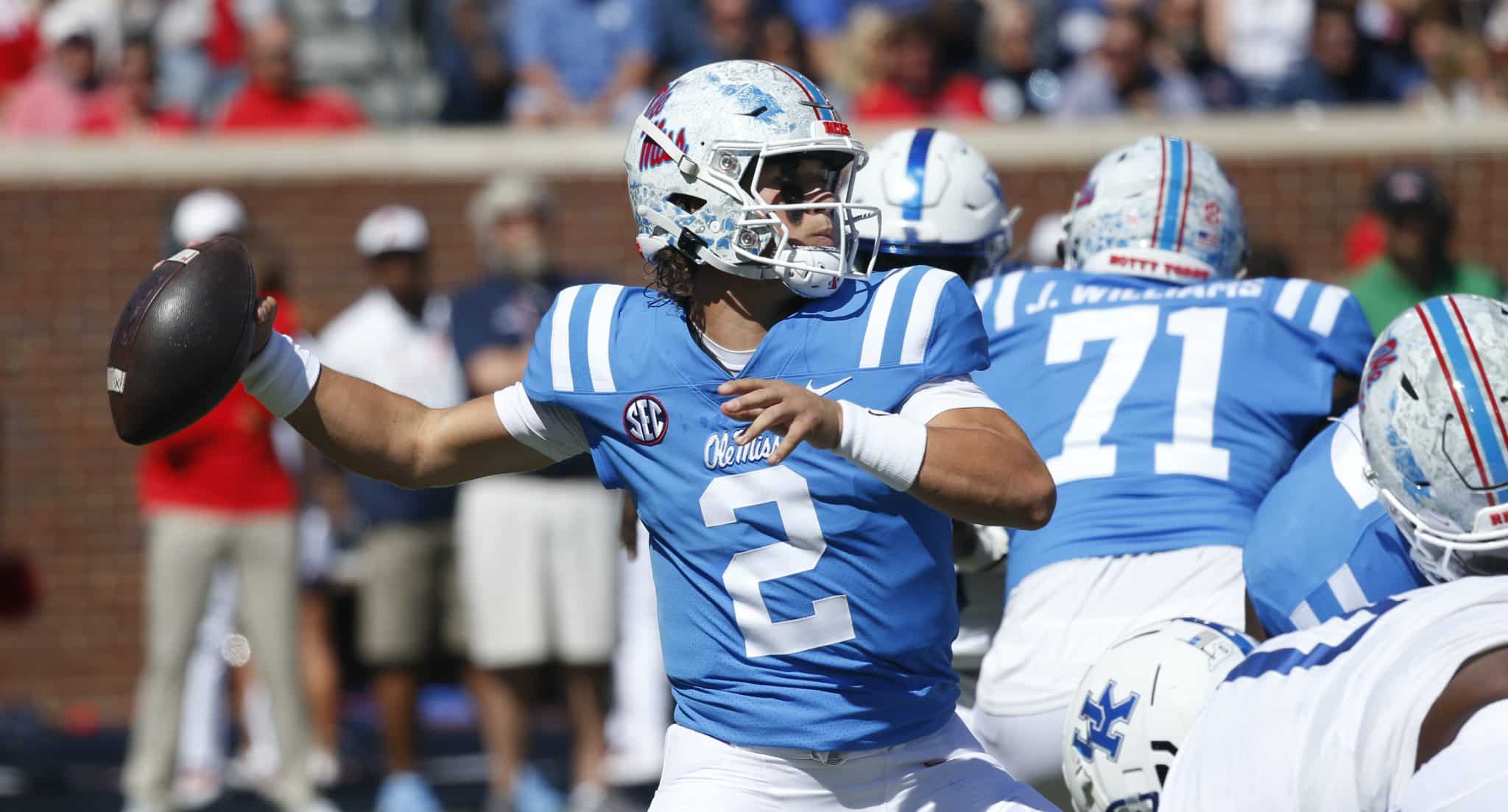 OLE MISS
Rapid Reaction: Ole Miss ends Kentucky's dream start, continues its own
In a hyped battle of unbeatens, No. 14 Ole Miss made the biggest plays to escape unscathed with a 22-19 victory Saturday over No. 7 Kentucky.
The Rebels were clinging to that 3-point lead late in the 4th quarter, but Kentucky was driving. Ole Miss forced a fumble against Will Levis and recovered at its own 21, ending the drive and essentially sealing the victory.
Kentucky forced a punt and had one last try.
Levis hit Barion Brown on a 50-yard catch-and-run to get down to the Rebels' 7. But once again, Ole Miss responded, hitting Levis to force a game-sealing fumble.
Ole Miss QB Jaxson Dart passed for over 200 yards and Quinshon Judkins eclipsed 100 yards on the ground in the Rebels' victory.
Kentucky's ground attack was improved with the return of Chris Rodriguez, but the Wildcats' special teams had a bizarre up and down day, from 2 huge kick returns from freshman Barion Brown to 3 missed kick opportunities, 2 from extra-point tries.
Ole Miss went 65 yards on 6 plays to open the scoring. The key play on the drive was a 38-yard connection from Dart to Jordan Watkins, which set up a 4-yard Zach Evans touchdown run on the next play. After the extra point, Ole Miss led 7-0 with 7:09 left in the first quarter.
On the ensuing drive, Kentucky missed a 39-yard field goal attempt. The Rebels then pushed their edge to 2 scores on Judkins' 48-yard TD run up the middle. With the Rebels up 14-0 with 59 seconds left in the first quarter, Kentucky seemed on the verge of being blown out. But Wildcat freshman Barion Brown returned the kickoff 85 yards, and two plays later, Kentucky scored on the final play of the first quarter via a 10-yard touchdown run from Rodriguez. The extra point was blocked, and Ole Miss' lead was narrowed to 14-6.
Ole Miss then swung momentum again. After a punt was downed at the 1-yard line, the Rebels rushed Levis, who ducked into his own end zone and flipped a pass in desperation. Levis was called for intentional grounding, which pushed the Rebel edge to 16-6 with 10:23 left in the first half. Ole Miss extended its lead on a 53-yard field goal from kicker Jonathan Cruz. His 6th career 50+ yard field goal made it 19-6 with 7:03 remaining until halftime.
Kentucky drove 70 yards to answer, cutting the edge to a score with a 5-yard Levis to Tayvion Robinson shovel pass. The snap was mishandled on the extra point and Ole Miss's lead was 19-12. An interception from Jacquez Jones sent the game to halftime with that score.
After the teams traded punts to open the second half, Kentucky capitalized on a 29 yard effort from Ole Miss to drive 49 yards to tie the game. On 3rd-and-2, Levis connected with tight end Jordan Dingle on a 17-yard scoring pass. Matt Ruffolo's extra point tied the game at 19 with 6:22 left in the third quarter.
After a kickoff out of bounds, Ole Miss took advantage of the shortened field with a 26-yard Cruz field goal, retaking the lead with 2:19 left in the third quarter. From there, the two teams traded drives ending in 4th down incomplete passes.
Ole Miss improved to 5-0 and will have a shot to climb into the top 10. No. 7 Kentucky fell to 4-1 ahead of next week's matchup with South Carolina.