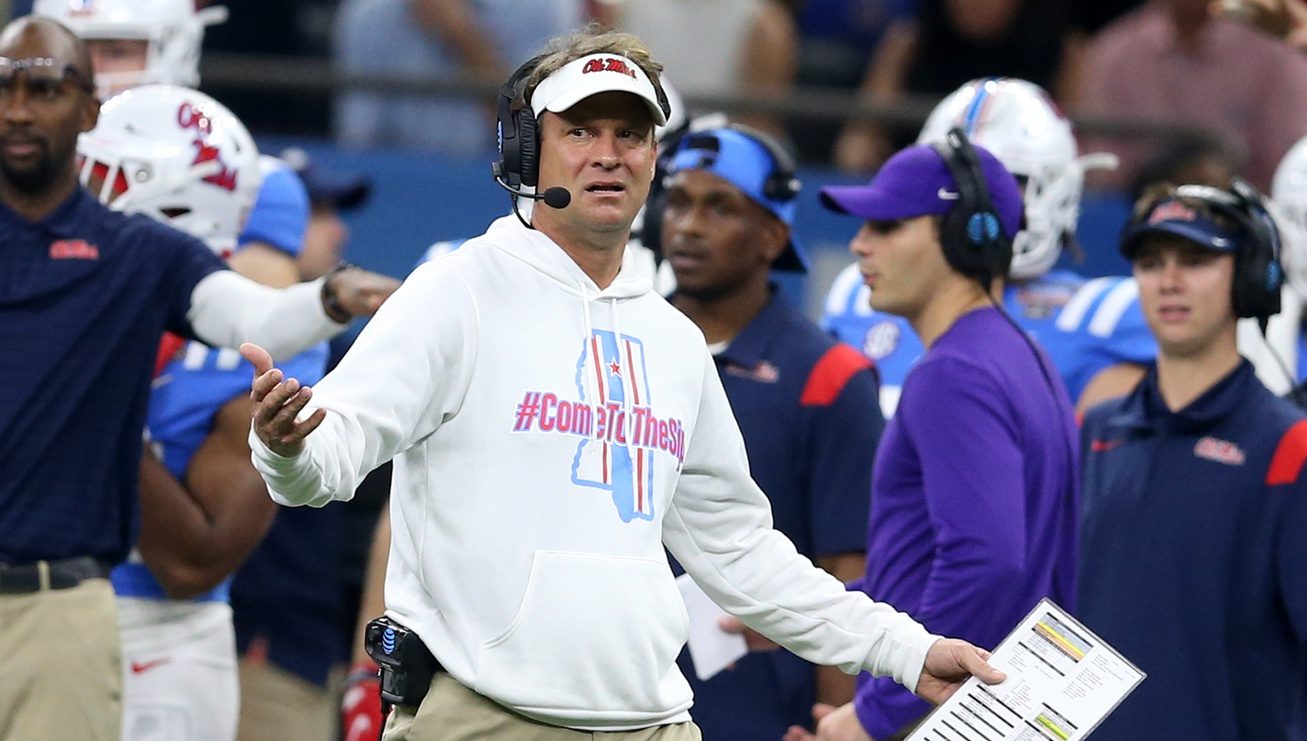 OLE MISS
Skeptic's guide to Ole Miss' 2022 season
Ole Miss set a school record last season with 10 regular-season wins.
It was a breakout performance in Lane Kiffin's 2nd season as the head coach.
It will be a challenge for the Rebels, who finished No. 11 in the final AP poll even after a loss to Baylor in the Sugar Bowl, to match or surpass last season's success.
They sent a bunch of players to the NFL, though Kiffin received high marks for his use of the transfer portal to find replacements.
ESPN's FPI projected Ole Miss' win total for 2022 at just 7.7.
That's a pretty big drop-off.
Whether the drop-off is that significant or not, there are plenty of reasons to expect the Rebels will fall short of last season's record.
Here is a skeptic's guide to Ole Miss' 2022 season:
Matt Corral will be missed
Corral was an outstanding fit for Kiffin's offense.
He ran the system extremely well with his arm and his legs. He was the primary reason for that historic regular season.
But now he's in the NFL.
His replacement could be his backup from last season – Luke Altmyer.
Or it could be USC transfer Jaxson Dart.
That will be sorted out during preseason camp, but neither will be able to match Corral's dual-threat skills, command of the offense and leadership.
And that will have a trickle-down effect throughout the team.
Dontario Drummond will be missed, too
Kiffin will have talented receivers. He always does.
And whoever the quarterback is will team with those receivers to produce an effective passing game.
But it won't be the same without Drummond. He was dynamic. He led the Rebels in catches (76), yards (1,028) and TD catches (8). He ranked in the top 10 in the SEC in 30+ yard catches (5) and 50+ yard catches (2).
The explosive plays that were such a big part of the offense's and the team's success will be harder to come by.
And the offense and the won-lost record will be adversely affected by that.
Coaching staff lacks continuity
Kiffin is in his 3rd season, so he has continuity in his program.
But the staff is going through a transition at multiple key positions.
Former offensive coordinator Jeff Lebby went to Oklahoma and former co-defensive coordinator DJ Durkin went to Texas A&M. Both were important to the success last season.
Lebby's duties will be shared by Charlie Weis Jr. and John David Baker. Durkin's duties will be assumed by Maurice Crum, who joins returning co-defensive coordinator Chris Partridge.
That's a lot of sudden change for the offense and the defense.
The changes in coordinator positions as well as the sharing of coordinator responsibilities on both sides of the ball create challenges that will require adjustments from everyone.
Though the OC and DC have the higher profiles, the continuity issue could be most challenging on special teams where Marty Biagi is Kiffin's 3rd coordinator in as many seasons.
Presumably, the new staff eventually will figure everything out, but it's going to take a while.
Linebackers have a lot to learn
First of all, Crum's position group is the linebackers.
So that's more transition.
Secondly, the group returns just 2 contributors from last season.
The Rebels have some capable players to fill in, but the inexperience at linebacker is another reason the defense will be even less effective than it was last season, when it ranked 12th in the SEC against the run and 11th in total defense.
Reverting to the mean
Ole Miss was really good at taking the football away last season, finishing tied for 2nd in the SEC with 21 takeaways.
That's hard to duplicate — especially the Rebels' league-high 10 fumble recoveries.
The coaches will emphasize taking the ball away and the players will be committed to taking it away.
But all it takes is a couple of tipped balls that land in a receiver's grasp instead of a defender's or a couple of fumbles that bounce that way instead of this way and the takeaway total shrinks.
And the takeaways last season masked the fact that the defense – even before losing 6 starters – finished in the bottom half of the conference in points allowed, rushing yards, passing yards and total yards allowed.
Lost leadership
Sure Kiffin brought in all those transfers.
They have talent and experience. That's good.
And in some cases, talented backups from last season will become talented starters this season.
So Ole Miss has a pretty good number of players who can run, pass catch and block, as well as cover, tackle, shed blockers and get into the backfield.
But it's the stuff that can't be quantified – experience, confidence and familiarity – that won't be fully replaced.
The Rebels will be good again. Even a skeptic has to acknowledge that.
They just won't match the history-making 2021 season.