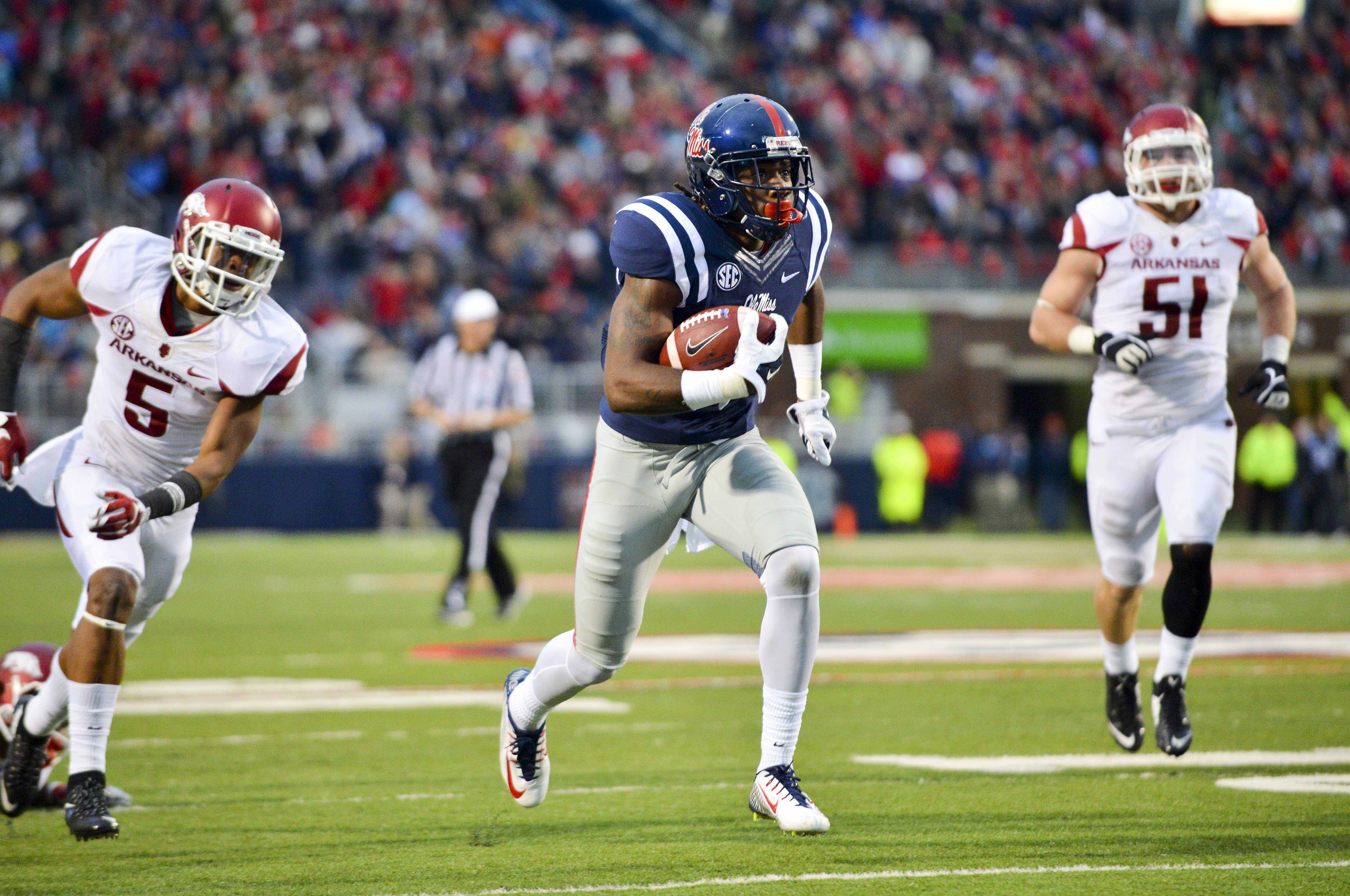 OLE MISS
These guys could make Ole Miss a legit Wide Receiver U
Ask a national college football fan which college can claim to be Wide Receiver U, and you'll get a lot of Miamis. You'll get some LSUs.
Ask folks in Mississippi and you'll get a lot of Ole Miss'.
Is it legit? Can the Rebels start claiming to be one of the best schools in America for a wide receiver to attend? It certainly is the case this season with 4,000-yard passer Chad Kelly back in the saddle, and behind him Shea Patterson fits the bill of a surefire slinger for the following three to four years in Oxford.
Ole Miss has had one wide receiver go in the first round of the NFL Draft. That was Laquon Treadwell last month. Mike Wallace went in the third round in 2009 and Donte Moncrief went in the third round in 2014.
But a stockpile of some of the nation's best receivers have signed on the dotted line for Hugh Freeze, and with the quarterback position sealed, here are the guys looking to make Ole Miss' claim at WRU legit.
QUINCY ADEBOYEJO, SR.
One of the last members of the 2013 class, Adeboyejo happily did his work last season with the spotlight on Treadwell and sixth-round pick Cody Core.
But the 6-foot-3 senior was tied for second on the team with 38 catches, 7 touchdowns and 15.9 yards per catch.
DAMORE'EA STRINGFELLOW, JR.
Stringfellow has No. 1 receiver written all over him. He's big (6-foot-2, 220), physical and can go get a perfect pass or a not-so-perfect pass.
He caught 36 passes for 503 yards and 5 touchdowns last season and, with Adeboyejo on the other side, should be one of the two top targets this season.
He has the speed to get downfield despite his longest catch of the season being 36 yards.
MARKELL PACK, JR.
The forgotten one. Pack didn't start any games last season but finished as one of six Rebels with at least 31 catches. That came with 380 yards, 3 touchdowns and 12.3 yards per catch.
Pack is the most hidden of the bunch.
VAN JEFFERSON, RS FR
Jefferson came to Ole Miss in 2015 as a four-star recruit, the 11th-ranked receiver in the country. He redshirted last season, something he admittedly wasn't fond of, but it looks like it's helped him.
Jefferson has drawn spring praise and won the team's Eli Manning Award for the spring's most improved player. He's another 6-foot-2 option with big-time breakout potential.
DAMARKUS LODGE, SO.
Jefferson wasn't the team's highest-rated recruit in the 2015 class. That belonged to Lodge. The Texan came to the Rebels as the No. 6 receiver in the country.
Lodge played in eight games in 2015 with one catch, a 12-yard touchdown. What has fans excited is the video Adeboyejo tweeted of Lodge making a catch in spring practice. He caught it with one hand and falling down as a defender was hooked to his right arm.
DERRICK JONES, SR.
A three-star receiver from in-state Eupora, Jones spent his career between corner and receiver until last season. He caught six passes with a touchdown last season, and while he's not the most expected difference-maker, he has major playmaking ability and could sneak into a big role in his final season.
TRE NIXON, FR.
The Rebels signed the two most targeted wide receivers in Mississippi in February. Flying underneath the radar of those two, A.J. Brown and DeKaylin Metcalf, is Florida four-star product Nixon.
If Nixon doesn't redshirt, he could find his way into the loaded rotation. He was clocked at sub-4.4 and is the reigning 7A Player of the Year in Florida.
A.J. BROWN, FR.
Brown, ranked as the nation's fifth-best receiver, came in with a bang. From Mississippi State's backyard in Starkville, Brown signed with the Rebels over his choice of SEC schools that included the Bulldogs.
That rubbed a lot of people wrong and Brown has shown he couldn't care less. The All-American caught 83 balls last season for nearly 1,400 yards. He plays physical, seemingly with a belief he has something to prove.
He's proved plenty, and that skill and angry style of play should prove him to be an SEC stud.
DEKAYLIN METCALF, FR.
A long-time Rebels commit from Oxford, Metcalf is a fellow All-American and rival-turned-teammate of Brown's.
The lengthy four-star is nearly 6-foot-4 and can go up and get it, two hands or one. Metcalf has sure hands, breaks tackles, gets downfield and isn't afraid to take or deliver a hit.