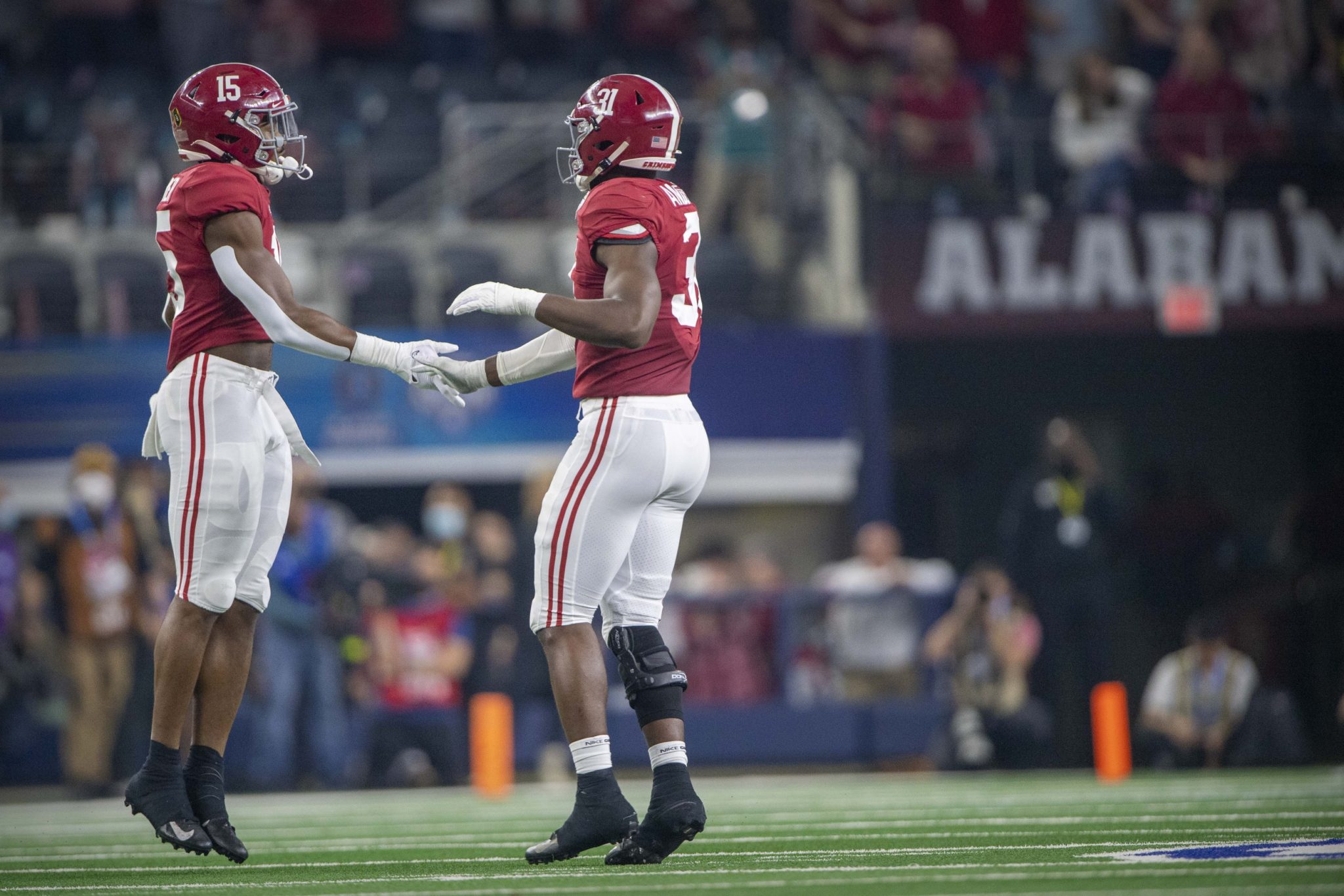 SEC
1 bold prediction for every SEC defense in 2022
Last year, you could've made some good money by predicting that Georgia would allow just 8.8 points per game.
I know what you're thinking. Wait, didn't UGA allow 10.2 points per game? That's the raw number, but you should always take non-offensive scores out of a defense's total points allowed. It's weird that we still live in a world in which a Georgia quarterback can throw a pick-6 and it somehow counts against the Georgia defense.
But anyway, yes, predicting that a team would allow single digit points per game would absolutely qualify as bold. Predicting that group would also have 5 defensive players drafted in the 1st round of the 2022 NFL Draft? Also bold.
Today, we'll try to achieve that level of bold. Of course, there's a fine line. Predicting that Will Anderson will have an All-SEC season isn't bold, but saying that Vandy will have the SEC's best defense is obviously far too bold.
Here's hoping I can find that middle ground.
Alabama — Will Anderson won't lead Alabama in sacks … because Dallas Turner will
That's not a knock against Anderson. If I'm ranking the top returning players in the sport, he's No. 1. But let's also remember that Anderson is going to covet so much attention every time he steps on the field. He'll get 2015 Joey Bosa/2019 Chase Young treatment. That should free up Turner, who was a standout as a true freshman, to make even more plays getting to the quarterback on the opposite side. Turner had 8.5 sacks as a true freshman. Mind you, he only played 370 snaps in a 15-game season (Anderson played 873). Both Turner and Anderson should finish with double-digit sacks, but I'll take the sophomore to have the slight edge in that department.
Arkansas — Drew Sanders becomes an All-SEC linebacker
Speaking of Alabama linebackers, Sanders is at Arkansas because Turner became a star. If not being as good as Turner is a knock, well, I guess 99% of college linebackers should be knocked. Sanders should be able to provide a presence that's been missing for too long in Fayetteville. That is, a legitimate pass-rushing threat. Arkansas hasn't had a player finish with double digit sacks in a season since Jake Bequette in 2011. Sanders has the redemption angle working in his favor. We've seen Barry Odom help turn lightly recruited linebackers like Nick Bolton and Grant Morgan into stars. Something tells me Odom will work wonders with a former 5-star recruit like Sanders.
Auburn — The Tigers will have their worst run defense in a decade
By the time you're finished reading this sentence, Auburn probably lost another defensive lineman to the portal. Since the Iron Bowl, the Tigers lost 7 defensive linemen/edge rushers. On top of that, Auburn lost defensive coordinator Derek Mason and defensive line coach Nick Eason. And just in case that wasn't enough, Zakoby McClain is off to the NFL. Yikes. Auburn actually fared well against the run in 2021 with the No. 29 unit, which allowed just 8 rushing scores all year. But with so much turnover, I worry that it could be the worst run defense since the 2012 group allowed 198 rushing yards per game.
Florida — The Gators will have their 2nd-worst scoring defense since the Woodrow Wilson administration
Sound specific? It is. In 2020, Florida had its worst scoring defense since 1917, AKA the Woodrow Wilson administration. That 2020 group allowed 30.8 points per game, yet Dan Mullen still ran it back with Todd Grantham. Both are gone, but the problem is that Billy Napier didn't inherit a whole lot of depth. Hence, why Napier was so transparent about Florida's transfer portal needs. Brenton Cox returning was big, and having a healthy Ventrell Miller would be a major boost. Still, though. The SEC is loaded with talented quarterbacks and Florida can no longer turn to Kaiir Elam to limit the damage against a team's top wideout. This group could allow nearly 30 points per game in Year 1 of the Napier era.
Georgia — UGA will have 4 defensive players drafted in Round 1 in 2023
Wait … next year? Like, after 5 UGA defensive players went in Round 1 in 2022? Yep. I'll even call my shot:
Jalen Carter
Nolan Smith
Kelee Ringo
Tykee Smith
Carter feels like the safest bet after he flashed extraordinary ability on a loaded defensive line. He's getting top-5 love in way-too-early mock drafts. Nolan Smith was a surprise returner after he really came on strong on the latter half of the season, but the former No. 1 overall recruit should have a productive pre-draft season and test well. Ringo, AKA the guy who made the most famous interception in Georgia history, is ready to star as a No. 1 corner and has all the makings of a a top-end NFL prospect. Tykee Smith is a bit more of a wild card coming off an injury-riddled 2021 season. He's going to excel covering the slot, which has become more of a priority at the next level. So yeah, there are your 4 next UGA defensive first-rounders.
Kentucky — Zion Childress emerges as Kentucky's defensive MVP
Who? Yeah. Childress, AKA the Texas State defensive back who announced he was transferring to Kentucky over the weekend. No, he won't have the benefit of spring ball, but Childress has 2 years of starting experience at the FBS level. He had a solid Power 5 market once he hit the portal — he turned down Washington and TCU — because he was a versatile weapon as an underclassman. In 2021, he had 74 tackles, 5 pass breakups, 2 forced fumbles, 1 fumble recovery and 1 interception. Here was his snap count in 2021:
Box: 253 snaps
Free safety: 251 snaps
Slot CB: 103 snaps
Wide CB: 8 snaps
DL: 3 snaps
Kentucky needed someone like Childress to stop the bleeding against MSU and Tennessee when you need those extra defensive backs to cover. It might take a little bit for Childress to adjust early in the season, but once he settles into the defensive system, I expect him to become a stat-sheet stuffing playmaker.
LSU — BJ Ojulari will have more sacks than Will Anderson
Let me be perfectly clear. Again, I believe Anderson is the best returning player in college football. He's in the conversation to be one of the best SEC defensive players ever. But I could see Ojulari taking another step and having a 13- or 14-sack season in his pre-draft year. We know that he's already getting first-round buzz in way-too-early mocks. We also know that Travon Walker showed why edge guys can rise in a hurry at the next level. But Ojulari will have better production than Walker, who played on a loaded defensive line. Ojulari and Ali Gaye should form one of the nation's better edge duos. We're going to see Ojulari flash that dangerous spin move plenty of times en route to an All-SEC season.
Mizzou — Isaiah McGuire is an All-SEC selection for a vastly improved Mizzou run defense
McGuire is a member of my highly coveted All-Bang The Drum Team. After Mizzou was written off for its horrendous run defense, McGuire became a key reason why the Tigers actually showed signs of defensive life down the stretch. He had 14 tackles for loss and earned PFF's No. 5 run defense grade among SEC edge defenders. Mizzou's run defense was ranked No. 124 out of 130 FBS teams last year, and it would've been dead last if not for a November in which it ranked No. 34 nationally. Mizzou returns 78% of its defensive production from last year, and I think there were plenty of Tiger fans who didn't lose sleep over the loss of Steve Wilks. I'll say that McGuire racks up double-digit tackles for loss again and Mizzou finishes in the top half of FBS against the run.
MSU — Zach Arnett will lead a top-4 scoring defense in the SEC
I'm bullish on the Bulldogs' defense (sorry). I don't think the average person realized that they had the No. 3 run defense in the SEC last year. That group returns 84% of its defensive production, which ranks No. 1 in the SEC and No. 8 in FBS. Jett Johnson is the versatile, veteran leader you need in the middle of that defense. Emmanuel Forbes is still an underrated corner on the outside who should lock down elite wideouts, as will Alabama transfer Marcus Banks. But the biggest issue last year was MSU's lack of a pass rush. Injuries were a big part of that. Jordan Davis was out for all of 2021 while De'Monte Russell and Jack Harris missed chunks of the season. They're back now. Add those guys to the rotation with Cameron Young and Nathan Pickering, both of whom will be seniors, as well as returning sack leader Tyrus Wheat. This could absolutely be a top-25 defense in FBS if those pass-rushers can stay healthy.
Ole Miss — Otis Reese leads the SEC in tackles
I'll be honest. I'm worried about the Ole Miss defense. There's potential for it to have more 2020 vibes than 2021 vibes. There are plenty of potential transfer portal additions who could make a big difference like JJ Pegues and Isheem Young, but the guy who remembers both of those groups is Reese. Last year, Reese led Ole Miss with 91 tackles for an Ole Miss defense that improved significantly and helped lead the program to its best regular season in program history. You'd never know it based on this quote from Reese in spring (247sports).
"No, last year didn't go the way I wanted it to go," he said, "but those are things I'm not going to speak on. This year, I'm going to be back to being me. People are going to see. It's up. It's up in the situation. I'm blessed to be out here with my team. This is my last year. I've got so much to fulfill, and I'm blessed to be here."
With so many questions surrounding Ole Miss' front 7, I think Reese is relied on even more to make plays in the open field and he posts 120-130 tackles.
South Carolina — Cam Smith finishes with 1 interception and is still worthy of All-SEC honors
Smith is showing up on way-too-early mock drafts and he's PFF's highest-graded returning Power 5 corner. In 2021, he surrendered just 15 catches from 32 targets for 184 yards, with 3 interceptions and 9 pass breakups for the SEC's No. 1 pass defense (via PFF). He's going to get Jaycee Horn comps, and understandably so. Smith took over for Horn and played exceptionally well. The difference is that Horn didn't get an interception until his pre-draft season in 2020 when Bo Nix inexplicably picked on him, whereas Smith already showed those ball-hawking skills. Teams will likely avoid Smith, and those interception numbers will come down. That won't (and shouldn't) matter as long as Smith continues to limit top wideouts on a weekly basis.
Tennessee — The Vols have the worst pass defense in Power 5
I put together my biggest post-spring area of concern for every SEC team, and I picked defensive line for Tennessee because I thought Matthew Butler was incredibly valuable and versatile up front. I got pushback from Tennessee fans saying the secondary is a bigger issue, which I totally get. Losing Alontae Taylor and Theo Jackson from that defensive backfield was significant. I won't deny that. But why I worry more about Butler's loss is because if you have a gassed defensive front that can't generate pressure, there's only so much your secondary can do. In 2021, Tennessee's pass defense ranked No. 122 out of 130 FBS teams. While defensive coordinator Tim Banks overcame some low expectations, it's fair to question if those concerns about complementary football will surface even more with those 3 key defensive players off to the NFL.
Texas A&M — The Aggies have the most significant defensive regression in the SEC
My biggest issue with putting A&M as a preseason top-5 team is the defensive turnover. Specifically, turnover in the front 7. DeMarvin Leal, Jayden Peevy, Michael Clemons, Aaron Hansford and Tyree Johnson are gone. That's why A&M ranks No. 91 in percentage of returning production, and that doesn't even include the loss of defensive coordinator Mike Elko. As promising as that historic 2022 class is, especially on the defensive line, I'm not expecting all of those guys to step in and dominate like their predecessors did. Part of this prediction is because A&M has so far to fall. It was the No. 3 group in America last year. A&M could fall by 35 spots in and still be a top 1/3 group in FBS. I could see the Aggies' defense regressing by about a touchdown per game and being much less steady than the 2021 unit was.
Vanderbilt — Vandy won't finish last in the SEC in any of the 4 major defensive categories
Hey! Those are kind words, no? To be clear, we're talking scoring defense, total defense, passing defense and run defense. Last year, Vandy's SEC finishes in those categories were:
Scoring defense: No. 14
Total defense: No. 14
Passing defense: No. 13
Run defense: No. 13
So what's to say Vandy will improve defensively? I could sell you on what I saw in the spring game with what appeared to be a better pass rush than the group who had 9 sacks last year. Or I could simply say that I have some faith in Clark Lea's development. Without massive turnover and a scheme change like he had in 2021, Lea should see those impact plays on a more frequent basis. In addition to just those 9 sacks, Vandy only recovered 3 fumbles. I gotta think both of those areas improve and Vandy will at least have a pulse defensively in Year 2.