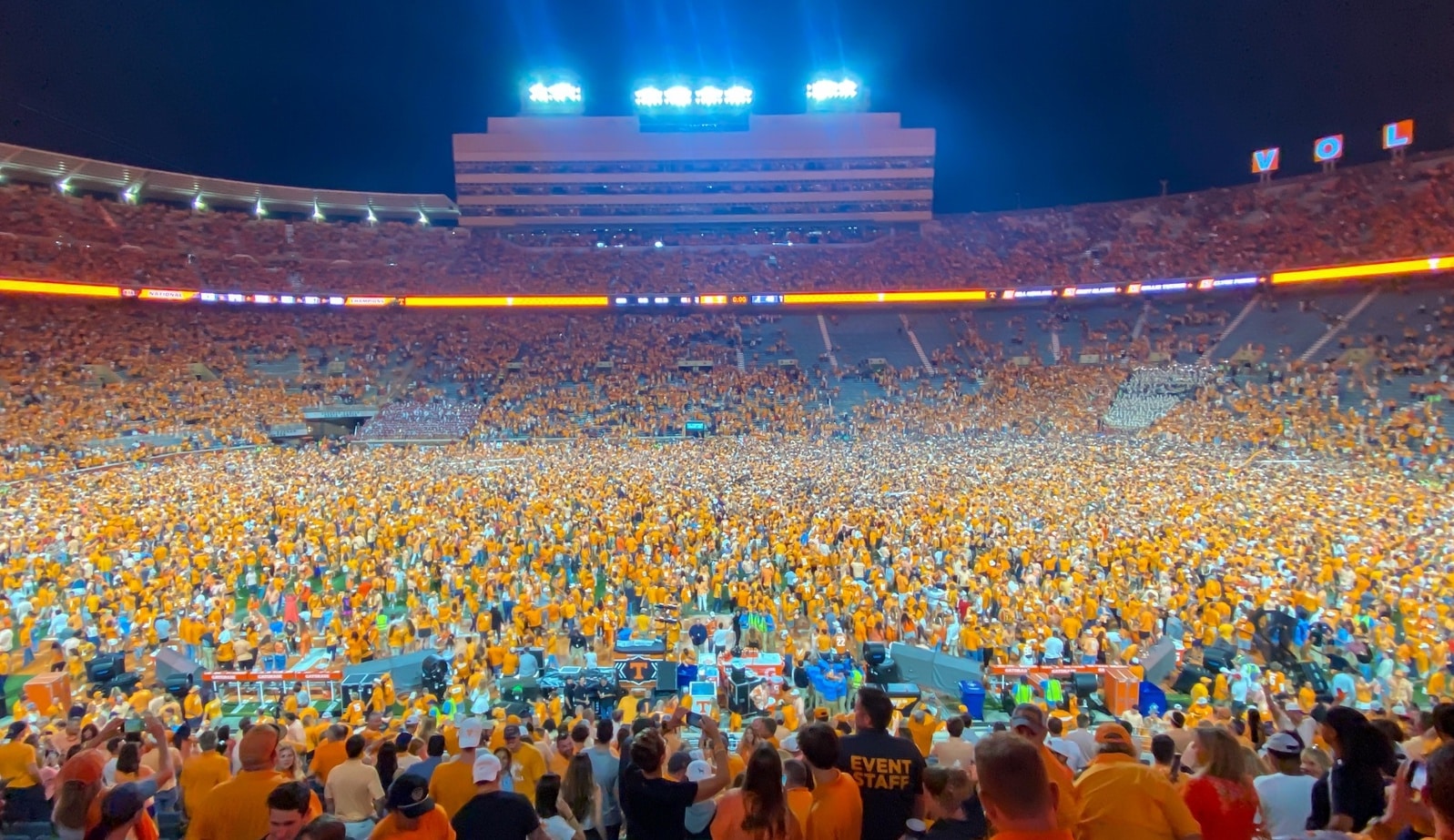 SEC
1 thing I learned from every SEC team in Week 7
In some respects, I'm gonna pretend that the halfway point of the 2022 season isn't actually here. As far as I'm concerned, we've still got 3 months of the season left. Technically, I'm not wrong, because that's when the College Football Playoff National Championship is.
But yeah, I'm sheepishly acknowledging that we have fewer regular-season weeks left (6) than regular-season weeks played (7).
I'm also acknowledging that there are still things we're figuring out about SEC teams. We came into Saturday wondering some pretty obvious things. As in, would Bryce Young play and be healthy? Could Tennessee finally end the streak? Could Arkansas and Kentucky both get their quarterbacks back healthy and end their mini skids in tricky matchups? How would Brian Kelly fare in his 1st true rivalry game?
We got answers to all of those questions and more on Saturday.
Here's 1 thing I learned from every SEC team in Week 7:
Alabama — You can only play with fire on the road so much
What do I mean by that? Well, consider this. Coming into Saturday, Alabama had played in a 1-score game in the 4th quarter in 8 of its 11 SEC games since the start of 2021. Also since the start of 2021, Alabama's true road games were decided by 3 points or fewer 4 of 6 times. And what was Saturday? More of that. Even on a day when Alabama got a brilliant performance from Young, Tennessee beat Alabama for the 1st time in 16 years. You know, in case you haven't heard.
The Tide made plenty of mistakes, many of which were related to "covering" Jalin Hyatt. But committing a record 17 penalties was costly. Yes, some of those pass interference penalties were questionable at best, but that went both ways. Alabama shot itself in the foot too many times, and it failed to truly take over defensively. It was bound to happen that Young wouldn't be able to save the day in a road game wherein Alabama was playing down to the wire. On the bright side? Young looked as good as ever, and the Playoff hopes are still alive.
Arkansas — KJ Jefferson and the Arkansas offense are so back
Jefferson's return started off a touch slow, but man, it turned out to be everything Arkansas fans could've hoped for and then some. He settled in and started looking comfortable throwing over the middle. That was huge, because you knew that Kendal Briles didn't want to run him 20 times coming off the head injury. It didn't matter that Jefferson wasn't much of a factor running because he was excellent. A 367-yard, 5-touchdown day was highlighted by what was, in my opinion, Jefferson's best play of the year:
OH MY GOODNESS KJ JEFFERSON ? @RazorbackFB pic.twitter.com/gDCIa6YgxY

— SEC Network (@SECNetwork) October 15, 2022
Jefferson is such a tough, hard-nosed player to have behind center. That's never in question. But it's when he combines those things with precision accuracy when you really see why he's one of the better quarterbacks in the sport. Even when the Hogs' defense again was a major liability, Jefferson reminded the college football world that he's got plenty left in the tank.
Auburn — There's fight left in the Auburn offense
I'm gonna be honest. Down 21-0 when Robby Ashford went to the bench, I thought Auburn was cooked. When Auburn scored a touchdown and the ESPN cameras caught Ashford and Tank Bigsby getting heated on the sideline, I truly thought Auburn's day was done. After all, this was the team that had been horrendous in the 2nd half under Bryan Harsin. Surely, it wouldn't have offensive answers to rally back against a top-10 team on the road.
But Ashford looked phenomenal after that rough start, and Bigsby actually got running lanes after entering with the FBS-worst yards before 1st contact among running backs. Auburn ran the ball for 301 yards with a banged-up offensive line against one of the SEC's better defenses. Is that a bit of a moral victory? Sure. But this was a program who entered the day having gone 1-7 in its previous 8 games vs. Power 5 competition with that lone win being the Mizzou debacle. Do I believe Harsin when he says his team is "close?" No, because the depth on the defensive line is still a major issue, and at best, it's a 1-dimensional offense. But that game had 45-7 vibes early, and for the 1st time in a year, we saw actual offensive life in the 2nd half from Auburn.
Florida — That defense might back down
Sorry. I shouldn't. Not on Tom Petty Night. That's not nice. But be honest, Florida fans. Did LSU get whatever it wanted? Like, the LSU offense that scored 24 points once against Power 5 competition so far? Jayden Daniels entered the night as the guy who couldn't keep his eyes downfield because he was worried about pressure. Florida didn't do enough to fluster him, and on the road, he settled in just fine. It was so bad that at one point, when Florida had already allowed 35 points, Ventrell Miller stood up on the bench and delivered a passionate speech that ESPN's Katie George said prompted an ovation from the Florida faithful standing behind him.
But Miller, who has been the heart and soul of that group, couldn't will the Florida defense to nearly enough stops. Again. In 6 games against FBS competition, Florida has allowed at least 26 points 5 times. But none of those showings were worse than the 528-yard showing LSU put up in The Swamp. It felt fitting that Gervon Dexter's roughing the passer call negated what would've been a monumental interception late. The Gators have a whole lot to figure out in the bye week before Georgia.
Georgia — Arik Gilbert finally made his presence felt
I said during the week that Georgia fans have to assume going forward that anything out of Gilbert should be treated as a bonus. Then Gilbert, who hadn't played since Week 2, came into the game late and recorded his 1st catch in a Georgia uniform, as well as his 1st touchdown with the Dawgs:
.@carsonbeck01 ➡️ Arik Gilbert ?#GoDawgs pic.twitter.com/ayukT1MrXg

— Georgia Football (@GeorgiaFootball) October 15, 2022
Gilbert was mobbed by his teammates afterward in what was certainly one of the high points of the day in the SEC. Gilbert hadn't caught a pass in an FBS game in 22 months. He has dealt with off-field issues that have prevented him from living up to his billing as the highest-rated tight end recruit in the 247 Sports recruiting rankings era. It felt like a repeat of his spring game brilliance to see such an outpouring of support for him. If Gilbert becomes a thing in this already lethal tight end room, look out.
Kentucky — Yes, the Cats can respond
I questioned if Kentucky could respond not only after a 2-game losing streak, but also after getting dominated by MSU in Starkville last year. And would the Cats get a healthy Will Levis to lead the charge? Well, we got answers to all of those things. Let's start with the defensive turnaround, because a year removed from Will Rogers being essentially perfect with just 3 incompletions, he was anything but that. Rogers' torrid 1st half of 2022 came to a screeching halt against an inspired Kentucky defense. It wasn't exclusively drop-8 coverage. It wasn't exclusively 3 down linemen. Mark Stoops and Brad White mixed things up all night, and Rogers was all out of sorts. He had his worst passing day since MSU's bowl game in 2020.
But how about Levis? If you watched the game, you saw the beating he took after returning from his turf toe injury. He took a shot and fell awkwardly on his left shoulder in the 3rd quarter, only to come back in a few minutes later and lead Kentucky back on a long touchdown drive. He was 9-for-9 for 149 yards (H/T Nick Roush). That's what you love to see if you're a Kentucky fan. Is he still getting hit too much? Sure. But is his toughness unmatched? Absolutely. The combination of him and Chris Rodriguez Jr. is still such a load for 60 minutes. Kentucky's response on both sides of the ball was exactly what was needed to stop the bleeding against a well-rounded MSU squad.
LSU — Kayshon Boutte is indeed on the LSU roster
How big of a breakout night was that for Boutte?
First 4 games vs. FBS: 12 catches, 88 yards, 1 TD
vs. Florida: 6 catches, 115 yards
It felt like old times with Boutte's involvement in the offense. The preseason All-American had 2 catches for 54 yards on the opening drive for an LSU offense that looked like it finally found its groove. We knew that Jayden Daniels organized the players-only meeting with him and the LSU pass-catchers before the Tennessee game. Of course, we didn't see it last week. This week, however, Brian Kelly said that he named Boutte a team captain because he had practiced "harder and faster than anyone on the team." Kelly added that "if he plays like that, we're a different football team."
Yep. LSU went into The Swamp and looked like it could do whatever it wanted, which really hadn't happened against Power 5 teams in the first 3 quarters. Boutte being engaged and having that trust with Daniels will make LSU a dangerous team in the 2nd half.
MSU — It's not about to be a 2014-like season after all
By "2014-like season," I meant that we were going to see MSU go to a New Year's 6 Bowl and perhaps sneak into the top 10 at some point. I didn't mean that I expected MSU to show up at No. 1 in the 1st Playoff poll. But in order to stay in the New Year's 6 Bowl conversation, MSU needed to go on the road and beat a reeling Kentucky squad. It had to become the 1st road team to win the matchup since … 2014. Nope. Rogers was bottled up for less than 6 yards per attempt against a Kentucky defense that totally confused him.
It's hard to blame Zach Arnett's defense for that loss, especially considering that Emmanuel Forbes beautifully jumped the route for his SEC-leading 5th interception, which was a walk-in pick-6. This was on the offense. The running lanes weren't there after MSU showed major progress in that lightly-used area against Arkansas. Better days are ahead for Rogers, but any chance he had of a sneaky Heisman Trophy campaign is probably gone. MSU is also now in need of beating either Alabama or Georgia in order to have a winning record in SEC play, which only happened once in the 21st century … in 2014.
Ole Miss — The run offense? Elite. The run defense? Not elite.
Where should we start? The positive? OK. We didn't need Saturday to tell us that Ole Miss had an elite ground game. Rushing for 448 yards with a trio of 100-yard rushers wasn't surprising against an Auburn defense that has been trucked by the ground game. The surprise was watching Ole Miss struggle to slow down a 1-dimensional Auburn offense. Bigsby and Jarquez Hunter both kept Ole Miss on its heels after it entered the day as the No. 34 running defense in the nation. Auburn had more than double Ole Miss' 117.8 rushing yards allowed per game with a 301-yard showing.
In some ways, this felt like the game we saw against Tulsa, when Ole Miss jumped out to a big early lead, but then it suddenly couldn't stop the run. It continues to be a weakness. That'll be tested against an LSU team that also has a mobile quarterback. Fortunately for Lane Kiffin's squad, it ranks in the top 20 in yards per pass attempt allowed. Oh, and it improved to 7-0 for the 1st time since 1962.
Tennessee — Oh, the Vols are back
Yep. Finally. After 39 consecutive losses to AP Top-10 teams, 28 consecutive losses to AP Top-5 teams and 15 consecutive losses to Alabama, the Vols did it. Unbelievable. That was the most points allowed by Alabama since 1907. Josh Heupel's offense got the ultimate proof of concept. Hendon Hooker was brilliant even though he watched his interception streak come to an end at 262 passes. Hyatt was unguardable, and a Tennessee offense without Cedric Tillman clicked on all cylinders. Again. Against Nick Saban.
That wasn't flukey, either. The Tide's Young played at his absolute best, and it still didn't matter. The Vols were just a touch better. Go figure that it was the program's 1st win at Neyland Stadium in a battle of AP Top-10 teams since 1998 (H/T Chris Fallica). That game was historic, sure, but Tennessee beat an AP Top-25 team for the 4th time this season. If you're still sleeping on Tennessee and what Heupel is doing, I'd recommend now is as good a time as ever to wake up. The Vols are for real.
Vanderbilt — Changing the vantage point didn't work for DC Nick Howell
I say that because the Vandy assistant moved from the sideline to the coaches' box in hopes of helping Vandy turn around the No. 122 defense in FBS. It didn't work against a Georgia passing game that had been struggling the past 3 weeks. Well, unless you consider Georgia's poor 3rd quarter as a sign that Vandy's defense turned things around in a 55-0 loss. Here's what Clark Lea had to say about Howell's move to the coaches' box (via 247sports):
"Just wanted him to have the ability to keep perspective and to not be trapped in the emotions of the sidelines. I felt like at times this season — particularly against Ole Miss and Wake Forest — we kind of had this snowball during bad stretches of play where, to me, his ability to lift up and to have the big guys from the box would be helpful to him."
In 4 games vs. Power 5 competition, Vandy allowed at least 45 points in all of them. The good news? A bye week is up next … and Alabama and Georgia are both in the rearview mirror.