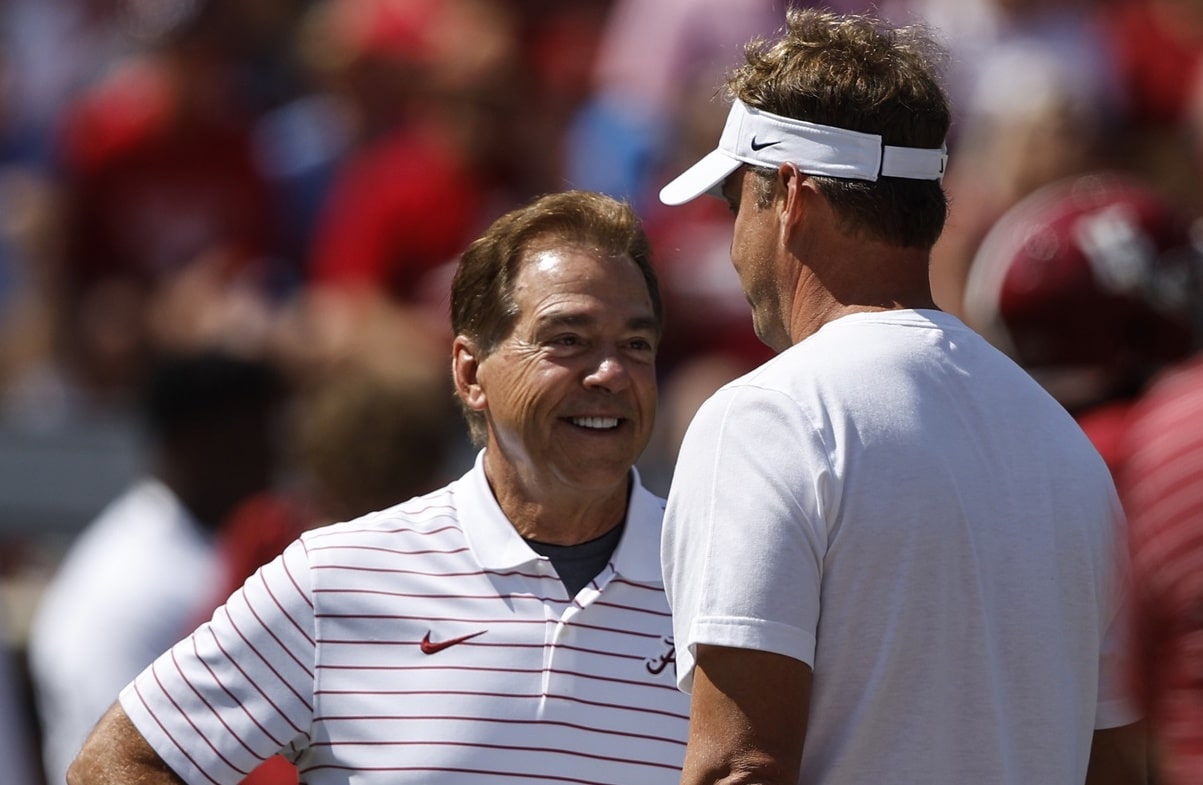 SEC
1 thing I learned from every SEC team in Week 4
It was the type of Saturday slate that we dream about.
Six matchups of ranked foes highlighted a banner Week 4. That didn't include Florida State-Clemson, either. Loaded, it was.
Of course, only 1 of those ranked matchups was in the SEC. There was plenty to learn from Ole Miss-Alabama related to Lane Kiffin, the Alabama defense, Jalen Milroe, etc.
That wasn't the only SEC game with a clear takeaway. Here's 1 thing I learned from every SEC team in Week 4:
Alabama — This team hasn't thrown in the towel
Effort was questioned. Quarterback play was questioned. Shoot, the defensive play-caller was questioned. In a must-have-it game against a top-15 Ole Miss squad, Alabama dug deep and answered those questions. Well, at least some of them. We saw a much-improved Alabama team in the second half. Jalen Milroe overcame an awful red-zone interception by leading a pair of touchdown drives after the break, one of which was capped off by him hanging in the pocket and taking a shot on a score to freshman Jalen Hale. Alabama looked like the "joyless murderball" team we were promised on both sides of the ball. Jase McClellan had 107 rushing yards on 15 carries while Ole Miss' Quinshon Judkins and Jaxson Dart combined for just 62 rushing yards.
Was it pretty? Absolutely not. But was that a necessary response after consecutive weeks of disappointing performances? Absolutely. And hey! Alabama only had 1 touchdown wiped off the board from a penalty. The Tide might be back.
Arkansas — This passing game can absolutely hang
Even when it seemed like the offensive line was working against it, the Hogs went into Death Valley and showed that the passing attack could do the heavy lifting. KJ Jefferson was brilliant. Simple as that. Even when he was flushed out of the pocket, he made things happen downfield. That play to step up in the pocket and hit freshman tight end Luke Hasz on the right sideline was vintage Jefferson. If Arkansas had any timeouts left, it would've been able to get the ball back and inevitably put together a game-tying drive. Unfortunately for Jefferson, he didn't get that opportunity. The positive for Arkansas was that the Dan Enos scheme wasn't stymied by a mistake-prone offensive line. Jefferson is going to give the Hogs a chance every week.
Auburn — Those passing game concerns were justified
It was painful watching Payton Thorne in his first game against SEC competition in an Auburn uniform. Thorne couldn't escape pressure, he wasn't decisive and he was off-target when he did have throwing windows. He was benched early in the second half after he completed 6-of-12 passes for 44 yards, and he took 5 sacks. Robby Ashford and Holden Geriner, who came in late facing obvious passing situations, combined for 3-for-11 passing for 12 yards. Even against a struggling A&M secondary, Auburn couldn't do anything in the passing game. It felt far too 2022-ish for an offense that was hoping to have some sort of balance with Hugh Freeze.
Florida — Ricky Pearsall can do … that???
I mean, this is just insane.
This catch from Ricky Pearsall was SICK pic.twitter.com/ovTy0zLniz

— Field Yates (@FieldYates) September 23, 2023
My goodness. That's Odell Beckham Jr. stuff. Don't ever let anyone lazily question the athleticism of Pearsall. He's been a true go-to receiver for Graham Mertz, and it's not difficult to see why. His catch radius continues to improve, and his ability to get separation is as good as there is in the SEC. He has at least 6 catches in every game this year, and he has hit 90 yards in 3 of 4 contests. Between Pearsall and Caleb Douglas, Mertz suddenly looks like he has a pair of guys who are more than capable of making insane contested catches. Of course, you won't see one more insane than that.
Georgia — Brock Bowers is just fine
I'm old enough to remember when Bowers was limited with a groin injury. It would've explained his slow start to 2023, which before Saturday's blowout win against UAB, he had just 135 receiving yards and 0 catches through the air (he had a rushing score). Then Bowers reminded everyone why he's on the short list of the best overall players in the sport. He threw a defender off like a rag doll in peak-Bowers fashion:
Weekly tweet about Brock Bowers

He threw this man away pic.twitter.com/G6gF46pr9z

— Radi Nabulsi (@RadiNabulsi) September 24, 2023
Bowers wasn't guardable. His 2 touchdowns gave UGA fans a sigh of relief after another slow offensive start. As UGA still searches for its identity — fumbles were an issue on Saturday — one thing is for sure. You can always count on No. 19.
Kentucky — Testing Maxwell Hairston is a really bad idea
Vanderbilt found that out the hard way. To be fair, we should've known that coming into this one. Hairston had the highest PFF grade of any SEC corner, and among all FBS corners, he was No. 3. That's a fitting number because Hairston now has 3 interceptions this year, and he took not 1, but 2 picks back to the house. He became the first player in Kentucky history to accomplish that feat:
Not one, but TWO pick-6️⃣s for Maxwell Hairston ?

(? @NavyFederal) pic.twitter.com/UX3VKwIsf0

— ESPN College Football (@ESPNCFB) September 23, 2023
Hairston has been the breakout star for this Kentucky defense. Here's a wild thought. Before 2023, Hairston had never even recorded a tackle against FBS competition during his 2 seasons at Kentucky. Even when there are questions about new starters, we always assume that household names are going to emerge in Kentucky's defense. Hairston is a perfect example of that.
LSU — Da'Shawn Womack is ready to contribute
You know. Just in case LSU didn't have enough dudes in the front 7.
Another 5-star looked the part for the Tigers. His first career sack came against arguably the hardest player in the SEC to bring down, KJ Jefferson. Oh, and Womack did so after losing his helmet. He had a sack and a quarterback hit. Not too shabby. He had only played 22 snaps through the first 3 weeks, and because of how deep the Tigers are up front, it's probably not realistic to expect him to start playing 40-plus snaps every week. Still, there's going to continue to be a ton of pressure on that LSU defensive front to get home and not expose the back end. The Tigers need as many guys as humanly possible to rotate in who can get to the quarterback.
Mississippi State — Will Rogers wasn't ready to be written off
A week after he had the worst game of his college career, the SEC's all-time leader in completions had himself a night. Rogers had a career-high 487 passing yards, which nearly matched his total of 492 passing yards through 3 weeks. It was easily his best performance in the new Kevin Barbay offense. Rogers looked far more confident, and it helped that Tulu Griffin repeatedly got behind the South Carolina secondary. It probably helped that it was the first time all season that Rogers surpassed 30 passing attempts. South Carolina did a nice job up front, and with Woody Marks banged up late, Mississippi State's only chance of staying in that game was Rogers catching fire. It was the silver lining of a third consecutive disappointing defensive showing.
Mizzou — Booing Brady Cook might've sparked something in him
Remember when Cook got booed in his introduction before the Kansas State game? Eli Drinkwitz might not have liked that, but since then, Cook is 41-for-60 for 697 yards, 4 touchdowns and 0 interceptions. You knew that Cook was dialed in early on in his homecoming when he dropped this in a bucket:
Brady Cook opened up the scoring tonight with this absolute MOONSHOT ?@MizzouFootball x ? @ESPNU pic.twitter.com/n9RQ7OU5bK

— Southeastern Conference (@SEC) September 24, 2023
Remember, Cook entered the night with questions about his knee following the injury that hobbled him in the second half against Kansas State. Even with a brace on, Cook didn't appear bothered by it. His connection with Luther Burden still looked elite, as well. Mind you, that came against a Memphis secondary who was ranked No. 2 in FBS against the pass. Cook has done a masterful job of quieting those increasingly loud clamors for Sam Horn to get the nod. He's leading 1 of 3 remaining unbeaten teams in the SEC, and one would think he'll soon be leading an AP Top 25 team.
Ole Miss — Lane Kiffin isn't going to beat Nick Saban
If it wasn't going to happen this year, then why should we assume it'll ever happen? Kiffin had the superior team entering the matchup in Tuscaloosa. Jaxson Dart even said afterward that "the entire team" thought this was the year that they would beat Alabama. As in, the team that struggled to put away USF last week. Instead, the Tide woke up by storming back in the second half while all Ole Miss mustered was a field goal. It was embarrassing that Kiffin called out Alabama's defensive play-calling duties to start the week, and his offense completely turtled on a national stage.
Kiffin is now 0-5 all-time against Saban, including 0-4 at Ole Miss. If Kiffin couldn't take advantage of an on-the-ropes Alabama team in that setting, it's hard to imagine that ever happening with Saban on those sidelines.
South Carolina — Mario Anderson might be the answer in the backfield
Don't look at the box score because if you do, you'll mock what I'm about to say. Anderson ran harder and more effectively than any South Carolina player has so far in 2023. The Division II transfer kept his legs churning, he picked up tough yardage and he gave his offensive line a bit of life.
OK, now you can look at the box score. Anderson only had 88 rushing yards on 3.4 yards per carry, and his longest run went for 9 yards. On the surface, that was nothing to write home about. But consider this: South Carolina entered the evening ranked dead last in Power 5 in rushing. That group is thin, and it's desperate for answers to take some pressure off the blossoming Spencer Rattler. Seeing Anderson show that willingness to take on that workload against a respected Mississippi State front was huge.
Tennessee — Joe Milton got over that Florida loss and quieted that Nico Iamaleava chatter
What's the best way to move past a loss? On your first play from scrimmage, record the longest run by a quarterback in program history.
"It's like a water buffalo outrunning wolves." ?

1 play. Milton 81 yards to the house. ?@Vol_Football x ? @SECNetwork pic.twitter.com/frZLqxy97M

— Southeastern Conference (@SEC) September 23, 2023
Milton can jet. He can also run this Tennessee offense. As Chris Doering brought up on SEC Final, the Vols had 4 touchdown drives in the first half, and they averaged 1 minute, 17 seconds. Even though they didn't sustain that pace — Milton had a 1-for-10 stretch — having a fast start wherein the Vols looked more like last year's group instead of last week's group was crucial. The last thing that Milton wanted was for the Iamaleava crowd to gain support. Milton accomplished that goal. Next up, a South Carolina secondary that just got torched by a previously lackluster Mississippi State passing offense.
Texas A&M — We need to talk about the value of Max Johnson
Kudos to Johnson. He stuck around in College Station even though the writing was on the wall that he'd be a backup to a 5-star quarterback 2 years his junior in Conner Weigman. When Weigman went down with an ankle injury late in the first half, Johnson showed why he's one of the best backups in America. He immediately led a pair of touchdown drives, including one to little brother Jake Johnson, who recorded his first college score. The elder Johnson showed such poise and got A&M's offense out of the mud after a slow start.
Is he now the starter? Let's not go that far. Weigman, outside of that slow start on Saturday before he got hurt, has been excellent in Bobby Petrino's offense. A&M fans should just appreciate that after 2 years of not having anyone who could execute in the passing game, it appears the Aggies have 2 guys who can run this offense. Johnson earned that game ball.
Vanderbilt — AJ Swann getting banged up was a fitting end to a nightmare day
The strength of this team was the passing game, but by day's end, "strength" was the opposite of the Vandy air attack. Before he left the game with an apparent right arm injury, Swann was completely overwhelmed all day by the Kentucky defense. He threw balls up for grabs when pressured, and 2 of his 3 interceptions went the other way for 6 (both by Maxwell Hairston). Swann's poise that we saw throughout the first month went by the wayside. Go-to receiver Will Sheppard was targeted 10 times, and he had just 2 catches for 31 yards. Kentucky looked one step ahead all day against an offense that couldn't function very well once it fell behind 21-0 in the first quarter.
It's gonna be an uphill climb for this offense in the latter half of that schedule.