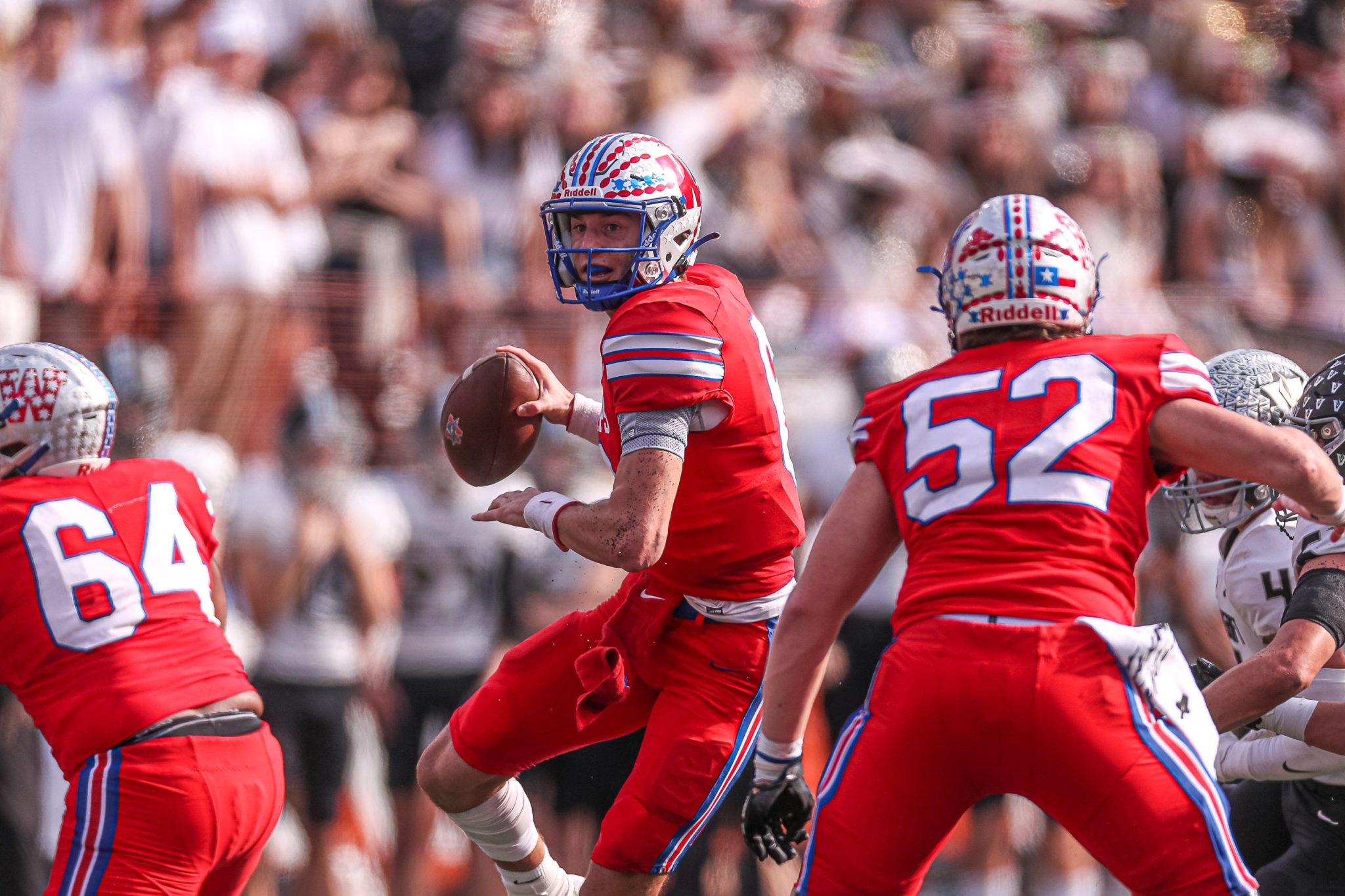 SEC
Can't keep them all: 10 best offensive recruits who chose the ACC over the SEC
The SEC and ACC share much of the same geographic footprint, so it's no surprise that many top football recruits are wooed by schools from both conferences.
On the Early Signing Day for the Class of 2022 recruits, the ACC wound up getting commitments from some of the top players from SEC territory. (No worries, SEC fans. The league still signed nearly half of the top 100 players in the country.) We have made note here if a player is from a state with both ACC and SEC football programs and made a couple of judgment calls as far as which towns are in which "territory" for recruiting. For instance, No. 93 overall recruit Azareyeh Thomas, from Niceville, Florida, certainly could have chosen Florida. But Niceville is in the Panhandle, much closer to Florida State than UF, so we figured him as a natural FSU commit and left him off this list.
Here are the top 10 recruits that ACC programs took from SEC territory. Each player is listed with name, position, college commitment, high school and overall ranking according to 247Sports.
Cade Klubnik, QB, Clemson (Austin, Texas), No. 18
Yeah, we know, Austin is the home of the University of Texas. But hey, the Longhorns are on their way to the SEC, and in any case Texas A&M is a lot closer to Klubnik's hometown than Clemson is (so are most SEC schools). Will Klubnik be earmarked to compete right away with DJ Uiagalelei?
Adam Randall, WR, Clemson (Myrtle Beach, S.C.), No. 119
Clemson has been a factory for future NFL wide receivers in recent years and Randall, from Myrtle Beach (which is closer to Columbia than Clemson), will be hoping to be the latest Tiger to join that list. The 4-star recruit was listed as the 3rd-best overall prospect in South Carolina.
Julian Armella, OL, Florida State (Fort Lauderdale, Fla.), No. 126
St. Thomas Aquinas is a Florida prep powerhouse, an annual stop for recruiters not only from FSU, Miami and Florida, but from schools across the country. Armella, a 6-foot-6, 295-pound lineman, was considered the top prospect coming out of Aquinas this year and the No. 18 prospect in Florida.
Antonio Williams, WR, Clemson (Irmo, S.C.), No. 133
Another receiver prospect choosing Clemson, this one comes from the Gamecocks' backyard (Irmo is only a few miles from South Carolina's campus). Williams was rated as the No. 4 prospect in South Carolina by 247Sports and visited Auburn, Ole Miss and South Carolina.
Jaylen Early, OL, Florida State (Duncanville, Texas), No. 207
Early is a 6-4, 320-pound lineman rated No. 14 at his position. According to 247Sports, he visited Texas A&M as well as Texas Tech and Ohio State. Duncanville is in the Dallas/Fort Worth Metroplex, a hotbed for the Aggies and most other schools in Texas and beyond.
Jacurri Brown, QB, Miami (Valdosta, Ga.), No. 244
You could argue that the Hurricanes invaded the territory of both the Georgia Bulldogs and the FSU Seminoles to snag Brown, a 4-star prospect listed as the No. 17 quarterback recruit in the country. Valdosta, just north of the Florida border, has been an out-of-state hotbed for FSU for years.
Isaiah Horton, WR, Miami (Murfreesboro, Tenn.), No. 336
Miami also reached up to Tennessee to get Horton, the state's No. 11 prospect. The 6-3, 190-pound receiver made unofficial visits to Tennessee, Alabama and Florida, according to 247Sports. UM did not sign much quantity — 8 commits on Early Signing Day — but 7 of them are 4-stars including Horton.
Devaughn Mortimer, WR, Louisville (Fort Lauderdale, Fla.), No. 337
Louisville just loves dipping down to South Florida to sign players (remember Teddy Bridgewater and Lamar Jackson?) so it's no surprise that the Cardinals returned to that hotbed for their top-ranked prospect in the Class of 2022. The 5-9, 160-pound receiver also visited FSU and West Virginia.
Qae'shon Sapp, OL, Florida State (Leesburg, Ga.), No. 342
Florida State's offensive line play has been a mess for a couple of years, so it makes sense that 5 of their Early Signing Day commits are OLs. Sapp, at 6-5, 320, is one of the largest prospects to commit to FSU in this year's class. Lee County is actually a bit closer to Tallahassee than to Atlanta or Athens.
MJ Morris, QB, NC State (Carrolton, Ga.), No. 400
Morris comes from a town that's pretty close to the Alabama border in western Georgia so it's deep in the heart of SEC country. The 3-star prospect is ranked No. 28 at his position and No. 39 overall in Georgia.