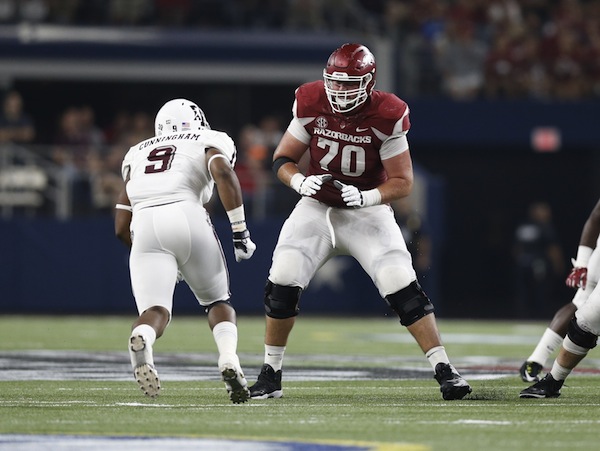 SEC
10 best returning SEC offensive tackles in 2016
Graduations and NFL Draft departures left a slew of SEC teams with decisions along the offensive line. Where and when will SEC West powers plug in highly touted recruits or freshmen? Depth and experience are concerns at East programs Florida and Georgia as younger players are looked to step into leadership roles.
Here is a list of the next generation of blind-side protectors and road-grading big uglies ready to lead rushing attacks in the SEC:
10. Lester Cotton, Alabama. A potential right tackle for the Crimson Tide, Cotton also could play left guard — his 6-foot-5, 325-pound frame allows for versatility. He was the No. 4 guard in the country out of high school, according to 247Sports.
9. Gregory Little, Ole Miss. A five-star recruit and No. 2 player in the ESPN 300, the one-time Texas A&M recruit nearly pledged with Alabama. The promise of early playing time flipped his decision in the Rebels' favor.
8. Isaiah Wynn, Georgia. The sophomore is one of three returning starters on the line, where he was slotted in at left tackle for the second half of the 2015 season. Earlier in his career, he played guard. A consensus four-star recruit, he was ranked a top 10 guard out of high school by ESPN and 247Sports.
7. Avery Gennesy, Texas A&M. One of two returning starters on the line for the Aggies, Gennesy had a tough end to 2015 with back-to-back false starts in the Music City Bowl loss. He could move from left tackle to right tackle to replace Germain Ifedi, who left for the NFL draft.
6. Justin Senior, Mississippi State. The Canadian, a stalwart at right tackle, is the most-experienced lineman on the team with 26 starts.
5. Chance Hall, Tennessee. The right tackle, who started the last seven games last season, was named to the All-SEC freshman team and selected a Freshman All-American by The Sporting News and 247Sports.
4. David Sharpe, Florida. One of four returning starters on a Gators line that allowed a dismal 3.29 sacks per game in 2015, Sharpe told the Miami Herald that he'll need to be a leader in 2016. "(The coaches) are definitely trying to pick out the leaders and captains of next year's team," he said.
3. Andrew Jelks, Vanderbilt. After missing the 2015 season with a torn ACL, Jelks returns. A freshman All-American two years ago, he started 21 straight games, 12 at left tackle and nine at right tackle.
2. Dan Skipper, Arkansas. The 6-foot-10, 331-pound tackle was an AP second team All-SEC selection. Skipper may move from right to left tackle to replace Denver Kirkland, who declared for the NFL Draft.
1. Cam Robinson, Alabama. The sophomore is the only returning offensive lineman (and non-senior) on the AP All-SEC first team. He was the first true freshman to start at left tackle at Alabama since Andre Smith in 2006. His block of a Clemson player in the national championship game was one of the popular video clips from the game.