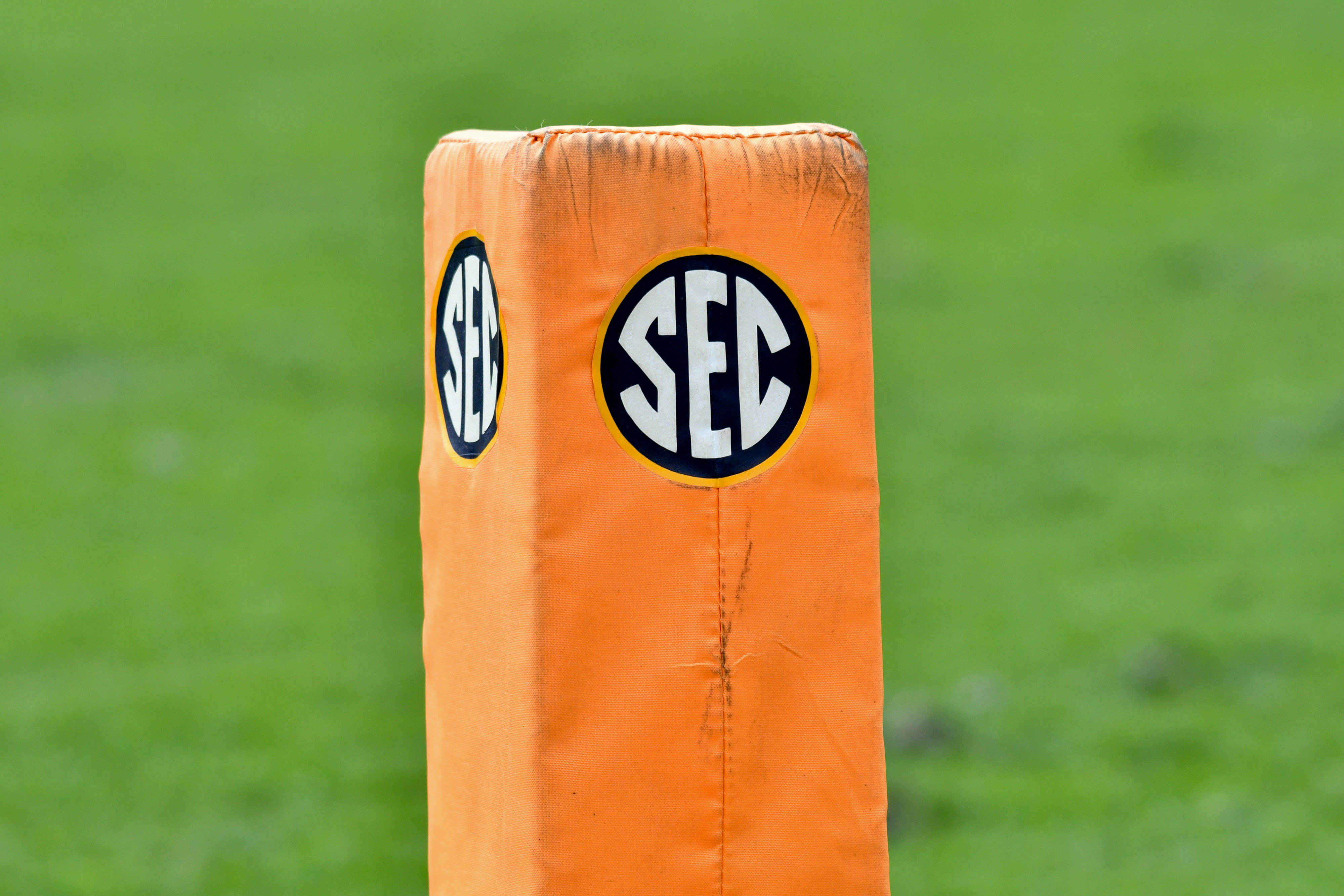 SEC
10 best SEC targets who didn't sign on Early Signing Day
Schools from the SEC signed a bunch of talent on Day 1 of the early signing period, but multiple players remain without collegiate homes for 2018.
For whatever reasons, some highly touted recruits chose not to select their college destinations on Wednesday, leaving SEC programs — and others — to continue chasing them. Players still can sign during the early period through Friday or during the regular period that runs Feb. 7-April 1. Maybe some of them want to see how their prospective schools fare in the postseason before making a decision.
Here are the 10 best SEC targets who didn't sign on Wednesday:
10. JJ Peterson, LB
SEC Interest: Alabama, Auburn, Tennessee
JJ Peterson is the No. 2 outside linebacker in the upcoming class. He was selected for the 2018 U.S. Army All-American Bowl. During his high school career, Peterson made 199 tackles, 28 for losses, including 14.5 sacks.
247Sports gives Alabama better than 90 percent odds of pulling him in to its class. The Crimson Tide can always use another stud at linebacker.
9. Kelvin Joseph, S
SEC Interest: LSU, Alabama, Auburn
Kelvin Joseph remains one of the best options for coaches across the country who are trying to reload in the secondary. Joseph is the No. 4 safety in the class.
Though he decommitted from LSU already, Joseph played his high school in Baton Rouge and could still wind up with the Tigers. Of all the schools trying to recruit him, LSU has the least amount of those position players on the roster and committed. 247Sports is giving LSU a 93 percent chance of signing him.
Recent #LSU commit Kelvin Joseph (@_theylovefat) showing off the wheels & vision on special teams this fall w/ KO TD pic.twitter.com/rwuryn2r18

— Jerit Roser (@JeritRoser) February 20, 2016
8. Tanner McKee, QB
SEC Interest: Alabama, Texas A&M
With all the quarterback buzz surrounding Trevor Lawrence and Justin Fields, Tanner McKee hasn't gotten enough credit as one of the best QBs in this class. Four SEC schools offered McKee a scholarship along with several other Power 5 schools. McKee looks to be favoring two SEC schools at this point — Texas A&M and Alabama.
Texas A&M would be a better fit. Texas A&M doesn't have a great quarterback on the roster, and for that reason, Jimbo Fisher visited McKee at his house earlier this month.
The Crimson Tide have five quarterbacks on their roster. Jalen Hurts will start for at least one more season and Tua Tagovailoa doesn't look to be going anywhere.
But those might be mute points: 247Sports gives Stanford a 100 percent chance of winding up with McKee. It's hard to assume otherwise seeing what David Shaw has done with pro-style quarterbacks at Stanford.
7. Olaijah Griffin, CB
SEC Interest: Tennessee, Alabama, Auburn
Olaijah Griffin has West Coast ties, but that hasn't stopped SEC coaches from recruiting him. From the looks of things, though, it's likely he stays out West. 247Sports gives USC the best odds of landing Griffin even though he committed to UCLA in July.
In his high school career, Griffin had over 150 tackles and 30 pass-breakups. Maybe Tennessee was able to convince him after his official visit on Dec. 15. Griffin had this to retweet early Wednesday morning.
@OlaijahGriffin pic.twitter.com/jcGE0GrKgr

— The Next Vol (@TheNextVol) December 20, 2017
6. Tyson Campbell, CB
SEC Interest: Alabama, Georgia
Tyson Campbell could be an okay wide receiver, but shined in high school as a defensive back. With his stellar play, Campbell earned an invitation to the U.S. Army All-American Bowl. He is a top-three cornerback in the country.
All things considered, he will probably end up going to "The U." Defensive coordinator Manny Diaz and other Miami staff paid him a visit in early December. 247Sports gives him a 75 percent chance to end up in Miami, but Georgia's resurgence and Alabama's history has been enticing for many recruits.
https://twitter.com/tysoncampbell_/status/937474160107933698
5. Isaac Taylor-Stuart, CB
SEC Interest: Texas A&M, Alabama, Georgia, Tennessee
The Aggies have the best chance of stealing Isaac Taylor-Stuart from USC. He is a 4-star prospect with loads of potential. His senior year, Stuart had 71 tackles, 14 pass-breakups and 6 interceptions.
He has blazing speed and has been clocked at 4.3 in the 40-yard dash. Texas A&M and other SEC schools are going to do their best to try and sway Stuart to their side. 247Sports says there's a 75 percent chance that he ends up in Southern California.
Stuart was named to the 2017 USA Today first team All-America defense.
https://twitter.com/Kingathlete5/status/943533087203368960?ref_src=twsrc%5Etfw&ref_url=https%3A%2F%2F247sports.com%2FPlayer%2FIsaac-Taylor-Stuart-87590
4. Devon Williams, WR
SEC Interest: Alabama
The Crimson Tide don't stand much of a chance of landing this kid. Devon Williams is likely going to end up as an Oregon Duck, according to 247Sports. Oregon was his first choice back in July.
Most of the schools that he likes are in the Pac-12, West Coast area where he played his high school ball. Williams had over 1,300 yards and 11 receiving touchdowns his senior year, helping make him the No. 4 receiver prospect in the country. Some of his senior highlights will help enlighten you about his talent.
3. Nicholas Petit-Frere, OT
SEC Interest: Florida, Alabama, Auburn
Nicholas Petit-Frere could wind up at an SEC school. He has a lot of places he could chose from and will be playing in the Under Armour All-America Game in January.
Michigan was the last school he visited, but the Wolverines have 12 offensive linemen already on the roster and two more committed. To play as a freshman, it might behoove Petit-Frere to chose another school. He's a top-three offensive lineman in the 2018 class.
247Sports gives Florida the best odds of any SEC school to sign him. Dan Mullen wants this kid — and most coaches would after watching these highlights:
2. Terrace Marshall, WR
SEC Interest: LSU, Alabama
Terrace Marshall is going to announce his commitment at 2:30 p.m. Friday, the final day of the early signing period. The Tigers have a really good chance to snagging the hometown kid. Marshall's last official visit was to LSU.
He had over 1,200 receiving yards and 16 receiving touchdowns as a junior. He's the best wide receiver in the country and the best player in the state of Louisiana. 247Sports believes that he is going to sign with LSU on Friday. Until then, he plans to stay off Twitter.
https://twitter.com/Terracemjr/status/943346965030559744?ref_src=twsrc%5Etfw&ref_url=https%3A%2F%2F247sports.com%2FPlayer%2FTerrace-Marshall-82357
1. Patrick Surtain Jr., CB
SEC Interest: LSU, Alabama
Patrick Surtain Jr. is one of the more talented secondary players in this class. He has earned a number of accolades, including being named to USA Today's All-USA second team in 2016. LSU is the leader in Surtain's clubhouse at this point.
Even though the Tigers have eight defensive backs on the roster, he should be able to compete for playing time even as a freshman. LSU has yet to sign a single defensive back in the 2018 class. Ar'Darius Washington is the only secondary player committed, and he isn't going to sign with the Tigers until February.
Surtain is listed at 6-2, 181 pounds and is the No. 5 player in the 2018 class. He has the length and speed to cover multiple areas of the field. 247Sports gives him a 95 percent chance that he will sign with LSU.
Tigers secondary coach Corey Raymond has been recruiting him for good reason. If he goes with the Tigers, Surtain has the assets to become another great one at "DBU."
https://twitter.com/SurtainJr/status/903033052737277952