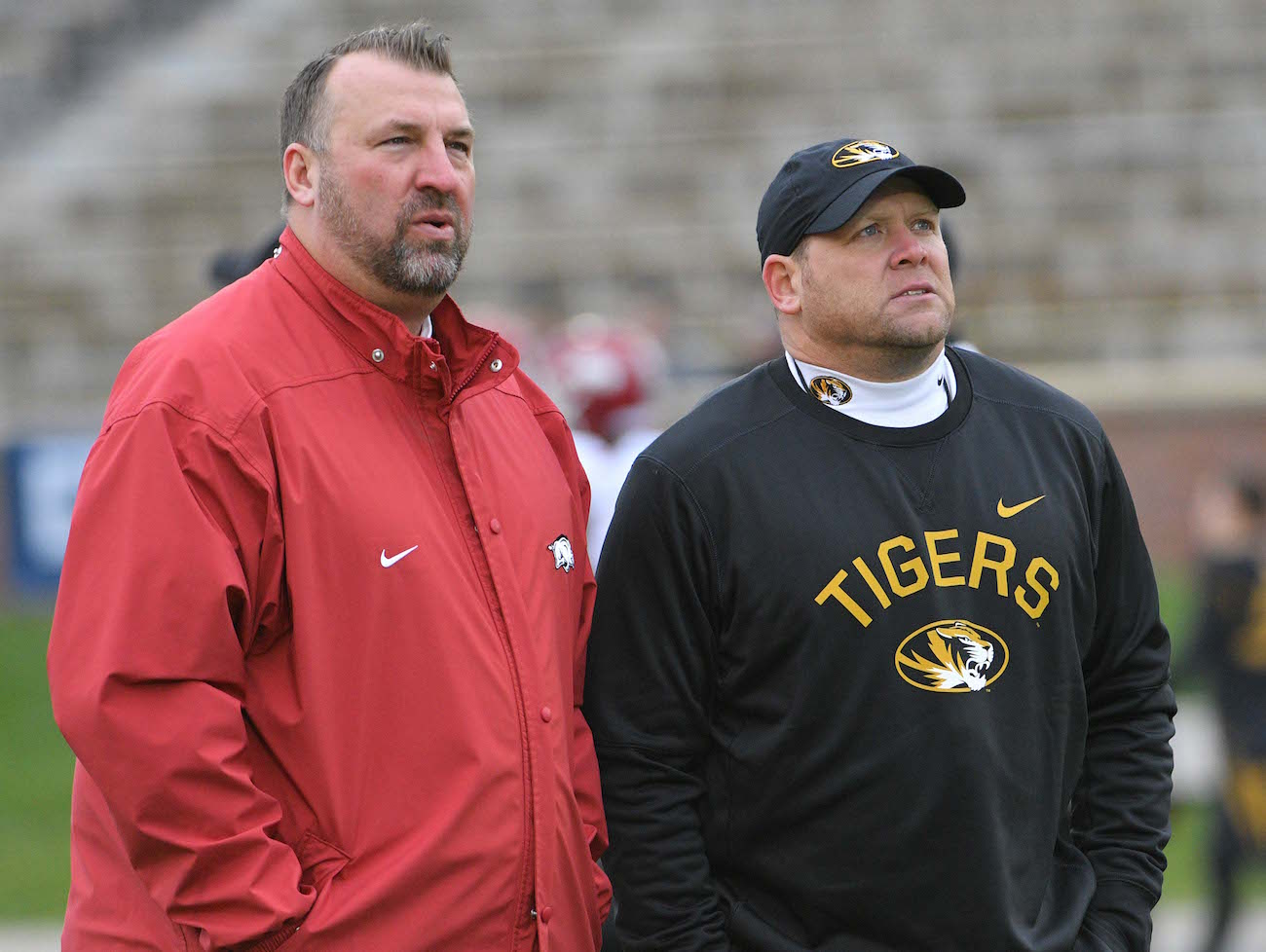 SEC
10 bold predictions for Mizzou-Arkansas
After Thursday's Egg Bowl between Ole Miss and Mississippi State, the Battle Line Rivalry between Mizzou and Arkansas is set to be Friday's featured SEC game.
When the Tigers and Razorbacks take the field, it'll be a battle between two teams going in opposite directions. While the 4-7 Hogs have struggled this year, the Tigers come in at 6-5 and riding a five-game winning streak.
Though the name "Battle Line Rivalry" is a little bit forced, these two teams have plenty of dislike for one another.
That said, the Razorbacks don't have a lot to play for in what could be coach Bret Bielema's final game with the school. The Tigers seek a seventh victory to put themselves in position for an even better bowl.
Here are 10 bold predictions for what will happen on Friday afternoon in Fayetteville:
1. Drew Lock will set SEC TD record
Lock has 38 touchdown passes this season. He needs one more to tie Chase Daniel for the Mizzou single-season record and only two to tie former Kentucky QB Andre Woodson's record of 40 touchdowns in 2007.
Against an Arkansas defense that has struggled mightily against top offenses this season, Lock could have three touchdowns by halftime.
2. There will be more than 70 total points
Neither defense is particularly strong, though the Tigers have been playing much better on that side of the ball during their five-game winning streak.
Considering the Tigers' average margin of victory has been 52-17 during the streak, it wouldn't be too surprising to see the scoreboard light up once again in Fayetteville.
3. Austin Allen will end Arkansas career with a bang
Allen is a senior and, since the Razorbacks aren't bowl eligible this year, he'll play his final college game on Friday.
Therefore, he'll be extra motivated to end his career with a huge performance in front of his home fans. Last year's SEC passing touchdowns leader has had a rough 2017 but the Tigers would be wise to limit the damage he does against them.
4. Ish Witter will run for 100 yards again
In the absence of star running back Damarea Crockett, Witter has stepped up to lead the Tigers' rushing attack. The senior has gone over 100 rushing yards the past two weeks (and ran for more than 200 yards against Tennessee) and is poised to do it again.
Against an Arkansas defense allowing 191.4 rushing yards per game, both Witter and freshman Larry Rountree III should have plenty of room to run on Friday afternoon.
5. Devwah Whaley will break his slump
When a neck injury forced Arkansas star RB Rawleigh Williams III to retire from football this spring, a lot was expected of sophomore Whaley.
However, he hasn't lived up to expectations, running for only 504 yards and six touchdowns this season. He scored a touchdown against Mizzou last year, and should find paydirt again on Friday to build momentum for 2018.
6. Johnathon Johnson as Mizzou deep threat
Emanuel Hall has been the deep threat for the Tigers in recent weeks, but perhaps the Arkansas secondary will throw some extra coverage his way to avoid his long touchdowns.
However, that will only open up more room for Johnathon Johnson, who is also athletic enough and fast enough to make some big plays. Look for Lock to find him for some big plays early.
7. Cole Kelley won't see the field
Bielema reinstated Kelley, who missed last week's game as punishment for a DWI arrest after the LSU game. However, that doesn't mean Kelley is going to see the field against Mizzou.
Though it'll be nice to have him backing up Allen again, it would be a surprise if Bielema doesn't let Allen play every snap on his senior day.
8. Terry Beckner Jr. will have multiple sacks
Mizzou defensive linemen Terry Beckner Jr. and Marcell Frazier have six sacks each, tied for ninth in the SEC.
Beckner is one of the SEC's best interior defensive linemen, and the Razorbacks' offensive line is a mess, especially after losing star center Frank Ragnow. The Hogs have allowed a whopping 33 sacks through 11 games this season.
Even though Allen should find some success against Mizzou's defense, he'll also probably take a couple of big hits courtesy of Beckner.
9. Lock will complete at least 65 percent of passes
Though he threw for three touchdowns against Vanderbilt, Lock completed only 10 of his 25 attempts. That's not going to get the job done against Arkansas, so he'll need to have more success on intermediate throws.
Of course, he'll need receivers to limit their drops (something Hall has struggled with in recent weeks), but Lock could pick apart the Arkansas secondary.
10. Bielema will be fired after the game
Whether it happens on Friday night or over the weekend, the writing is seemingly on the wall for the embattled Arkansas coach.
Even if the Hogs keep the game competitive (or win), it likely won't be enough to convince the school to keep Bielema for the 2018 season.