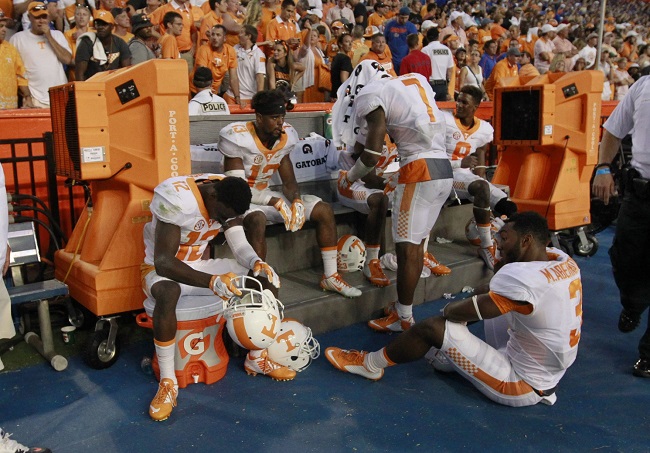 SEC
The 10 most-heartbreaking losses in the SEC this season
College football can be cruel and unforgiving.
There isn't a better feeling than winning a nail-biter, but there is nothing worse than losing a close game that leaves you wondering what could've been.
The 2015 SEC season was filled with demoralizing losses, many that will be remembered for a long time.
Let's take a look back at the 10 most heartbreaking losses in the SEC this season.
10. A late fumble costs South Carolina a win over Tennessee: South Carolina overcame a 17-point deficit and was seeking the game-tying or potential winning score when TE Jerell Adams caught a pass inside Tennessee's 35-yard line. But Tennessee nickleback Malik Foreman knocked the ball out of Adams' left arm. Tennessee OLB Jalen Reeves-Maybin recovered the ball at the Volunteers' 13 to seal the victory.
9. Arkansas allows Texas A&M to come back and steal a 28-21 victory: After Texas A&M scored a touchdown on its overtime possession, the Aggies kept Arkansas' offense out of the end zone when CB De'Vante Harris swatted away Brandon Allen's pass on fourth-and-four. Arkansas led 21-13 late in the fourth quarter before allowing Texas A&M to tie the game.
8. Arkansas' offense falls apart in the red zone in the Razorbacks' shocking 16-12 loss to Toledo: Arkansas rushed for only 103 yards, but still had multiple opportunities to win in the closing minutes. Allen misfired on two passes from Toledo's 16 in the final 6 seconds. On Arkansas' previous possession, his pass on fourth-and-goal from Toledo's 4 hit the crossbar.
7. Auburn loses to Arkansas in a four-overtime thriller: It was a back-and-forth game filled with lead changes and big plays. But the biggest play was Allen's 25-yard TD pass to Drew Morgan on the opening play of the fourth overtime period. Following a 2-point conversion pass to TE Jeremy Sprinkle, Arkansas' defense found a way to stop Auburn's offense when it mattered most, handing the Tigers a 54-46 loss.
6. Mississippi State suffers a 21-19 loss to LSU: Mississippi State's Devon Bell missed a 52-yard field goal as time expired, giving the Bulldogs their first loss of the season. The kick was made longer by a delay of game penalty. After being down 21-6 in the third quarter, Mississippi State scored on four of its last six drives, but it wasn't enough to top the Tigers.
5. Arkansas' potential game-winning field goal is blocked in a 51-50 loss to Mississippi State: The Razorbacks' defense allowed Mississippi State QB Dak Prescott to pass for 501 yards and five TDs, including the game-winner to WR Fred Ross with 3:05 remaining. But the outcome wasn't determined until Beniquez Brown blocked an Arkansas field-goal attempt with less than a minute remaining.
4. Vanderbilt doesn't have enough in the tank to pull off a huge upset over Florida: The Commodores' defense kept Florida's offense in check the whole game — holding the Gators to 256 total yards — but Vanderbilt's offense only scored once on a 74-yard TD run from RB Ralph Webb. And when it mattered most, Vanderbilt's defense gave up just enough yards to allow Austin Hardin to kick the game-winning, 43-yard field goal with 2:22 remaining in a 9-7 loss to Florida.
3. Oklahoma comes back from 17 points down to beat Tennessee in double overtime. After taking a 17-0 lead in front of a raucous home crowd, the Vols were dominated in a 31-24 double-overtime loss. Josh Dobbs' pass was intercepted by Oklahoma CB Zack Sanchez in the second overtime period.
2. Tennessee allows Florida to erase a 13-point, fourth-quarter deficit: Tennessee's defense gave up a 63-yard TD pass on a fourth-and-14 play that gave Florida a 28-27 lead. Tennessee's Aaron Medley missed a 55-yard field-goal attempt as time expired. It was the Vols' 11th straight loss to the Gators.
1. Ole Miss gives up a wild lateral play and a 2-point conversion in its 53-52 overtime loss to Arkansas: Arkansas converted on fourth-and-25 with a blind lateral thrown by Hunter Henry and scooped up by Alex Collins. Then Brandon Allen ran for a game-winning 2-point conversion after Ole Miss was called for a face mask penalty while stopping the Razorbacks' first two-point conversion attempt. The loss prevented Ole Miss from winning the SEC West title.