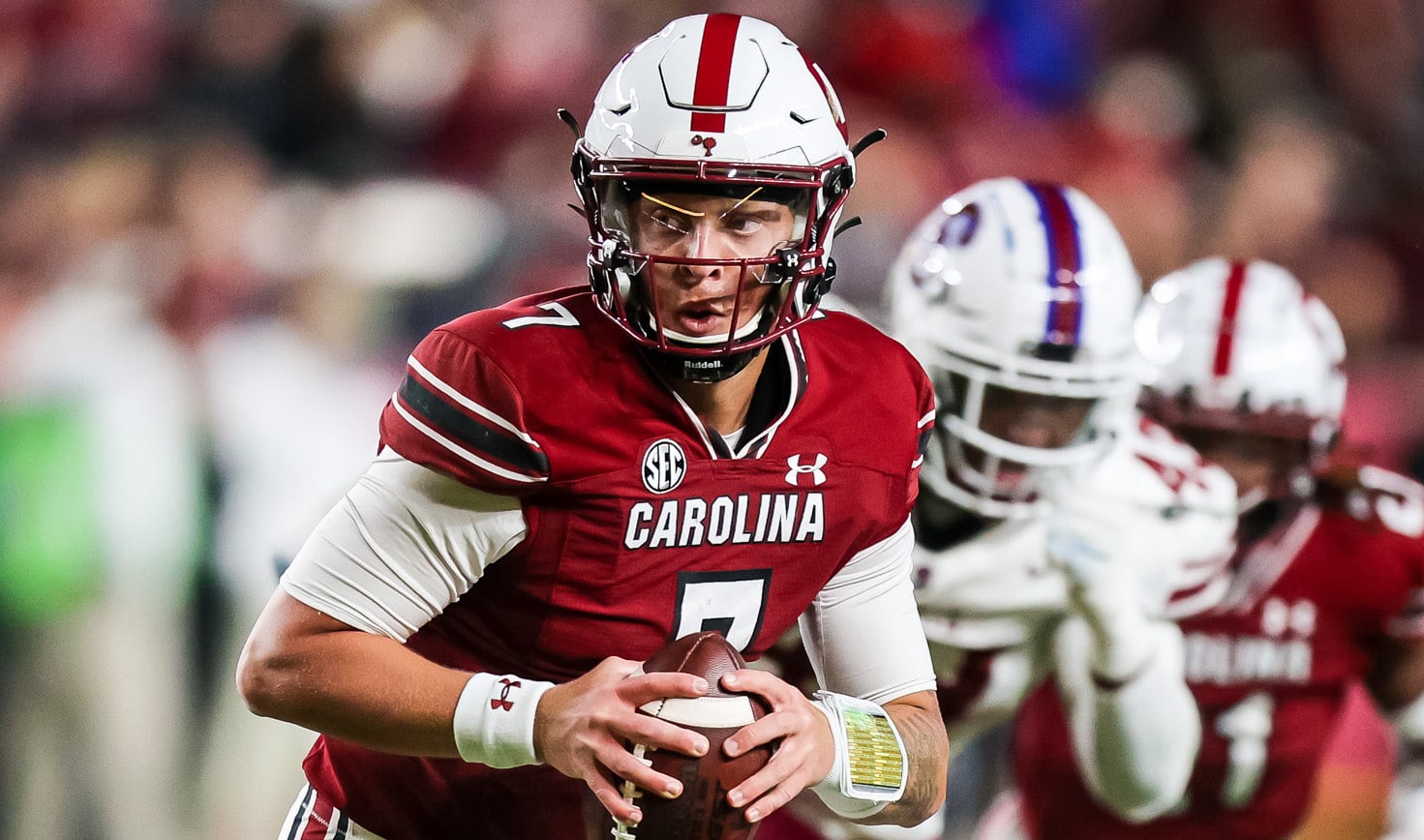 SEC
O'Gara: 10 preseason SEC takes and predictions that I'm already doing a 180 on
I'm man enough to admit that every once in a while, I'm wrong.
I'm admittedly horrendous picking against the spread, I'm a terrible fantasy football player and between you and me, I can't read a putting green to save my life. I'm human.
As a human who spends 8 months writing and talking about a sport before games actually happen, I make my fair share of predictions. I offer takes because that beats the alternative of me just telling you that there are a wide range of outcomes for everybody.
Five weeks into the season, I'm punting on some of those takes/predictions. For one reason or another, I'm not holding out any more hope that they'll come to fruition.
These were the 10 most egregious examples of me doing a 180:
Arkansas will be the No. 2 team in the SEC West
It's not that I'm totally bailing on the Hogs having a decent season. It's that they're 0-2 in SEC play and staring at an 0-3 start as nearly a touchdown underdog against MSU. That's not including the nail-biter win against FCS Missouri State, either. This is more about how much Arkansas continues to struggle defending the pass with Jalen Catalon out for the year. With all the quarterback depth in the SEC this year, that's a troubling thought. It's also troubling to think about the fact that the Hogs would probably need to go 5-1 in SEC play the rest of the way to finish runner-up in the West.
Spencer Rattler moves back into the Round 1 NFL Draft conversation by season's end
I'm not totally out on Rattler as a player, and I do believe he's South Carolina's best option to execute Marcus Satterfield's offense. He still has the ability to make next-level throws and his mobility is an asset when he wants it to be.
The problem is that some poor offensive line play is magnifying Rattler's weaknesses. He has a tendency to drift instead of stepping up in the pocket and when he does have time, he forces too many throws. Not all of those interceptions are on him — the 2 last Thursday were drops by Xavier Legette — but it still doesn't change the fact that through 5 weeks, Rattler is last in the SEC among qualified signal-callers with a quarterback rating of 126.7. That was with 3 non-Power 5 teams in the first 5 weeks, too. I don't think the Rattler redemption season narrative is taking shape anytime soon.
Josh Vann will be one of the SEC's best deep threats
Speaking of Rattler, one of the guys who was expected to be a reliable target has been virtually invisible. Vann has just 3 catches for 13 yards all season. And he played a total of 124 offensive snaps, so it's not like it's a depth chart issue. He played between 14-17 passing snaps in all 5 games, yet his most notable plays have been on special teams. Considering that he had a 600-yard season last year, it's been a deflating development to see his lack of an impact.
In the offseason, I wrote:
"Cedric Tillman and Brock Bowers are the only SEC returners who had more catches of 30 yards last year than Vann (5). Mind you, that was with Luke Doty, Jason Brown and Zeb Noland at quarterback. Vann's skill set lines up much better with Rattler's arm talent. It wouldn't be surprising to see Vann flirt with 20 yards per catch in 2022."
Unfortunately, "flirting with 20 yards per catch in 2022" isn't happening. That could be because South Carolina struggled to stretch the field with its subpar offensive line. Or it could just be that Vann has been lost in the shuffle with so many mouths to feed. Whatever the case, that'll be the last time he's in the same sentence as Tillman and Bowers.
Ole Miss' defensive regression is inevitable
It wasn't just the loss of DJ Durkin. It was replacing guys like Chance Campbell and Sam Williams, both of whom were stars in the front 7. I assumed that Chris Partridge's defense would struggle to rise to the occasion and ultimately, we'd see the offense forced to do some heavy lifting for the majority of the season. That hasn't been the case at all. Through 5 games, Ole Miss allowed 11.8 points per game and in its lone 2 games against Power 5 competition, it allowed a combined 19 points. AJ Finley and Troy Brown have been studs, and when healthy, Khari Coleman has been a difference-maker blowing up plays in the backfield.
I wouldn't bank on Ole Miss finishing with a top-20 defense, but they look like one of the surprise units in the SEC this year.
LSU's offensive improvement is inevitable
On the surface, I actually look smart for this take right now. Passing game issues notwithstanding, LSU is averaging roughly 9 points per game more than 2021. So then what's the issue? Well, those numbers are inflated by a 65-point game against FCS Southern and 2 defensive touchdowns. Take those out and LSU is averaging 24.8 points. Last year, the Tigers averaged 26.5 points per game. On top of that, LSU is averaging just 4.8 yards per play against Power 5 competition, which is No. 12 in the SEC.
You see what I'm saying. The offensive line is still a problem with so many inexperienced pieces and Jayden Daniels isn't working through progressions to target LSU's talented wideouts. Perhaps the return of John Emery, who looked fantastic against Auburn, can spark an offensive turnaround, but all signs point to more frustrating offensive days ahead. Improvement isn't so inevitable.
There's no reason the Aggies should struggle so much with passing efficiency like they did with Zach Calzada in 2021
Yikes.
I did say everywhere that I could that A&M was the most overrated team in America entering 2022. The Aggies have proven me right with that. Where they've proven me wrong is I thought they would inevitably improve at the quarterback position. Whether that was Haynes King or Max Johnson, it felt like the Aggies would get an upgrade that would help improve the passing efficiency.
Yeah, about that. I'd argue it's actually been worse in terms of the passing efficiency if we look at it against FBS competition and remove the FCS matchups:
A&M passing vs. FBS
2021
2022
30-yard passes/game
0.91
0.50
That's no bueno. It's also no bueno that Ainias Smith is out for the year and there's really not another reliable pass-catcher in that offense to bail out A&M's struggling quarterbacks. All signs point to the Aggies somehow taking a step back in the passing game.
The Kentucky defensive line is an area of concern
I worried that without the underrated Josh Paschal and nose tackle Marquan McCall, Kentucky was going to be at a disadvantage up front. Shame on me for doubting that Mark Stoops and the "next-man up" culture he established in Lexington. I mean, when you've got true freshmen like Deone Walker blowing up established SEC backs like this, that's as encouraging of a sign as any:
This Deone Walker tackle didn't get talked about enough. ? @deonewalker0 pic.twitter.com/sGNHaKSKIt

— Tres Terrell (@TerrellTres) September 21, 2022
So far, Kentucky's defensive line has been one of its strengths. That group made some nice adjustments against that prolific Ole Miss ground attack, who was held to 80 yards in the final 3 quarters thanks to some excellent play up front from former blue-chip recruit Justin Rogers. Kentucky needs to be able to get home and generate more pressure on the quarterback, but I'd still argue it's been a major positive to see the response against a pair of dynamic ground attacks on the road. They need JJ Weaver back healthy to maximize the potential we've seen so far.
Christian Leary can be an X-factor for Alabama's title push
Hand up. I fell for the spring game breakout even though I promised myself I wouldn't. In my defense, Alabama had over 1,100 snaps to replace in the slot and I thought Leary, given his speed and potential presence as a deep threat, could potentially be a versatile new favorite target for Bryce Young.
Well, through 5 games, Leary has 1 catch for 6 yards. That's for an Alabama team that has struggled to find reliable pass-catchers in the early going. Leary played an average of 8.4 snaps per game, so he's barely even getting opportunities to see the field. It's tough to develop a rapport with a quarterback when that's the case. We did see Leary thrive with Jalen Milroe in the spring game. Perhaps he can get going if Milroe, who had been working exclusively with second-stringers like Leary until Young's injury, sees some extended time.
Ole Miss' best-case scenario is 8-4
The funny thing is I made that prediction earlier in the offseason and then in my preseason crystal ball, I had Ole Miss starting 8-0 … only to lose the final 4 games to finish 8-4. With how well that aforementioned defense has played in its first 5 games, I'm willing to admit that the ceiling has to be higher than 8-4. That's the difference. Look at the remaining schedule and tell me that Ole Miss can only win 3 games max:
at Vanderbilt
vs. Auburn
at LSU
at Texas A&M
vs. Alabama
at Arkansas
vs. MSU
If I had to guess, I'd say this is more like a 9-3 team with a 10-2 ceiling. Even that would be a whale of an achievement considering that both of Lane Kiffin's coordinators bounced and he had 30 new faces added to the roster. Jaxson Dart hasn't even looked particularly good as a passer yet and Ole Miss is sitting there at 5-0 with a top-10 ranking. That ground game and defense will travel well, which is exactly why this is suddenly a team with New Year's 6 bowl upside.
Dallas Turner will lead the SEC in sacks
This was part of a "1 bold prediction for every SEC defense" column that I wrote earlier in the offseason. Needless to say, this one is already a miss. It's not that Turner has been bad. He just doesn't have a sack yet, though he does have 3 quarterback hurries and he had 2.5 tackles for loss against Arkansas.
In hindsight, yeah, maybe it was a bit dumb to say that Turner would finish the season with more sacks than Will Anderson Jr., who has 5. Go figure that the FBS leader in sacks is Drew Sanders, who left Alabama for Arkansas because he was stuck behind Turner. Sanders has 6.5 sacks and has done everything to try and show that he deserved more run after he returned from injury at Alabama last year. Turner is still an immensely talented player who will have a major say in whether Alabama can win a national title, but "SEC sacks leader" probably isn't going to be added to his résumé just yet.