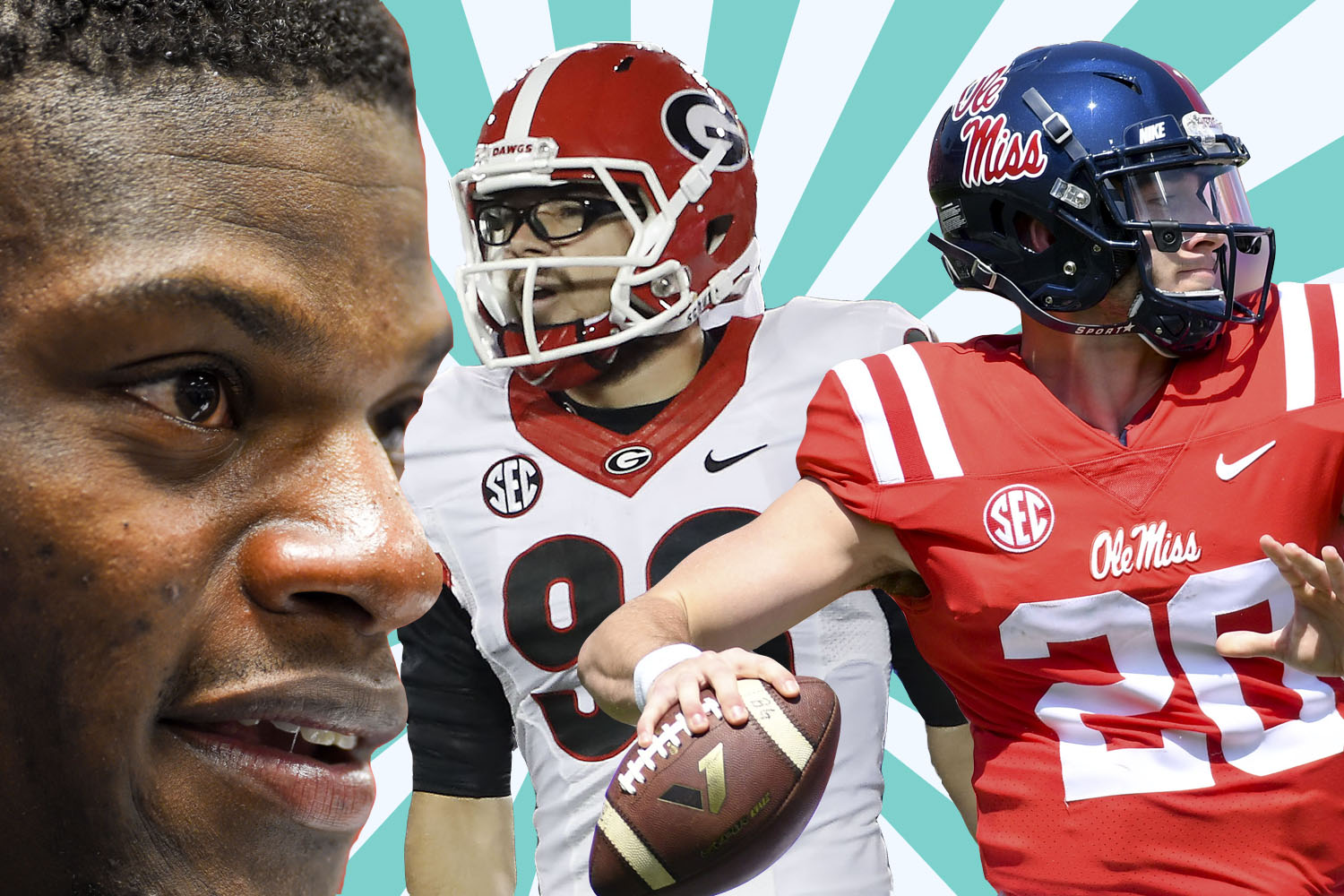 SEC
10 things I'm absolutely overreacting to after a weak Week 2
We fled the pocket, kids-to-cats, late Friday to avoid Irma, a 5-star hurricane with bad intentions. Ideally the house will be there when we return.
So the nerves already were a little frayed before I even fired up the three tablets and settled in Saturday.
If not for the non-stop hurricane updates, I would have sworn we were still stuck in Indiana, surrounded by bad football. (Hello, Buckeyes, missed you.)
Well, except Will Grier looked great, so there is that.
Here are 10 things I am absolutely overreacting to after a weak Week 2 in and around the SEC.
10. Not half bad, eh? In 30 minutes … one half … or eight possessions, West Virginia QB Will Grier put up better numbers than any Florida quarterback since Tim Tebow has in an entire game.
[table "" not found /]

9. Speaking of bad football in Indiana …: I was all ready to rip Purdue for releasing a hype video and breaking out special helmets for a MAC lightweight, but credit the Boilers for some self-motivation.
Kentucky certainly could have used some Saturday. Nobody looked prepared, including the guys in the video booth.
Official what? @KySportsRadio pic.twitter.com/4sERrzay82

— David Grigson (@DavidJGrigson) September 9, 2017
8. Shea Patterson will break the SEC passing record: I know, I need to make up my mind on this. I have. The only reason I've written he wouldn't break Tim Couch's record is he's capped by a 12-game season. That means he must average 356.6 yards per game — every game — to get to 4,276. That's insane.
Except Patterson opened with a career-high 429 yards in Week 1, then obliterated that personal best with an Ole Miss-best 489 yards in Week 2. He's topped 300 in four of his five career starts. His touchdown-to-INT ratio is something you'd create in your ultimate Xbox player.
He's by far the most fun player to watch in the SEC. I'm already looking forward to Nick Saban trying to dial up something to deal with him.
7. Lane Kiffin's offense scored more points against a ranked B1G team than Jim McElwain's. Not sure this needs much more commentary. But keep an eye on Twitter nonetheless.
Kiffin might throw some shade LSU's way, too, considering Wisconsin held the Tigers to 14 last year.
6. Dear Bret, everything's funnier when you win: Everybody loves Bret Bielema. How could you not?
It's one thing to excuse a loss to Alabama or Auburn or LSU, maybe even Ole Miss and Mississippi State, Missouri and … well, the point is, we're kind of running out of excuses.
A no-show at home against TCU is troubling under any scenario, but the manner in which the Hogs stunk was startling. One thing we thought we could pencil in was 275 and 3 TDs from Austin Allen.
Instead, Allen had his worst day as a starter. Not exactly a momentum-builder heading into its SEC opener in two weeks against Texas A&M, a team Bielema has yet to beat.
Afterward, Bielema went all Tebow, promising there won't be a team in the country that improves more next week.
The man has some one-liners. He needs a few more wins.
5. Deebo Samuel is a bigger version of Christian Kirk: He did it again, too. Samuel, who opened the season with a kickoff return for a TD, jump-started South Carolina's comeback by taking a kick to the house against Missouri.
Circle the date; I know I am: South Carolina at Georgia on Nov. 4.
Winner is going to Atlanta.
4. Jarrett Stidham is not Cam Newton: The defense rests, your honor. (After 11 sacks, hey, who could blame them.)
3. Lamar Jackson is not being ignored: The reigning Heisman winner is not doing anything this year that he didn't — or couldn't — do last year.
That's the rub. We've seen the movie. It's spectacular. But my goodness did it have a bad ending, so bad that it's already tempered our opinion on the sequel.
I saw what he did against North Carolina on Saturday and had the same thought after every big play (all 12 of them): He sure didn't do that against LSU.
2. The B1G letdown: On the bright side, at least Ohio State scored, right?
Unless Ohio State rallies, the Buckeyes are in serious, serious danger of slipping to No. 3 in poll. But B1G still will have 7, 8 in top 10.

— Chris Wright (@FilmRoomEditor) September 10, 2017
I kid because it doesn't matter what the Buckeyes do in September. It should. They tell us every game matters, but I've seen this movie, too.
In case you haven't been paying attention, let me explain how this will play out.
Ohio State will self-correct against cupcake UNLV, then begin to pound the Big Ten. Analysts will develop amnesia as the points pile up. The Bucks get Penn State at home. If they get by that, they won't face another ranked team until Michigan.
If they get past that, we'll get to December, where we'll hear, again, about how generally weak the Big 12 is relative to the Big Ten.
1. Rodrigo Blankenship: Hey, Rudy, I got your walk-on story right here. Kirby Smart told Blankenship on Friday that he was being put on scholarship. Saturday, Hot Rod kicked the winner in front of Touchdown Jesus.
How do you make a great night even better? Here's how.
Congratulations, Rod.#GoDawgs pic.twitter.com/SnUgkngNJj

— Georgia Football (@FootballUGA) September 10, 2017