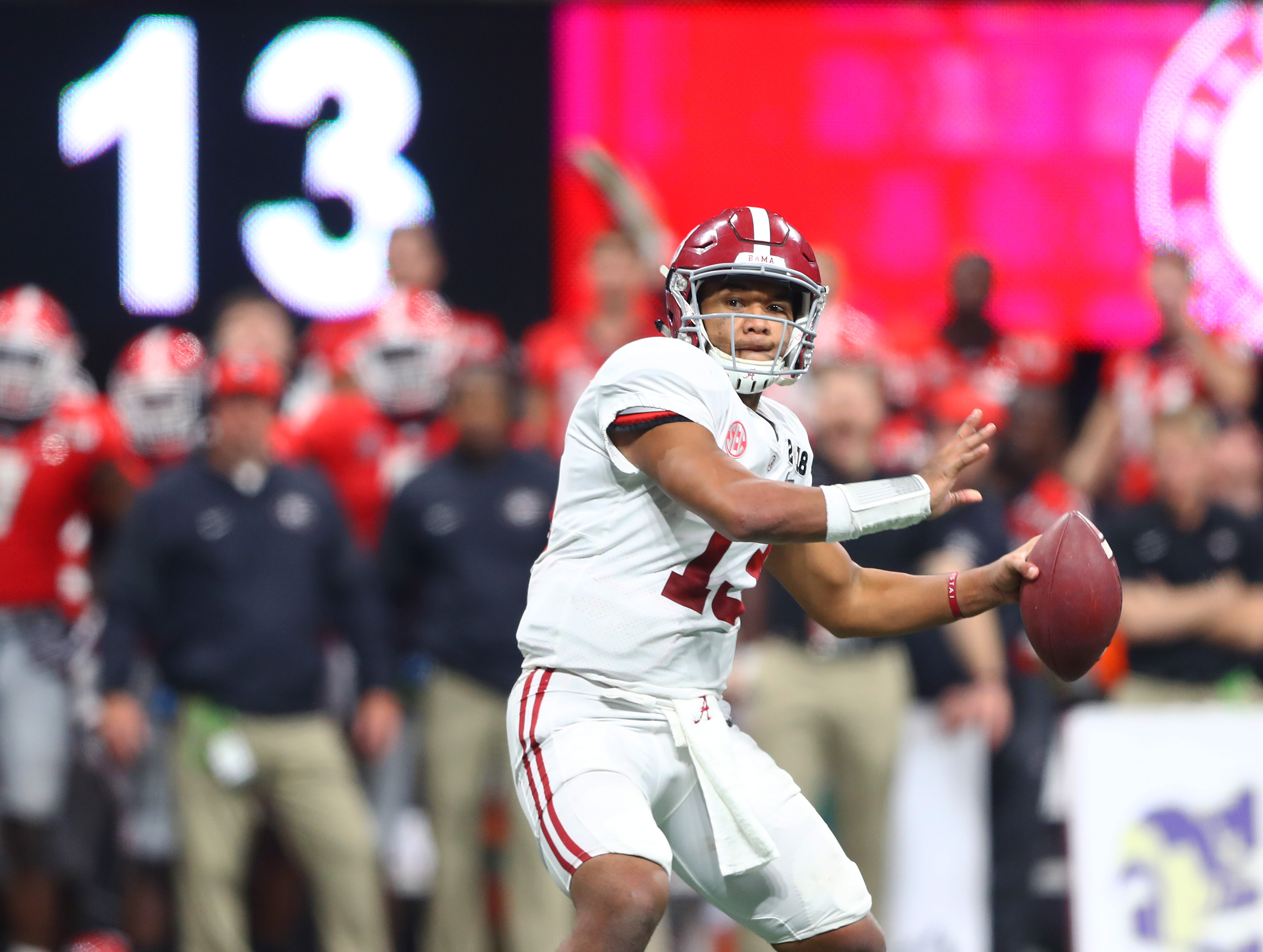 SEC
10 things I'm absolutely overreacting to after 2017 SEC bowl season
Let's start with something I'm not overreacting to: Alabama's quarterback situation.
Four days before the national title game — four days before Tua Tagovailoa threw the seed heard 'round the world — I was asked to offer a bold prediction for the 2018 season. I answered: "Jalen Hurts will not be Alabama's starting quarterback in 2018."
It's Tagovailoa's job, and now the time is right to do right by Hurts and find him a position that he can play at the next level.
Hurts isn't the first QB and won't nearly be the last to switch positions. Terrelle Pryor, Nick Marshall, Denard Robinson and Braxton Miller were hugely successful college QBs who drew or are drawing NFL paychecks at other positions. They did it without the benefit of playing those new positions in college.
Make the transition easier on Hurts. Whether it's running back, slot receiver, returner or perhaps somewhere in the secondary, make the transition this spring so no more time is wasted. He might be an NFL player, but it's doubtful he'll be an NFL quarterback.
I'll let you overreact to that while I continue on with 10 things I am absolutely overreacting to after watching the SEC's very best dominate the bowl season.
1. Alabama deserves the benefit of doubt
They are the heavyweight champs of college football, and they've held the belt for nearly a decade. No other team in America could have overcome the adversity they faced this season — from early departures to key injuries — and survived. All others would have wilted, maybe not as spectacularly as Florida State, but wilted nonetheless.
Next season, if they slip up early or stumble late, I don't even want to hear how there are four better teams in America.
You want to knock them out of the Playoff? Beat them twice. Anything remotely resembling a tie in terms of resumes goes to the champs.
2. Enough already about the SEC's weak schedule
Alabama or Georgia would have won your league, too, a'ight? In fact, they did, a'ight?
3. Designers Gone Wild, Part 32,017
Um, no. I'm not alone in that reaction, either.
Is this real? If so, woof. It's bad. pic.twitter.com/DRujzouO2v

— Aaron Suttles (@AaronSuttles) January 11, 2018
This cover.

Misses.

The mark.

Nick Saban is Nick Saban.

The day SI Covers died.#RecallTheCover #AndJustBadPhotoshopping pic.twitter.com/33tqEv6Oc7

— Jim Dunaway (@jimdunaway) January 11, 2018
I've seen this happen too many times, where a designer gets loose and won't be denied. Oh, boy, I've seen it. I'll protect the offenders, but it happened at one of my previous stops. (What a fun day in Indy that was, trying to explain how Coach K ended up with horns and target on his forehead.) Some things you can't explain, except to say: Not every idea is a good one, boys.
On the bright side, I suppose this is better than putting him in a bathing suit.
4. I'm not sold on Georgia being as good next year as this year
See: Clemson, 2017. The Dawgs are losing a lot in production and leadership on both sides of the ball.
Absolute difference-makers. How much of a difference? Who thinks Georgia would have even won the SEC East this season had Nick Chubb, Sony Michel, Lorenzo Carter and Davin Bellamy decided to leave Athens last February?
That doesn't mean the Dawgs can't or won't make it back to the Playoff, but it'll be tougher. For starters, the schedule will be blasted all next year. Frankly, it's a little embarrassing. There is no signature non-conference game. They'll have to run the table.
Which means they'll likely have to beat LSU (in Death Valley), Auburn and Alabama (in the SEC title game).
5. UCF would have finished no better than 5-3 in the SEC West
And that's being charitable. As I wrote before the Knights' Peach Bowl date with Auburn, it was never about that one game. UCF has playmakers (including a QB from Hawaii!), enough to cause problems against almost anybody in a one-game deal.
UCF's 2017 problem was that it wasn't built to handle the physical rigors of an 8-game SEC schedule. Look at the recruiting rankings of the Knights' offensive and defensive lines. I'll save you the trouble; they resemble Vanderbilt's numbers.
It's the plight of being a Group of 5. It's easier to find some skill on the outside and devise schemes geared to maximizing that than it is to lure NFL-ready bulk on the inside.
The very best mid-majors that jumped into a Power 5 league needed time to recruit and adjust. There hasn't been one yet to make the transition and win big the next year.
Remember Utah? The Utes went 13-0 and finished No. 2 in the AP Poll in 2008. They ripped off two more 10-win seasons the next two years. They jumped to the Pac-12 in 2011 and have won 10 games one time since. Same coach, mind you.
Remember TCU? The Horned Frogs, in addition to having the game's best nickname, had arguably the game's best team in 2010. They an NFL QB in Andy Dalton. They went 13-0, won the Mountain West, beat Wisconsin in the Rose Bowl and finished No. 2 in the country. They won 11 games the next season, then jumped to the Big 12, where they proceeded to win 11 games combined in their first two seasons. Same coach, mind you.
If UCF were to land a Big 12 invite this offseason, the Knights wouldn't win the 2018 Big 12 title. Maybe in 2020.
6. Everybody should coach "bowl aggressive"
I loved Pat Fitzgerald's explanation when asked why Northwestern went for it on 4th-and-1 at its own 40 late in the fourth quarter against Kentucky. The QB sneak didn't work, Kentucky took over, scored and nearly won.
Fitzgerald said the decision was "bowl aggressive." Awesome.
Two new rules for non-Playoff bowl games:
No punts on 4th-and-5 or shorter. Let's everybody get "bowl aggressive" and have some fun.
Everybody goes for 2 every time.
It's not like anybody's actually watching some of these bowl games …
Great game and enthusiastic crowd at today's @taxslayerbowl. pic.twitter.com/ZnFvsI6UjY

— Bob Ellis (@wjxt4GM) December 30, 2017
Glad we're putting on a show for this amazing crowd #BelkBowl pic.twitter.com/fchZEJXAB3

— Barstool Texas A&M (@BarstoolTexasAM) December 29, 2017
7. I still can't get over Benny Snell's ejection
They robbed the man and robbed Kentucky of a bowl win. If Snell would have only been eligible for one more play after the worst call of the season, it would have been the final one.
There is no doubt Snell would have lined up in the Wildcat for the "bowl aggressive" 2-point conversion try, and there is no doubt in my mind Kentucky's season would have ended with a bowl celebration in the end zone.
8. Word association with Kirby Smart
It happens all the time in sports. We remember coaches and players for their worst moment, not their seasons of success. It's cruel and completely unfair.
Bill Buckner was an All-Star, a batting champ, a damn fine baseball player. But when you read "Bill Buckner," you immediately think of his Game 6 error in the World Series, not his 1,200 career RBIs. You don't remember any of Mark Wohlers' 5 playoff saves that got the Braves to the 1996 World Series, either; you only remember the slider he hung to Jim Leyritz in Game 4.
Which brings me to Smart, the former defensive back-turned defensive coordinator-turned head coach. You say "Kirby Smart," and I see Jauan Jennings hauling in the walk-off TD last year in Athens and DeVonta Smith running underneath the championship-winner in Atlanta.
9. Alabama is running the table in 2018
The biggest benefit to all of those injuries in 2017 is all of those young guys got on the field faster than usual.
Alabama's freshmen took over the second half of the national championship. There will be the usual notable losses, particularly on defense, but the 2018 offense will be the most prolific of the Saban era.
Anything south of 40 points per game will be a huge disappointment.
10. Nick Saban, ladies and gentlemen
The throw was great. It was unexpected. It defied logic — and the scouting report. (You mean he can throw deep to his left, too? Who knew?)
But as beautiful as that throw was, the decision to switch to Tagovailoa was even better, even braver, even more important.
In the biggest game of the season, in perhaps the defining moment of a dynasty many thought was on the brink of collapsing, Saban sent the ultimate message: He will find a way.
Don't think for a second many other coaches make that decision in that moment. They can all say they would because it's the simple thing to say after the fact.
They can keep talking. Meanwhile Saban will keep winning.