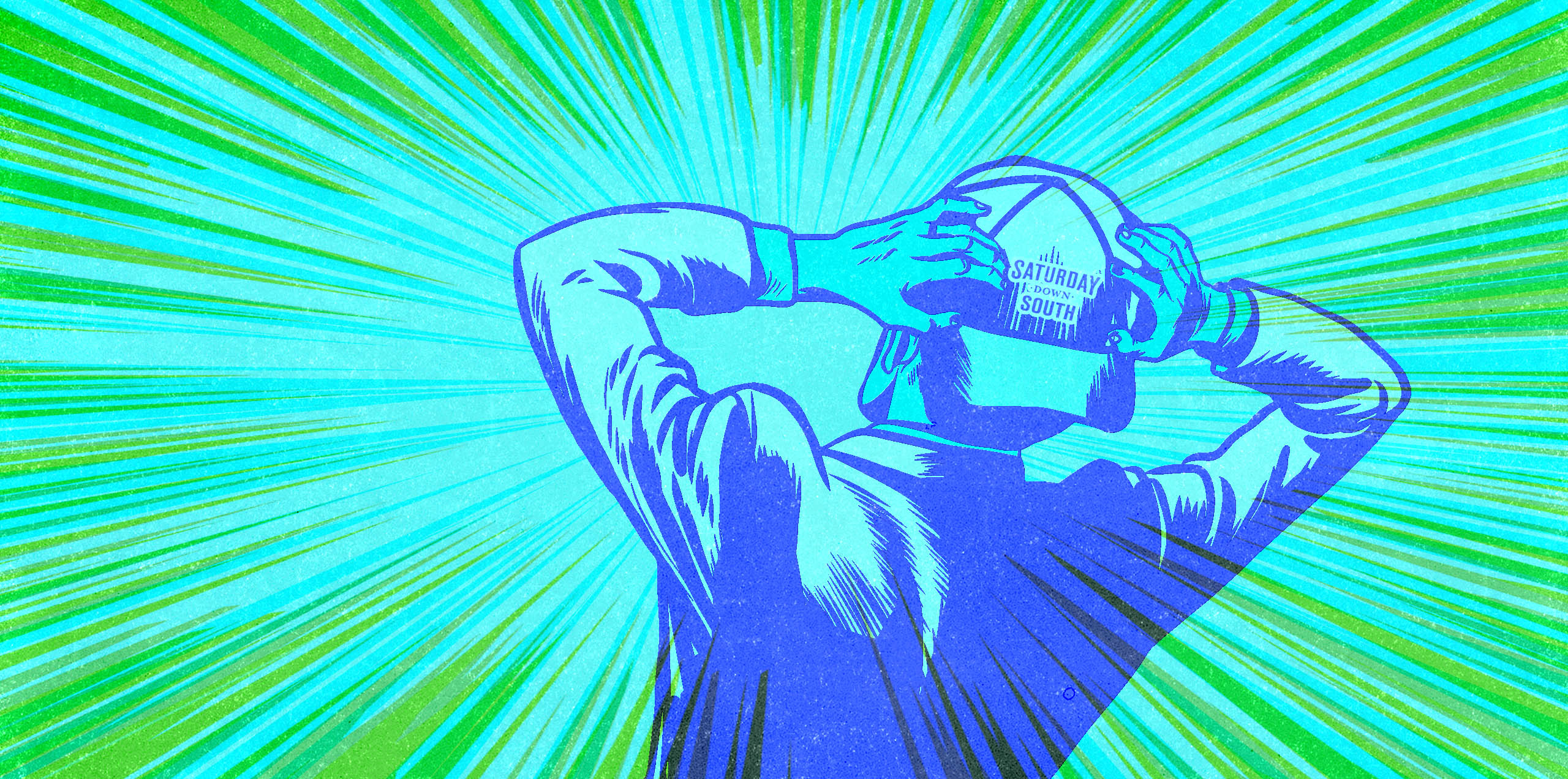 SEC
10 things I'm absolutely overreacting to after Week 1 in the SEC
The first full Saturday of college football did not disappoint.
SEC QBs put on a show … and then Anthony Richardson did things only Anthony Richardson can do. He might have changed Florida's SEC East fortunes in the process, too.
Let's get to it. Here are 10 things I'm absolutely overreacting to in and around the SEC, starting with the biggest news of the week.
10. Playoff expansion, baby! It's about … time
College football has never felt more like the NCAA Tournament.
That's a beautiful thing.
That was my immediate reaction to the Friday afternoon news dump that the Playoff was expanding to 12 teams, divided evenly among 6 conference champions and 6 deserving at-large teams.
Now, for the first time in college football history, the sport that once awarded a national championship to a team that lost a bowl game has an honest-to-goodness open tournament. Every college team in America will start fall practice knowing they have a chance to make the College Football Playoff.
It's a win for everybody and it will further disperse talent all over America because now every team has a Playoff path.
Now, let's get this thing done in time for the 2024 season.
9. Bye-bye dynasties
If you're one of the sport's 5 or 6 true blue-bloods, Friday's news didn't exactly make your day.
Alabama, Georgia, Ohio State, Clemson … those teams sleep well each summer already knowing they have a clear path to the Playoff. Each has suffered a regular-season loss and made the Playoff. Heck, they have proven they don't even have to make it to the conference championship game and they can still get invited.
So their path in wasn't changed Friday, but their path to a title most certainly was.
They'll have to win another game, for starters. And as we saw last year with Alabama, every game is another opportunity to lose a key player to a serious injury.
There's a reason no NFL team has repeated as Super Bowl champion since the Patriots in 2004-2005. Even the best NFL teams have to win 3 playoff games to become champions. Now, the best college football teams will have to do the same.
8. Conference championship games will actually matter
This might be my favorite part of the expanding Playoff.
As soon as the 4-team format was announced, the obvious objection was that at least 1 Power 5 champion was guaranteed to be left out every season. That meant at least 1 conference championship game was completely irrelevant.
And nobody seemed to care, certainly not the "every game matters" crowd that believed in the nonsensical notion that regular-season games were more important.
There was never any logic to that thinking, other than that's what they'd heard each week for decades. But the fact is no two schedules are alike — even among teams in the same conference, much less from one conference to another. There's never been a way to adequately compare teams, so we were just left with 3 months of yelling.
Now, those arguments become a moot point. The 6 highest-rated conference champions will be guaranteed a spot. Those title games absolutely will matter — as they should. Which is great news for the Pac-12, Big 12, ACC and even teams from the American Athletic Conference or Mountain West.
7. RIP, #Statesh!t
NC State fans know pain. Several SEC fan bases do, too, but imagine just about every single time something great is about to happen, disaster intervenes.
So of course when NC State opened the season ranked No. 13 — matching a program-high in the preseason AP poll — fans already were dreaming of their first ACC title since 1979, a Playoff spot and possibly their first Heisman Trophy winner, ever.
The offseason is made for optimism, but in the back of every Wolfpack fan's mind had to be this nagging fear: #Statesh!t.
Fast-forward to Saturday, when #Statesh!t seemed primed to rain on the Pack's parade yet again.
ECU — the pesky, little brother to the east, the one NC State brawled with so often in the 1980s that they periodically shut down the series — was about to ruin everything.
Late in the 4th quarter, the Pirates picked off Devin Leary and promptly scored to pull within 1.
And then ECU kicker Owen Daffer badly missed a tying extra point. Daffer's holder was so shocked he struck the surrender cobra pose.
Disaster averted.
But with NC State, it's never quite that simple.
ECU forced a quick 3-and-out and got back in position to kick a 41-yard, game-winning field goal in the final seconds. NC State had to call a timeout because the Pack didn't have enough players on the field. Statesh!t, indeed.
Except Daffer pushed this one wide right.
Two kicks. Two misses. On nightmare avoided.
Maybe this really is the year we can retire #Statesh!t!
6. 6 crazy stats
UNC allowed a program-record 40 points in the 4th quarter against Appalachian State — and still won. Gene Chizik's group made 1 play, though — a game-saving stop on App State's 2-point conversion try.
South Dakota State allowed 10 first downs, 166 total yards, zero touchdowns and just a lone field goal against Iowa — and still lost.
Oregon transfer QB Bo Nix threw 2 interceptions against Georgia — the 5th time he's had multiple picks in the same game. Nix is 1-4 in those games. The lone win? Against Oregon in his Auburn debut in 2019.
Georgia allowed zero touchdowns for the 5th time in the past 16 games. It was the 13th time in that span that they didn't allow a rushing TD. And Kirby Smart still said this defense has a long way to go. Good is not great and great is not elite. Yada, yada, yada.
Vanderbilt scored 40+ points in back-to-back games for the first time since the 2012 season. Before this season, Vandy hadn't scored 40 points in a game since the 2018 season.
Scott Frost's buyout is $15 million. Good thing he's not at Auburn. The Tigers would have fired him at halftime Saturday. His buyout drops to $7.5 million on Oct. 1. Will Nebraska wait that long?
5. Swamped!
What a disastrous day for the Pac-12.
Its 2 highest-ranked teams lost to SEC East teams. Georgia destroyed No. 11 Oregon and then Florida followed with a dramatic comeback victory over No. 7 Utah.
The Pac-12 already has a Playoff problem. More often than not, it's left out. Justifiably so.
Saturday reinforced that narrative.
Or did it? …
4. The 4 Playoff teams are …
No. 1 Georgia, No. 2 Alabama, No. 3 Ohio State, No. 4 USC
Injuries are the only thing that's going to prevent Georgia from going back-to-back — even if Anthony Richardson does Anthony Richardson things in the Cocktail Party. These Dawgs looked utterly unstoppable. Plug-and-play never looked easier.
Is USC at No. 4 an overreaction? Well, that's job description, right? But in an offensive era, give me Lincoln Riley's plays, Caleb Williams' talent and USC's playmakers. Especially in that league. Good grief. Based on everything else that happened Saturday, the Trojans look like a lock to go undefeated in Pac-12 play. Beat Notre Dame and, hello, Playoff.
3. Can Bryce Young make a run at Joe Burrow's records?
It sounds crazy to suggest any SEC QB would approach Joe Burrow's magic numbers of 5,671 passing yards and 60 TD passes during the 2019 season.
And then you see the ease with which Bryce Young finds the end zone … and all of a sudden you're Alonzo Mourning in the best gif ever created.
No GIF greater encapsulates the human experience than the Alonzo Mourning GIF. pic.twitter.com/tHu4tuZMbm

— Mark Bravura (@memphomofo) January 20, 2022
Young threw 5 TD passes in the first half Saturday. He could have set the SEC single-game record (7, accomplished 8 times) if those things actually mattered to Nick Saban. (They don't, which is why Young watched the 2nd half.)
Burrow played in 15 games during LSU's perfect season. It's reasonable to think Young might get that chance again, too.
Ed Orgeron never took his foot off the gas in 2019 (or ever). Burrow threw 19 TD passes in the 2nd half of games that season.
If Saban allows it, Young will fly past 50+ TD passes and enter the Burrow race.
2. It's not too late to take a flier on Stetson Bennett for Heisman …
Can you imagine a former walk-on winning the Heisman Trophy?
It never looked more realistic than in Week 1.
Bennett's stat line: 25-for-31 for 368 yards and 2 TDs. Other QBs will throw more TD passes this season — Young can pick his number but needs to approach Burrow's 60 to defeat Heisman fatigue and repeat — but Bennett has a chance to rewrite Georgia's record book.
Two numbers to watch: Aaron Murray holds the single-season program record in passing yards (3,893) and TD throws (36).
If Kirby Smart gives him the chance, Bennett will break both marks this season. That, plus another run to Atlanta and likely beyond, will put Bennett firmly in the Heisman race.
1. … but Anthony Richardson is the most explosive threat in the SEC
The Heisman isn't just a quarterback award … it's a conference-champion-caliber quarterback award.
Will Anthony Richardson be the Lamar Jackson-like exception to the rule? Or will he do the unthinkable and lead the Gators to Atlanta?
Mere mortals don't do this.
The Anthony Richardson experience.pic.twitter.com/oVUrMRHcxh

— Neil W. Blackmon (@nwblackmon) September 4, 2022
That's a Heisman moment, but I'm guessing it won't be the last.
Bring on the Cocktail Party, already.