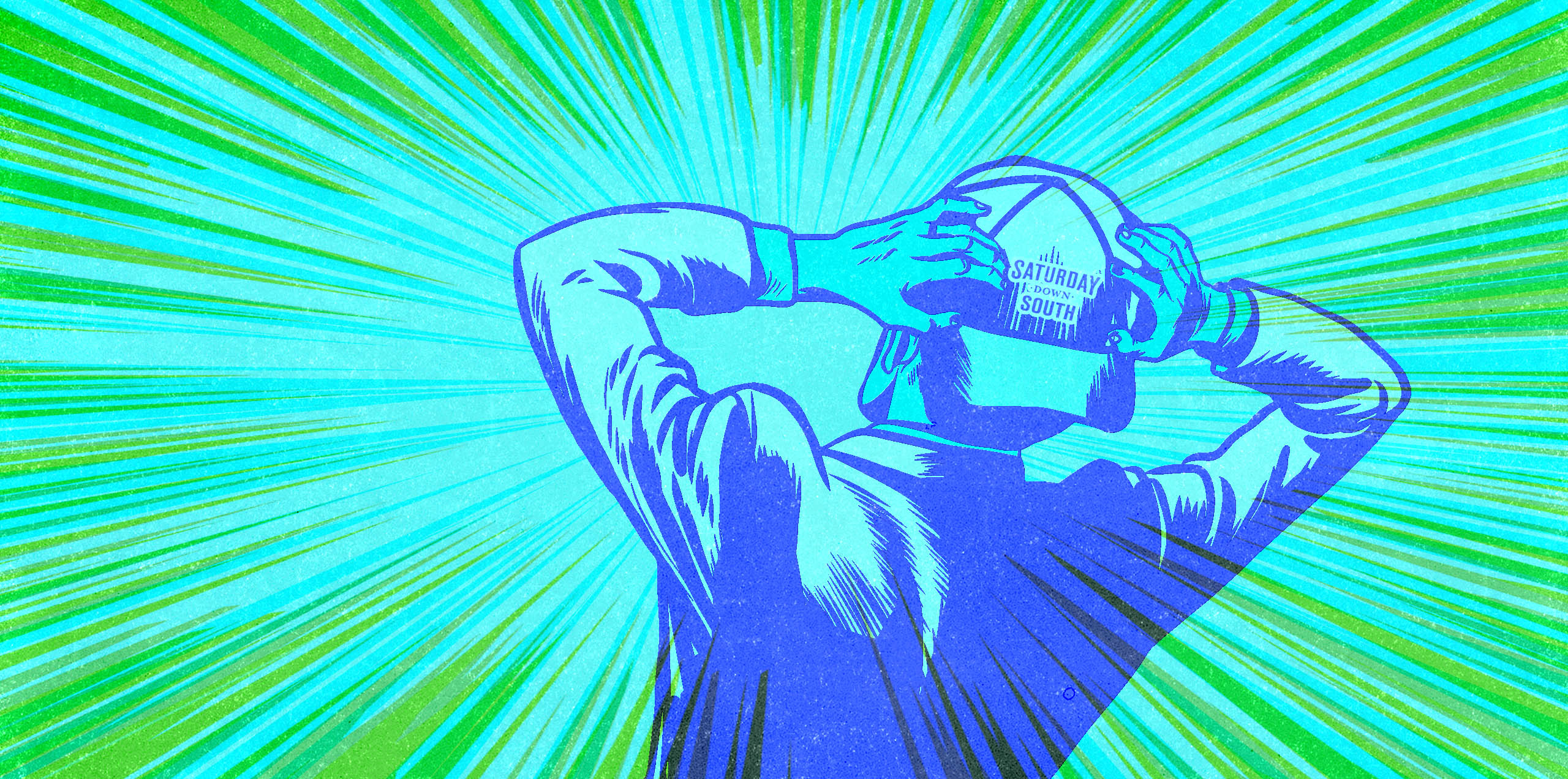 SEC
10 things I'm absolutely overreacting to after Week 1 in the SEC
Is is too late for Colorado to transfer to the SEC?
Is is too early to pay Billy Napier?
Is it too soon to panic about Ohio State's quarterback situation … or too 11th-hour to rethink this whole Big Ten on CBS thing?
I know this much: It's never too early to compare SEC quarterbacks.
I'm ready to fire folks, hand out the Heisman and crown a new king.
Week 1 was wild, and those are just some of the 10 things I'm absolutely overreacting to in and around the SEC.
10. Prime Time, baby!
You watched. Admit it. You haven't watched a Colorado football game since Kordell Stewart was doing his thing in the early '90s, but you watched Saturday.
Prime Time at Noon. How could you not watch that?
I was curious, too, how Deion Sanders' Travelin' Transfer All-Star team would fare against last year's national runner-up.
Oh, how about … just about perfect on offense and just well enough on defense to register a narrative-changing upset over a ranked TCU.
Shedeur Sanders was better than advertised — and he's a former blue-chip recruit wanted by every SEC program. He threw for a program-record 510 yards with 4 TD passes. And Travis Hunter dominated on both sides of the ball, just like Prime told you he would. We've seen guys dabble, but I can't remember seeing a legitimate 2-way starter/star like Hunter.
Hunter finished with 11 catches for 119 yards, but that doesn't begin to describe his impact.
This does, and it came on the same series: TCU's Emani Bailey was off to the races on a 74-yard run, and Hunter ran him down to prevent a TD. A few plays later, Hunter made a diving INT to end the drive … and prevent a TD.
Prime-esque INT for Travis Hunter pic.twitter.com/dIBKUwdfBC

— Matt Miller (@nfldraftscout) September 2, 2023
Prime joked afterward that he warned us they were coming.
"We told you we coming. You thought we was playing. And guess what? We keep receipts." – Deion Sanders after the Colorado win pic.twitter.com/1mvzEdBopP

— philip lewis (@Phil_Lewis_) September 2, 2023
Maybe it's time to start believing.
9. Speaking of believing … I don't in Billy Napier
It's not the fact that Florida lost to a better, ranked Utah team playing at home — even though the Utes were without their starting quarterback and several other key performers.
It's more than that.
It's this nagging belief that Billy Napier, offensive guru, still hasn't figured out how to use the best offensive weapons he has. That's a problem, exacerbated by the fact he refuses to hire a legitimate offensive coordinator.
He didn't figure it out last year with Anthony Richardson … and he didn't find answers in the opener, either, when the Gators ran their 2 best running backs just 10 times.
You can point to the scoreboard as a reason for abandoning the run — and I'd suggest that maybe the deficit would have been a bit smaller if your best players had a larger role?
Graham Mertz threw for 333 yards — on 44 attempts. Do route trees not grow in Napier's offense?
Sure, there were some nice catch-and-runs, a necessity for any offense, but truly big plays were almost nonexistent.
The 1 deep ball Mertz completed — a 40-yarder to wide open Ricky Pearsall — was off target and led Pearsall out of bounds. A better throw results in a walk-in TD.
Graham Mertz ➡️ Ricky Pearsall for 40 yards! #Gators pic.twitter.com/MJqDalZM7c

— FOLLOW: @TSV__1 (@TSV__1) September 1, 2023
The buyout is notable — $31.9M — and probably will be the reason Napier is still on the sideline in 2024.
But the gap between Georgia's offense, Tennessee's offense and this Gators offense is frightening … and growing.
I'm not the only one who has doubts …
Lil bro might need to go play for prime ?

— Travis Etienne Jr⁶? (@swaggy_t1) September 2, 2023
8. Joe Milton's best throw was not a 90-yarder …
Great quarterbacks throw catchable passes. Five words. One simple concept.
Arm strength obviously is an asset, and if deployed correctly, can be a game-changer. Too often, exit velo is the difference between being a dreaded "great college quarterback" and a "first-round pick." (See: Bennett, Stetson vs. Richardson, Anthony.)
But like a pitcher who throws 103, it only matters if you can throw it for strikes.
Joe Milton's arm strength has never been questioned, but his wildness is as well-documented — if not exaggerated — as tales of 90-yard tosses.
I watched his start Saturday entirely through that prism: How catchable were Milton's passes?
It didn't take long to see the arm strength. This perfectly placed ball traveled 58 yards and should have been a walk-in TD, but Ramel Keyton simply dropped it.
Joe Milton has the BEST ARM in CFB & ITS NOT CLOSE!! Easy gas. WR has to come down with this pass. pic.twitter.com/sPCHFBCaei

— Full-Time Dame ? (@DP_NFL) September 2, 2023
A couple series later, however, Milton misfired on 3 consecutive passes … to 3 wide open receivers. The misses included a bounce pass and a bullet overthrow.
He then bounced back with a 41-yard rainbow to Keyton to split double coverage.
Did his performance Saturday quiet the naysayers?
Not exactly. Let's just say Vol Twitter was active after every misfire.
Me? I trust arm talent. And, even more, I trust Josh Heupel to scheme enough easy throws to set up the deep dimes. My favorite play was Milton's first TD pass, a 9-yard check-down to his 3rd option. On 4th down. That's growth. That's poise. That's exactly what Heupel wants to see, because that check-down will always be available to a QB who can take the top off the defense.
Flamethrowers who mix in changeups for strikes are unbeatable.
Just like QBs who throw catchable passes.
Joe Milton is the best QB prospect in the SEC East — and his right arm gives the Vols a chance against anybody.
7. Necessary roughness …
MY GOD John Campbell escorting a Cavalier to the stands?

I mean the UT kids are celebrating & he's rolling this dude 8 yards out of the end zone!! pic.twitter.com/aeOS0MAltV

— Cole Cubelic (@colecubelic) September 2, 2023
Milton's performance was the most obvious storyline, but let's take a minute to appreciate the Vols' physicality. SDS favorite Cole Cubelic certainly did.
Too many mistakenly associate Heupel's up-tempo approach as a pass-first offense.
In reality, at their best, the Vols are a downhill rushing team. Last year, they ran for 40 TDs, 2nd in the SEC. In 2021, they ran for 30 TDs, 2nd in the SEC.
They added 5 more rushing TDs Saturday.
Milton's arm is so strong that defenses stay stretched. There are no extra defenders in the box. Heupel truly has ideal pick-your-poison personnel and schemes accordingly.
6. OSU's QB factory? About that …
If I read 1 time this offseason, I read it 1,000 times: Ohio State's next quarterback will throw 40 TD passes because that's what all of Ryan Day's starting quarterbacks do.
That sounds forceful and authoritative in a tweet, especially backed up with stats that support the promise.
The problem is: The new guy still has to prove it.
Obviously, it's 1 week, 1 start, but it's clear Kyle McCord isn't a plug-and-play version of CJ Stroud.
Ohio State failed to throw a TD pass on Saturday — for just the 3rd time in the past 63 games.
McCord threw for just 239 yards. The Buckeyes had just 1 explosive play (30+ yards) after finishing No. 5 nationally last season with 32.
More puzzling, future NFL studs Marvin Harrison Jr. and Emeka Egbuka combined for 5 catches for 34 yards.
Will they figure it out? Probably. But it's just another reminder of how dangerous it is to assume the Next Man Up will be just as good as the No. 2 overall pick he's replacing.
5. 5 familiar faces …
Some names you know had a memorable day in Week 1:
Former Alabama RB Trey Sanders ran for 3 TDs in his debut with TCU. He only had 3 career rushing TDs for the Tide.
Former Texas A&M QB Haynes King threw for 313 yards and 3 TDs to give Georgia Tech a chance against Louisville. His 3 TD passes matched his career high with the Aggies.
Rice QB JT Daniels threw a TD pass for his 4th D1 program Saturday. I'm not sure if that's a record, but the list of dudes who have done that can't be long. It's also the 6th consecutive season Daniels has thrown at least 1 TD pass. Daniels started his college career in 2018 and spent 2 seasons with Georgia.
Former Auburn head coach Gene Chizik had quite a night. Chizik is UNC's much-maligned defensive coordinator. Last year's group stunk. Saturday? His Heels sacked South Carolina QB Spencer Rattler 9 times and fueled the Tar Heels' border battle victory in Charlotte. UNC only had 17 sacks all of last year.
Poor Butch Jones. Hey, not every memory is worth remembering. At least Vol Twitter was compassionate and understanding …
Dear Everyone-

Butch Jones is not actually a football coach. He just plays one on tv.

Stop hiring him. pic.twitter.com/x4T5pN9cSH

— Extra Salty Vol (@Salty_Vol) September 2, 2023
4. The 4 Playoff teams are …
1. Georgia, 2. Michigan, 3. Oregon, 4. Colorado
Will it look like this at year's end? No. But Colorado went on the road and beat a ranked team with 60 dudes playing their first game together.
There isn't anybody in the country — not Georgia, not USC, not anybody — who has a QB/WR combo like the Buffs do.
I'm on the bus. Am I overreacting? Probably, but that's the job.
With young teams, you worry about handling success. Especially immediate success. Deion Sanders has been handling immediate success since the doctor handed him to his mom.
Prime has quite the vocabulary: Complacency isn't in it.
I'm already looking forward to Week 4, a Heisman showdown in Eugene against Bo Nix and Oregon.
This final Pac-12 season might produce the most exciting football every Saturday.
3. Red Zone Robby
In direct contrast to my earlier criticism of Billy Napier's inability to maximize personnel, we have Hugh Freeze, an offensive mastermind who walked into well, let's just say a less than desirable situation at Auburn.
Like Napier, Freeze needed to find a QB, too. Like Napier, Freeze hit the portal, too.
Freeze brought in Payton Thorne (Michigan State) to compete with holdover Robby Ashford to be QB1.
Thorne won the job and was just fine in Auburn's 59-13 thumping of overmatched UMass.
Thorne's performance isn't the issue.
Rather than bury the Ashford on the bench, Freeze designed plays and situations around his dual-threat backup.
The result? Ashford finished with 51 yards rushing and 3 TDs.
Within minutes, Red Zone Robby was born.
2. Jalen Milroe vs. Carson Beck vs. Conner Weigman
Alabama, Georgia and Texas A&M have new offensive coordinators and new starting quarterbacks.
All three have Playoff aspirations.
First impression of these new QB1s? Heaven help us, this Texas A&M marriage might actually work.
As for the details …
Milroe is a bigger version of Jalen Hurts, the best athlete on the field and an ideal fit for Alabama's desired style of play in 2023.
The Tide want to pound people this year, and Milroe is going to make plenty of plays just like this:
Milroe Magic ?@JalenMilroe

?: https://t.co/tFsrUF7B8z pic.twitter.com/fofKiX54cS

— Alabama Football (@AlabamaFTBL) September 2, 2023
We'll know exactly where Milroe and the Tide stand after next week's game against Texas.
I'm not quite sure what Georgia has in Beck. He looked … fine. The sample size is too small and, unlike Milroe, he's not going to out-athlete adverse situations.
The question is: Will it even matter? The Dawgs are so talented and their schedule is so weak that QB play might only influence 2 outcomes this season. Those 2 games, however, will determine whether the Dawgs even get a chance to 3-peat.
Weigman was the biggest revelation in the context of how this Bobby Petrino/Jimbo Fisher offense would operate. Weigman threw 5 TDs in a nearly-flawless performance. He played so well he had people re-evaluating Texas A&M's ceiling.
I'm trying not to overreact here, but…

Texas A&M may win the national championship with Conner Weigman slinging it in this Bobby Petrino offense

— SEC Mike (@MichaelWBratton) September 3, 2023
That's OK, Mike. I'll handle the overreactions.
1. I need a minute …
The Big Ten on CBS ? pic.twitter.com/SQnzHsutaH

— College Football Report (@CFBRep) September 2, 2023
Listening to Brad Nessler and Gary Danielson call an Indiana football game — Indiana! — in CBS' coveted 3:30 pm slot was … something.
Alabama-LSU, this was not.
The tentativeness in their voice as they matriculated through a strange new world was palpable, almost painful.
Of course, as if to remind us of the good ol' days, Gary had his moments, just like he did on just about every SEC telecast.
Welcome to the life of Gary Danielson..enjoy big 10 https://t.co/DoEVqjnTVQ

— WOB (@datboiWOB) September 2, 2023
Coaches transfer. Players transfer. Heck, schools transfer.
I guess it makes sense that TV networks transfer, too.
Doesn't mean we have to like it. Or, in this case, keep watching it.