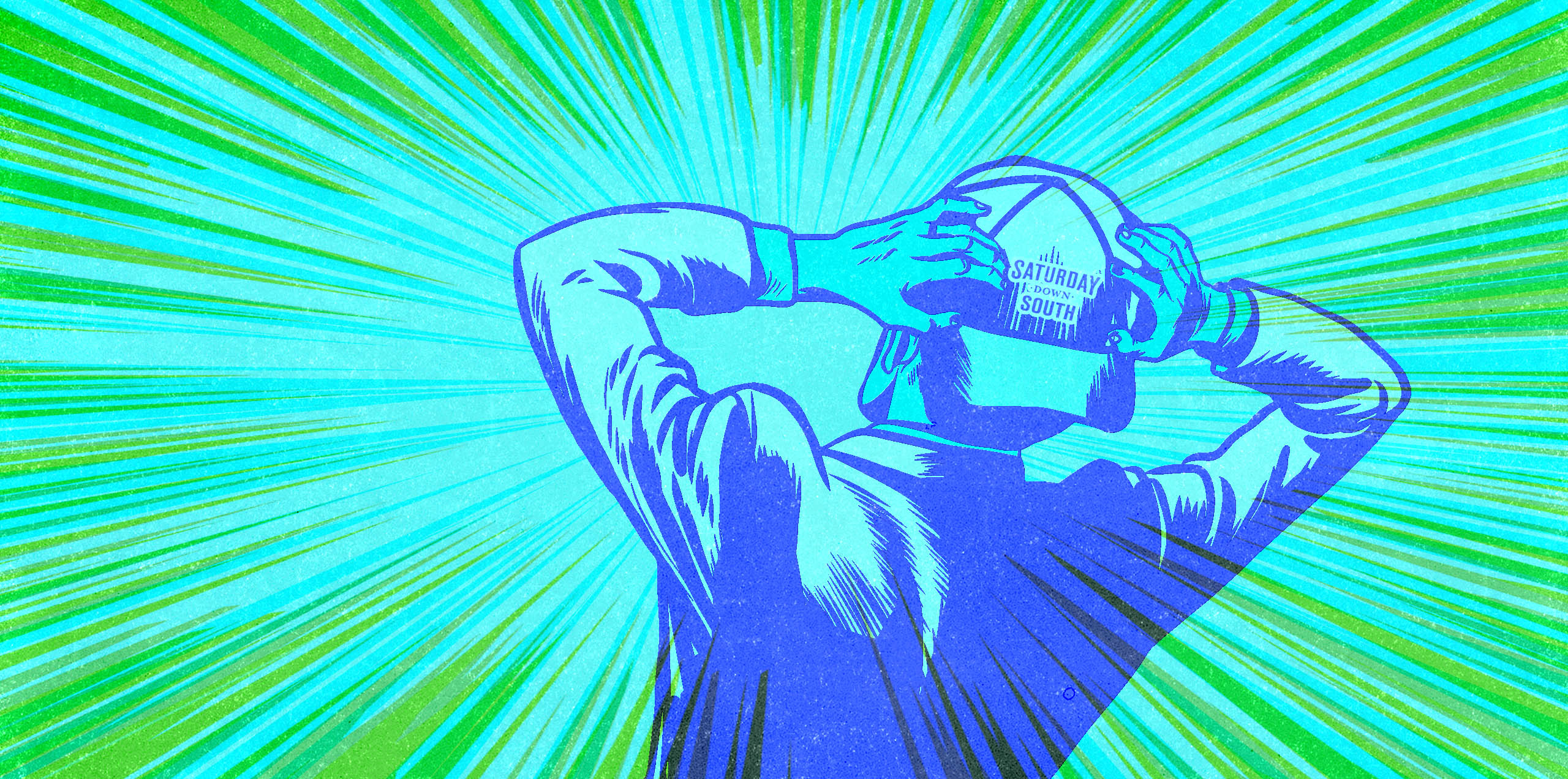 SEC
10 things I'm absolutely overreacting to after Week 11 in the SEC
So … was Todd Grantham the problem?
Or were Florida's players the problem?
I'm so confused.
The death of DBU is just 1 of the 10 things I'm absolutely overreacting to after Week 11 in and around the SEC.
10. The death of DBU …
I have no words.
Samford QB Liam Welch was a 2-star recruit from Augusta, Georgia, with zero Power 5 offers. He chose Samford over Mercer.
Saturday, he made Florida — Florida! — look like East Tennessee State. Welch finished with 400 yards passing with 3 TDs.
It's one thing when Joe Burrow or Mac Jones goes off on your defense. It's an utterly different and impossible to explain deal when it's an FCS QB.
Except this wasn't even the first time an FCS QB embarrassed this Gators defense.
In back-to-back games against FCS quarterbacks (one former, one current), the Gators' vaunted "DBU" gave up nearly 100 combined points and 5 passing touchdowns.
They fired Todd Grantham after the South Carolina debacle last week.
There's only 1 guy left after Saturday. And I hope Dan Mullen is wearing a fire suit.
Give Mullen some credit: He's a fearless antagonizer. He told reporters the Gators were going to "celebrate this win. It's a great win for us."
I think he's overreacting a bit. Then again, it might be his last win as Florida's coach, so …
9. The only thing worse than Florida's defense was this targeting call …
Targeting called on this normal football sack

This is no longer football pic.twitter.com/MEDYJ5uE4F

— Pick Six Previews (@PickSixPreviews) November 13, 2021
Utterly ridiculous.
If that's the rule, change the rule.
TD Moultry's sack pushed Mississippi State into 3rd-and-forever. The likely result would have been a short punt (or a missed field goal). Maybe a turnover on downs.
But Auburn would have gotten the ball back in a 1-possession game.
Instead, the targeting call gave Mississippi State a first down. Will Rogers then threw his 6th TD pass of the afternoon to make it a 15-point lead with 5:37 left.
That call changed the game.
College football has to do better.
8. Bo Nix is going to win the Heisman!
What once was a popular meme/shot at everybody's favorite punching bag is no more.
Bo Nix isn't going to win the Heisman. He's not even going to get invited to New York for the ceremony. But he might be the most important player in the final 2 weeks of the regular season.
Here's why: He's already beaten Alabama once. And he very well could do it again in 2 weeks the Iron Bowl shifts to Jordan-Hare.
And if that happens, complete chaos ensues. Not only in the SEC, but beyond.
Can it happen? In this season of shock, why not?
There's no denying Nix has some serious Chad Kelly vibes. Up, down, wildly inconsistent one game, wildly entertaining the next. Heck, sometimes he's all of that in the same game. We saw more of that Saturday against Mississippi State. He was spectacular in the first half, pretty much a non-factor after intermission.
You never know which Bo is going to show up!
But if the Bo Nix who had his way with Mississippi State in the first half shows up on Nov. 27, he could become the first starting QB to take down Nick Saban twice.
Don't count it out.
7. Bryce Young's biggest Heisman hurdle …
It's Mac Jones.
Young was terrific again Saturday. He threw 5 TD passes in the first half against expectedly overwhelmed New Mexico State. With 2 weeks left in the regular season, Young has thrown 33 TD passes against just 3 INTs.
Normally, those numbers, coupled with Alabama's Playoff standing, would draw significant hype.
But the noise around Young has been more subdued than you'd expect. Matt Corral's Heisman bid was more exciting.
Maybe it's the lack of Heisman-type splash plays. Maybe it's the fact that Alabama has a loss. Maybe it's simply Alabama fatigue.
I think it's something else: As good as Young as looked, we've seen Tua Tagovailoa and Mac Jones look even better, even more explosive, even more dangerous.
There's a growing sense that there are 20-some QBs who could stand behind Bama's o-line and feed the 5-star skill players until they are full.
Admit it: How many yards would Corral, Sam Howell or Kenny Pickett have in this offense?
That's the hurdle Young has to clear. And unfortunately for him, there isn't a whole lot he can do to change that perception.
6. Jordan Davis or Will Anderson?
If coaches voted for the Heisman Trophy, more defensive players would have won the award since Michigan cornerback Charles Woodson edged Peyton Manning 1997.
If they were voting this year, there's no doubt we'd have 2 defensive players in New York for the ceremony.
Let me let you in on a little secret: Most Heisman voters don't have the time to watch teams they aren't responsible for. If you're a beat writer or columnist covering Team X, that's your entire focus. You see highlights of Teams A through Z. At best, you use stats to help fill in the blanks. At worst, you're swayed by talk radio and social media and national narratives.
There's no other way to logically explain the regional breakdown of Heisman votes, other than to say you can't pick something you don't know exists.
Football coaches know Jordan Davis exists. They know he is the single-most influential player on the best college football defense in at least 10 years.
Will Anderson is much easier to find. He shows up in highlight reels and atop stat charts.
Both are valuable. But in a year in which there isn't a singular offensive force who has separated himself from the pack — a la Derrick Henry, Lamar Jackson, Joe Burrow, etc., — this is the perfect opportunity to reward the other side of the ball.
Which guy?
That should be the biggest Heisman debate of 2021.
5. Which record will Will Rogers break next?
Saturday, Will Rogers tossed a program-record 6 TD passes to lead a historic comeback victory over Auburn. (The Bulldogs erased a 25-point deficit to record the largest comeback in program history.)
More records soon will fall.
Rogers has 29 TD passes this season. His next one will break Dak Prescott's single-season record.
Rogers also has thrown for 3,719 yards this season. Next week, he'll likely break Prescott's single-season record of 3,793.
Looking further down the road, he has a thrower's chance at Aaron Murray's SEC career marks of 121 TD passes and 13,166 yards.
Two reasons: First, like Murray, Rogers projects as a better college QB than NFL prospect, so he might not bolt for the NFL early. COVID actually gives him 5 years in Mike Leach's offense, if he wants it. And second, he's going to throw it more than anybody else in college football for as long as he stays in Starkville.
He already has 40 career TDs and probably will finish this season with 50. Add another 40 next season as a junior and you can see where this is headed.
He'll easily top 4,000 passing yards this season, which would push him over 6,000 for his career. That's almost halfway to Murray's record. It's logical to assume whatever number he lands at this year, he'll exceed next year. If you add 8,000 more yards for 2 more years' worth of work, he'll own that record, too.
4. The 4 Playoff teams are …
1. Georgia, 2. Alabama, 3. Ohio State, 4. Cincinnati
I never believed in Oklahoma, so the Sooners' loss at Baylor didn't exactly shock me. Earlier in the season, I called for rival Oklahoma State to end the Sooners' Playoff bid. I still think OSU is the best team in the Big 12.
Assuming everybody wins out and Alabama beats Georgia in the SEC title game, ultimately, this is going to come down to 1-loss Pac-12 champ Oregon vs. undefeated Cincinnati for the 4th spot.
Both have a signature road upset over a highly-ranked team. Oregon has a head-scratching loss. The Ducks didn't look overly impressive Saturday night, either. They led visiting Washington by 7 midway through the 4th quarter before pulling away.
I've said for the past 3 years that the American Athletic Conference is a better football league than the Pac-12. The first step in that belief is getting over the perception that there is an automatic gap between Power 5 and Group of 5. As it relates to the 2021 Playoff race, it no doubt helps that 3 American teams soon are heading to the Big 12 — including Cincinnati. The perception gap is closing.
3. Sell! Sell! Sell!
Three coaches not named Dan Mullen whose stock is falling faster than anyone could have imagined.
3. Oklahoma HC Lincoln Riley: Everybody's favorite QB whisperer has struggled to develop Spencer Rattler. He switched QBs again Saturday in the loss to Baylor … then complained afterward about Baylor violating a "code of sportsmanship" with a late field goal. OU's record is 9-1. That looks better on your iPhone than the product has on the field. Five of the Sooners' victories were by 7 points or fewer.
2. Auburn DC Derek Mason: Bo Nix gave his defensive coordinator a 28-3 lead. Auburn proceeded to give up 40 consecutive points. Mason had no answers for Mike Leach's Air Raid attack Saturday.
1. Indiana HC Tom Allen: What in the world happened to Indiana football? Last November, the Hoosiers were celebrating "first time since …" accomplishments, climbing in the AP rankings and talking about playing in the Big Ten Championship Game.
Saturday, they got whacked 38-3 … at home … by Rutgers. The Hoosiers fell to 2-8 and 0-7 in the Big Ten. It's like 2020 never happened.
2. Keytaon Thompson does it all …
Remember him? I'd forgotten he's still in college until I saw him make a few plays against Notre Dame on Saturday night.
He's a former Mississippi State QB, a classic Dan Mullen dual-threat guy. He led the Bulldogs to a victory over Louisville in the 2017 Gator Bowl. He also threw 5 TD passes in a game, at the time tying a school record.
He graduated and transferred to Virginia, ostensibly to challenge for the Cavaliers' QB job. He lost that competition and became a receiver.
This is where it gets interesting.
Thompson is Virginia's 2nd-leading receiver. He's closing in on 800 career yards receiving.
That's not necessarily notable — until you consider he also has 800+ career yards passing and 800+ career yards rushing.
College football has some other notable triple threats, but he's entering elite company. Kentucky's Lynn Bowden topped 1,000 yards receiving and rushing. Switched to QB, he threw for 485 yards. Ole Miss' John Rhys Plumlee has topped 900 yards passing and rushing, but he's far off Thompson's pace as a receiver.
Georgia's Hines Ward narrowly missed the 1,000-1,000-1,000 career yards club. He finished with 1,066 yards rushing, 1,965 receiving and 918 passing.
1. Georgia, Alabama … it's time to start worrying about Ohio State
Ohio State has the most versatile, most dangerous offense in America.
It has future NFL players in every unit. Its wide receiving corps is so ridiculously stacked that a guy who left is now the SEC's most explosive wide receiver. Imagine that.
Urban Meyer did. He created it. Ryan Day continued it.
Every time I watch Georgia play and then watch Ohio State play, I grow a little more convinced the Buckeyes can get to 30 against the Dawgs.
Can Georgia get to 30 against Ohio State?
That answer will determine who wins the national championship.