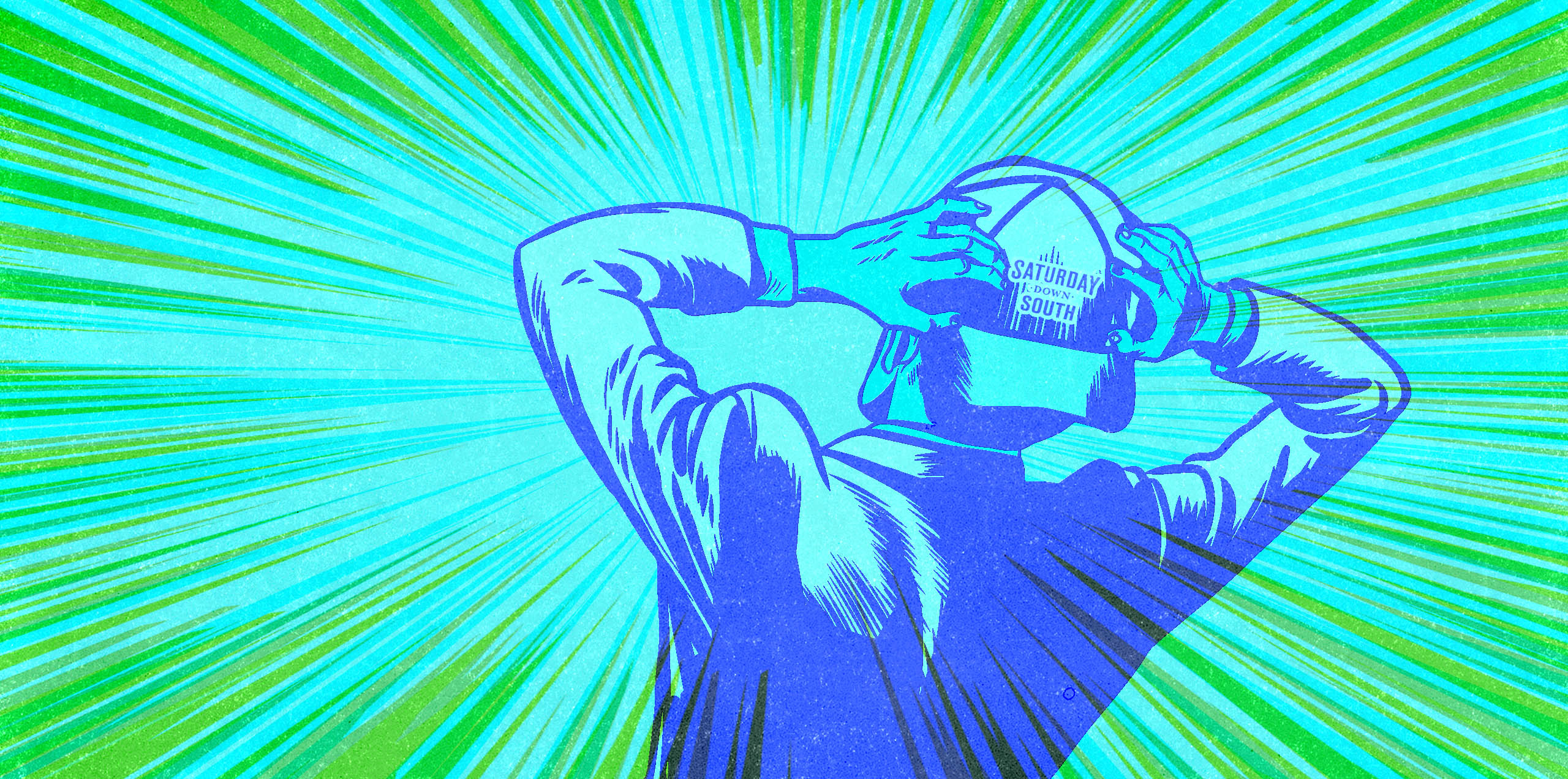 SEC
10 things I'm absolutely overreacting to after Week 2 in the SEC
Almost everybody played on the same Saturday? What a concept.
Now, if only everybody could play well.
Looking at you (Georgia) and you (Clemson) and, dear heaven, especially you (Alabama and the SEC West).
Definitely not you (Coach Prime). Nobody's stopping Team Transfer. Unless it's Texas, of course.
Those are among the 10 things I'm absolutely overreacting to after Week 2 in and around the SEC.
10. Are we really going to do this, Georgia?
The schedule is laughable. And, yes, you had ample time (read: money) to correct it. You chose to keep it soft.
In doing so, you opened yourself up to every bit of criticism/overreaction imaginable when you failed to score a point in the opening quarter against cupcake Ball State.
Carson Beck started 8-for-10. Excellent! For 48 yards. Ridiculous.
Brock Bowers had 1 catch for 3 yards.
Meet Mike Bobo … the only man on earth who can contain Bowers.
Georgia has scored exactly 1 TD in the first quarter this season. You know, largely the scripted plays that, in theory, coaches design specifically to exploit what they see on film.
We went through this last year, too. Georgia slept-walked through half of its regular-season games.
Ultimately, just like last year, it doesn't matter how bland and boring this offense looks in September or October. Georgia is not losing.
But the first month is about style points, setting the tone and sending messages.
Georgia's message so far? We can't be bothered.
9. Meanwhile, Marvin Harrison reminded everybody he's still Marvin Harrison
Ohio State was 220 miles southwest of impressive in Week 1. Scoring 23 points against Indiana is a moneyback guarantee to attract naysayers. Marvin Harrison had 2 catches for 18 yards, easily one of the weakest performances of his life.
How did Harrison bounce back in Week 2? With 4 catches for 122 yards and 2 TDs — in the first quarter against Youngstown State. He finished the half with 7 catches for 160 yards.
That's a statement.
So is this …
Marvin Harrison Jr!!! H.I.M. 18 for 6 #GoBuckeyes?

— LeBron James (@KingJames) September 9, 2023
A week after everybody overreacted to Ohio State's QB situation, Kyle McCord rebounded with 3 TD passes covering 71, 39 and 28 yards to the Buckeyes' stars before calling it a day.
Ohio State was a Harrison injury away from winning it all last year.
They have playmakers everywhere … and an offensive-minded head coach willing to show them off.
Take note, Georgia.
8. It's over, Clemson
Clemson and FSU both played games after our Week 1 overreactions published, but the Tigers can't escape the interrogation room this time.
Bottom line: They're soft.
Duke pushed them around last week — something only said, much less accepted, under the boards at Cameron Indoor — and the Tigers weren't much better Saturday against Charleston Southern.
Can we stop referring to Cade Klubnik as a 5-star QB? It's becoming more obvious with every throw that he is closer to Cole Stoudt than he'll ever be to Deshaun Watson or Trevor Lawrence.
Cade Klubnik???

— PFF College (@PFF_College) September 9, 2023
The Tigers don't have a single difference-maker on offense. They are average across the board. Garrett Riley's impact has been nonexistent.
(This following video voiceover is 100% fake. Swinney did not say this. A'ight? He did not say this. However, in addition to being funny, it also is 100% accurate in describing the state of Clemson's offense.)
?SHOTS FIRED? pic.twitter.com/WHRbuNZayC

— Heavens! (@HeavensFX) September 5, 2023
Yes, the Tigers eventually pulled away in the 2nd half to a comfortable win. Pizza for everybody.
The scoreboard didn't begin to tell the tale. These Tigers aren't a Top 25 team. These Tigers will lose to FSU, probably Notre Dame and maybe Miami and UNC.
8b. It's OK, Dabo … I found your next QB …
THE O-LINEMAN SCOOPED UP THE FUMBLE AND THREW A TD ? pic.twitter.com/GJuIhcEMz6

— SportsCenter (@SportsCenter) September 9, 2023
Oh, that's right. You don't do transfers …
7. It's over for you, too, Alabama
Nobody gets the benefit of doubt quite like Alabama.
Well-deserved, by the way. They've owned the sport for the past 15 years, authoring a decade of dominance unlike any we've seen in the sport.
But even Wagyu steak has an expiration date, and Alabama's reign started to turn 2 years ago.
Before the season, I picked the Tide to finish 3rd in the SEC West and somewhat jokingly suggested they might finish 8-4, although 9-3 is more realistic.
AP voters disagreed, obviously, and voted the Tide No. 4 in the preseason poll. Give another team that same roster, with the same vital pieces to fill and there's no way it sniffs the top 10.
Maybe, now, reality will begin to set in.
You're going to blame Jalen Milroe for Saturday's blowout loss to Texas. That's fine. More useful would be asking who in the world is coaching Alabama's defensive backs. Oh, that guy? Never mind …
But it's not Milroe's fault Alabama doesn't have any playmakers on the outside — and hasn't since DeVonta Smith and Co., left. They also lack protectors on the edge and road-pavers in the middle. They don't have a Derrick Henry-type to make everybody else look better than they are, either.
The recruiting rankings suggest there's still plenty of talent. That's all relative.
Alabama is held to the standard that it created. Its judged against its own.
The truth hurts, but this is the worst team Saban has had in the past 15 years.
6. Who did it better: Father or son?
I'm old enough to remember Prime and Andre Rison going at it like they were the undercard for Hagler-Hearns.
So you know I laughed when Prime's kid, DB Shilo Sanders, got into the act Saturday against Nebraska.
Shilo sanders thinks he's Ed reed lmao pic.twitter.com/fcnEU8VUVo

— John (@iam_johnw) September 9, 2023
(Ed Reed? Interesting comp, John, but that's not it.)
John is old enough to know Coach Prime, but clearly doesn't remember Prime.
I do. That's why, as soon as Shilo finished his slap, I laughed and said I couldn't wait to hear the sideline exchange.
Prime: Shilo, can't do that! Selfish football. Can't have it, son …
Shilo: But … dad …
Are you ready for the NFL season to start? It's almost here.

Andre Rison and Deion Sanders gave us this memorable moment in 1994.

Prime added something a little later. #49ers | #Falcons pic.twitter.com/Sh8XeUZVAv

— The NBS Sports Hour (@NBSSportsHour) September 6, 2021
5. 5 numbers to know
29: That's how many consecutive regular-season games Notre Dame has won against ACC teams after crushing NC State.
6: Shedeur Sanders' TD total through 2 games. Colorado QBs threw just 10 TD passes in 12 games last season.
2006: That's the last time a Notre Dame QB (Brady Quinn) was a Heisman finalist. That's about to change. Expect Sam Hartman (10 TD passes already) to make it to New York.
3: Nick Saban losses to former assistants. (The past 2 have been by double-digits, by the way. … Times, they are a changin'.)
3: SEC West losses vs. nonconference Power 5 teams this season. Alabama (Texas), LSU (FSU) and Texas A&M (Miami) were picked to finish 1st, 2nd and 3rd in the West. RIP to the best division in college football. Also RIP to any hope the SEC had of getting 2 teams into the Playoff. This is Georgia or bust.
4. The 4 Playoff teams are …
1. Florida State, 2. Texas, 3. Ohio State, 4. Notre Dame
Wow. Wouldn't that be different.
Texas is back, baby!
Georgia? Play somebody! Georgia hasn't done anything that 30 other teams couldn't do. And 10 teams probably would have looked a lot better. They'll be in the top 4 eventually.
Notre Dame won't be in the Playoff hunt all season. The Irish have the most difficult schedule in the country. They still play Ohio State and USC, and Duke and Pitt are tougher than expected, too. The Irish also get Clemson. Stay tuned on whether that still counts as a quality win.
The Big Ten will sort itself out and very well could have 2 teams again.
Unless the Pac-12 does.
If you were with us last week, Colorado was No. 4. Obviously a bit tongue-and-cheek, but the Buffs have as much starting talent at the skill positions as anybody ahead of them. If they beat Oregon in Week 4, they will be back in the top 4, and if they follow that up by beating USC, heck, they might be No. 1. Do I expect that to happen? Tell Prime I believe … anything is possible.
2. The annual question: Should I believe in Miami?
So much talent. So little to show for it.
That has described Miami football since it joined the ACC. Go figure that the year the league abandons divisions, it looks like we might finally, actually get that FSU-Miami ACC title game that was an annual expectation when the Canes arrived in 2004.
The U looked vintage on Saturday. Big plays, bigger hits, athletes everywhere and an absolute playmaker at QB.
Tyler Van Dyke threw for 374 yards and a career-best 5 TDs. He is just the 6th Canes QB since 2000 to throw for 5 TDs in a game, and just the 3rd to do so while also topping 350 yards.
So, yeah, it's been a minute since we've seen that kind of performance.
And, yet, there's still this nagging fact I can't shake: Miami has been the biggest tease in college football for 20 years.
Don't believe me? Starting with the 2004 season, the Canes have been ranked in the top 14 in 12 different seasons — and they have finished in the top 10 … exactly zero times in that span.
They're right there until they aren't.
One loss turns into 3. Over and over and over again. In fact, Miami has lost at least 3 games every season for 19 consecutive seasons.
They're about to enter the Top 25 again after their impressive win over No. 23 Texas A&M.
I want to believe. College football is better when the Canes are in the mix.
But fool me once, shame on you. Fool me 20 times and shame on The U.
1. So, let's talk Quinn Ewers vs. Arch Manning in 2024 …
Every time Quinn Ewers made a big play Saturday — and he made many — my mind sped ahead to this offseason and what might be.
Ewers is a redshirt sophomore. He's eligible for the 2024 NFL Draft. He just cemented his legacy with a statement performance vs. Alabama. No matter what, he'll always have the fact he joined Joe Burrow (and a few others) as a QB who knocked off mighty Alabama in Tuscaloosa.
He might lead Texas to a Big 12 title, a Playoff spot and find himself in New York at the Heisman ceremony.
Then what? Does he declare for the NFL Draft? Or does he return to Texas and engage in the greatest QB battle in college football history?
I root for the best story, and Ewers vs. Arch Manning would be an even bigger story than Jalen Hurts vs. Tua Tagovailoa — and more surprising, too.
I think most assumed Ewers would play OK this season but eventually cede control to Manning, either during the season or in spring ball, with Ewers likely hitting the portal.
Saturday night changed that narrative.
This is Ewers' team. This is his time.
Maybe he finishes with such a flourish that returning next year becomes a moot point. Or, maybe Saturday night was just a moment, his greatest moment, and a couple of subpar performances lead to Manning taking over.
But if this is just the start of a 2-year run — and it very well could be — I can't wait to find out who wins the Texas backup lottery in the portal.
I bet Nick Saban can't, either …