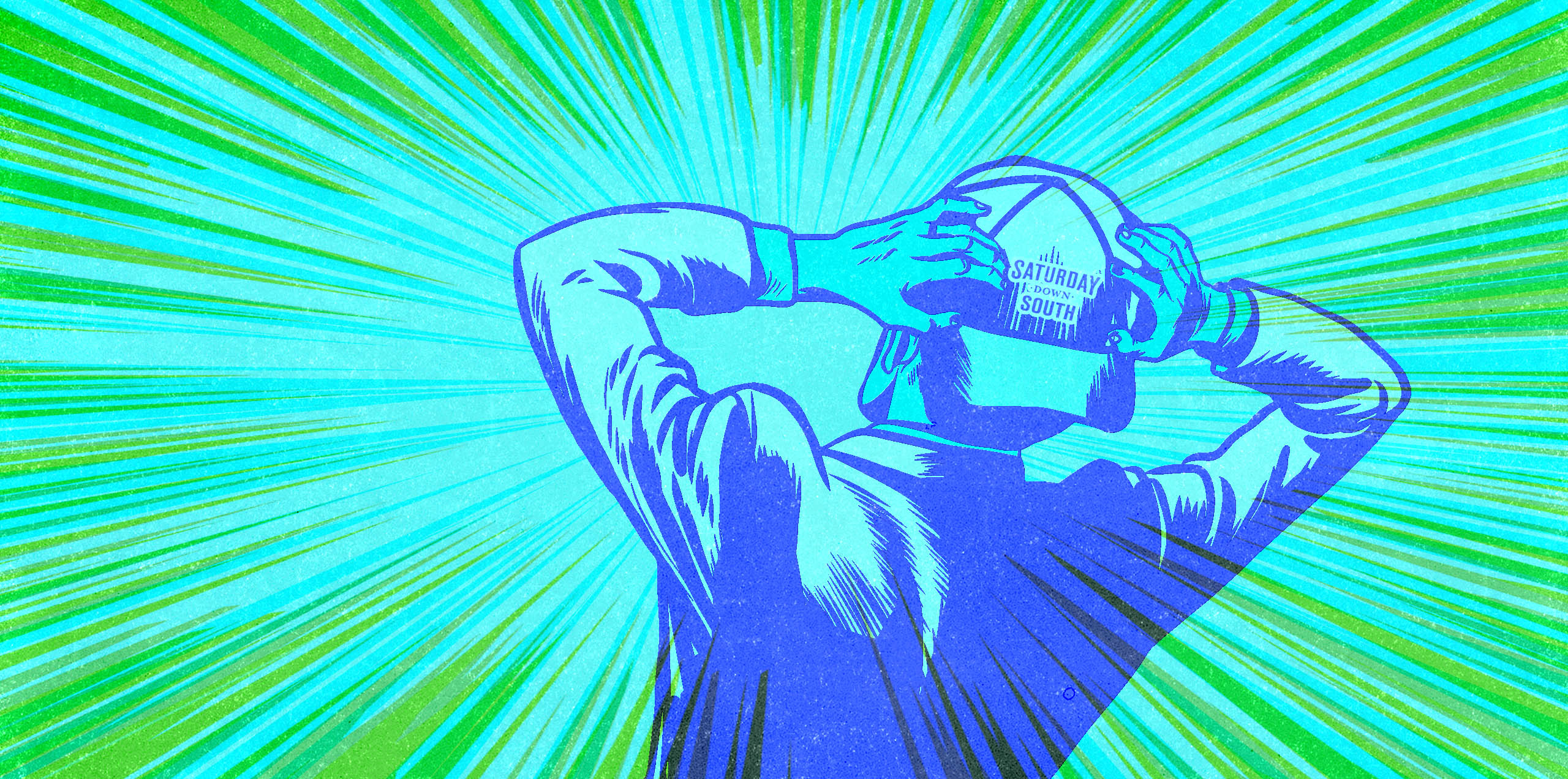 SEC
10 things I'm absolutely overreacting to after Week 5 in the SEC
Hug your quarterbacks.
The healthy ones. The injured ones. The ones who left, the ones who stayed and the ones about to lose their job.
Hug Kirby Smart, too. He needs it as he tries to figure out what in the world has gone wrong with his Dawgs and his quarterback.
Those are among the 10 things I'm absolutely overreacting to after a wild Week 5 in and around the SEC.
10. Oh, Bama, not like this …
Alabama's slant game finally got untracked Saturday in a show-me victory at Arkansas.
Unfortunately, Bama's "We're Back!" first-half performance came with a devastating cost, one that potentially could derail the Tide's Playoff hopes.
Go figure that it was ex-Tide rusher Drew Sanders who delivered the shot heard round the South.
Sanders, showing all of the athleticism you'd expect from a 5-star, chased down Bryce Young for a sack. Young fell awkwardly on his right shoulder. He played 1 more series — and threw 1 more pass, an incompletion that ended with a grimace and him throwing his helmet — with his left arm — as he jogged into the medical tent.
Bryce Young heads to the tent with an apparent shoulder injury. pic.twitter.com/QR0duOXWvO

— SEC on CBS ? (@SEConCBS) October 1, 2022
Young returned to the sideline, wearing his helmet, but he didn't play another snap. After the game, Nick Saban said Young suffered a sprained shoulder but didn't offer a timeline for his return to the field. Officially, he's day-to-day.
There's no way to sugarcoat the impact if Young misses games instead of quarters: Alabama isn't a Playoff team without him.
The timing was especially cruel, too, because the young receivers finally began to make an impact. Alabama's run game picked up the slack Saturday, but Young is the engine around which the machine rolls.
9. The Backup Plan: Jalen Milroe
Alabama's offense changed the instant Milroe entered the game.
First, the obvious: Milroe doesn't look or play anything like Young. Therefore, Alabama's offense won't, either.
Milroe is listed at 6-2, 212, but he looks bigger and more physical than that, certainly closer to Hendon Hooker (6-4, 218) than Young, who is generously listed at 6-0, 194.
Alabama immediately — and occasionally spectacularly — leaned on its running game. Jahmyr Gibbs, in particular, transitioned into a feature back. Remember, he ran for 746 yards at 5.2 per clip last year at Georgia Tech. Gibbs capped a career-day (206 yards rushing) with a 76-yard TD run.
When asked to throw, Milroe looked exactly like you'd expect a young backup dual-threat QB pressed into duty would: Somewhat lost. But when the play broke down and he took off, wow. If we're being honest, he looked like Bama's version of Anthony Richardson — a much more dangerous runner than thrower. In case you were wondering …
WHAT A RUN BY JALEN MILROE!!?

(Alabama would get the TD a few plays later)

— PFF College (@PFF_College) October 1, 2022
Arkansas rallied a bit but wasn't able to provide a lot of scoreboard pressure on Milroe, though he responded with the big run when they initially did.
But Saban knows. You saw how irate Saban became when, on 1st-and-goal, Bill O'Brien called an RPO and Milroe passed. The pass was tipped and nearly intercepted. Never mind that an Arkansas penalty would have negated a turnover, anyway, Saban went berserk.
He knows. Of course he knows! He's Nick Freakin' Saban!
"RUN THE DAMN BALL!"

Nick Saban isn't happy with the play calling right now ?? pic.twitter.com/hZEw6FR1Mj

— Alabama DieHards (@DiehardsAlabama) October 1, 2022
Run the ball, indeed. Bama did and scored.
Depending on Young's availability, Milroe will face more scoreboard pressure moving forward — with a detailed scouting report to boot. Texas A&M won't score 30 on this defense next week, but Tennessee certainly could in Week 7. A trip to Ole Miss soon follows.
It was encouraging to see Young on the sideline, but Alabama needs him on the field. If Young isn't back by the trip to Knoxville, that road trip becomes even more challenging than it already seems.
8. We've officially entered the QB Controversy portion of Georgia's schedule
Poor Stetson Bennett. Walk-on to national champion, now back to being on the receiving end of the on-again, off-again calls for his job.
For the second consecutive week, Georgia did just enough to win and absolutely nothing to impress.
Bennett ended up throwing for 312 yards on a staggering 44 attempts, but he never found the end zone and, for the strangest of reasons, all but ignored Brock Bowers in the red zone. That's why Georgia was forced to kick 4 field goals and rally from a 13-point deficit.
Against Mizzou.
No wonder, midway through the third quarter, Dawgs fans had seen enough of Bennett and sounded the alarm to bring in one of the 5-star backups. (Makes you wonder whether Nick Saban would have made the switch to ignite an offense that couldn't get anything going. It's not like he hasn't done that a time or two …)
And so the controversy begins anew.
We're a long way from Groundhog's Day, but it'll feel like that Sunday morning in Athens.
7. Changing gears … if Duke can recruit basketball players, Georgia Tech can recruit, too …
I laugh every time one of the Ivy League wannabes blames their athletic shortcomings on impossible-to-reach admission standards.
Please, people.
I've interviewed hundreds of Duke basketball players. With few exceptions, they're not getting into Duke on their academic prowess. (That's not a shot at their intellect; I couldn't have gotten into Duke, either, even if you doubled my SAT score … not that anybody in the Raleigh-Durham-Chapel Hill area in the mid-1980s actually wanted to go to Duke, but that's another story.)
It is, however, a realization that if Duke can build one of the best basketball programs in America with some of the highest admission standards in the country, you can get athletes into your school, too.
Find a way. You know, like Wake Forest football has done.
If Georgia Tech ever figures that out — remember, Bobby Cremins built a basketball power and Tech's baseball program once was a College World Series regular — the football program is sitting on a recruiting gold mine.
That's a potential threat to the SEC.
Georgia in general and Atlanta in particular can compete with any area in the country in terms of producing blue-chip football recruits.
Tech's problem — and the reason Geoff Collins is looking for work — is they don't sign nearly enough of them.
In the past 5 recruiting classes alone, Georgia produced 190 players who graded out as 4- or 5-stars.
Georgia Tech signed exactly 6 of them — and Jahmyr Gibbs, the best of that bunch, left for Alabama.
That's the problem. Fix that, you fix everything.
Deion Sanders would fix that. And I absolutely love the thought of Prime Time getting the chance to do exactly that.
6. Freeze vs. Georgia linebacker? SEC speed on display …
Everybody loves The Freeze, the Atlanta Braves' speed mascot who challenges randoms to a foul pole-to-foul-pole foot race and then promptly embarrasses them. In 5+ years, The Freeze rarely loses.
You probably know The Freeze's story. His name is Nigel Talton and he works for the Braves' grounds crew. He's also a former college sprinter at the NAIA level. He doesn't quite have world-class speed, but he certainly has dominate-the-rec speed.
This week, he challenged former Georgia linebacker Rennie Curran, who played for the Dawgs from 2007-2009.
Curran picked up his first sack in years.
Freeze beat. pic.twitter.com/uK8siS6wES

— Maria Martin (@Ria_Martin) October 2, 2022
Two thoughts on a potential rematch:
1. Get Prime! If the Braves win the NL East, they will have a home playoff game on Oct. 11. Why not stage a race against the fastest Brave of all time on the 30th anniversary of the day Deion Sanders played an NFL game and a World Series game? Better yet, Prime can interview for the Georgia Tech gig earlier in the day, then helicopter 20 miles north to Truist Park. This stuff writes itself.
2. Or, a Curran-Freeze rematch would be a lot more entertaining if each guy started on opposite foul poles and had to go through each other while staying on the warning track to get to the other side.
Come on, Freeze. You up for a punt return challenge?
5. 5 notable numbers
— 2 and 2: That's the longest winning streak any team has managed against Nick Saban's Alabama teams. That's also the number of teams that have managed to beat the Tide in back-to-back games. LSU did it by winning in 2010 and 2011 (then getting shut out in the 2011 national title game rematch). Ole Miss did it in 2014 and 2015. That's the daunting task facing Texas A&M in Week 6 … at Bryant-Denny, no less.
— 12: Wisconsin ran for 12 yards Saturday in a question-everything 34-10 loss at home to Illinois. (Who coaches Illinois? Fan-favorite Bret Bielema, the former Wisconsin coach, of course.) New OC Bobby Engram was brought in to change the Badgers' fortunes. This wasn't the change they meant. As for Bielema? His stud running back, Chase Brown, hit triple digits again and continues to lead the country in rushing.
— 5-0. That's Kansas' record. (Please, Bill Self, don't remind everybody Kansas is still a basketball school. Others taking shots at a rival is always allowed….)
KU has won more games in the last 5 weeks than Nebraska has in 93 weeks.

— Christopher Heady (@heady_chris) October 1, 2022
— 64 and 37. Clemson extended 2 of the nation's longest active streaks Saturday when it beat NC State. It was Clemson's 64th consecutive victory when it led at the half and its 37th consecutive victory at home.
— $95 million. That's Jimbo Fisher's buyout, in case you were wondering. I'm wondering when Fisher's folks will get with Aggies folks and work out some kind of mutual parting in time for Fisher to latch on to another Power 5 gig. Whatever Texas A&M thought it was getting when it offered Fisher the world, it isn't.
4. The 4 Playoff teams are …
1. Ohio State, 2. Alabama, 3. Clemson, 4. USC
Overreacting to Georgia? Maybe I underreacted after its sloppy performance last week.
The play-calling Saturday was strange, especially in the red zone.
Will the Dawgs bounce back? Likely, but I dropped them to No. 5. Are they who we thought they were after the first 3 weeks? Stay tuned, but Playoff spots are earned, not given.
As for Clemson, the Tigers are a different team when DJ Uiagalelei is a true dual-threat. The Tigers have passed their 2 biggest exams. Their remaining path to the Playoff is filled with open-book quizzes. Ditto USC.
3. Lane Kiffin touched his player's shoulder pads! Oh, no!
Lane Kiffin is a lightning rod for controversy, so, of course, Twitter overreacted when cameras caught Kiffin pushing tight end Michael Trigg, who had just been whistled for a false start on 4th-and-short. That penalty forced Kiffin to change his mind and punt.
As Trigg jogged off the field, a clearly irritated Kiffin pushed him.
About as animated as you'll see Lane Kiffin.

Gives Michael Trigg a shove after his false start spoiled Ole Miss' 4th down attempt. pic.twitter.com/O9vVAPcFOy

— Connor O'Gara (@cjogara) October 1, 2022
Big deal.
Kiffin is a lot of things, most notably the best offensive mind in the SEC, but he is no Woody Hayes.
So just stop with the "suspend him!" nonsense, a'ight?
Focus, instead, on how Kiffin has the Rebels in prime position to make a Playoff run behind one of the nation's most versatile offensive attacks.
2. And that's a wrap on the Bryan Harsin era …
Which was worse: Blowing a 17-0 lead at home against LSU? Or the horrific, tombstone-inscription trick play that resulted in a (likely) era-ending interception?
Seriously, I have no idea what Auburn was thinking. Chance to go ahead, and you call this?
We've found the perfect play to represent Auburn football as a whole.

— Joe Tansey (@JTansey90) October 2, 2022
That will be the play that gets the boosters to write the checks.
1. Tua vs. The Shield …
Everybody had a reaction after watching former Alabama star Tua Tagovailoa lie motionless after being slammed to the turf Thursday night at Cincinnati.
It was beyond scary. For those of us old enough to remember, it brought back painful memories of Darryl Stingley. Forget football. I just hoped Tagovailoa would be able to walk again.
The primary question, of course, was: Why was Tagovailoa even allowed to play?
Just 4 1/2 days earlier, Tagovailoa appeared to be knocked out after absorbing a hit against Buffalo. Teammates had to hold him upright after he stumbled to his feet.
The Dophins remained adamant that Tagovailoa passed every test imaginable and was cleared by multiple medical sources to play Thursday.
If that's true, it's time to change the damn tests … or the people administering them.
No sooner than I typed that sentence, reports surfaced that the NFLPA had, indeed, fired the independent doctor who evaluated Tagovailoa after the Buffalo game.
The NFL Players Association has terminated the unaffiliated neurotrauma consultant involved in Tua Tagovailoa's concussion check last Sunday, as @ProFootballTalk said.

Both the UNC and the #Dolphins team physician were interviewed Friday, per source. Investigation ongoing.

— Tom Pelissero (@TomPelissero) October 1, 2022
Good. More need to follow.
Somebody has to protect the players from themselves. They're wired to play through everything. The NFL has shown time and again — pick a topic — that it will act in its best interest. I mean, it basically ignored everything from concussions to sexual misconduct for the first 50 years of its existence.
Traumatic brain injuries are in the spotlight after watching the brutal video of @MiamiDolphins Tua Tagovailoa. The @NFL's Chief Medical Officer Dr. Allen Sills agreed to answer my questions about the current protocols and whether or not they are really keeping players safe. pic.twitter.com/sYlNbIalf9

— Dr. Sanjay Gupta (@drsanjaygupta) October 1, 2022
The NFL does react to public pressure, however. And the public clearly was outraged. Former players were outraged. Doctors trained in head trauma were outraged that Tagovailoa was allowed to play.
Something went drastically wrong in the protection protocols. The video above is an intelligent next step to uncovering exactly what — and, most important — fixing it.
At this point, I don't even care whether the NFL is more concerned about protecting its players — which they'll say — or saving itself from a billion-dollar class-action lawsuit.
As long as their next steps make the game safer.
As for Tua? Shut it down. Please. While you still have the choice.