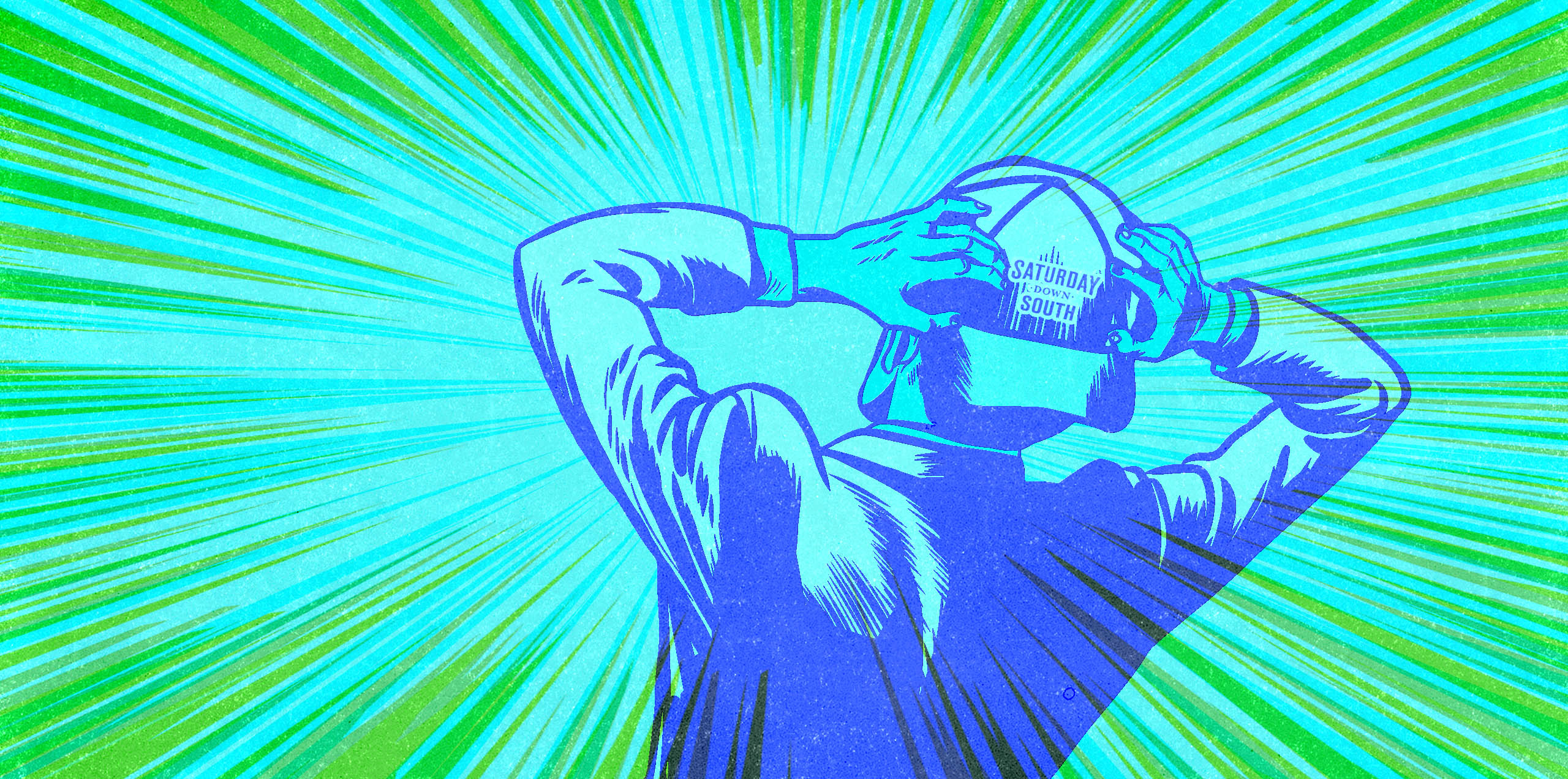 SEC
10 things I'm absolutely overreacting to after Week 7 in the SEC
The ugliest kick, maybe in college football history, was the most beautiful thing Tennessee fans have seen in 15 years.
Chase McGrath's 40-yard game-winner was, without question, the best knuckleball delivered by a Vol since VFL RA Dickey leaned on his to win the 2012 NL Cy Young Award.
Chase McGrath's 40-yd FG that sent Neyland Stadium into a frenzy. #Tennessee emphasized all off-season playing a full four quarters this year. They utilized every last second to end a 15-game losing streak against #Alabama. @Local3Sports pic.twitter.com/trdK6Qq0xe

— Ben Bobick (@BenBobickLocal3) October 16, 2022
McGrath could redo that kick 1,000 times and never replicate that odd, wobbly rotation.
That only adds to the legend.
Tennessee's epic victory over Alabama is just 1 of the 10 things I'm absolutely overreacting to after Week 7 in and around the SEC.
10. Tennessee is going to win the national title! What?
I'm not surprised Tennessee finally beat Alabama and ended its 15-game losing streak to the Tide. In each of the 2 previous Overreactions, I wrote that the Vols would beat the Tide. Heck, last week, I moved Tennessee into the Playoff field and removed Alabama from the top 4. That went over really well in the comments.
But how they actually slayed the king was more unbelievable than anybody could have imagined.
There were too many jaw-dropping, game-changing plays to recap, but did any neutral observer give the Vols a chance to stop Bryce Young on Bama's final drive?
I certainly didn't. At that point, I was thinking: This is what happens when you swing at the King.
After Tennessee stormed to a 28-10 lead, the Tide's drive chart looked like this:
Touchdown
Field goal
Touchdown
Touchdown
Punt
Touchdown
Defensive touchdown
Not to sound like Nick Saban in his HOF rant about trying to stop Georgia Southern, but Tennessee could not stop Alabama's offense. Could not stop them. Until it mattered most, when the Vols pressured Young into 3 consecutive misfires from the Vols' 32, which forced the Tide to attempt a go-ahead 50-yard field with 15 seconds left.
Will Reichard missed.
And that set up the wildest 15 seconds of Tennessee football in the past 15 years and turned up the national championship hype to infinity.
Can the Vols actually run the table? Time will tell, but I now believe that they'll beat Georgia in Athens and give themselves a chance to win their first SEC title since their perfect 1998 season.
The Vols' offense is that good.
9. Hendon Hooker … Heisman winner?
Kudos to those who placed a preseason bet on Hooker to win the Heisman.
You could cash in pretty nicely.
Now? The bandwagon is filling up fast.
After outdueling Bryce Young and becoming the first Vols QB to beat Nick Saban, Hooker's Heisman Trophy odds surged late Saturday. He is now 2nd only to Ohio State QB CJ Stroud.
It wasn't just Hooker's gaudy numbers, either.
Sure, the career-high-tying 5 TD passes look great, but Hooker showed poise in overcoming rare bouts with adversity, too. He bounced back from his first interception of the season by hitting Jalin Hyatt for a 78-TD on the Vols' next drive to put UT ahead. Later, he shook off a botched handoff that resulted in an Alabama scoop-and-score by leading the Vols on a 75-yard TD drive to tie the score.
Then, of course, he completed 2 passes for 45 yards in 13 seconds to set up McGrath's walk-off field goal.
In a game everybody watched, those clutch moments will be remembered — and likely rewarded — as long as the Vols keep rolling.
8. What are you doing!!??!!
Nick Saban deserves his own channel. Forget the action on the field. He's more entertaining. Nobody lives and dies with every aspect of every play quite like Saban.
Watch Saban react after Alabama's Quandarrius Robinson (No. 34) made a curious decision to try and pick up a punt that was about to be blown dead.
Saban had a few questions, laced with choice words.
Nick Saban not happy after Alabama turns it over on special teams. pic.twitter.com/5xIKBfAHn3

— CBS Sports (@CBSSports) October 15, 2022
It's a fair question. What the … was Robinson doing? Robinson apparently thought his teammate touched the punt, so he tried to recover the ball. He touched it, and Tennessee pounced on it.
Two plays later, the Vols scored to take a staggering 28-10 lead.
7. Litte things that lead to big buyouts …
Poor Auburn. The Tigers deserve better than to practice and play knowing their coach this week might not be on the sideline next week.
Nobody likes being in limbo, but that's exactly where the Tigers have spent the past 12 months.
And still, they fight. They pushed Ole Miss to the brink Saturday, overcoming mistakes, a brief QB benching and a sideline dispute among players along the way.
Eventually, they broke. But only after the kickoff return team didn't line up correctly or react quickly, which allowed Ole Miss to execute one of the easier onside kick recoveries maybe … ever?
OLE MISS WITH A SURPRISE ONSIDE KICK! pic.twitter.com/5nnvtIUUtV

— CBS Sports (@CBSSports) October 15, 2022
Give Ole Miss credit for a flawless kick, capped by the perfect easy-to-handle big hop.
But understand that Ole Miss doesn't even attempt that kick if Auburn is lined up correctly instead of having one of the up-front men 20 yards off the ball.
Alignment is coaching. And, unfortunately for Bryan Harsin, that blunder is merely the latest made-for-Twitter example of why the Tigers have to turn the page.
6. But it's OK, because Nebraska needs a coach …
Lance Leipold: 5-2 (lost 2 straight)
Dave Aranda: 3-3 (lost 2 straight)
Matt Campbell: 3-4 (lost 4 straight)
Mark Stoops: 4-2 (lost 2 straight)

Does no one want to win the Trev Alberts bowl

— HuskGuys (@HuskGuys) October 15, 2022
Harsin fits with these candidates. He has lost 3 consecutive games.
(And Stoops ended his slide after that tweet.)
5. 5 notable numbers
9-0: That's Bret Bielema's record vs. Minnesota. This sounds impossible to believe, but Illinois might actually win the B1G West. They have no shot against Ohio State (presumably) in the B1G title game, but the West champ never does, so …
6: That's how many combined TDs LSU QB Jayden Daniels had in an exciting 45-35 win over Florida. Daniels threw 3 TD passes and ran for 3. Burrow-like.
5: That's how many TD catches Tennessee's Jalin Hyatt had vs. Alabama. Hyatt broke the program record and matched the SEC record. … That's also how many TD passes Arkansas QB KJ Jefferson threw in the Hogs' win at BYU. That's a career-high for Jefferson, who became the 4th QB in program history to throw 5 TD passes in a game.
418: That was Michigan's rushing total against a Penn State defense that entered the Big House with the nation's No. 5 rush defense. Michigan also ran for 4 TDs; Penn State had allowed just 3 rushing TDs in its first 5 games.
1: That's how many TD passes Will Rogers threw Saturday in a loss at Kentucky. Rogers usually hangs a crooked number in the TD column, but this still was notable. It was Rogers' 70th career TD pass, tying him with Dak Prescott for most all-time at Mississippi State.
4. The 4 Playoff teams are …
1. Ohio State, 2. Tennessee, 3. Georgia, 4. Michigan
Ohio State was idle Saturday, which is the only way to keep the Buckeyes out of the end zone.
Alabama and Clemson remain in the mix. USC is done. UCLA might emerge. I cooled on Michigan in recent weeks, but the Wolverines' run game looked fantastic and JJ McCarthy made just enough plays with his arm to overwhelm No. 10 Penn State. Joel Klatt and Company will continue to beat the drum for the B1G to land half of the Playoff field. That's an overreaction. Ultimately, I don't think it happens because I believe Clemson will finish the season as an undefeated Power 5 conference champion. But in real-time, Michigan gets the nod.
3. So long, USC … and probably the Pac-12, too
While you were sleeping — or celebrating Tennessee's win — the undefeated Trojans blew a 28-14 lead at Utah and lost 43-42 when the Utes converted a 2-point try for the winning points. Gutsy call.
Costly, too.
The Pac-12 does not get the benefit of doubt. It will have to produce an undefeated champion to make the Playoff.
Don't blame Caleb Williams, however, for the Trojans falling short. He was sensational in throwing 5 TD passes and giving USC a chance. Ultimately, the defense collapsed.
Utah's final 4 TD drives covered 70, 75, 79 and 75 yards.
USC needed a stop. It didn't get one — and now, the Pac-12's Playoff bid is UCLA or bust.
It won't be an easy ride for the Bruins, who beat Utah last week, face Oregon next week and get USC in the next-to-last game. Escape all of that unscathed, and the Bruins would have to beat one of those teams again in the Pac-12 title game.
2. Can the new Runnin' Rebels race to the SEC West title?
With apologies to Tark and Grandmama, there's a new version of the Runnin' Rebels, and Lane Kiffin's crew hits triple digits with ease, too.
Three Ole Miss players topped 100 yards rushing against Auburn. The Runnin' Rebels led the SEC in rushing last year and entered Saturday as the SEC's No. 2 rushing offense. They were even better than advertised.
The Rebels ran for a Kiffin-era best 448 yards.
That actually was the Rebels' highest rushing total in the 2000s — and the 6th time in that span that they topped 400.
In case you were wondering, the program record is 515 yards, set in 1951 against Auburn. (Some Auburn fans will try, but you can't blame that one on Harsin.)
Looking ahead, because that's what we do, and it's easier than ever to start anticipating that Nov. 12 date with visiting Alabama and wondering if the Tide defense that Saban described as soft can slow down the Runnin' Rebels.
1. Alabama still has a very viable Playoff path …
Resist the urge to overreact, a'ight? Bama still has a path.
Alabama hasn't been allowed to claim a moral victory since 2008, and they're not about to start now, but I thought the Tide played their best game of the season Saturday. They overcame everything. Well, almost everything. Penalties, boneheaded turnovers, 100,000+ fans, etc.
They'll drop in the AP Poll on Sunday, but they're still the heavy favorite to win the West and return to Atlanta, where they would get a rematch with Georgia or Tennessee.
Win that, and the Tide will return to the Playoff.
That's the roadmap.
Do I think that will happen? No. I haven't been that high on the Tide all season and it wouldn't surprise me if Ole Miss handed the Tide a rare 2nd SEC loss.
But the King's not dead yet. Far from it.