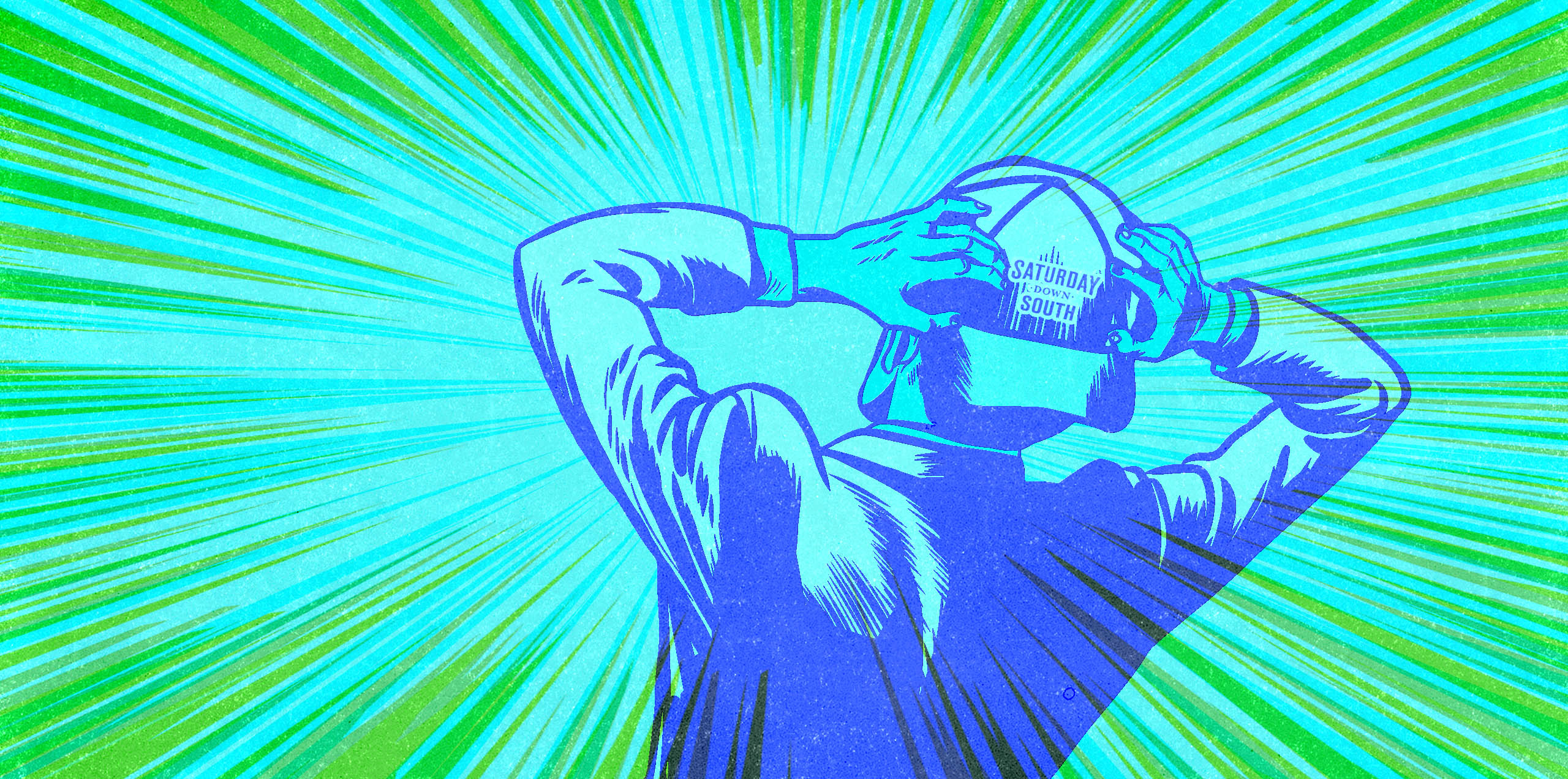 SEC
10 things I'm absolutely overreacting to after Week 8 in the SEC
Half of America enjoyed a bye week Saturday.
Penn State, Oklahoma, Oklahoma State, Michigan and Coastal Carolina should have joined them.
Sleepwalking through Week 8 is just 1 of the 10 things I'm absolutely overreacting to in and (mostly) around the SEC.
10. Bert!
Bret Bielema started the week by calling out the Illinois players he inherited, questioning whether any of them were good enough to deserve a scholarship.
He ended the week by celebrating a shocking upset over No. 7 Penn State, the biggest of the 2021 college football season.
It took 9 overtimes, most in FBS history, but Illinois officially ended Penn State's Playoff hopes with a 20-18 victory.
What a great moment for Bielema, who deserved a better ending at Arkansas.
What a terrible moment for Penn State and the B1G. Penn State has nobody to blame, too. The Nittany Lions had at least 3 opportunities to make game-winning plays in overtime and botched all 3.
9. Do you still believe in the B1G East?
That division has laid claim to the best in college football this season, planting the seeds that it deserves 2 teams in the Playoff.
I mean, it looked great on paper. They had 4 teams in the top 9 of the AP Top 25 poll. Two of those teams entered Week 8 undefeated. All were expected to cruise into Week 9, where blockbuster matchups awaited: Unbeaten Michigan vs. Unbeaten Michigan State; The Ohio State vs. Penn State. Oh, the drama!
The premise, however, was premature and fundamentally flawed.
First, let's explain why it was premature — even before Illinois physically pounded Penn State on Saturday and Michigan struggled more than necessary against Northwestern.
What, exactly, had the B1G East done through 7 weeks to deserve such anointment? Sure, Penn State held on for dear life at home to beat Auburn and secure a quality win. But Ohio State lost at home to Oregon. Michigan's best win is a home victory over Washington, which entered Saturday 3-4. Michigan State's best win is at Miami, which sounds impressive, until you remember that the Canes entered Saturday 2-4 and could fire its head coach just about any day now.
In other words, there wasn't a lot of "there," there.
The argument is fundamentally flawed because the B1G East has done next to nothing in the Playoff. Seven weeks of football can't erase 7 years of Ohio State and Everybody Else.
OSU won the 2014 title and got to the 2020 title game. The Buckeyes account for all 3 of the B1G East's Playoff victories. Michigan State is the only other B1G program that has made the Playoff — and the Spartans were promptly shut out in a semifinal.
The only way to legitimately claim conference or division supremacy is to start by winning a national title, then work your way down.
Saturday, of course, torched the premise entirely and rained on the B1G's Week 9 party. There's absolutely no scenario in which the B1G East is providing 2 Playoff teams in 2021.
The SEC West remains the best division in college football.
8. Do you still believe in Michigan?
We've been asking for 2 months whether the Wolverines were for real. (I still kind of think they are.) With absolutely nothing else to watch at noon Saturday, UM had a chance to impress.
Instead, the Wolverines limped to a 10-7 halftime lead over Northwestern, the same squad that lost to Duke and was obliterated by Nebraska.
How bad was it? Gus Johnson — My. Fav-or-ittttte Ahhh-noun-cer! — couldn't keep me tuned in. I'm guessing most of America flipped the channel, too. (If you did, Michigan pulled away in the second half while you weren't watching. I wonder if the Playoff committee still was watching.)
7. Do you still believe in Oklahoma?
If so, why?
Give the Sooners … um, credit? Rallying to beat Kansas certainly is better than losing to the worst team in Power 5.
The Sooners still have the same coach, same scheme, same uniforms, but they look nothing like the formidable Playoff threat they've been in the past.
That's bad news for the Big 12, because Oklahoma is the league's only Playoff hope still standing.
6. 6 thoughts that popped into my head Saturday
When was the last time the state of South Carolina didn't have a team ranked in the Top 25? (It was Week 12 in 2014. It's likely to happen again Sunday.)
Why don't more teams with plain helmets add numbers? Penn State's alternate helmet/Alabama-look-alike looked great.
Would Kentucky go undefeated in a football-basketball doubleheader round-robin against UNC, Duke, Kansas and Indiana?
Did you think Wake Forest vs. Army would be the highest-scoring FBS game of the season — and one of the highest in FBS history? Vegas certainly did not. The over/under was 52.5 points. Both teams topped that in a 70-56 shootout.
Are Vols fans excited about entering the 4th quarter only trailing Bama by 7? Or concerned that they still lost by 28 … and were kind of happy at the progress?
Is this fair? Better yet, how is this fair?
TREYLON pic.twitter.com/DdZnYtwpT3 https://t.co/Slru4rHyJz

— Benjamin Solak (@BenjaminSolak) October 23, 2021
5. There are no words …
Instead of spiking it on first down and stopping the clock, Colorado State rushed their field goal unit onto the field.

With the clock running, they then missed the potential game-winning field goal. Utah State wins the game. pic.twitter.com/vw3sXclgDP

— CBS Sports Network (@CBSSportsNet) October 23, 2021
To set the stage: Down 2, Colorado State just gained a first down with 11 seconds left. The clock briefly stopped to move the chains. They were in field goal range, but instead of spiking the ball, somebody decided to send in the kicking team.
Honestly, everybody is at fault. Decently-coached high school quarterbacks would know to spike the ball to kill the clock.
Colorado State's head coach is Steve Addazio, and that head-scratcher of a play probably explains why his teams are 1-game under .500 over the course of his 11-year career.
I'm not exactly sure, however, how that play explains why he's been hired 3 times.
4. The 4 Playoff teams are …
1. Georgia, 2. Ohio State, 3. Alabama, 4. Cincinnati.
Oklahoma will be in the mix (but not at undefeated Cincinnati's expense). I'll say this for the undefeated Sooners: I'm not impressed, but if they run the table, they will have earned it. They have road games at No. 20 Baylor and No. 8 Oklahoma State in addition to a home game against giant-slayer Iowa State.
3. Brilliant idea! D'oh! …
Wow! They just announced on Kansas radio network that stadium gates are open, no more tickets required. "If you're in town, come on down!"

Kansas 17, Oklahoma 7. 3Q

— Brian Davis (@BDavisAAS) October 23, 2021
Those Kansas fans who did bother to race down to the field got there just in time to watch Oklahoma rally to their 17th consecutive victory over Kansas.
2. More Bill Walton, please …
The Alabama joke was funny enough. "Do they play road games? They need to come to play the conference of champions."
But he didn't stop there. Surprise, surprise, he likes Cougars. And, of course, bears.
"Have you ever seen a bear fight a duck?"

Bill Walton brought it on GameDay ? pic.twitter.com/2UEXpFnZ8T

— College GameDay (@CollegeGameDay) October 23, 2021
Bill Walton's segment on College GameDay was exactly what America needed to open an otherwise uninspiring Week 8 slate.
1. Alabama's biggest problem
Alabama has a lot of really good players, but, aside from Jameson Williams, it doesn't have a single offensive player who can take over a game.
That's the biggest difference between this team and the previous 5 editions.
The Tide entered Week 8 tied for 9th in the SEC in 30+ yard plays with 13. They had just 1 Saturday night against Tennessee.
Last year, they finished 2nd in the SEC with 40 such plays.
In 2019, they were 2nd with 43.
In 2018, they were 2nd with 47.
In 2017, they were 7th with 30, but they led the SEC in 2016 with 51.
It won't matter in most games, but the stress of trying to stack multiple 10-play, 70-yard TD drives against a defense like Georgia's ultimately will be their undoing.