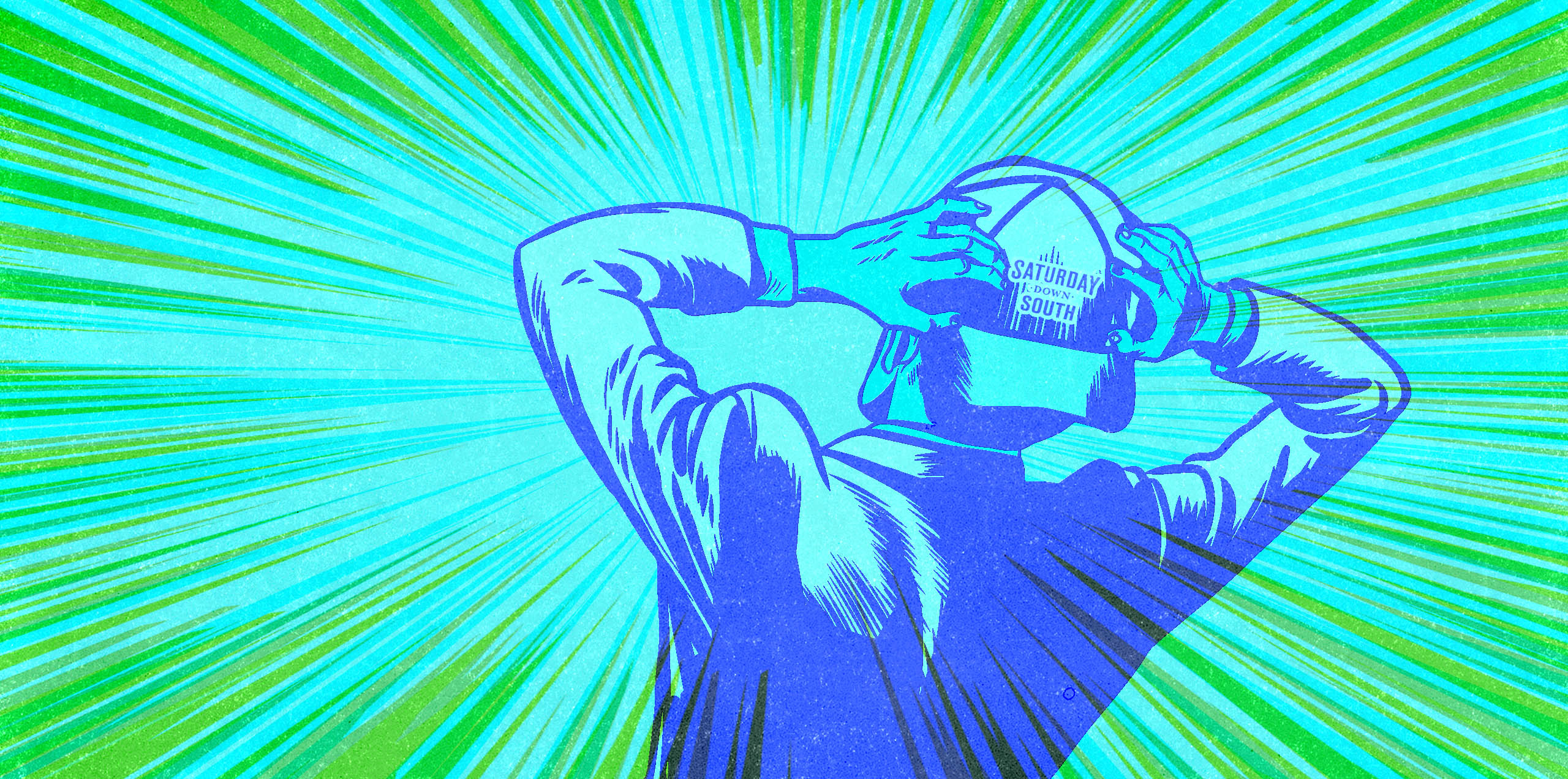 SEC
10 things I'm absolutely overreacting to after Week 8 in the SEC
If I ran Saturday Down South like some of these coaches chose personnel and called plays, "Monday Down South" would publish every Thursday, "SEC 360" would be a weekly ode to the Big Ten and "First and 10" would stop after 7 items.
What in the world is going on?
#Collegecoaches became #collegekickers Saturday.
Thank goodness the Big Ten West remained the Big Ten West, retaining some sense of normalcy.
Here are 10 things I'm absolutely overreacting to after a what-was-that Week 8 in and around the SEC.
10. Is Tua gonna be OK?!
Nothing else matters until we know for sure the severity of Tua Tagovailoa's latest ankle injury.
I'm no doctor, but ankles aren't supposed to do this.
Tua Tagovailoa to the medical tent after this nasty looking ankle injury. pic.twitter.com/AM9cuV11Dx

— Bryan Fischer (@BryanDFischer) October 20, 2019
Nick Saban didn't seem terribly concerned about any long term impact after Bama held on to beat Tennessee. He said Tagovailoa will sit next week against Arkansas, giving him 2 weeks to heal for LSU.
This is not an overreaction: Alabama's Playoff hopes are done if Tua isn't 100% against LSU and beyond.
9. Justin Fields continues to rub it in Georgia's face
We all get it. Kirby Smart loved Jake Fromm from the jump. Fromm was his signature recruit and mostly has rewarded the faith shown.
The thing I'll never understand is how Georgia misused Justin Fields last season. Fields only threw 39 passes. (It wasn't simply a matter of playing time; he ran it 42 times.) Because of how Georgia used Fields, there were concerns about whether Fields could throw or whether he was struggling to grasp concepts, progressions, etc.
Nobody is asking that now.
Fields threw 4 more TD passes Friday, giving him 22 this season. (He also has 8 rushing TDs).
Here's my new question: If Fromm returns for his senior year — his draft stock has slipped a bit and that arm won't get stronger in March — who goes first in 2021: Fields or Fromm?
I think we both know that answer.
8. I have no idea what Chad Morris is doing. Worse, neither does he
What in the world is going on in Arkansas? pic.twitter.com/D6WWK7SINI

— Denny Thompson (@denny_thompson) October 19, 2019
We're getting to the point where we need to power rank the worst fake punt attempts in SEC history.
The worst part about Arkansas' fake? It must have worked in practice against Arkansas' defense …
7. Mizzery …
Mizzou can't even blame this on a wayward tutor with bad intentions.
The only thing that would make Mizzou fans angrier than losing at Vanderbilt this season would be for the NCAA to announce Monday that the postseason ban is reversed and the Tigers are eligible for the SEC Championship Game. Sure, now!
For a good team, Mizzou has some of the strangest losses.
Also, how 'bout them VandyBoyz!
I'm ready to go run through a brick wall pic.twitter.com/gpRQJc8cAe

— Timothy Burke (@bubbaprog) October 19, 2019
6. Joe Moorhead … Rutgers could use a man like you
This is one of those rare, perfect times when it didn't work out, everybody knows it and there's an opportunity for both parties to find happiness elsewhere.
Forget the buyout talk.
If I'm Mississippi State, I let Joe Moorhead go, free of charge, because, you know darn well you already were wondering how much this was going to cost you to buy him out.
Everybody had good intentions. It didn't work out.
If Moorhead is Rutgers' top choice, let it happen.
And then send Dan Mullen a way-too-late thank you card and tell him you're sorry you didn't appreciate him enough and had no idea how difficult it would be without him.
The most outrageous part of this entire flirtation? Moorhead might think it's easier to win Big Ten games at Rutgers — Rutgers! — than SEC games at Mississippi State.
He wouldn't be wrong, either.
5. Bottom 5 of Power 5
The worst of the weak, in order of ineptitude, because the alphabet is far too forgiving.
1. Wisconsin (Big Ten): I told you Wisconsin was overrated.
Did you know Ohio State and Wisconsin have combined for exactly 1 victory over a team ranked in top 20? I doubt it, because that hasn't been part of the narrative.
Their schedules are a travesty, but you haven't heard that nationally.
All you have heard for 3 weeks is how these 2 teams were Playoff worthy, how this Wisconsin team is flat out nasty, blah, blah, blah.
Some analysts actually had Wisconsin higher than Clemson.
Joel Klatt's was the most outrageous. (Clemson would finish 4th in the Big Ten!)
My CFB Top 10 Wk 7
1) @OhioStateFB
2) @LSUfootball
3) @AlabamaFTBL
4) @OU_Football
5) @BadgerFootball
6) @PennStateFball
7) @ClemsonFB
8) @GatorsFB
9) @GeorgiaFootball
10) @NDFootball

— Joel Klatt (@joelklatt) October 13, 2019
All I've been saying is that the Big Ten West is propped up more than any division in college football. Saturday morning, with the Ohio State-Wisconsin matchup just a week away, I sensed an impending storm of over-the-top hysteria about that game. So I wrote, again, why I don't trust Wisconsin.
I don't trust anybody in the Big Ten West. The division is a joke. We've seen it for 5 consecutive years. And we saw it again Saturday.
What's next? They'll say they meant Minnesota!
At least the ACC Coastal knows its place.
2. Arkansas (SEC): Take your pick. The offense was terrible (again). The coaches were terrible (again). I've seen enough. I've given Chad Morris enough credit for helping Clemson become Clemson. This is embarrassing. Bret Bielema's offense has never looked more beautiful.
3. Florida-South Carolina game officials (SEC): It's not just that they missed calls, it's that they missed obvious calls on scoring plays. Twice.
They missed a false start on one Florida TD and they missed an obvious pick/offensive pass interference on another. That's 14 points, in the same direction.
Those calls changed the game. There has to be a better way.
Don't look to C-USA for answers. Apparently officials from that league struggled Saturday as well.
@ConferenceUSA pic.twitter.com/C1B3GT9ODz

— Lane Kiffin (@Lane_Kiffin) October 20, 2019
4. Oklahoma Schooner driver (Big 12): Fortunately, the horses were not injured. We all know the outrage that would have caused. The woman? The Sooners were so concerned about her that they rushed out to … check on the wagon. Sooner Schivalry?
DOWN GOES THE SOONER SCHOONER pic.twitter.com/egmf4rEXfg

— Yahoo Sports College Football (@YahooSportsCFB) October 19, 2019
5. Stanford (Pac-12): Tough year for SAT standouts. Stanford just lost to UCLA. I know that sounds like something that should happen every year, but it actually hadn't happened for the past 11 years. The streak is over. Chip Kelly is back, baby!
4. The 4 Playoff teams are …
No. 1. LSU, No. 2 Oklahoma, No. 3 Clemson, No. 4 Alabama*.
Ohio State is a firm No. 5. The Buckeyes haven't played anybody ranked in the top 24, so it's hard to get all worked up about their typical hot start. OSU's name-brand win was over a then-No. 25 Michigan State team that already has 3 losses.
OSU hosts Wisconsin next week. But Illinois just beat Wisconsin. That's a huge blow to the Big Ten's Playoff hopes. It means Ohio State has to run the table or the Big Ten might be sitting out of its 3rd consecutive Playoff. There will be better candidates than a 1-loss Big Ten champion with no substantial victory to speak of.
(* Is Tua gonna be OK?)
3. The Clemson hate is hysterical
We're at the point where people are legitimately questioning Trevor Lawrence after every single throw.
Lawrence finished with 3 TDs. Clemson won its 22nd consecutive game. Justyn Ross caught another TD pass. Travis Etienne ran like Travis Etienne.
Clemson responded to Dabo's bye-week butt-chewing by outscoring its 2 most hated division rivals 90-24.
Clemson has re-engaged, OK?
I'm still laughing that Joel Klatt thinks Clemson would be the 4th-best team … in the Big Ten.
2. First to 50 …
Joe Burrow threw 4 more TD passes Saturday. In the process, he set LSU's single-season mark at 29. He did that in 7 games.
Drew Lock's SEC record of 44 seems like child's play at this point.
Can Burrow get to 50?
Can Burrow hold off Tua Tagovailoa? (Is Tua OK? Sorry. I asked that already, but, seriously … is Tua OK?)
Can both zoom past Lock's 44, much like Derrick Henry (2,215) and Leonard Fournette (1,953) zoomed past Herschel Walker's decades-long rushing record (1,891).
I'm not betting against it (as long as Tua is OK).
Burrow is going to win the Heisman (and the Butt-kus.)
1. You gonna keep this kid out of the Playoff? No way …
https://twitter.com/CollegeGameDay/status/1185574731732439041
The greatest college football story has yet to be written. But the script revolves around Jalen vs. Tua. Not for the starting job. For their place in history.