SEC
10 things to watch during SEC Media Days
The annual media extravaganza of the south has arrived. SEC Media Days 2015 begins today!
For media and fans anxious for the return of college football, today is a good day.
If you're a die hard fan who can't get enough, or you're simply looking for a distraction from your regular routine this week, we've got ten things to watch during this week's Media Days.
First, let's look at the schedule of the week:
Monday, July 13
11:30 a.m. – 2:20 p.m.
Commissioner Greg Sanker
Auburn (Coach Gus Malzahn/Jeremy Johnson/Jonathan Jones/Kris Frost)
2:30 p.m. – 5:30 p.m.
Florida (Coach Jim McElwain/Jonathan Bullard/Brandon Powell/Vernon Hargreaves III)
Vanderbilt (Coach Derek Mason/Ralph Webb/Nigel Bowden/Spencer Pulley)
Tuesday, July 14
8:30 a.m. – 9:00 a.m.
Steve Shaw, SEC Coordinator of Football Officials
9:00 a.m. – 12:20 p.m.
South Carolina (Coach Steve Spurrier/Elliott Fry/Pharoh Cooper/Skai Moore)
Texas A&M (Coach Kevin Sumlin/Mike Matthews/Germain Ifedi/Julien Obioha)
1:00 p.m. – 4:00 p.m.
Mississippi State (Coach Dan Mullen/Dak Prescott/ Taveze Calhoun/Ryan Brown)
Tennessee (Coach Butch Jones/Joshua Dobbs/Curt Maggitt/Cameron Sutton)
Wednesday, July 15
9:00 a.m. – 12:00 p.m.
Alabama (Coach Nick Saban/Reggie Ragland/Kenyan Drake/Ryan Kelly)
Kentucky (Coach Mark Stoops/Melvin Lewis/Jordan Swindle/A.J. Stamps)
1:00 p.m. – 4:00 p.m.
Missouri (Coach Gary Pinkel/Kenya Dennis/Maty Mauk/Evan Boehm)
Arkansas (Coach Bret Bielema/Jonathan Williams/Brandon Allen/Keon Hatcher)
Thursday, July 16
9 a.m. – 1:30 p.m.
Georgia (Coach Mark Richt/Malcolm Mitchell/John Theus/Jordan Jenkins)
Ole Miss (Coach Hugh Freeze/Evan Engram/Mike Hilton/C.J. Johnson)
LSU (Coach Les Miles/Leonard Fournette/Vadal Alexander/Kendell Beckwith)
It's a jam-packed week, but we've got you covered by helping you narrow your focus. Here are the ten things you should definitely be watching this week.
Ten Things to Watch For This Week
1. Maty Mauk
Mauktober is back! Ok, maybe my enthusiasm for Mauk in 2015 is a bit muted after a relatively disappointing season by Mauk in 2014. Yes, I'm aware Missouri won the East again, but Mauk was inconsistent and sometimes just bad. I want this guy to be great… perhaps more than anybody else.
Remember when he looked sharp a year ago at the 2014 Media Days? Look at this guy: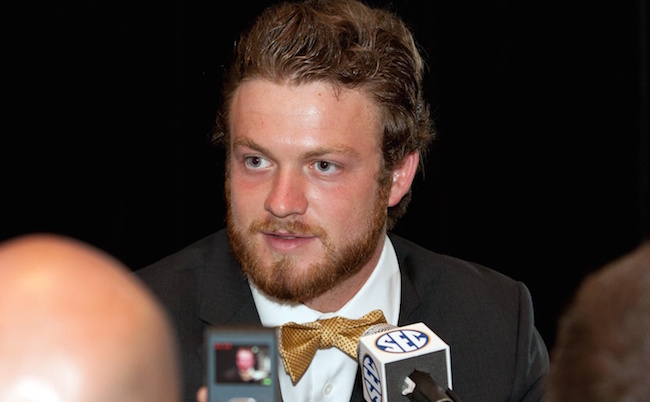 I was excited to see that Mauk would be attending Media Days once again. Thankfully, just in time for the hoopla to begin, the trusted internet has produced a rumor that Mauk pulled a Johnny Football at the Manning Camp this week in which he supposedly got wasted and was unable to perform his duties the next day as a camp counselor.
It's probably not true, but I'm hoping it is. Why? Because maybe he's channeling his inner Johnny Football. Regardless of your opinions on JFF, the guy was unbelievable in the SEC! He also delivered the best SEC Media Days moment ever: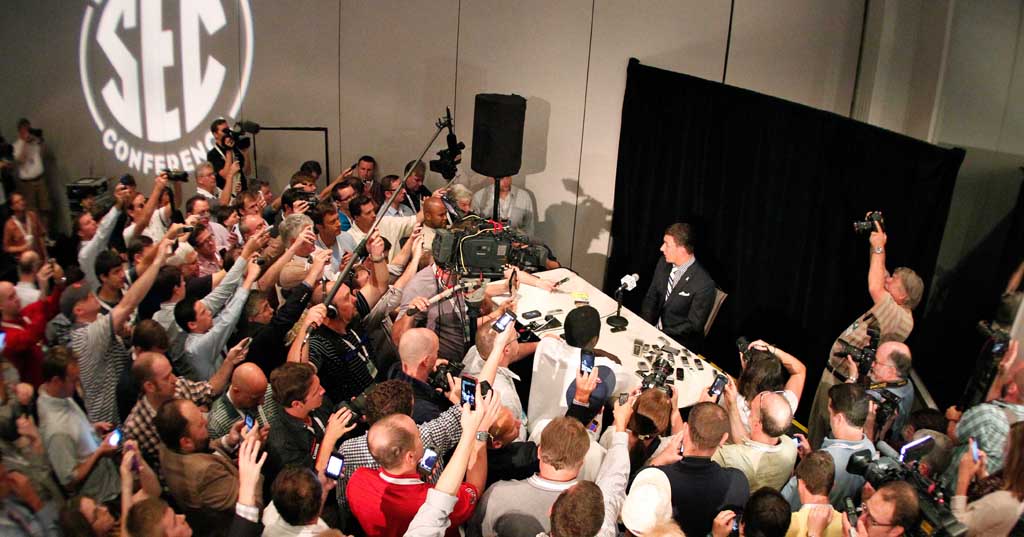 As of right now, Mauk is our best bet for anything close to JFF on and off the field. I'd estimate his JFF meter to be something along the lines of: 60% of Johnny's talent, 70% of his attitude, and 200% of his hair/facial hair. There's potential here. I'm hoping for something special out of Mauk on Wendesday!
2. Leonard Fournette
Ever since Leonard Fournette joined the college ranks, we've been fascinated by him. The guy is a unbelievable physical specimen, and he delivered a Heisman pose after his first touchdown against a nobody football team at the beginning of last season. What's not to like?
While he had some inconsistency during the season, he hit his stride late with 146 yards against Texas A&M in the last regular season game and 143 yards against Notre Dame in the bowl game. For this and other reasons, some of us expect Fournette to be the best in the SEC this season.
Fournette's appearance this Thursday will likely be pretty uneventful, but I'm hoping he announces himself as the Heisman frontrunner. Let's just get it out of the way early. Even better, I'd suggest he walk out shirtless, jump down to the floor next to the podium and rattle off a hundred pushups. Without breaking a breath, he asks the media, "Any questions?"… that would be a Heisman I could get behind! Set the tone this week, Leonard!
3. Domestic Assault / Behavioral Issues
With the recent string of nonsense out of Tallahassee regarding Florida State beating up women, it is likely that the topic is mentioned this week with the SEC head coaches.
A likely recipient for the topic is Nick Saban. Saban had an eventful offseason with a number of off-field incidents by Alabama players.
It's a different world since the Ray Rice video. The topic isn't going away. Hopefully the SEC coaches have better answers than to blame the bars in town (yes, we're looking at you, Jimbo).
4. Joshua Dobbs
The greatest quarterback in the history of football (if you ask an excited Tennessee fan) will take the podium this week, and the appearance is likely to be mesmerizing for two reasons.
First, he has no eye brows. As a result, there's a very good chance that you'll simply be staring at his face and not hearing anything he says.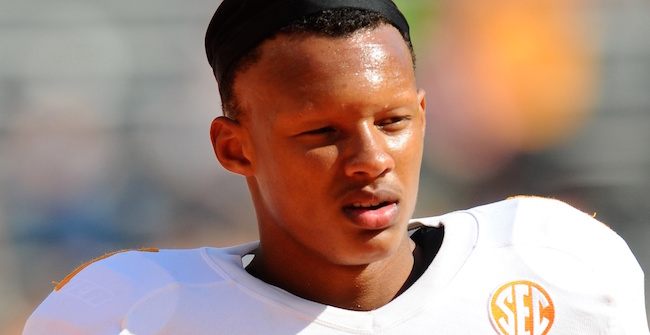 Secondly, he's the SMARTEST QUARTERBACK TO EVER PLAY. He's an aerospace engineer! As such, his answers to the media are likely to be too complex for the common man to understand.
I'm going to go ahead and make a prediction that the most annoying player anecdote for the upcoming 2015 season will be the fact that Josh Dobbs is a perfect student in his aerospace engineering major at the University of Tennessee. It's going to rival the 2009 Greg McElroy anecdote of GREG MCELROY'S DAD WORKS FOR THE DALLAS COWBOYS. Yep, the media will remind you at every chance that Dobbs is a genius playing quarterback!
For the record, Dobbs is high on my list for players to watch this season. I'm excited to see what he can do… AND HE'S AN AEROSPACE ENGIN… ok, enough.
5. Steve Spurrier
Spurrier holds Media Days in the palm of his hand. Last year we helped reunite Gamecock legend Stephen Garcia with the Ol' Ball Coach, and it didn't disappoint.
Steve Spurrier catches up with Stephen Garcia, now a media member. pic.twitter.com/8Ael0JeHtJ

— Jon Solomon (@JonSolomonCBS) July 15, 2014
What's in store for 2015?
A likely topic will be how long Spurrier intends to coach in Columbia, S.C. While his comments have been used against him in recruiting over the last year, it's unlikely that Spurrier offers much hinting at a possible retirement. On the other hand, Spurrier has an exciting quarterback recruit on the way – will this keep him around? Hopefully. SEC Media Days without Steve Spurrier sounds terrible!
6. Jim McElwain
The only new head coach for this year's Media Days is Florida's Jim McElwain. Typically the new coaches enter the arena with a well-rehearsed set of prepared remarks to control the narrative. You've seen that in recent years with Sumlin, Malzahn, etc.
For the SEC fans unfamiliar with McElwain, he's got a slow and smooth demeanor that is both confident and disarming. It's unlikely that he'll be rattled in his first SEC Media Days appearance.
Suggested questions for the media during Jim McElwain's apperance (in order):
1. Was Will Muschamp the worst head coach you've ever seen?
2. Was Jeff Driskel the worst quarterback you've ever seen?
3. In light of the previous two questions, how did Florida go 11-1 in 2012?
7. Dak Prescott
Prescott enters the 2015 season as one of the top players in the conference. While expectations seem to be a bit muted simply because of the turnover elsewhere on the Mississippi State roster, Prescott remains a top attraction this week at Media Days.
Of course, Prescott was also involved in one of the biggest incidents of the 2015 offseason when he got into an altercation at Panama City Beach, so there are plenty of great questions to ask such as: "Are you leading the other 2015 Heisman hopefuls with regards to who suffered the worst beating this offseason?"… Kidding, of course…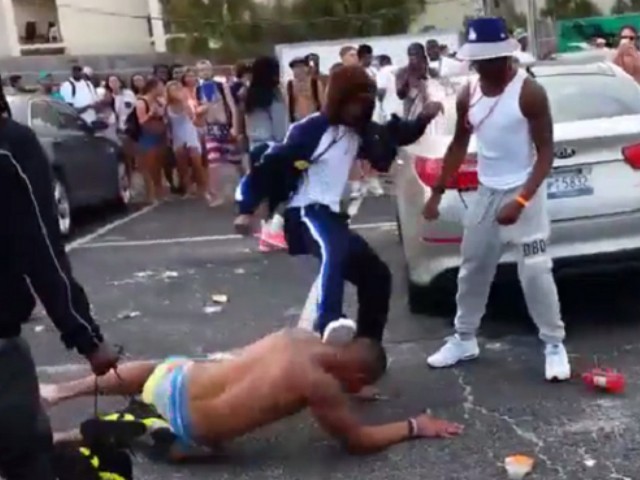 8. Kevin Sumlin
The head football coach at Texas A&M might be one of the more intriguing coaches to watch through the 2015 season. Why? Because he could be a high-profile hot seat candidate in the near future.
While Sumlin's done well at Texas A&M and when you look past just wins and losses to overall program success (recruiting, facilities, fan engagement, etc.), eventually, that's not enough. He's paid $5 million and at some point, winning has to become more consistent… even in the ultra competitive SEC West.
It wouldn't be shocking to see media ask him some questions about his job stability.
9. Nick Saban
Saban is always a main attraction at Media Days… so much so that I had to walk through the kitchen of the Wynfrey Hotel last year simply because Saban was in the lobby (security threat!).
In addition to questions regarding off-field behavior that we previously mentioned, the likely topic facing Saban is that of getting Alabama back to winning a championship. While this championship "draught" is laughable for most programs, this is the world Nick Saban himself created by winning three titles in four seasons.
Urban Meyer's Buckeyes manhandling the Crimson Tide in the Playoff last year adds to the intrigue as most in the media believe Saban has an equal up in Columbus, Ohio. It's not out of the question that Alabama and Ohio State meet again during this year's playoffs. This national rivalry will likely remain a hot college football topic for some time.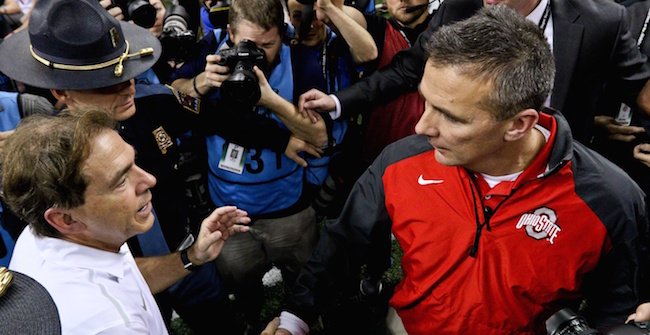 10. Les Miles
The best part of Les Miles's annual appearance at SEC Media Days is to wait and see what topic he opens with. In previous years he's discussed hyperbaric oxygen chamber technology, rappelling down buildings, soccer and other random topics.
If I had to guess what topic he'll open with this Thursday, I'd put the odds as follows:
10/1 – Walking Dead Season 6
12/1 – Bitcoin
15/1 – Who should play Han Solo in the upcoming Star Wars Anthology Film
20/1 – The Greece Financial Crisis
25/1 – Serena Williams
Like Spurrier, Miles is can't miss every year at SEC Media Days simply because he's so unpredictable.
Enjoy the week!