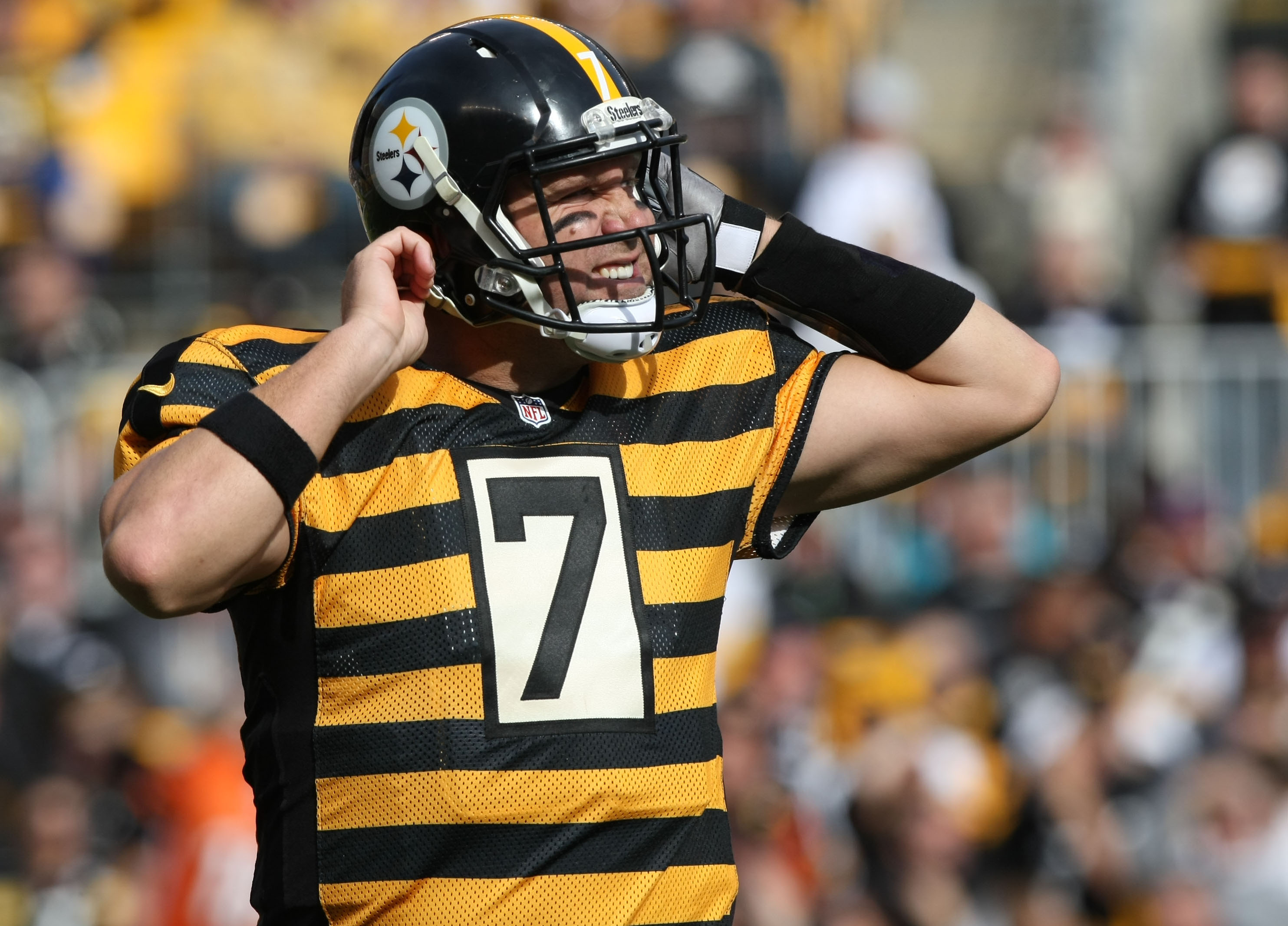 SEC
Winning ugly? Here are 10 uniforms far worse than Alabama's
And you thought "winning ugly" referred to Alabama's time-honored recipe of a punishing ground game and three-and-out defense.
Turns out 100 Division I recruits don't like the Tide's uniforms, calling them the ugliest in college football. No idea whether any of the 100 are good enough to actually wear them; they weren't identified by picksixpreviews.com other than primarily being uncommitted sophomores and juniors in high school.
We surveyed 100 D1 recruits about uniforms — here are the votes for Best and Worst: https://t.co/eiC13g6hNN pic.twitter.com/prM5lhX0EL

— Pick Six Previews (@PickSixPreviews) May 24, 2016
Keep in mind, this age group thinks "joggers" are fashionable; I know this because my oldest wears them to high school. I think they look ridiculous.
As if Rickie Fowler wore joggers and colourful shoes today ?? pic.twitter.com/RW5lLsoXzC

— Dylan Howorth (@dylhoworth) May 13, 2016
Fowler, of course, paid the price for offending the fashion police, missing the cut at The Masters.
Rickie Fowler shot 80 today because the golf gods all know that joggers and high tops do not belong on Augusta grounds.

— Patrick Thomas (@PThomas19) April 8, 2016
Can't wait for Oregon to unveil these next fall — if only for the coaches.
Fowler is in good (bad?) company, of course. Thanks to the internet, we can bring you 10 sports uniforms that were far more hideous than the classic crimson the Tide wears.
10. Just about any color combination Virginia Tech can create
Skinny: In fairness, it's hard to pull off maroon and orange.
"@SEC_Logo: Virginia Tech uniform for tonight, Hokie Stone helmet and all: #ESPN pic.twitter.com/nFOpt5Luf3" wow. Can it get more ugly?

— Ryan (@Ryan911926) September 26, 2013
Why, yes … it can.
Ugly helmets RT @theACC: Virginia Tech Saturday Football Uniform pic posted on Twitter. What do you think about them? pic.twitter.com/sBrWGQUv

— ➳➳tinacolada➳➳ (@crystnadior) November 17, 2012
"@McMurphyESPN: New helmets for Virginia Tech RT @VTFBEquipment: Here it is Hokie Nation! #BeatRutgers pic.twitter.com/BorwuZpk" #Ugly!

— Dax Trujillo (@DaxTrujillo) December 28, 2012
9. Notre Dame … Ducks?
Skinny: Knute Rockne would have fainted.
Butt Ugly Uniform Tournament seeding – here's a No. 1 seed, Notre Dame: pic.twitter.com/AEPmUKbvX6

— David Nelson (@DavidNelsonNM) March 16, 2013
8. 1977 Marquette basketball
Skinny: Somehow, they won the NCAA Tournament in this.
Marquette Warriors untucked uniforms circa 1977. The best uniforms in the history of NCAA Basketball. pic.twitter.com/QfNSTGR4NU

— Patrick L. Brown (@PatrickLBrown2) October 12, 2015
7. 2016 Michigan State basketball lime green alternate
Skinny: The Spartans beat Maryland, but the real victory was that they promised not to wear these again.
Michigan State will NOT wear those lime green unis again! -> https://t.co/0l9arYWd32 pic.twitter.com/Y4iEjIjgFJ

— Phil Hecken (@PhilHecken) January 26, 2016
6. NBA jerseys with sleeves
Skinny: Every version looks like a tight-fitting pajama top that is 2 sizes too small.
2014 NBA ASG unis: Sleeves! Yikes! Uni numbers on left sleeve instead of chest. Names move back above rear numbers. pic.twitter.com/sQcYv69OlR

— Paul Lukas (@UniWatch) February 10, 2016
5. Just about any adidas basketball uniform featuring the "cumberbund"
Aesthetically, there is no winner in this NC State – Louisville game. Both teams look like they're going to the prom in 1991. #cumberbund

— Jon Merkling (@jonmerkling) March 28, 2015
@clubtrillion why did Adidas decide to put the cumberbund stripe on the shorts instead of the jersey? pic.twitter.com/jcaLUAjOVy

— James (@jamesoIII) March 27, 2015
This week on Amateur Hour: Was #DukevsNCState Cat Barber's last game? #podcast #ACCTourney https://t.co/FEjVO6aNSs pic.twitter.com/k0sioJLv5a

— N&O Sports (@nandosports) March 10, 2016
NC State might not win the ACC Tournament, but they certainly win the "ugliest basketball uniform I've seen this year" contest.

— Dave Tucker (@TestudoDave) March 9, 2016
4. Pittsburgh Steelers throwback uniform
Skinny: "Throwback" being preferable to "prison garb."
Pittsburgh throwback jersey updated #Steelers pic.twitter.com/hczPm33Ojt

— James Slingsby (@luckyjimsling) November 6, 2015
3. 1975-79 Houston Astros
Skinny: Unfortunately their rainbow uniform produced copy cats …
Worst '70s Uni #4 Houston Astros rainbow "Puking after eating a pack of Skittles" pic.twitter.com/gCtAAGWKsy

— 1970s Baseball (@70sBaseball) August 23, 2014
2. Louisville baseball
Skinny: North Carolina, which had a good team with B.J. Surhoff and Walt Weiss, broke out the baby blue version in the mid-80s. Unfortunately, the rainbow reappeared.
The tiny Old English font used by Louisville the worst uniform look for them since this baseball rainbow monstrosity pic.twitter.com/kwUf9J7lAC

— Uniform Snob (@UniformSnob) September 5, 2015
1. 1976 Chicago White Sox
Skinny: Shorts? Why not? Oh, and those collars. The White Sox finished 64-97, the worst record in the American League. Now that's Losing Ugly.
Wherever you are this weekend, wear a nice collar shirt & shorts like a '76 White Sox baserunner pic.twitter.com/QOlLEy5XkL

— Batting Stance Guy (@BattingStanceG) August 22, 2015
Final thought: If you don't like Alabama's uniforms and think they're too boring, too ugly, add some color by dressing them up with a splash of confetti.
"@HallTate: Here at the University of Alabama, it pours snow and confetti. #TitleTown #Champions #UofA pic.twitter.com/nW9mbwvmlr" ROLL TIDE

— Fishingfreak (@tidefanintn) February 10, 2014
Chris Wright is Executive Editor at SaturdayDownSouth.com. Email him at cwright@saturdaydownsouth.com.