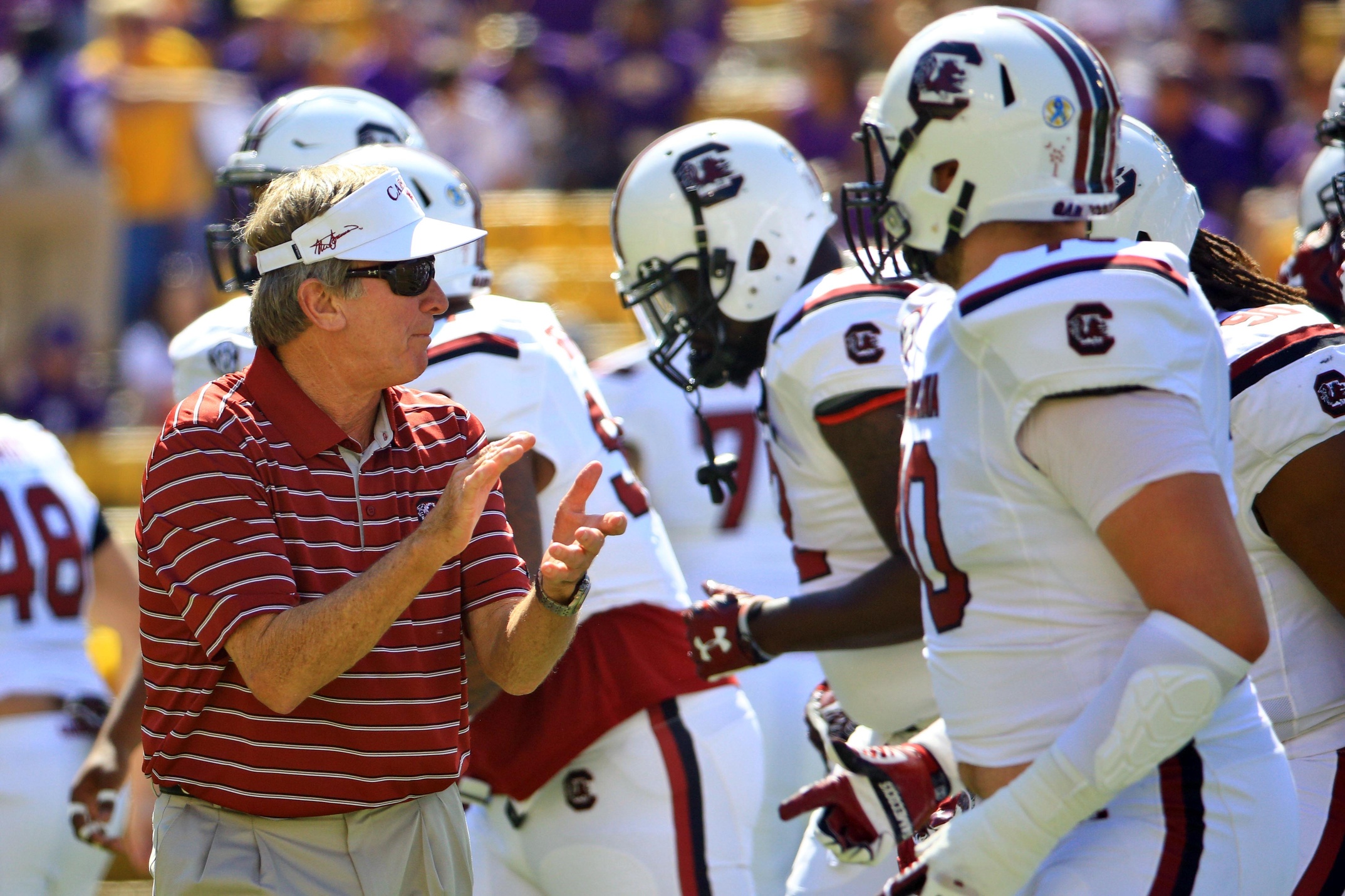 SEC
2016 cross-divisional games: South Carolina at Mississippi State
South Carolina and Mississippi State will square off against one another this year for the first time since the 2013 season. Much has happened since that meeting as both programs will have a markedly different look. The 2016 tilt won't feature the likes of Steve Spurrier, Jadeveon Clowney and Dak Prescott, all of whom have since moved on to the NFL or retired in unspectacular fashion.
Here's a look at the last time the Bulldogs and Gamecocks met up on the gridiron ahead of their Week 2 matchup this year in Starkville.
Last Meeting — Nov. 2, 2013 at South Carolina
No. 14 South Carolina 34, Mississippi State 16
What happened — Dak Prescott rushed for touchdowns of 1 and 11 yards to open and close the game's scoring in the first and fourth quarters, respectively. However, between those two scores, it was all Gamecocks … kinda.
South Carolina quarterback Connor Shaw outplayed his Bulldogs counterpart, tying a career-high four touchdown passes — two of them (14 and 43 yards) to Shaq Roland in the first quarter. Shaw also connected with Damiere Byrd and tight end Jerell Adams on short scoring tosses.
While Prescott out-threw Shaw with 235 yards in the air to his peer's 147 yards, it was the Mississippi State quarterback's four turnovers that made the difference. Prescott tied a career-high for interceptions with three picks. The only other occurrence where he was intercepted that many times in a single contest came in 2014 against Alabama. Prescott also fumbled once as South Carolina converted five Bulldogs turnovers into 18 points off those miscues.
Victor Hampton was the star for Lorenzo Ward's Gamecocks defense. The junior defensive back led the team in tackles (8 and 6 solo) and broke up 3 passes, as well as forcing and recovering one of Mississippi State's two fumbles.
The win wasn't resounding, especially given the South Carolina offense going 1 of 11 on third downs and an oft-time lagging run game. The Gamecocks' 12 first downs wasn't ideal, but only four penalties and zero turnovers prove just how detrimental or beneficial each can be.
The win upped South Carolina's mark to 7-2 on the year and bumped the Gamecocks to No. 13 in the Associated Press rankings. The loss was the first of three consecutive for Mississippi State, which then finished the year strong with three straight victories, including an Egg Bowl win over rival Ole Miss.
Coaches and key players — The 2013 season was arguably the peak of the Steve Spurrier era at South Carolina as the Gamecocks completed their third straight 11-win season with a lineup of future NFL Draft picks. The biggest among them, Jadeveon Clowney, wasn't much of a factor in South Carolina's Week 10 win over Mississippi State. The future No. 1 pick tallied just three tackles and broke up a pass.
Other drafted players included: running back Mike Davis, wide receivers Bruce Ellington and Pharoh Cooper, tight ends Jerell Adams and Rory Anderson as well as offensive linemen A.J. Cann, Corey Robinson and Brandon Shell. Then-freshman LB Skai Moore picked off a Prescott pass also. The interception was the first of his career. Now, Moore enters his senior year as the SEC's active leader for picks with 11.
Davis went over 1,000 yards for the season during the contest.
Prescott, then a sophomore, was still 2.5 years away from being selected by the Dallas Cowboys in the fourth round of the 2016 NFL Draft. He was joined by DT Chris Jones and CB Will Redmond in the same draft class. Other former drafted Bulldogs that squared off against South Carolina in 2013 were RB Josh Robinson, TE Malcolm Johnson, OL Gabe Jackson, DE Preston Smith and linebackers Matt Wells and Bernardrick McKinney.
All-time series — South Carolina's victory over Mississippi State gave the Gamecocks their seventh straight win over the Bulldogs dating back to the 2000 season. All told, South Carolina holds a 9-6 edge over Mississippi State since their first encounter in 1992, South Carolina's first season in the SEC.
Spurrier's squad also pushed their home winning streak to a program-record 15 games with the win. The Gamecocks eventually improved the mark to 18 straight before losing in Week 1 of the 2014 season to Texas A&M.
Quotable (via Gamecocksonline.com)
Miss. St. QB Dak Prescott (on taking so many hits): "The loss hurts more than all of it, but I'm alright."
Miss. St. HC Dan Mullen: "Obviously, it's a very disappointing day when we get 11 more first downs than them. We had a lot better pass completion, more yards and more plays. The difference was we turned the ball over five times, and your percentage of winning after doing that on the road in the SEC is very low."
SC LB Skai Moore: "After they scored, we all just came to the sideline and guys like Vic (Hampton) and Brison (Williams), they were really talking to us and just motivating us to let us know that that can't happen again. We went out there and made those adjustments. It was more so like mentally than anything else, but Brison and Vic, they made us go back out there and take care of business.
SC DE Jadeveon Clowney: "It's big. We tied (the record), and in two weeks we are coming in here to break it. We're looking forward to that, having the most (consecutive) wins in South Carolina history at home. We won't let this streak end against Florida."
SC HC Steve Spurrier: "We didn't squander the opportunities, which is about the only really good thing you can say. Shaq Roland had an excellent game. I think those were the only two catches he had, and we couldn't get the ball to Bruce Ellington today. You wonder why one week you can throw him 10 and the next you can't even throw it at him, but that's the way it was sort of happening today."