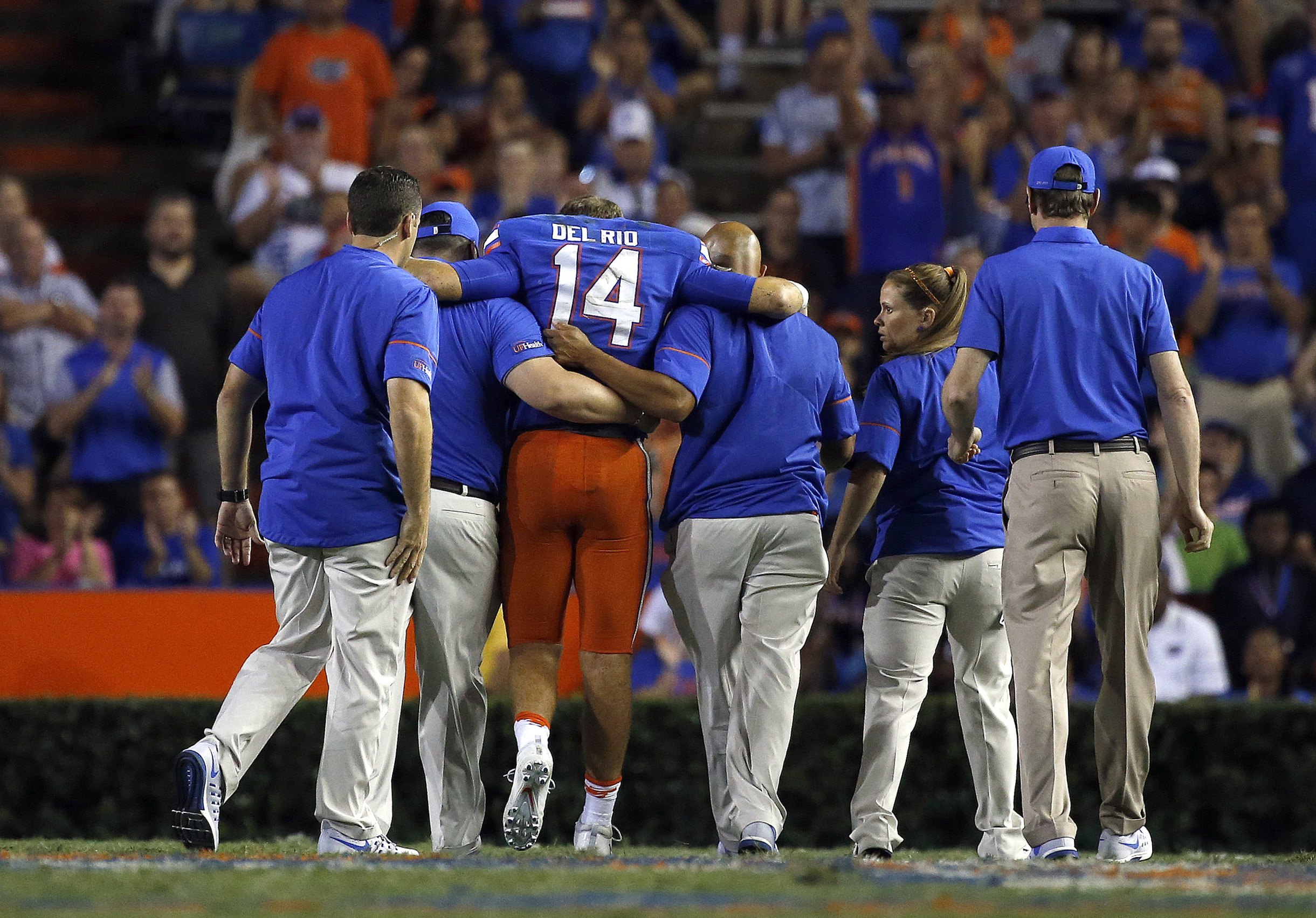 SEC
5 key injuries that are having biggest impact on SEC division races
At its roots, football is a battle of attrition. Rarely is this more apparent than across a season in the unforgiving terrain of the SEC. Preseason predictions often explode via a high ankle sprain or a shoulder separation.
Here are five injuries (sticking with ones that have already happened, not potential injuries) that have impacted or will impact the SEC championship race (and thus, the national title hunt):
Luke Del Rio, Florida: It wasn't necessarily apparent before Del Rio suffered a sprained left knee ligament late in Florida's game with North Texas, but the Florida Gator offense, which wasn't exactly a sleek machine in the first place, has completely bogged down without Del Rio.
In three games with Del Rio, Florida averaged 466 yards per game in total offense. In two games without him, not only has Florida blown a 21-0 advantage over Tennessee, but the offense has chugged to 319 yards per game.
Del Rio averaged about 1.1 yards per pass attempt more than backup Austin Appleby, and the Florida ground game, which managed just 3.4 yards per carry against Tennessee and 2.6 yards per carry against Vandy, is anemic without Del Rio's passing threat.
Maybe he plays Saturday against LSU, but if he can't go, neither can the Gators offense.
Nick Chubb, Georgia: Stop us if you've heard this one before. The highly talented but injury prone Georgia tailback has been in and out of action since suffering the dreaded high ankle sprain while making a cut against Ole Miss. Chubb had 13 consecutive 100-yard games in 2014 and 2015 before suffering a season ending injury against Tennessee.
When he's well, he's one of the most dynamic players in college football. In 2016, Chubb looked like his old self with 222 rushing yards against North Carolina in Week 1.
It's not coincidental that was by far Georgia's best performance of the season. But since, he's been only-semi effective and then, was injured again.
While Georgia has excellent running back depth, there's only one Nick Chubb. And the Tennessee game probably isn't close enough for the "Dobbsnail Boot" if Georgia could have protected its lead with one of the best backs in college football.
Chubb expects to play this week, but for how long can he stay healthy? UGA's hopes in the East hang on the answer.
Cam Sutton, Tennessee: Early in Tennessee's game with Ohio, All-SEC cornerback Cameron Sutton broke his ankle. The injury is expected to cost Sutton about eight weeks— the majority of his senior season.
Since Sutton's injury, Tennessee has somehow continued to win, but the Vols have allowed 230 passing yards to Ohio, 296 to Florida, and 211 to Georgia.
Of course, the last 47 of those yards by Georgia should have doomed Tennessee's SEC hopes to the trash pile.
Malik Foreman was toasted by the Dawgs on their Hail Mary, which is the kind of play that the Vols likely wouldn't have allowed with Sutton on the field.
But Tennessee got a second chance. However, if the Vol secondary can't step up — and if Sutton can't get back for a late-season stretch run, Tennessee will need more miracles from Josh Dobbs to stay on top of the East.
Damien Harris, Alabama: This one is a bit speculative, since Nick Saban is practically Fort Knox on the injury front. Harris hurt his ankle early in the Kent State game, and has a total of six carries over the past two games.
The loss of Harris didn't hurt Alabama against Kentucky or Kent State, but while true frosh Joshua Jacobs has been very good off the bench, Harris has an explosiveness that Jacobs or Bo Scarbrough simply can't equal.
It's not an accident that he had 138 yards rushing against Southern Cal or 144 against Ole Miss. Jalen Hurts has been rock-steady for Alabama, but it he ever does falter, Harris is a key component in keeping the Tide attack rolling. So keep an eye on his ankle for the rest of the season.
Leonard Fournette, LSU: Fournette has a balky ankle and has been on-again, off-again all season. He has missed two games outright and is less than 100 percent when he does play.
He's doubtful again Saturday to play against Florida.
Fournette was on the sideline when Brandon Harris threw the game-sealing interception against Wisconsin in Week 1, and he had "just" 101 rushing yards against Auburn in that loss.
Admittedly, a cool 101 is a good day for most, but Fournette was held under 100 yards just twice in 2015, and eclipsed 200 rushing yards four times.
LSU did well last week without Fournette, thanks to Derrius Guice. But Guice is best as a tandem with Fournette, and if LSU hopes to make a jumble out of the West down the stretch, they need their main man much closer to 100 percent than he has been so far.