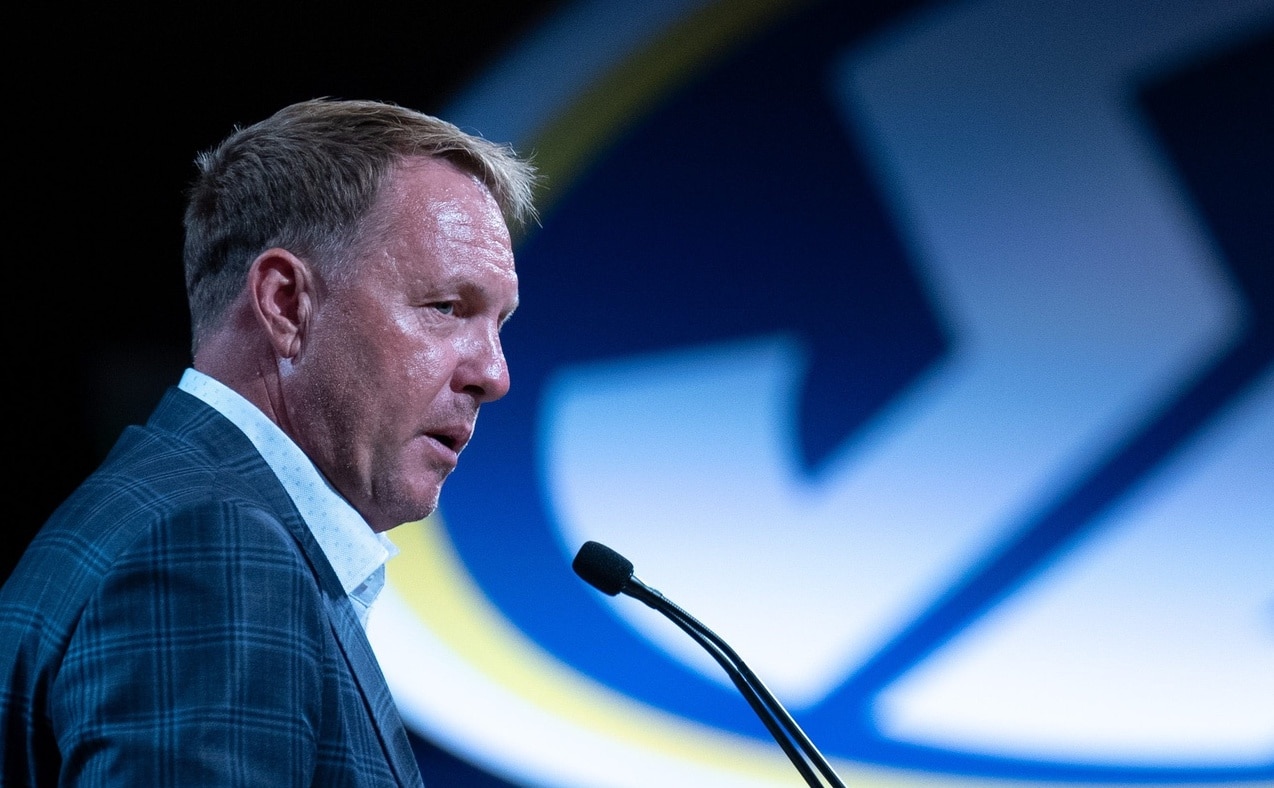 SEC
5 SEC Media Days takeaways from the week in Nashville
NASHVILLE — And just like that, we're on to fall camp.
SEC Media Days is in the books. The last SEC Media Days without Texas and Oklahoma came and went. Rat poison was offered up, Lane Kiffin teed off about the current state of the sport and Sam Pittman had a dig at Hamm's beer.
It was an eventful week, even if it wasn't full of fireworks. But we did have some noteworthy takeaways.
Here were my top 5:
1. I'm more confused than ever about the A&M offensive identity
If Jimbo Fisher had just said "Bobby Petrino is calling plays and I'm taking a step back to focus more on big-picture things," we're not having this conversation. Instead, we listened to Fisher continue to muddy the waters on what in the world the A&M offense is going to look like with the well-traveled Petrino on board.
Will it be a bit more of a pro-style offense that we've grown accustomed to seeing under Fisher, or will it incorporate more of the 4-wide spread concepts we've seen from Petrino?
"Do you ever watch Bobby? Bobby is a lot of underneath play action. No, but I'm not going to get into schematics and four wide," Fisher said. "We'll do everything. We're not going to get into that."
But what about giving up play-calling duties, Jimbo?
"There's a lot of things that are involved in what goes on, I'm not going to get into what we're doing, how we're doing it," Fisher said. "I'm not trying to avoid anything, I just don't want to create the narrative out there for what goes on. Listen, Bobby was hired for a reason, and he's a tremendous coach and a tremendous guy, tremendous football mind, tremendous recruiter, he's done a great job recruiting since he's been there, everything he does."
Fisher then made it seem like it could be more of a committee approach to tweaking the offense.
"Hopefully he'll call the game, we'll have suggestions on things we do, whether it's offense, defense," he said. "Every coach is always involved. It's more collective thing than people want to give it room for, and then when you get to calling you get on a roll, you get guys that can do it, and I believe that Bobby can definitely do that. Does it as well as anybody in college football. Have great respect for him."
Here's where the frustration lies — the guy failed to produce a top-100 offense for a 5-7 team and he acts like he's holding secrets from the Pentagon. Eli Drinkwitz was totally transparent about his play-calling duties, as was Hugh Freeze. What Fisher doesn't seem to understand is that by him creating this offseason storyline instead of just giving a straight answer, he'll have to answer to that once actual games start.
Will we have friction between Fisher and Petrino? And if A&M's offense does take off, who will take the credit? All of that is very much in the air heading into what should be a bounce-back season.
2. JC Latham said what it feels like everybody at Alabama is thinking
I don't want to assume anything here, and I'm not saying that one person speaks for everyone, but I did get a sense that Latham came to SEC Media Days with the pulse of the Alabama locker room. It feels — wait for it — disrespected. Mind you, there's a good chance that the Tide will start in the preseason top 5 and it'll be picked by some to win a national title.
But Latham's first question was about Alabama's perceived low expectations compared to years past, and how he feels about that.
"Disrespectful. I don't appreciate that at all," Latham said. "Understanding this group, I know we're gonna win it all, national championship, undefeated, Joe Moore Award, I want that also."
Ah, the rare Alabama guarantee. It's not every day that we hear someone speak on that, nor is it every day that we get Nick Saban acknowledging any sort of outside noise. He was asked by Paul Finebaum about Latham's comments and if he does feel that the Tide have been disrespected this offseason (via AL.com).
"I think it's true," Saban replied. "We lost the national championship game two years ago. We didn't make the playoffs last year. I didn't think our team sort of played in certain portions of games to end games — on the road at Tennessee and LSU — like we needed to be able to have a chance to be successful. It's disappointing, and I take responsibility for that."
(Now is the part where I remind everyone that Alabama actually went 3-2 in games that were decided in the final minute, and 6 of 9 regular season Power 5 games were 1-score games in the 4th quarter … but I digress.)
I asked Latham how he'd feel if Alabama wasn't picked to win the SEC for the first time since 2015. He wasn't a fan of that, either.
"Fuel to the fire," Latham said. "I know we're gonna go out there, compete, dominate and do what we have to do to win, and I know we're gonna win it all and go undefeated. Whatever anybody outside of our family says essentially isn't what matters."
Dallas Turner also acknowledged the "disrespect" but added that the Tide would keep that discussion internal.
Here's the thing. Alabama has every right to feel that it's being slept on. When you've been to 9 of the last 14 national championships and you've got one of the 2 most talented rosters in college football, yes, it'd be strange if you weren't getting preseason title buzz.
But at the same time, we're talking about a non-division winner who ranks No. 125 in percentage of returning production with 2 new coordinators and a totally unsettled quarterback situation. Never mind the fact that the Tide have more preseason questions than defending West champ LSU. How disrespectful would it be if Georgia, AKA the 2-time defending national champs, wasn't picked to win the SEC?
It's fair for us to question the Tide. It's also fair to mention that the 3 times Alabama wasn't picked to win the SEC during this decade-plus of dominance was 2009, 2012 and 2015 … all of which were SEC and national championship seasons.
If the Tide win it all, put Latham's comments at the start of the championship DVD.
3. Off-field issues be damned … Kirby Smart is as confident as ever
I was surprised to see Smart just get 1 question on off-field issues during his time in the main media area. Keep in mind that he only answered 13 questions in a room with dozens of hands raised. It's not as if the entire room turned a blind eye to that.
What we did see for the 3rd consecutive year was a confident Smart. He didn't always use to be that way. Pre-2021, you didn't really see Smart joking and showing some charisma. I've always believed that when he turned that leaf at SEC Media Days in 2021 — he said Quavo advised UGA players getting involved with NIL to "not be thirsty" — he did so because of the confidence he had in his team. He knew what that his program was ready to take that next step.
This year, it was more of that type of vibe from Smart. He referenced celebrating "Julymas" with his family, which is a Christmas in July to make up for the fact that he works through Christmas. He talked about being a travel baseball dad in Mississippi instead of going to Italy. He joked that Eli Drinkwitz went way too long in his opening statement and that he had to keep it under 10 minutes with an alarm he set … which never went off.
Smart looks the part in ways I didn't think he did early in his tenure. You don't win consecutive national titles without having a clear understanding of who you are and what you need to improve upon. This year will be such a unique test in that, and not just because of the off-field issues that began with the tragedy the night after the championship parade.
Nobody has 3-peated since 1936 Minnesota. That's right. The first Franklin Delano Roosevelt term in office. Why? Call it a combination of personnel turnover and college-aged kids handling success.
As Smart pointed out, everyone on Georgia's current full-time coaching staff was there in 2022. And when you win another title after replacing 15 (!) guys from the NFL Draft, well, you've shown you know how to handle both of those 2 post-championship kryptonites.
Smart's confidence could be a sign that he's ready to ascend into an even more elite category of legendary coaches.
4. Winner of the week? Hugh Freeze
If there's been a criticism of Freeze I've had in years past, it's that he sometimes lacks self-awareness. From tweeting out a dare to anyone to challenge Ole Miss' compliance of NCAA rules to his misstep sending an unprompted late-night direct message to a former Liberty student involved in a Title IX lawsuit against the university, Freeze has sometimes lacked understanding of how his words come across.
But at his first SEC Media Days in 6 years, I thought Freeze's words came across extremely well. He was humble, transparent and realistic heading into Year 1 at Auburn.
Freeze mentioned that he's not used to having so many unknowns heading into fall camp. A slew of post-spring transfers at a new job might have something to do with that. That includes Michigan State quarterback Payton Thorne, who is expected to win the starting job for Freeze's first Auburn offense.
There are some things Freeze does know. One of them is what the offense will look like and who'll be the primary play-caller. It'll still be the Freeze offense, albeit with new terminology — something he hadn't changed since his high school coaching days — and a new play-caller in Philip Montgomery. Freeze will still step in and oversee the offense, but it sounds like he'll be more of the Lane Kiffin/Josh Heupel role than the Billy Napier role.
It you listened to Freeze, you heard someone who clearly understands the job he signed up for. He understands the task at hand in the SEC West, which is where those tempered expectations come form. He also understands that his predecessor didn't see the end of Year 2 and the guy before him was given the largest buyout ever for a head coach ($21.5 million).
"I do think that the '24 and '25 recruiting cycle will tell a large portion of the story of my tenure there. I believe that," Freeze said. "Maybe '26 we might get three cycles, but we've got to start closing the gap on the elite programs in this conference. And when you add Texas and Oklahoma, that only increases the competition, also."
He's not wrong.
I found myself saying those 3 words after much of what Freeze said in Nashville.
5. Mike Leach's presence in this sport is truly missed
I say this as a Zach Arnett believer and as someone who looks forward to SEC Media Days more than any week during the college football offseason.
But it's truly a shame that we only got 2 SEC Media Days with the late Leach (2020 was canceled because of COVID). At several points during the week, it felt like we needed a good laugh. What Leach did so incredibly well in that setting was provide a break from the coach speak that covers 95% of the media interaction during the week.
Leach following a 7-word opening statement by ranting about his list of top Netflix shows or the coup d'état at Tennessee was always elite entertainment. Nobody talks like he does. And that's not to say there aren't extremely likable coaches like Sam Pittman and Shane Beamer. But so much of what's said by coaches at this event all morphs together. Leach was always such a breath of fresh air.
Even though it's been 7 months since Leach's death, and while he's had no shortage of tributes — Greg Sankey honored Leach by not wearing a necktie — this week felt like a sad reminder of why we were so fortunate to have his personality in the sport the last 2 decades.
Long live The Pirate.